Whether you're an avid swimmer who competes in competition or someone who enjoys the occasional dip in the water, a swim cap can be a useful piece of swimming equipment to own.
Swim caps are one of the more essential items for swimmers if they want to protect their hair. They are designed to prevent the water from getting to your hair as you swim, no matter the speed. They stop your hair from getting too wet, twisted, or tangled.
They also protect the hair from chlorine damage and improve performance.
However, finding a good swim cap to keep hair dry can be tricky. There is an overwhelming number of options to choose from. Luckily for you, we're here to help! We've done the research and compiled a list of the best swim caps to keep your hair dry available on the market.
In this article, you'll find a small review of each one and a buyer's guide to help you make the best choice. Also, if you are of African descent, or considering buying a swim cap for someone of African descent, we encourage you to also review our guide of the best swim caps for black hair as well!
Read our reviews below if you want to find the best swim cap for you!
Next up, we have a solid choice from Speedo. Speedo's unisex-adult swim cap offers swimmers the best of both worlds with a cap that is both affordable and highly effective.
If you seek a premium swim cap but don't want to break the bank, this could be the best option for you.
Made from 100% silicone and latex-free, this swim cap will effectively keep your hair dry and protected from chlorine as you swim, whether that be leisurely or in competition.
While keeping hair dry is the cap's biggest draw, its comfort is also much appreciated.
Thanks to an inner micro grid texture, the cap provides more comfort and stretch. This reduces the chance of the cap pulling or snagging your hair.
This interior texture also keeps the cap firmly in place as you swim.
Available in a wide range of colors, making it much easier for other swimmers and lifeguards to see you coming, our favorite thing about this Speedo swim cap is its contoured shape, which reduces drag to increase hydrodynamic performance.
Pros:
Great Color Options – You have 12 vibrant colors to choose from.
Affordably Priced – This cap is very fairly priced.
Improved Performance – The caps contour helps to improve hydrodynamic performance.
Cons:
No Child Sizes – Unfortunately, this swim cap isn't available in child sizes.
Sale
Speedo Unisex-Adult Swim Cap Silicone Elastomeric , White
Inner micro grid texture provides more comfort and stretchy silicone won't snag or pull hair
Contoured shape reduces drag for outstanding hydrodynamic performance
Soft, durable silicone for long lasting wear
Interior textured surface keeps cap in place
Snug fit for optimum performance
While Speedo might sit at the top of the swimming gear market, Aegend is also one of the leading brands and their silicone swim cap for men and women is arguably the best budget-friendly swim cap on the market.
Despite being much cheaper than its competitors, the Aegend silicone swim cap hasn't made any compromises when it comes to quality.
Featuring a 100% premium silicone build, the cap is durable and reliable, with there being no risks of tearing. The material is also skin-friendly.
When we reviewed this cap, we were most pleased with its adaptability.
Thanks to the cap's excellent elasticity, both men and women with short or long hair can easily place the cap over their head, whilst not having to worry about it falling off.
The caps added cushioning around the ear contact points is also a neat touch.
Protecting hair from bacteria and potentially harmful chemicals like chlorine or baquacil, this cap also has a unique water-drop texture that adds to its sleek appearance.
Pros:
Affordable – You'll struggle to find a more affordable swim cap, of which you get 2 with one order.
Adaptable – The Aegend swim cap works with all lengths of hair.
Durable – Made from premium silicone, this cap is made to last.
Cons:
Not 100% Waterproof – Your hair might not stay 100% dry.
Aegend Swim Cap for Women and Men, 2 Pack Silicone Swimming Caps for Long Hair, Swim Caps with Non-Slip Texture and Excellent Elasticity, Easy to Put On and Off (Blue&Pink)
Perfect Adaptability Size: Aegend swim caps have excellent elasticity and extra-large space, whether you are men, women, long hair, short hair, thick hair, or braided hair, you can fit our swimming cap perfectly, and our swimming caps are designed with professional 3D ergonomic, strategically cushioned under ear contact points prevent pressure build-up, you will feel very comfortable during wearing and enjoy swimming.
100% Premium Silicone Material: Aegend swimming caps are made with 100% premium silicone, which is tear-resistant, durable, odorless, and skin-friendly. Excellent elasticity makes it stretch easily, will not deform even if it is used for a long time. Odorless and skin-friendly make it healthier and safer.
Unique Water-Drop Texture Design: Our adult swimming caps adopt a unique water drop texture design, in addition to bringing a more beautiful and fashionable appearance, it also brings better anti-slip performance, so that the swimming cap is not easy to fall off, so that you can devote yourself to swimming.
Protection for Your Hair: Swimming is a very healthy exercise, but harmful substances in most pools may cause damage to our hair at any time. Therefore, our swimming caps are made of waterproof silicone, which can protect your hair from chlorine and other bacteria in the water. Let you enjoy the swimming without any worries.
Quality Assurance & After-Sale Service: All of Aegend products have undergone strict quality testing, products with any defects will not be delivered to our customers. And if the product has any problem or you have any question, you can feel free to contact our after-sale customer service, our customer service will provide service for you 24 hours and make sure to give you satisfactory answers and solutions.
The Alepo kids swim cap is the perfect option on this list if you need a reliable swim cap for your child.
Available in two sizes, both of which offer great elasticity to fit any length of hair, finding the swim cap that fits your child is easy.
One size of the cap fits children aged 3 to 8, and the other fits those from ages 8 to 15.
In terms of design, this swim cap, like the others on our list so far, is made out of 100% high-quality, environmentally friendly silicone. This gives the cap durability, elasticity, and plenty of comfort.
The cap can also be easily stretched to fit a child without tearing or any deformation.
Easy to put on and take off without snagging hair, another great thing about this cap is its ear protection.
The cap has a 3D ergonomic ear design that not only protects your child's ears but also keeps them protected from the water's bacteria and chlorine.
We love how the cap also comes with a free set of ear plugs and a nose clip.
Pros:
Perfect For Kids – This swim cap is ideal for your young swimmer.
Ear Protection Included – Alepo's swim cap also protects ears from bacteria and chlorine.
Comfortable – The cap is designed to not snag or pull hair as you swim, put it on, or take it off.
Cons:
No Adult Sizes – It would be nice if this swim cap was available in adult sizes too.
Also available at: Aleposhop.com
Sale
2 Pack Kids Swim Caps for Boys Girls, Durable Silicone Swimming Cap with 3D Ear Pockets for Age 3-15 Toddler Child Youth Teen, Unisex Swim Bath Hats for Short/Long Hair with Ear Plugs Nose Clip-7
[2 SIZE AVAILABLE WITH GREAT ELASTICITY]: Alepo swim hats have two sizes available for boys and girls with short hair or long hair among most ages. First for kids 3-8 years old, the flat size is 8.5" in length and 8.3" in height; then for kids 8-15 years old, the flat size is 8.9" in length and 8.14" in height; for more detail, please check the IMAGE. (Tips: please choose the larger size, if your kids have a big head or thick long hair.)
[PREMIUM & THICKER SILICONE MATERIAL]: Alepo kids swim cap is made of 100% high-quality and eco-friendly silicone, which features great durability and flexbility, so our swimming hat can be stretched easily for optimum fit, no deformation after repeated use. The silicone material is also odorless, non-toxic and tear-resistant, therefore, it's a superior swim cap for your kids!
[3D ERGONOMIC EAR POCKETS]: Alepo child swim cap is designed with 3D ergonomic ear structure, which makes the swim cap has extra room for ear covering, so it can effectively prevent overpressure and add an extra layer of protection for ears by limiting the water flow entering your ears, protecting ears from chlorine, bacteria, sand in the water!
[COMFORTABLE FIT & GREAT PERFORMANCE]: Alepo kids swimming cap is created in the shape of human skull, which makes a comfortable fit for most people. With great elasticity, it is easy to take on/off without snagging hair, and it keeps the hair packed and tangle-free when swimming, ensuring a clear vision! Good streamline also helps to swim faster with less water resistance, therefore, let kids enjoy a happy swimming time.
[FREE BONUS ACCESSORIES & VARIOUS COLORS]: A set of ear plugs and nose clip is included in package, which can prevent water from entering the nose and ear canal in maximum way. Besides, with various fashionable solid colors and mixed colors design, Alepo swim caps can meet most people's needs. A nice swimming cap selection for swimming lovers!
The next swim cap on our list is more expensive than the others we have looked at so far, but if you enjoy open water swimming and triathlons it's easily your best choice.
An official sponsor of the USA Triathlon, Zone3 has created an effective neoprene cap that gives swimmers extra warmth and durability as they swim through colder waters. They have done this by making the cap much thicker.
Aside from keeping swimmers warmer and of course keeping hair dry, this swimming cap also provides comfort.
This is especially important for those swimming for longer durations in competition as you don't want to stop to readjust your cap.
To guarantee even more comfort, Zone3 has equipped its cap with a velcro strap. This velcro strap makes it easier for swimmers to fit the cap to their dimensions and also swim with a less tight fit.
Coming in three different colors, we were quite surprised to find that, despite its thickness, the cap still reduces drag and improves hydrodynamic performance, making it perfect for racing.
Pros:
Suited To Open Water Swimming – This cap is perfect for open water swimming.
Adjustable – Zone3's swim cap will fit you perfectly.
Vibrant – Available in bright colors, safety personnel at races will clearly see you at all times.
Cons:
Only 3 Sizes Available – There are only three sizes to choose from.
Also available at: Us.zone3.com
ZONE3 Neoprene Swim Cap S
Velcro strap under chin to accommodate different head sizes compared to one-piece alternatives.
Allows more comfort to be achieved under chin.
High quality 4mm Smoothskin material
Head Circumference in Inches - Small - <21, Medium 21-22, Large 22+
The final swim cap on our list is better suited to be the swim cap for swimmers who have long voluminous hair, braids, or dreadlocks.
While this swim cap to keep hair dry might not be ideal for competitive swimming if you want to keep your long hair protected when leisurely swimming, this is by far the best option for you.
Accommodating a wide range of hairstyles from afros and dreadlocks, to curls and braids, this spacious cap won't only keep your hair dry and protected, but it will also ensure your lovely hair isn't snagged or pulled when you take the cap off.
To ensure swimmer comfort, this swim cap has been designed to be super-elastic.
This keeps your head comfortable, while also making it much easier to put the cap on. Squeezing the air out of the cap is all it then takes to secure the cap in place and create the perfect seal.
Keary's swim cap also comes with ear protection to prevent any dirt or bacteria from entering your ears.
Other good features include quick-drying, anti-slip protection, wrinkle-free, and an odorless design.
Pros:
Perfect For Voluminous Hair – This swim cap suits braids, dreadlocks, and afros.
Durable – The Keary swim cap is made to last.
Great Value For Money – This swim cap is available at a great price.
Cons:
Not For Competitive Use – You wouldn't want to use this cap in competitive racing.
Sale
Extra Large Swim Cap for Braids and Dreadlocks Afro Hair Weaves Long Hair, Waterproof Silicone Cover Ear Bath Pool Shower Swimming Cap for Women Men Youth Adult Kids Girl to Keep Hair Dry, Black
🏊‍【SPACIOUS DESIGNED FOR DREADS & BRAIDS】Designed with great elasticity and extra larger room, Keary adult & youth unisex silicone swim cap for swimmiers has enough room to fit large head and any bulky hairstyle: Curly Hair, Extra Long Hair, Braids, Dreadlocks, Crochet Mambo, Extensions, Weave on, Afro hair. It keeps your hair lock secure and tangle-free when swimming and can be used as a shower cap!
🏊‍【COMFORTABLE FIT】NOT TOO TIGHT! NO MORE HEADACHES! Keary extra large unisex swim cap has more room for your long hair to be loose for more comfortable. Swimming caps with superb elasticity, it can be stretched to twice its size for snugly fit. Easy to put on and off for braids without snagging your hair.
🏊‍【DRY HAIR IS THE GOAL】Proper use of Keary large swim caps for long hair can keep your hair dry. You can adjust the tightness by squeezing air out of the swimmers cap and getting a perfect seal. Protect your hair and ears from dirt / chloride and other substances in the water, these swim caps insure a safe and happy swimming experience.
🏊‍【DURABLE PREMIUM SILICONE】Made from newest premium silicone to ensure strength durability and flexbility, We've done extensive research and are convinced that we've sourced the best quality material which will ensure your curls, braids, dreadlocks, long hair will stay protected. Odorless, no deformation, non-toxic no odd smell, quick dry, anti-slip and wrinkle-free. Designed for indoor outdoor swimming.
🏊‍【FRESH & STYLISH LOOK】 Keary Swim Cap for women men girls boys with long hair is an additional fashion accessory. Everyone can have your long hair protected in a fresh, stylish and cool way. With Keary swimming cap, you will always be visible either in the swimming pool or in the open water.
Our Buyer's Guide
Now you know more about the options available to you when it comes to swim caps to keep your hair dry, it's time to start thinking about what you need to take into account when trying to find the best swim cap.
To help you out, we've put together this short buyer's guide. In this buyer's guide, you'll find the most important factors you need to consider and why they are important.
Make sure you think about each factor carefully before making a final decision.
Your Hair
One of the most important things to think about when looking for a swim cap is your hair.
The reason for this is pretty simple, if you have really long hair and buy a cap that's designed for short hair, you'll quickly find the cap hurting your hair when you put it on and your hair getting wet.
Therefore, you should always look at what types of hair the swim cap suits.
Luckily, most swim caps suit most types of hair. However, there are others that are more specialized.
Durability
To consistently keep your hair dry as you swim, you need to find a swim cap that will last. The best way to find a swim cap that will last a lifetime is to take a closer look at the materials it's made out of.
Generally speaking, a swim cap made out of premium silicone or neoprene is your best option. These types of swim caps are made to last and resist tearing and deformation.
Type Of Swimming
You also need to think about the type of swimming you plan on doing.
If you race competitively in open water, the chances are you're going to want a different cap from someone who visits their local pool every so often without the intent of regularly using the pool for aquatic exercise.
Love to workout in your swimming pool? Checkout the top underwater treadmills to mix it up while still enjoying the water!
Open water swimmers might also want a thicker cap that keeps their heads warmer in cold conditions.
With this in mind, read product descriptions carefully to identify the caps that suit your style of swimming.
Adjustability
Finally, you also need to take the caps adjustability into account. A rigid cap can hurt as you force it on as it will pull and twist your hair.
What you need to look out for is a cap that offers good elasticity.
Caps that offer good elasticity are easier to stretch over your head. This reduces the chance of any pulling or snagging.
Frequently Asked Questions
Check out our team's answers to the most common FAQs we get around swim caps that help keep your hair dry below!
Can My Swim Cap Cause Hair Loss?
No, your hair cap can't cause hair loss. While your swim cap will pull on your hair from time to time, there is no scientific evidence to suggest there's any correlation between hair loss and swim caps.
How Do You Clean A Swim Cap?
Cleaning a swim cap is pretty straightforward. Simply rinse the cap out with clean, fresh water and leave it out to dry.
You can also sprinkle some talcum powder in the cap to stop it from sticking to itself as it dries.
Do Swim Caps Keep Hair 100% Dry?
Unfortunately, no, there aren't any swim caps on the market that can guarantee 100% dryness for your hair at all times.
However, they do offer the best possible performance in comparison to any other swim product on the market. Also, check out our post on why swimmers often wear two swim caps here.
Enjoy Your New Swim Cap That Helps Keep Your Hair Dry!
There you have it, 5 of the best swim caps currently available on the market.
Swimming caps are a useful piece of swimming equipment to own, no matter what level of swimming you take part in.
Whether you compete in triathlons or simply take your children to the nearest pool, a swim cap will keep your hair dry, protect it from chemicals, keep your head warm, and help you swim faster.
While it can be hard to find the best swim cap due to an oversaturated market, the 5 options on our list are a great place to start.
There is an option on our list for everyone, so be sure to take a close look at each cap we have suggested.
You can then narrow your options down to find the swim cap that keeps your hair dry, as well as suits your needs and requirements best.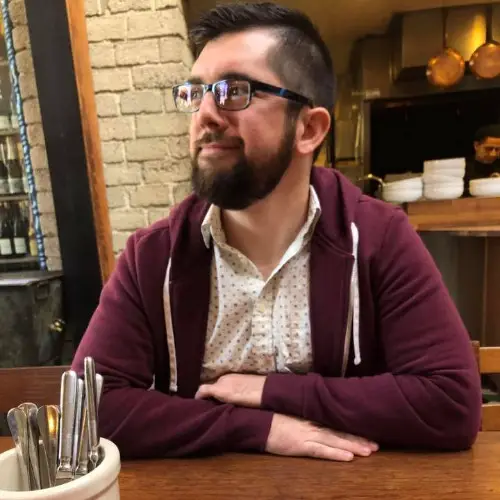 Hello, I am a writer and marketing specialist in Kansas City, MO. My love for swimming pools started as a child when I would visit my aunt & uncle's inground swimming pool on a frequent basis over the summer. Since then I have taught swimming lessons at a Boy Scout Camp, participated in the full setup, installation and maintenance of my father's inground swimming pool, as well as enjoyed constantly researching everything there is to know about swimming pools for 5+ years. I enjoy all water related sports, being part of the online swimming pool community and always learning new things!