When winter comes around, it can come with a bite. Cold weather doesn't suit everyone and in fact being too cold can have negative effects on your health.
This is why keeping warm during the months of winter can be important for your physical and mental wellbeing. 
However, there are some activities which would normally keep you warm that you might think are impossible during winter. Both regular hot tubs and, the more recently popular, inflatable hot tubs are a great way to relax and unwind after a hard day's work.
So, they seem like the perfect way to relax during the rest of the year right? Yes, but only if you know how to properly protect it during winter. 
The one thing you don't need is your relaxing and warming hot tub to break down during the height of winter and be unusable during the spring and summer months.
Therefore, you might be wondering – how to winterize a hot tub? The answer is pretty straight forward, and this article will tell you exactly how to do it. 
Why You Consider Having A Hot Tub
Firstly, let's look at the benefits of having a hot tub. Hot tubs are great not only for jacuzzi parties or for showing off to your friends but also for your well being. The warm water of a hot tub can easily relax your muscles which is a good thing.
 If your muscles don't regularly relax then they can become damaged by constantly being tensed up. This can lead to some serious health conditions and actually damage your bones. 
Similarly, if you suffer from arthritis or another disease that swells your joints, a hot tub can help ease the swelling.
Swelling of joints can not only be painful but actually limit what you are able to do on a day-to-day basis. This is why a hot tub can be so beneficial for you and for your family – because it will help your physical body repair itself. 
Equally, a hot tub is useful for your mental health. We all get stressed at times and so it is vitally important that you have the space to relax and make yourself feel as good as possible.
Lying in a hot tub and letting the water lap around you is just what you need after a hard day's work. Therefore, having a hot tub can quickly and effectively improve your mental well being. 
Why You Should Winterize Your Hot Tub
You might be wondering why you need to winterize your hot tub in the first place. Surely it should be fine throughout the year and not need any change simply because it is winter?
That is where you would be wrong. If you don't properly winterize your hot tub then the pipes that connect to it and pump the lovely warm water into it might easily crack.
This is because if your hot tub is not properly used or drained during the winter months the water can easily turn icy cold or even freeze. 
Because of the cold water getting trapped in the pipes this will lead to the pipes freezing. Once the pipes freeze, they easily crack. A cracked pipe would render your hot tub useless and cause you to invest in a costly series of repairs. 
Even if your pipes don't fully crack, they might spring a leak. A leak in the pipes would mean that if you try to use your hot tub during the spring or summer months the warm water you need won't stay in the hot tub.
This would mean you would have to get the pipe repaired, again costing you money. Therefore, winterizing your hot tub is the only sensible way to ensure that you can enjoy it throughout the rest of the year when you are using it. Remember, if you are winterizing your hot tub you are making sure it is ready for spring. 
How To Winterize Your Hot Tub 
To begin with you must make sure that your hot tub is properly turned off when you begin as if you start attempting to winterize it whilst it is running you could cause more problems than your bargained for!
Once you are sure the hot tub is off you can begin the process of winterizing it. This means that you must drain your hot tub. 
To do this make sure you have all the equipment you would use to drain your hot tub such as garden hose, a sump pump, a hot tub cleaner and a lot of towels. If you have drained a hot tub before you might be familiar with this process.
After getting all your equipment ready you have to allow the chemicals that are in the hot tub's water system dissipate.
This is important because you don't want any of the chemical solutions to get on your clothes or potentially harm any plants or wildlife nearby. 
Once you have given it a few days all the chemicals should have fully dispersed, and you can really get stuck in with making your hot tub fit for winter.
As soon as you are certain all the chemicals have gone, it is time to turn off the breakers. Whilst you might think that you'd already turned the hot tub off leaving the breakers on means that some electricity can still get into the hot tub. 
This is of course dangerous as, if you are winterizing your hot tub, you can inadvertently cause harm to yourself by leaving the breakers on and allowing electricity to get into the hot tub. 
One everything has been properly turned off make sure your drainage system can accommodate the amount of water you are about to release.
You have to remember that there are approximately 400 gallons of water contained in the average outdoor hot tub and as such there is a danger that if you drain your hot tub without checking the capacity of your drains that you could over fill them. 
If you want to drain your hot tub more effectively you can always use a sump pump which is a device which quickly drains water from the tub. This of course all depends on the amount of time you want to set aside for winterizing your hot tub.
If you are using a pump, make sure to remember to remove the drain cap when you are finished using the pump as if you don't then this could impede the next steps of winterizing your pool. 
If you hot tub is like many other hot tubs, then you should make sure to drain the air blower. The air blower helps to send warm air into the hot tub and is what is responsible for the bubbles you will often see in them.
If you wish to drain your air blower you will have turn your heater off, cover the hot tub, turn it back on, turn it on for thirty seconds to allow the hot air to fully get out of the system and then turn the hot tub fully off again.
This will ensure that you have drained all the water and air that might otherwise have been trapped inside.
Once you have dealt with the air blower it is time to loosen the loosen the unions on the pump and heater. Unions are a type of piping that helps connect the hot tub to the various pipes that it needs to work. 
After loosening the unions that connect to the pump and heater you can begin the process of cleaning and replacing your filters.
Dirty filters can easily contain bacteria which can be harmful to your health so it is important that you clean and replace the filters when you have the opportunity. Such an opportunity can be found when winterizing your hot tub. 
The first thing you must do when cleaning your filters it to make sure you have the correct cleaning equipment with you to clean the filters – if you are not properly prepared then you might find the cleaning process taking much longer than it should do. 
As you are changing the filters and installing fresh one then you should make sure you give them a thorough clean.
Because you won't be using these filters for months then you want to make sure that not trace of bacteria is left in the filter. Using a chemical soaking agent for approximately 24 hours should give the filters the clean they need. 
Once you have cleaned the old filters and stored them away you need to take any remaining water out of the filter well. This is important because you want there to be no water remaining in your hot tub when you winterize it. 
Next you need to clean out the water from the lines. The lines or pumping lines to give them their full title need to be fully emptied of any water or else your winterizing efforts will have been in vain. 
You need to remove all water or else your hot tub's pipes could easily freeze and make it unusable. The best way to do this is to use a super vac which easily blows all traces of water out of the pumps.
After taking out all of the water from the pumping lines make sure to remove any water that is remaining. Hopefully there shouldn't be took much water left as most of it will have been drained. 
With all the water now released from the hot tub you can begin to scrub the hot tub's shell. This is a process that may take some time but is worth it in order to fully make the hot tub ready for winter and free from bacteria. 
Scrubbing the shell should be done with care as you don't want to inadvertently damage your hot tub. Make sure to use nonabrasive sponges and hot tub cleaner.
If you don't want to use too many chemicals, you can use vinegar and or baking soda to clean your hot tub. Whether you wish to use chemicals or not you must ensure that clean every corner of your hot tub in order to stop any bacteria from lingering, this is a great guideline for regular hot tub maintenance as well, no matter the season. 
Next you need to clean your hot tub's cover. If you are winterizing you hot tub, protecting it from the elements during the cold winter months, you want to make sure nothing gets into it.
That goes for any bacteria or germs that could be on the inside of your hot tub cover. The last thing you want is to fully seal your hot tub and then find that it is covered in mould inside. 
The final stage is to make sure your hot tub is fully sealed. We don't just mean slightly sealed but completely and utterly sealed up. This is because if your hot tub isn't properly sealed then you won't be getting any ice or other elemental results into it. 
Make sure to secure your cover, lock it and to strap it down. This is important because if your hot tub isn't properly secured then the cold weather can still easily get into it and cause havoc. This would be the exact opposite of what you wanted when you decided to winterize it. 
The Best Hot Tub Alternatives
When you winterize your hot tub, you might want to consider some alternatives to hot tubs that you could use during the winter months when you need a relaxing warm water treatment.
A Warm Bath
Whilst it isn't as high tec as a hot tub, a warm bath can give you the same kind of lovely relaxing sensation that you get from reclining in your hot tub. 
A Walk In Shower
Whilst you will have to stand up a walk in show can provide the same kind of nice, relaxing warm water feeling as a hot tub and at the fraction of a price.
A Trip To A Spa
If you want to relax and can't use your hot tub during the winter months due to it being winterized, why not take yourself off to a nice spa trip to relax by some warm, comforting waters?
Alongside the beautiful waters you will enjoy whilst at the spa you can also have some exciting massage experiences. 
A Hot Tub Isn't Just For Winter!
Hot tubs are a product which can truly transform your life. They give you the opportunity to fully relax and immerse yourself in a world of pure pleasure after a long day's work, especially if you maximize your hot tub with some of the best hot tub accessories!
This is why knowing how to winterize your hot tub is so important. It will ensure that your hot tub is there whenever you need it in the future and that you will be able to use it whenever you like. 
Hot tubs can help improve your life so make so you give them the best chance possible by properly winterizing them. You certainly won't regret it.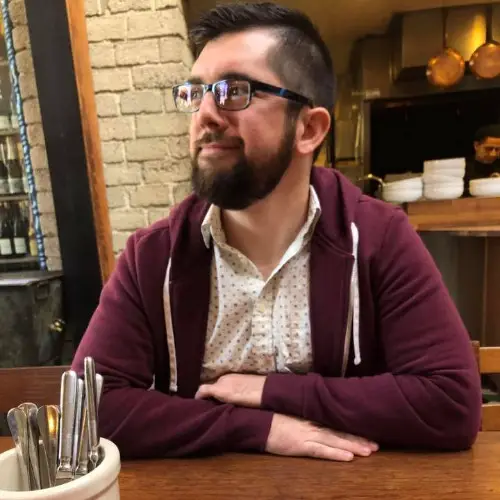 Hello, I am a writer and marketing specialist in Kansas City, MO. My love for swimming pools started as a child when I would visit my aunt & uncle's inground swimming pool on a frequent basis over the summer. Since then I have taught swimming lessons at a Boy Scout Camp, participated in the full setup, installation and maintenance of my father's inground swimming pool, as well as enjoyed constantly researching everything there is to know about swimming pools for 5+ years. I enjoy all water related sports, being part of the online swimming pool community and always learning new things!