Looking into getting an affordable, inflatable hot tub? Let's go over the top choices available today!
Having a hot tub can be a wonderful way to relax by yourself, with friends, or a loved one. Since they require professional installation as you have to deal with plumbing, it can be easier and less expensive to go with one of the best inflatable hot tubs available.
If you're looking for the best inflatable hot tub or spa on the market, then take a look at our buyer's guide & reviews below.
To select our top seven hot tubs, we decided to focus on features such as ease of use, how straightforward it is to set up and deflate, how well it heats, and the overall comfort level. Discover reviews of those products below to decide which one is the best inflatable and portable hot tub for your needs.
Want the TLDR Version? We've got you. Our #1 pick for the best inflatable hot tub is the Coleman SaluSpa Inflatable AirJet Hot Tub.
See how to set up the Coleman SaluSpa below-
Why Should You Even Consider Getting An Inflatable Hot Tub?
You may still be undecided as to whether or not you want to invest in an inflatable hot tub. Many people struggle with deciding whether to get a hot tub or a sauna as well. If so, then you may take comfort knowing about the benefits that come with owning a top-notch inflatable hot tub.
Simple to Setup
We mentioned before that a permanent hot tub requires installation, plumbing, etc. to get going. This can get rather costly. So, if you're looking for a way to relax without installing anything, then getting one of the best inflatable hot tubs can be a great choice as all that's required is for you to pump it up. Some are even self-pumping.
Portability
Unlike a built-in hot tub, an inflatable hot tub, aka a portable hot tub, can go with you anywhere you want it to. Most of them feature handles for easier moving as well as carrying bags to store them in. This can work out well during the likes of extended vacations.
More Flexibility
An inflatable hot tub can typically be broken down as easily as it is inflated. With that said, if you no longer want it in your backyard and instead want it on your deck, it's remarkably easy to move. Some portable hot tubs are suitable for indoor use can even be moved to your basement, garage, or anywhere else in the house when it gets too cold outside.
Check out our top inflatable hot tub reviews below!
7. Bestway SaluSpa Siena AirJet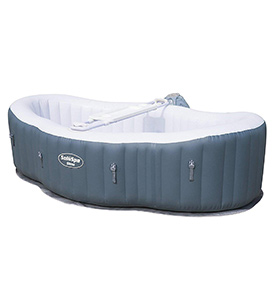 The Bestway SaluSpa Siena is the best inflatable hot tub if you need something to truly stretch out in. It's unique and it bathtub-like design allows two adults to fit rather comfortably. For additional comfort, the walls are made from tri-tech material, which also aids in durability. It has a massage system with 120 air jets, and maintenance is simple thanks to the easy-replace filter cartridges.
Pros
Quality air jets
Good amount of room
Easy setup
Cons
Doesn't keep heat well
The pump can be loud
Potential to leak
6. Goplus 4-6 Person Outdoor Spa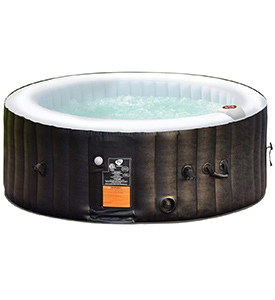 This Goplus Outdoor Inflatable Hot Tub features a 360º bubble design, and it has a heating range from 68ºF-104ºF. There is an insulated cover included in order to help keep it warm while it's not in use. It's even recommended to cover the hot tub during the heating process to help it warm up faster. To make the water gentler on your skin, it features a built-in hard water treatment.
Pros
Quick to deflate
Simple setup
Sturdy
Cons
Slow to heat
Bubbles don't last long
Not as big as claimed
5. Intex 77″ PureSpa Portable Bubble Massage Spa Set
The Intex PureSpa is user-friendly with its easy-to-use control panel. Its handles are durable and provide for a simpler time transporting it. There's also the storage bag it comes with to help with moving it around if needed. Additional features include a built-in hard water treatment, fiber-tech construction so you can sit on it without it bending in, and an insulated cover.
Pros
Low-maintenance
Quick to set up and fill
Comfortable
Cons
Hard to retain temperature
Might leak
Takes a long time to heat up
4. Goplus 6-Person Inflatable Hot Tub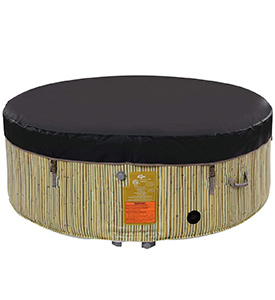 Another contender for the best inflatable hot tub is this model from Goplus. It's made from high-quality materials that help it last a good amount of time. The materials used are also soft, which can help make for a more comfortable experience. What further enhances your comfort is how gentle the water feels thanks to the built-in hard water treatment system.
Pros
Cushioned floor
Minimal noise
Straightforward setup
Cons
Hard to keep it at a set temp
Bubbles only on the bottom
Difficult finding filters
3. Intex Pure Spa 6-Person Inflatable Portable Heated Bubble Hot Tub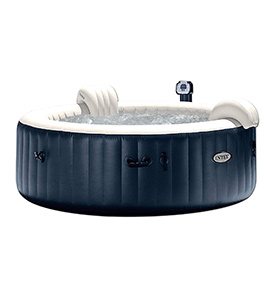 The Intex Pure Spa Bubble Hot Tub may be the best inflatable hot tub that includes pillows for the ultimate relaxing experience. It's surrounded with 170 soothing jets, and it features a control panel that's basic enough to use. This comes with a pump so you don't have to worry about getting it set up right out of the box. For maintenance, the two filters are easy to replace.
Pros
LED light
Easy to put up and take down
Quality heater
Cons
Can't control bubble level
Temp can drop daily
Can develop leaks around the seam
2. Bestway 54155E Hawaii Air Jet Inflatable Outdoor Spa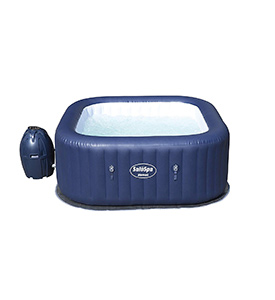 The Bestway Hawaii Air Jet Inflatable Outdoor Spa is said to fit 4-6 people. This has the Salu-Massage System that includes 114 all-surrounding air jets. It also has an automatic timer to start it up and stop it. This is made from tri-tech material for added durability. When you purchase it, it comes with a cover to help with insulation, a chemical floater, and a filter cartridge. It also includes a pump to inflate fast.
Pros
Sturdy design
Easy to use
Good cleaning system
Cons
Slow heater and pump
May lack drain tube
Minimal instructions
1. Coleman SaluSpa Inflatable AirJet Hot Tub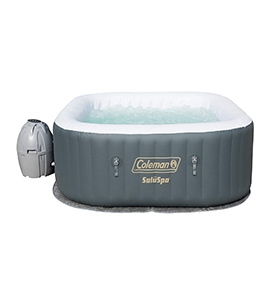 Topping our list for the best inflatable hot tub is the Coleman SaluSpa. It has the power of 114 air jets, and it features a digitally controlled pump that has a soft-touch control panel. You can adjust the hot tub to your liking without ever getting out of it. With the tri-tech material and sturdy I Beam construction, you can lounge on the edge of the tub without worry of it deflating.
Pros
Comfortable to sit in
Thick material
Powerful jets
Cons
Can get a small air leak
Vague instructions
The cord could be longer
Frequently Asked Questions (FAQs)
Read some of our team's answers to the most common FAQs we get related to both inflatable hot tubs and portable hot tubs below!
How Does An Inflatable Hot Tub Work?
As far as how inflatable hot tubs work, the tub comes pre-formed with all the required jets and waterways that can be easily connected to a tub unit that includes both a heater and a pump. The hot tub is always filled with water from a hose and is not connected to your home's plumbing.
Basic inflatable hot tubs will come with a water pump for circulating the hot tub water and a heater to properly heat the water. The minimum equipment and easy setup make inflatable hot tubs a popular and affordable choice for those wanting a home jacuzzi or spa.
What Can I Put Under My Inflatable Hot Tub?
As you may already know, much like above ground pools, it is recommended that inflatable or portable hot tubs have a solid barrier that separates your hot tub's liner from the ground it sits on.
While many people use a tarp or ground cloth, our team's recommendation is either foam tiles that interlock to fit the surface area needed or plastic resin base pads (which are specifically made for being placed under hot tubs on decks and patios).
What Chemicals Do I Need For My Inflatable Hot Tub?
Below is our team's list of the inflatable hot tub chemicals we recommend you have on hand to maintain and protect your hot tub.
Water Sanitizers – chlorine or bromine: these help to keep your water clean and hygienic
Total Alkalinity – a.k.a TA, this affects the pH value of the water in your hot tub to keep it balanced
Oxidizer – also known as 'shock chemicals': this cleans the water and also helps to reactivate your sanitizer
Calcium – this helps stop the water from corroding your hot tub over time
In addition to these chemicals to maintain your inflatable hot tub, also be sure to check your filter cartridge and replace when needed, as a properly working filter cartridge is one of the best defenses to keep your water clean.
Why Won't My Inflatable Hot Tub Drain?
In the vast majority of cases, an inflatable spas and hot tubs can be drained through a garden hose attached to the drainage valve. This will normally be located on the outer wall of the hot tub. An adaptor will be attached to the hose which allows you to secure the hose and valve together, if your hot tub did not come with an adapter they can be purchased online.
If you are not using a garden hose or the proper adapter for the drainage valve, this could cause your inflatable hot tub not to drain properly.
How Much Does An Inflatable Hot Tub Weigh?
A typical water-filled inflatable or portable hot tub will often weigh between 1,900 lbs and 2,300 lbs. Unfilled, an inflatable hot tub will usually weigh around 100 lbs to 200 lbs, varying greatly on the size and brand of course.
How Do You Clean An Inflatable Hot Tub?
When it comes to properly cleaning a hot tub, our team recommends you change the water in your inflatable hot tub at least once every 3 months. Simply put, this involves draining the water from the hot tub, cleaning with a mild soap and a soft cloth, wiping down the tub, and filling it back with water using a garden hose.
You can also utilize one of the best spa and hot tub vacuums to help speed the cleaning process up!
Once this is complete, add the recommended chemicals to the new water and check your hot tubs filter as well. We actually recommend at least checking the filter a couple times per month while the hot tub is in use. You can take the filter out and spray it down with a hose if it needs cleaning.
Can My Inflatable Hot Tub Be Used In Winter?
Yes, but most inflatable hot tubs available on the market today are not rated for use in air temperatures below 40 degrees Fahrenheit. Due to this it is common that they will struggle to maintain the set hot tub water temperature if the outside temperature drops below 40 °F. Even if you have a normal one, it is important to know how to winterize your hot tub.
If you really want to use your inflatable hot tub throughout the winter, it may be worth investing in an insulating ground mat to place below the hot tub, as this will help to maintain steady water temperature.
Where To Buy An Inflatable Hot Tub?
Our team recommends shopping around for the perfect inflatable hot tub on Amazon, as the selection and prices are usually unmatched. If you prefer and in-store shopping experience, stores like Walmart, Home Depot and Lowe's will often have a decent selection of inflatable and portable hot tubs as well. This stores will also be a great place to find some awesome hot tub accessories to liven up your hot tub experience.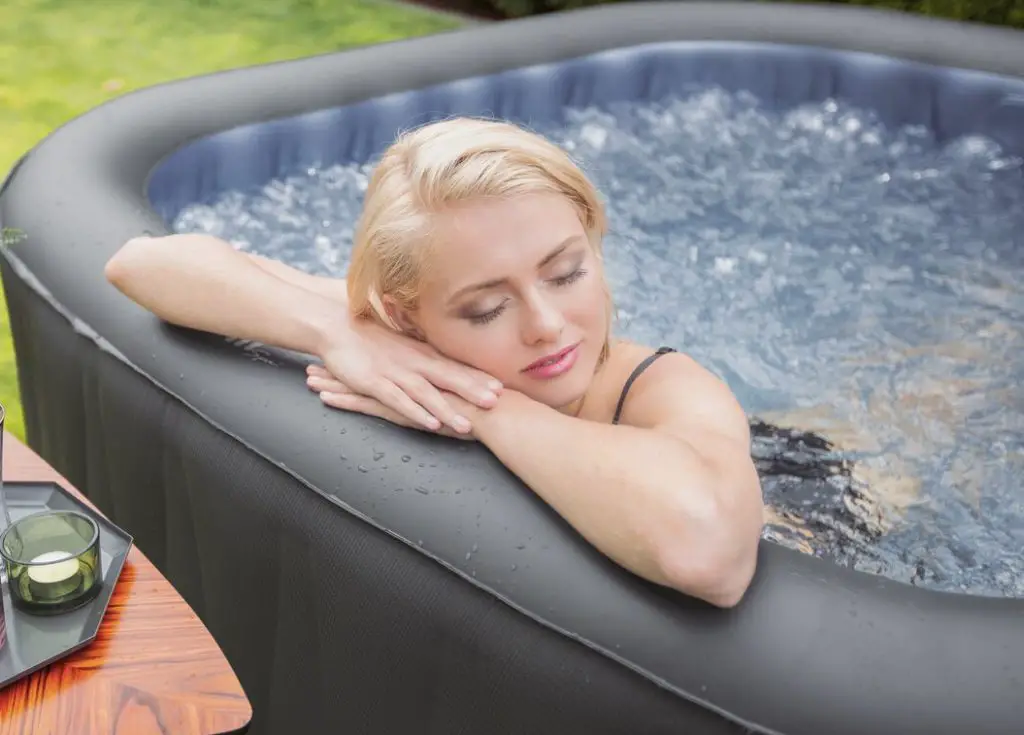 Enjoy Your New Inflatable & Portable Hot Tub
We hope you enjoyed this guide on how to choose the best protable and inflatable hot tub or spa for your home.
Inflatable hot tubs can be an ideal choice when you want the relaxation that comes with hot tubs without permanently installing anything. The best inflatable hot tub is simple to use, durable and warms up well enough, which is why we landed on the Coleman SaluSpa Inflatable AirJet Hot Tub as our #1 pick of the several hot tubs we reviewed and tested.
Now that you have the knowledge and our recommendations for portable hot tubs, we recommend you check out our hot tub maintenance guide! If you have any comments about the best inflatable hot tubs we reviewed in our top seven list, please share them with us in the comment section.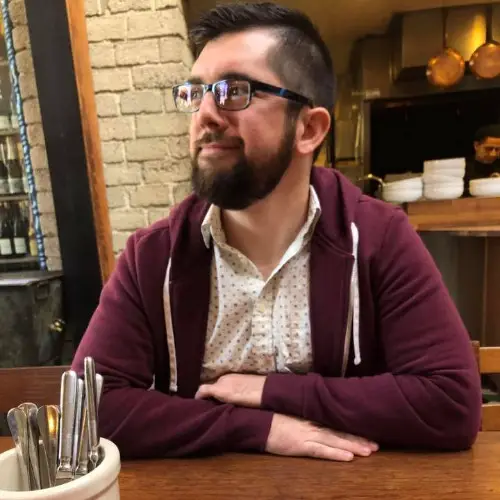 Hello, I am a writer and marketing specialist in Kansas City, MO. My love for swimming pools started as a child when I would visit my aunt & uncle's inground swimming pool on a frequent basis over the summer. Since then I have taught swimming lessons at a Boy Scout Camp, participated in the full setup, installation and maintenance of my father's inground swimming pool, as well as enjoyed constantly researching everything there is to know about swimming pools for 5+ years. I enjoy all water related sports, being part of the online swimming pool community and always learning new things!