Having a swimming pool can make your backyard both fun and relaxing!
However, there is more to owning a pool than just taking a dip in the water. Pools require maintenance to stay clean and safe for your use. Your swimming pool has several parts that work to keep it free of debris, one of these being the ever so important inground swimming pool filter system.
A swimming pool filter is an integral part of your swimming pool equipment. The filter is one of the main ways your pool keeps itself clean. So, how does a swimming pool filter work? Learning the answer helps you understand how to keep your pool clean. Having a good swimming pool filter and keeping it well maintained can keep your pool sparkling all summer long.
How A Pool Filter Works Explained
A swimming pool filter works by keeping your pool clean and free of debris. Several parts of your pool work in conjunction with one another to filter out all the stuff you don't want. Filtering is a multistep process.
The filtering system starts with the skimmer and the main drain. The skimmer is the rectangular opening near the top of your pool wall. The main drain is located either in the bottom or near the bottom of your pool. Not all pools have a main drain.
The pump draws the water from the pool through the filter and the main drain. The water then moves through the pump and into the filter. The filter then strains out any dirt, debris, and bacteria. The water returns to the pool using the return jets. If you have a heater or a salt-chlorine generator, the water will travel through those before returning to the pool.
Types of Swimming Pool Filters
Most pool filters function in the same way. However, there are three different types of pool filters. We describe each model below: 
Sand Filter
A swimming pool sand filter consists of a container of sand that the pool water filters through. The sand is unique, pool-grade sand made to prevent small debris from filtering through. Anything that cannot penetrate through the sand is trapped there. Ideally, only water can seep through.
As the water filters through the sand and the debris are trapped, the sand filter becomes even more useful. The sand and trapped debris work together to catch even more waste. This process allows the filter to capture even smaller debris and keep your pool cleaner. If an item isn't filtered out on the first pass, it should filter out on a later pass.
Maintaining a Sand Filter
Over time, your sand filter will build up pressure from the captured debris. You need to check the filter once a week, and once the pressure reaches between eight and ten pounds, it's time to do a backwash cleaning. This process involves flushing out the filter to remove the debris.
Eventually, the sand in your filter will no longer be effective. You will need to change out the sand every five to seven years. This process involves removing the old sand from the filter and replacing it with clean sand.
Cartridge Filter
A cartridge filter consists of a tank that has a cartridge inside. The cartridge contains a membrane. Much as with a sand filter, the water is pulled into the tank and passed through the filter. The filter captures any particles or debris, leaving the water clear and clean.
Cartridge filters are highly effective and can capture more debris than a sand filter. These filters do cost more but can save you money in the long run. Cartridge filters are best for saltwater pools as they do not lose as much salt.
Maintaining a Cartridge Filter
To maintain your cartridge filter, monitor it weekly to see when the pressure reaches ten psi. Remove the cartridge and rinse with a hose. You do not need to backwash. The cartridge will need to be replaced every three years or so.
Diatomaceous Earth (D.E.) Filter
D.E. filters are made from fossilized organisms, also known as silica. D.E. is put into the skimmer and coats a grid, which filters out debris when the pump pulls the water through. This filter can weed out the tiniest of debris.
Maintaining a D.E. Filter
To maintain your filter, you will need to backwash it at least once a month. Around once or twice a year, you will need to do a thorough cleaning of the grid and replace the D.E.
How Long Should I Run My Pool Filter Each Day?
How does a swimming pool filter work? Now that you know the answer, the next question to ask is, "How long should I run my pool filter each day?" 
If your pool is going to stay clean, all of the water needs to pass through the filter at least once per day. So, the amount of time you run your filter will vary depending on your pool size. Most swimming pool experts recommend around eight hours a day.
You can refine this number by researching how many gallons per hour your particular filter can process. Use this number and the volume of your pool to determine the exact amount of time you should run the filter. Larger pools may need longer than eight hours, while small pools may need less.
What's the Best Time of Day to Run Your Pool Filter?
Running your pool filter can be a significant expense on your energy bill. However, you can cut costs somewhat if you run your filter at night. Most electricity companies charge less for electricity used at night. Nighttime is the best time of day to run a pool filter, but run it a little during the day as well to keep the water circulating.
Our Conclusion On How Pool Filters Work
If you want to get the most enjoyment out of your pool, it is essential to keep it clean and keep the water moving. One of the top-rated pool filters for inground pools or above ground pools can help you keep your pool clean and safe to use. Understanding how a swimming pool filter works can help you keep your pool filter well-maintained so that it can do the essential job of keeping your pool free of debris.
Also, check out the helpful explainer video by Filbur on "How A Swimming Pool Filter System Works" below.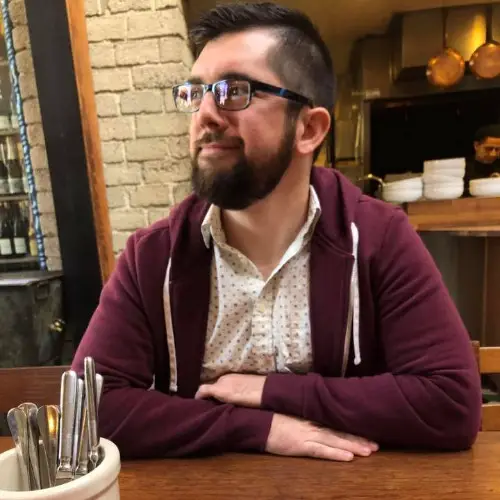 Hello, I am a writer and marketing specialist in Kansas City, MO. My love for swimming pools started as a child when I would visit my aunt & uncle's inground swimming pool on a frequent basis over the summer. Since then I have taught swimming lessons at a Boy Scout Camp, participated in the full setup, installation and maintenance of my father's inground swimming pool, as well as enjoyed constantly researching everything there is to know about swimming pools for 5+ years. I enjoy all water related sports, being part of the online swimming pool community and always learning new things!