Researching the best above ground pool liners? We have got you covered!
Many homeowners prefer above-ground swimming pools because of their multiple advantages. They're cost-effective, safe, and easy to put up and clean, to name a few! However, like inground pools, they do require pool liners. Yes, inground pools have liners as well.
As with most things, quality above ground swimming pools do degrade over time. The ideal thing you can do to extend the life of your pool is to use a pool liner.
Today, we're reviewing some of our favorite above-ground pool liners on the market. Whether you're buying your first one, just doing research, or looking for a quality replacement, we've got you covered.
TLDR Version? We've got you covered- Our #1 Pick For The Best Above Ground Pool Liner is the Smartline Boulder Swirl 24-Foot Round Liner.
Let's dive right in… but first…
Why Even Get a Swimming Pool Liner?
Swimming pool liners preserve the integrity of above-ground pools; hard-sided ones, to be exact. Then, when it's time for an update, you can simply replace the liner.
This can save you money, time, and resources. Plus, liners give you the chance to upgrade the style of your pool, as they're featured in a wide variety of patterns and styles.
The question you have to ask yourself is, when should I replace the pool liner? Read below for some factors that can cause your pool liner to deteriorate.
Too Much Chlorine
More may be better in certain situations, but that doesn't apply to chlorine and pool liners. Having too many chemicals in the pool weakens the liner material. Over time, this creates tears and gashes in the liner.
Sun Damage
This one is also pretty obvious. Just like chlorine, sun rays can be pretty harsh. When your pool liner is exposed to the sun for a very long time, it can get brittle and easily torn.
Contraction and Expansion
The science behind heat expansion and cold contraction applies to vinyl; the material from which most pool liners are made from.
As time passes, the extending and shrinking of the pool liner cause it to weaken and eventually tear.
Cuts and Tears
Pool liners can get torn for a number of reasons. Old age is one because vinyl becomes brittle with time and constant usage.
Another reason could be projectiles from your lawnmower. These can end up hitting the pool and causing the liner to tear.
Then, there's the weather. If you live in a region that gets lots of rain and wind, it can cause debris to hit or fall into the pool and tear up the liner.
Our Reviews of The Best Above Ground Pool Liners On The Market
Below, you'll find some of the best above-ground pool liners on the market. Take a look to see which offers the most ideal fit for your pool.

1.   Smartline Boulder Swirl 24-Foot Round Liner
Suitable for a 24-foot round pool, this Smartline liner is made from durable and heavy-duty vinyl.  It features double-welded seams for added durability and a thickness of 25 gauge.
One terrific feature is this liner's pretty pattern of seashells and pebbles. We especially like that it has a Lamiclear coating. This layer protects against harmful UV rays and chemicals.
Pros
Visually-pleasing pattern
Double-welded seams
Lamiclear coating for extra protection
100% virgin vinyl
Cons
Doesn't work with pop-up and Intex pools

2.   Smartline Crystal Tile 27-Foot Round Liner
Smartline's uni-bead liner is designed for 52-inch high round pools. It's made from heavy-duty vinyl and double-welded seams. Add to that the 25-gauge thickness and you have a liner that can withstand the roughest of weather conditions.
What caught our eye is the attractive design of sapphire and silver crystal tiles. It gives your pool an upscale look you can enjoy all summer.
Pros
Durable build
Long-lasting
Stylish design
Easy to install
Cons
Colors may fade after extended sun exposure

3.   Smartline Cracked Glass 18-Foot Round Liner
This Smartline overlap liner comes in a fun, trendy pattern that will add life and energy to your pool. Best of all, it's designed to fit either 48 and 52-inch sidewalls, so you get more out of it.
One of its top features is the liner's virgin vinyl durable material with a 25-gauge heavy-duty thickness. It also features double-welded seams and an acrylic top layer to reduce the risk of tears and punctures.
Pros
Trendy design
Double-welded seams
Made with durable materials
UV-resistant print layer
Cons
Wrinkles tend to appear after some time

4.   Smartline Antilles Dolphin 27-Foot Round Liner
This pool liner from Smartline is one of the most colorful on the market. You'll feel like you're swimming in the ocean among the dolphins and gorgeous, life-like corals.
It features 25-gauge thickness and durable vinyl. This liner is long-lasting just as it is beautiful to look at.
Pros
No-fuss set-up
Durable design
Unique, colorful design
Reduced creases and wrinkles
Cons
Overlap may slip into the pool during filling

5.   Swimline Sunlight 24-Foot Round Liner
This round pool liner from Swimline comes in a vibrant blue sunlight design. It'll make the water look like it's moving and glistening in the sun.
This liner is designed for flat-bottomed pools with a maximum height of 60 inches. It's made from a durable vinyl with a sturdy 25-gauge thickness.
Pros
Easy to maintain
100% virgin vinyl
A Lamiclear layer to protect against UV fading and chemicals
Sunlight design
Cons
Wrinkles may appear and collect dirt and debris

6.   Smartline Rock Island 24-Foot Round Liner
The Smartline Rock Island pool liner features a nice, easy-going print. With gray and brown rocks along with blue pebbles, this design print will give your pool a fun look.
Durable, sturdy, and long-lasting, this liner easily fits a 24-foot round pool. It suits pools with a maximum depth of 52 inches.
Pros
Sturdy material
Easy to install
Reduces creases and wrinkles
Nice print
Cons
Colors may fade with prolonged exposure to chemicals

7.   Smartline Solid Blue 24-Foot Round Liner
Smartline's solid blue color print offers a traditional look for your pool. It's also easy to install and maintain with the help of coping strips that keep the liner in place.
Another of this liner's handy features is it's coated with a layer of UV inhibitors. It ensures maximum protection against the damage caused by prolonged exposure to sunlight.
Pros
Fits nicely while the pool is filling
Traditional blue color
Protective layer
100% virgin vinyl
Cons
Creasing tends to appear after a while

8.   Quality Pool Products Oval Beaded Liner
If you're searching for a durable liner for your small, oval pool, look no further! This beaded liner is strong and durable with lap seam construction.  It also comes with a protective layer against chemicals and UV fading.
Yet, this one stands out because of its unique Glimmerglass design. It gives your pool a stylish, funky look for a fun, cool summer.
Pros
Unique print design
Durable
Protects against chemicals and UV rays
The Beaded liner makes installation hassle-free
Cons
Wrinkles tend to collect debris and dirt


What to Look for When Buying A Swimming Pool Liner: Buyer's Guide
Here are a few features to keep an eye out for when in the market for a new pool liner.
Material
Liners for above-ground pools are typically made from 100% virgin vinyl. Yet, what differentiates one brand from the other is its external acrylic coat. The more resilient the coating, the longer the liner will last.
Thickness
The thickness of pool liners is either measured in gauge or millimeters, depending on the manufacturer. Most thicknesses are between 20 and 30 gauge thick. A 30 gauge pool liner is around 26 millimeters.
20 gauge is the standard size. It provides basic protection for your pool and comes with a budget-friendly price tag.
The downside is that they're thin, making them more susceptible to tears and cuts. They can only last a few summers.
A gauge that's 25 and above is made with thicker vinyl. These liners are typically more durable and can last up to 10 years. Yet, they're more expensive. Also, the extra weight may make setting them up more difficult.
Size
To know the right size of pool liner, it's vital that you know the size of your pool. Try to avoid buying smaller-sized liners. They can cause the pool walls to buckle once you fill the pool with water.
On the other hand, oversized liners can cause folds in the material. Over time, these folds collect debris and dirt.
Design
Pool liners were only available in plain blue. Nowadays, you can find them in all types of 3D printed designs and vibrant colors.
Pro-tip: light colors and patterns are better suited for hot areas. However, if you live in a cold region, opt for dark-colored liners. They'll help absorb heat from the sun and retain it. It's the logical and affordable way to heat your pool naturally.
Type
There are two basic types of pool liners. Read ahead to find out more about each type so you can determine which one best suits your above-ground pool.
– Overlap Liners
Overlap liners are the first-ever liner types; they started it all! To install, place the liner in the center of the pool. Next, stretch out the edges. Then, clip the liner in place along the top of the pool walls using coping strings.
Overlap liners suit almost any pool shape or depth. Best of all, they're more affordable than other types of liners.
Their one drawback is they're designed to hang down along the outer sides of the pool wall. Some users find it takes away from the aesthetics of their pool.
– Beaded Liners
As their name implies, standard beaded liners need bead tracks, or receivers, to set them up. These bead receivers are attached to the pool wall. Then, the liner is attached to the tracks to keep them in place.
They're also known as snap bead liners because they simply snap in place. Installation is easier and quicker than overlap liners. Their only downside is they cost more.
Beaded pool liners come in three varieties:
J-Hook/V-Bead
J-hook and V-bead liners feature hooks that connect the liner to the highest point of the pool wall without the need for any bead receiver. They work best in smaller-sized pools.
EZ-Bead
EZ-bead liners are two beads in one. You can use it as the J-Hook liner by hanging it on the pool wall. The second option is to connect it to standard bead receivers.
For added security, you can use both installation methods.
Uni-Bead
Universal bead liners, or uni-bead, consist of U-shaped edges that you attach to the tops of your pool wall. They're a combination of both J-hook and standard bead liners.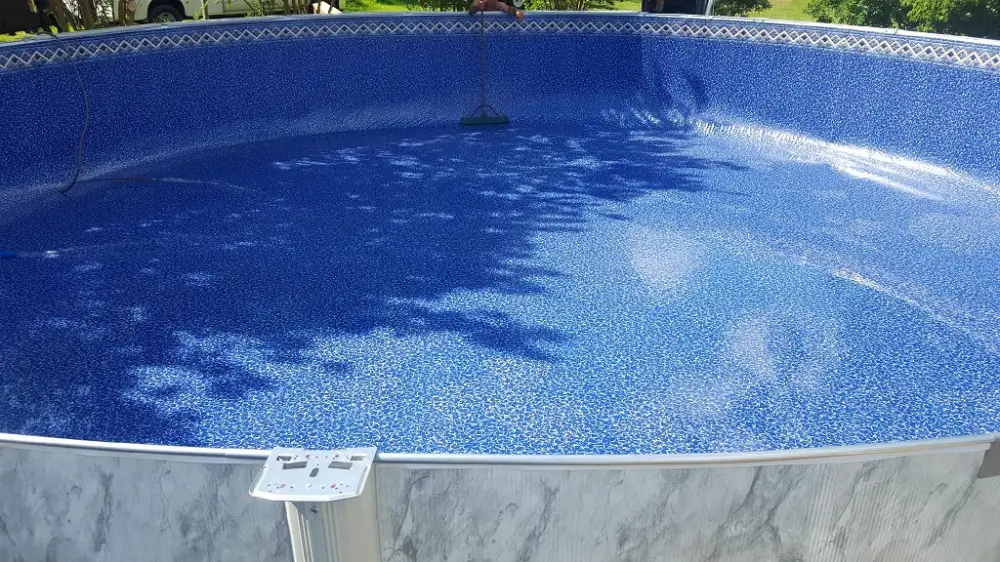 FAQs About Swimming Pool Liners
Here are some common questions regarding above-ground pool liners.

Q: What Are Above-Ground Pool Liners Made Of?
A: Manufacturers typically use virgin vinyl to make above-ground pool liners. The edge seams are double-welded for added durability.
Some companies use Lamiclear technology. This adds a UV-resistant layer to the liner for extra protection.

Q: How Long Will My Pool Liner Last?
A: Many liners come with a 15 to 20-year warranty. Nevertheless, the average lifespan of a pool liner can be anywhere from 6 to 10 years.

Q: Can I Patch Leaks On My Pool Liner?
A: Yes! If you spot the leaks early on, you can patch them using a pool kit patch.
However, this mainly depends on the age of your liner. If it's only several years old, it makes sense to try and patch it up.
Yet, if the liner is more than 10 years old and is already showing signs of thinning? Then, it's time to look for a replacement.
It's worth noting that patches are a temporary solution. They may last for a couple of years at most.

Q: Should I Put Anything Between The Pool Liner And The Swimming Pool Itself?
A: There's a protective layer that goes between the ground and the liner. It helps preserve the integrity of the liner and reduces the risk of tears and punctures.
This layer can be a padded foam liner. This comes in rolls that are trimmed to size. The second option is a geotextile liner pad. It's available as a single sheet that's typically precut.
Q: How To Replace Above Ground Pool Liners?
A: Below is our team's recommended step-by-step process for proper above ground swimming pool liner replacement.
Fully Drain Your Swimming Pool Of Water
Remove All Pool Accessories/Plates Attached Over The Liner
Use a Box Cutter or Utility Knife To Carefully Remove Cut & Remove The Existing Swimming Pool Liner
Clean The Pool Floor And Walls Thoroughly, While Also Repairing Any Cracks or Holes if Needed.
Measure, Cut, and Install The New Pool Liner, Smoothing It Out As You Go To Remove Wrinkles
Help Fit The Pool Liner Using A Vacuum (This Is Done By First Duct Taping All The Openings & Then Using A Shop Vac To Vacuum Between the Lines and The Swimming Pool Wall).
Fill The Pool With 6 inches of Water, then Remove the Duct Tape and Turn Your Shop Vac Off, Continue To Fill With Water Until Full.
Q: Where Do You Buy Above Ground Swimming Pool Liners?
A: The majority of above ground swimming pool liners are purchased online, however if you live near a pool supply store, it is likely they have them there. However, since many of us do not live close to a swimming pool supply store, our team's recommendation is to shop on Amazon or PoolSupplies.com.
Q: How Do You Find Leaks In Pool Liners?
A: There are a few ways to detect and identify leaks within swimming pool liners, but our team's preferred method is to simply hand touch or walk along the floor of your pool to feel for any bubbly or squishy areas, which usually are caused by leaks in the liner. You can also use non-toxic food coloring by placing it in the pool water to help identify where eddies or ripples appear, which will usually lead to a the leak or cracked area.
Q: Who Makes The Best Above Ground Pool Liners?
While this is a extremely subjective question, and there are many great pool liner companies out there, we prefer Smartline pool liners. They are durable, affordable and come in a variety of sizes and designs, making them a great option for above ground pool owners to consider.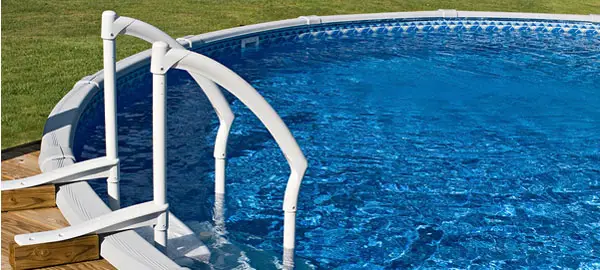 Enjoy Your New Above Ground Swimming Pool Liner
To get your pool ready for the summer, we gathered eight of the best above ground pool liners on the market. We tried to include something for every budget, style, and pool size.
While they're all top-sellers, our top pick is the Smartline Boulder Swirl Liner. It's durable, long-lasting, and easy to install. The best part is it comes in a variety of fun designs to style up your pool.
If you're looking for a more traditional pool liner, we recommend the Swimline Round Blue. This swimming pool liner works with almost every pool size. Yet, their best feature is its durable vinyl material. It also comes with double-welded seams for maximum protection.
No matter what you decide to go with, an above ground swimming pool liner is a great (and arguably necessary) investment in your pool!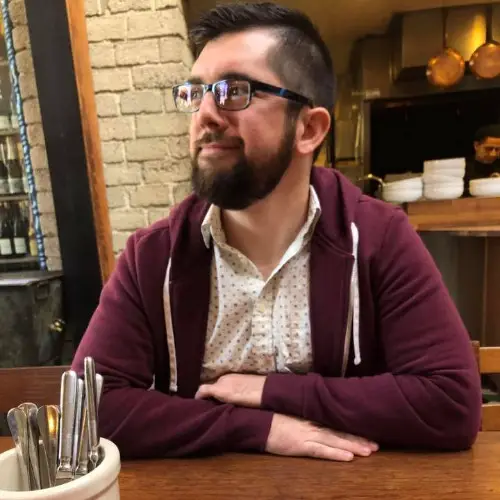 Hello, I am a writer and marketing specialist in Kansas City, MO. My love for swimming pools started as a child when I would visit my aunt & uncle's inground swimming pool on a frequent basis over the summer. Since then I have taught swimming lessons at a Boy Scout Camp, participated in the full setup, installation and maintenance of my father's inground swimming pool, as well as enjoyed constantly researching everything there is to know about swimming pools for 5+ years. I enjoy all water related sports, being part of the online swimming pool community and always learning new things!