Before we get into the best hot tub vacuums, let's acknowledge that having a hot tub at home is definitely a big win.
It's the perfect way to relax after a long day, no matter the weather since the water will be hot and welcoming. Plus, it's a great way to impress guests and to instantly turn a casual hangout into a fancy night in.
But don't be fooled, although hot tubs are smaller and easier to take care of than pools, they still require some maintenance! 
Particularly, hot tubs require proper and regular cleaning. After all, hot tubs can get pretty dirty, and if you don't clean them out, they can become a breeding ground for all sorts of bacteria and germs, especially with the amount of debris that can accumulate at the bottom (such as leaves, branches, sand, dirt, and more!) So seriously, you need to clean the hot tub to keep it safe for use! 
Luckily, cleaning a hot tub doesn't have to be complicated or too time-consuming, that is if you use the right tools and methods. The most efficient way of cleaning your hot tub is by using a hot tub vacuum, this is also one of the must-have hot tub accessories to have on hand.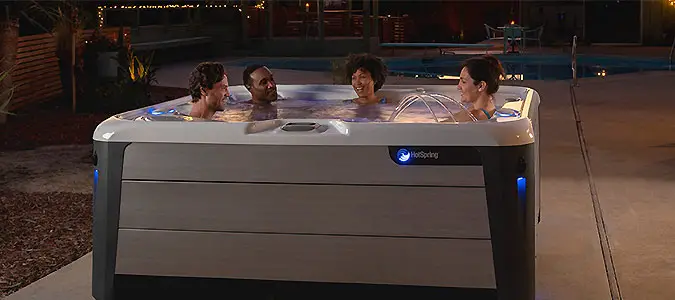 But…which hot tub vacuum should you get? The market is full of many different options, so much so that it can be overwhelming to choose.
And unless you're an expert, it can be a bit of a struggle to figure out which hot tub vacuum is the best.
That is why we have compiled a list of and reviewed our favorite hot tub vacuums, which are some of the top-rated ones on the market today. Let's have a look at them! 
First, on our list of favorites, we have the Intex 28620EP Handheld Spa Pool Vacuum and Amazon's choice product that is extremely popular among customers, with plenty of positive reviews and ratings.
It is suitable to be used with all pure spas as well as above-ground pools, up to a diameter of 18'. 
This hot tub vacuum cleaner is handheld and lightweight enough to be used comfortably. It has a telescoping aluminum shaft and a shaft adapter. It also comes with a USB cable, as it is also rechargeable with a Ni-MH battery that lasts 50 min per charge.
It has a powerful suction for ultimate performance and comes with two different brush heads which are interchangeable according to need. 
It only operates when fully submerged in water as it has an automatic shutoff feature when it is removed from the water (which is super convenient!).
It also features an IPX8 waterproof switch so that it is completely protected while submerged. Efficient, easy to use, and powerful. Everything you need to keep your hot tub clean! 
PROS:
Lightweight and durable – Convenient for handheld use
Long battery life – Ni-MH battery with 50 min of usage per charge 
Versatile – Two interchangeable brush heads included with the product 
Safe to use – Automatic shut-off feature when not submerged in water
CONS:
The main brush attachment is quite small in size -Using this vacuum in larger tubs can be time-consuming
Sale
Next on our list, we have an incredible hot tub vacuum cleaner by Pool Blaster, which is one of the more popular brands and for very good reason.
They have a wide range of reliable products and a few different hot tub vacuums that are a favorite amongst customers.
This one, in particular, the Catfish Swimming Pool Cleaner, is ideal for hot tubs and spas, as well as both in-ground and above-ground pools. 
This pool cleaner is completely cordless, with a rechargeable Lithium-Ion battery that has a run time of up to 45 minutes per charge, making it ideal for a quick clean of the hot tub. It is also incredibly easy to use, with a push-button operation.
Plus, it is easy to use in a handheld mode, as it is lightweight, although it can also be attached to any standard telescopic pool pole for convenience. 
The Catfish pool vacuum cleaner also comes with a removable 7.5'' vacuum head so that you can reach the harder-to-reach areas of the hot tub.
It has powerful suction that is able to easily remove all sorts of debris (such as twigs, leaves, sand, dirt, and more).
The spa vacuum also comes with an all-purpose filter bag, two disposable micro-filter bags, a wall charger, and a vacuum head with a soft-bristled brush. Honestly, it's one of the best options you can possibly go for. 
PROS:
Highly popular and reliable brand – Know you're getting good quality
Long battery life – Rechargeable Lithium-Ion Battery with 45 min run time
Easy to use – Handheld with the possibility of being attached to a telescopic pool pole
Versatile use – The product comes with a few convenient extras 
CONS:
Not long-lasting – Not as durable as expected compared to others 
Sale
POOL BLASTER Catfish Cordless Pool Vacuum for Quick, Efficient Cleaning, Handheld Rechargeable Hoseless Swimming Pool Cleaner for Hot Tub and Spa, Inground & Above Ground Pool Steps, by Water Tech
CORDLESS: Rechargeable Lithium Ion Battery. Perfect for quick and easy cleaning in the Hot Tub or Spa and in the swimming pool. No hoses or cords needed. Ideal for Small In-Ground, Soft-Sided and Above Ground Pools like Intex
VERSATILE CLEANING: Includes a removable 7.5" vacuum head for general cleaning or simple remove to expose nose cone head for hard to get areas. Comes with All-Purpose Filter Bag for leaves and large debris. All-Purpose Filter Bag together with Microfilter Bag (included) captures sand, silt, and other fine particles.
RUN TIME: The lithium ion battery powered Catfish is designed to run up to 45 minutes
EASY OPERATION: Push-Button operation. Lightweight and easy to use by hand or attach to any standard telescopic pool pole. Easily cleans; Easy Set, Metal Frame, PVC Frame pools. (pole not included)
WHATS INCLUDED: 7.5" Vacuum Head w/Soft-Bristle Brush, Wall Charger, (1) All-Purpose Filter Bag, (2) Disposable Micro-Filter Bags
Yet another amazing product option by the Pool Blaster brand, which we have already established as one of the most popular and reliable in the world of cleaning pools and hot tubs, is the Max Cordless Pool Cleaner.
The main feature of this particular pool vacuum is its increased power. It features a Water tech P30 motor design for better suction making it a lot more efficient when picking up debris. 
The Max Cordless is especially good for bigger hot tubs as it is fast and can get through a large area in record time leaving the bottom spotless.
Plus, it is equipped with a rechargeable Lithium-Ion Battery that has an increased running time of up to one hour, better than most product options.
It is also fairly lightweight for handheld use and can be attached to any standard telescopic pool pole for top convenience. This vacuum is also incredibly easy to use thanks to a push-button operation. It also comes with a removable vacuum head that comes off to allow better access to small difficult areas.
Oh, and to make things even better, it features a large debris capture chamber that can hold everything it sucks up so that you're not forced to stop halfway through the job to empty it out!
It is no wonder that this particular product is so well-loved by customers and we certainly recommend it! 
PROS:
Powerful – Increased power thanks to the Water tech p30 motor design 
Great battery time – Rechargeable Lithium-Ion battery with up to an hour of run time
Easy to use –  Its larger debris capture chamber collects more dirt and debris
Fast and efficient – Recommended for larger hot tubs 
CONS:
Not suitable for some small areas – The cleaner head is unable to work on small rounded corners
Sale
POOL BLASTER Max Cordless Pool Vacuum for Deep Cleaning & Strong Suction, Handheld Rechargeable Swimming Pool Cleaner for Inground and Above Ground Pools, Hoseless Pool Vac by Water Tech
INCREASED POWER: The Max offers increased vacuum suction with the Water Tech P30 Motor design engineered for quick & efficient debris pick-up.
WHOLE POOL CLEANER: Clean entire pool or Spot-Clean in seconds. Includes a removeable 10.5" vacuum head for general cleaning or simple remove to expose nose cone head for hard to get areas. Ideal for In-Ground pools and Above Ground Pools like Intex
CAPTURE MORE DIRT: The Max features a large debris capture chamber and strong suction for a variety of cleaning; acorns, twigs, leaves dirt and sand.
CORDLESS CLEANING: Perfect for quick and easy cleaning in the Swimming pool and Hot Tub or Spa. No hoses or cords needed.
MORE RUN TIME: The lithium ion battery powered Max is designed to run up to 1 hour. Push-Button operation. Attaches to any standard telescopic pool pole. (telescopic pool pole not included)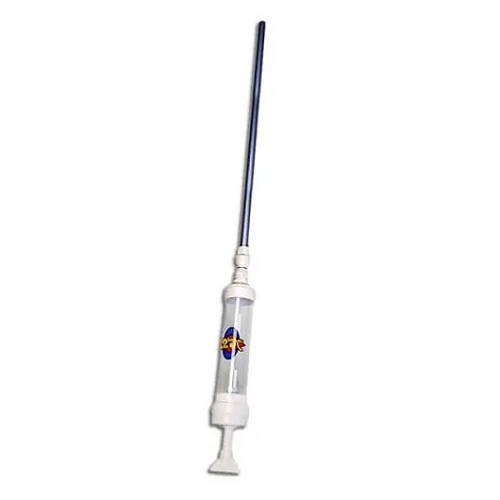 Another great product option that we recommend, if you want your hot tub to be spotless, is the Aura 6250 Paradise Power Spa Vacuum.
It has excellent reviews from customers and the Aura brand is known to be reliable and high-quality. 
The best thing about this particular pool vacuum is that it doesn't use batteries. So there is no need to charge it and no need to limit its use to a specific run time.
Instead, it works by implementing a very simple siphon action, with which it can remove debris from the bottom of the hot tub, or the pool. And don't worry, this doesn't make it any less powerful.
It is able to efficiently suction rocks, pennies, sand, leaves, and all sorts of other debris! 
It is also very easy and comfortable to use. It is lightweight, with an aluminum telescopic pole that can extend to over 7 feet, which is more than enough.
It is also highly durable so you will be able to continue using it for years to come especially if you use it properly and treat it with care.
A great overall choice for those that don't want to have to remember to charge the vacuum beforehand! 
PROS:
Works through a siphon action – No batteries and no need to be charged
Aluminum telescopic pole up to 7 feet long – Allows you to get to hard-to-reach spaces
Highly durable and reliable – Lasts a long time even with frequent use  
Efficient – Ideal for large pieces of debris 
CONS:
Can't hold a large amount of debris – Needs to be emptied often which is a hassle
Last, but not least on our list of the best spa and hot tub vacuums, we have the Pool Supply Town Spa Jet Vacuum, loved by many.
One of the reasons why we love this particular product option, and why many choose it above others, is that it does not require any electric power.
Instead, it works by using the water pressure from your garden hose in order to suck up all the debris from the bottom of the hot tub or pool.
Basically, the water pressure creates a sort of venturi effect which produces a very strong suction, making it incredibly effective! It is ideal for large areas that need cleaning, as there is no run-time limit, this is a great option for picking up heavier pieces of debris. 
The debris gets captured into the vacuum's mesh bag which can then be emptied. And overall, this vacuum is convenient, easy to use, and completely portable thanks to its lightweight design.
To be used properly, you will need a standard telescopic pool, so be aware of this, as it is not included with the product! 
The product comes with an assembly and operation instruction manual so that everything is nice and clear. High-quality, durable, and you can use it for as long as you want, no need to charge. Pretty good right?
PROS:
No electric power is needed – It works through water pressure suction to help keep electricity bills down
Portable – Convenient and easy to use
No run-time limit – Ideal for larger areas with an efficient suction power
CONS:
Telescopic pool pole not included with the product – Need to spend extra if you require this 
PoolSupplyTown Pool Spa Jet Vacuum Cleaner w/ Brush, Ideal for Frame Above Ground/Inflatable Pools, Spa, Hot Tub, Pond, Fountain Vacuuming, No Electric Power Needed, Use Water Pressure From Garden Hose to Vacuum (Use with A Telescopic Pool Pole, Not Included)
This item DOES NOT come with pole. You need a standard 1-1/4" telescopic pool pole to vacuum (Not included) your pool. A telescopic pole is more solid and strong to operate & vacuum your pool
Vacuum debris and brush pool at the same time. Ideal for frame above ground/inflatable pools, spa, waterfall, fountain, hot tub, and pond
Use water pressure from your garden hose to suck up debris in pool.
The water pressure from your garden hose creates an Venturi effect inside this jet vacuum and produce strong suction in the vacuum head, drawing leaves and debris from pool floor into the vacuum's mesh bag
No ELECTRIC POWER needed. Package comes with an Assembly & Operation instruction manual. This jet vacuum is portable and very handy to use
Our Hot Tub Vacuum Buying Guide
If it's your first time buying a vacuum cleaner for your hot tub, you're probably wondering what exactly you should be looking for and what is a sign of a good vacuum.
After all, you want to get the best possible option for your money and you want something that is going to be easy to use, convenient, and highly effective! So…what should you be checking? 
Well, there are a few basic factors that you should take into consideration when choosing your hot tub vacuum, just so that you can make sure that you are picking the right one for your personal needs and preferences.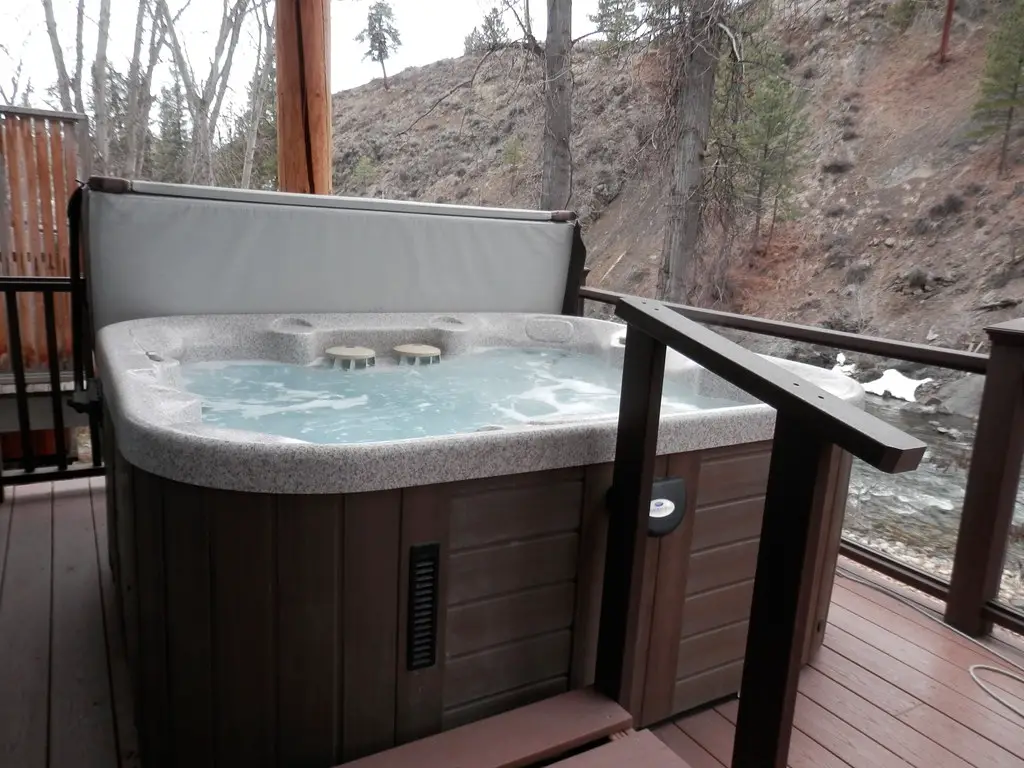 Here is what you need to think about before buying your new spa vacuum: 
The Size And Weight
A hot tub vacuum will be a lot easier to use if it's easy to move around and handle, and for this, it needs to be a convenient size and weight.
For something portable, you will want a lightweight design that is still sturdy and durable. 
If you want a vacuum that is handheld, then the weight is even more important as you won't be able to efficiently clean with it if it's too heavy!
But of course, if you have a larger hot tub, you will want something bigger with a bit more power. 
The Suction Power
Suction power is everything when it comes to vacuum cleaners.
The stronger the suction, the faster the vacuum will clean your hot tub, and the better it will do so too, especially if there are large pieces of debris floating around! 
To check the suction power, look out for any tech features, as well as the method of operation. 
The Battery Life
If the vacuum is battery-powered, check the type of battery, and how long it lasts per charge. If you have a large hot tub, you will need a longer running time, so this is definitely an important thing to consider! 
On average, most pool vacuums will have a running time of between 40 minutes to an hour. 
The Attachments And Overall Fesign
Think about the shape of your hot tub and what kind of head is needed to reach those narrow small corners, especially with inflatable hot tubs and spas.
You should always check the head attachments and the overall design of the vacuum to consider whether it is a right fit or not! 
The Amount Of Debris It Can Hold 
Most pool vacuums will come with a mesh bag or capture chamber, in which they store the debris that is suctioned up. And once they are full, they will need emptying in order to continue. 
The larger the storage capacity, the longer you can vacuum without having to stop and empty, so consider this beforehand. Especially if you have a large hot tub or spool pool!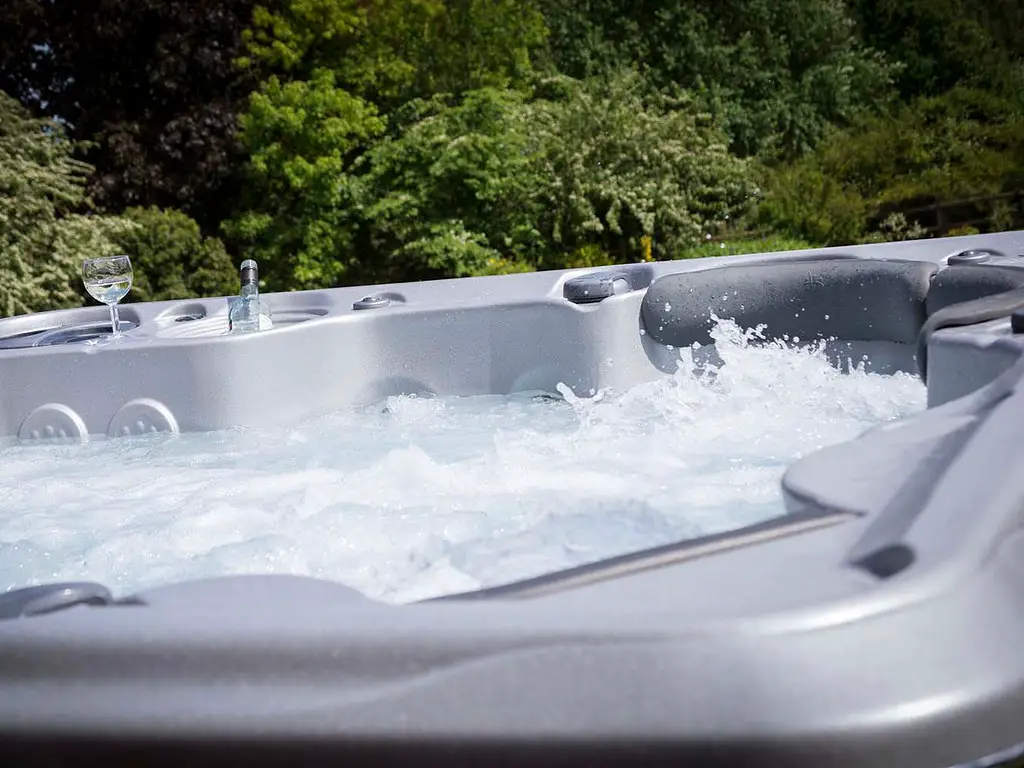 Frequently Asked Questions (FAQs)
Below are our team's answers to some of the most common questions we get around hot tub vacuums.
What exactly is a hot tub vacuum?
A hot tub vacuum is a popular cleaning tool designed specifically for removing unwanted debris and dirt from the bottom of most hot tubs or spas. It works by using suction to pick up small dirt or debris particles and can be used to clean the floor, walls, and other surfaces of your hot tub, keeping your hot tub clean and inviting!
How does a hot tub vacuum work?
Most hot tub vacuums work by using a suction mechanism to pull in water and debris, which is then filtered through a cartridge or bag, similar to the vacuum you use inside your home. Some spa vacuum models use a manual pump to create suction, while others are powered by electricity.
Can I use a regular house vacuum to clean my hot tub?
No, you should not use a regular vacuum to clean your hot tub. Regular vacuums are not designed to handle the unique conditions of a hot tub, and can easily become clogged or damaged by the water and debris. Hot tub vacuums exist for this reason and are specifically designed for use in wet environments and are equipped with specialized filters and other features to ensure both effective and safe cleaning.
What should I look our for or consider when choosing a hot tub vacuum?
Reflect on our buying guide above for details and when choosing a hot tub vacuum, you should consider factors such as suction power, ease of use, and durability. You may also want to look for features like interchangeable heads, long hoses, and easy-to-clean filters, depending on how often you plan to use it.
How often should I clean my hot tub with a vacuum?
The frequency of hot tub cleaning with a vacuum depends on how often you use your hot tub, where it is located (under a tree vs under a covered patio for example) and how much debris accumulates on a regular basis. Generally, it is recommended to clean your hot tub once a week while it is being used or as needed to keep it free of uninviting dirt and debris.
Are hot tub or spa vacuums generally expensive?
The cost of a hot tub vacuum can vary depending on the brand, model, and features of course. Our #1 favorite pick that we reviewed falls in the $70-90 range usually, while some basic models can be found for less than $50, and more advanced models can cost several hundred dollars.
Can I use a hot tub vacuum for other purposes?
While it is true that hot tub vacuums are designed specifically for cleaning hot tubs or Jacuzzis, they can also be used to clean other small bodies of water, such as kiddie pools, fountains, cocktail pools, and even some small ponds. However, they are not suitable for use on larger bodies of water or outdoor swimming pools.
Our Conclusion on The Best Hot Tub Vacuum Reviews
We hope you genuinely enjoyed and benefited from our buying guide and reviews on the best hot tub vacuums! All of the 5 hot tub and spa vacuums we reviewed are great options to consider for hot tub cleaning and regular hot tub maintenance to make sure you and your guests enjoy your hot tub or spa to the fullest!
Have any questions? Leave us a comment below and a team member will respond shortly.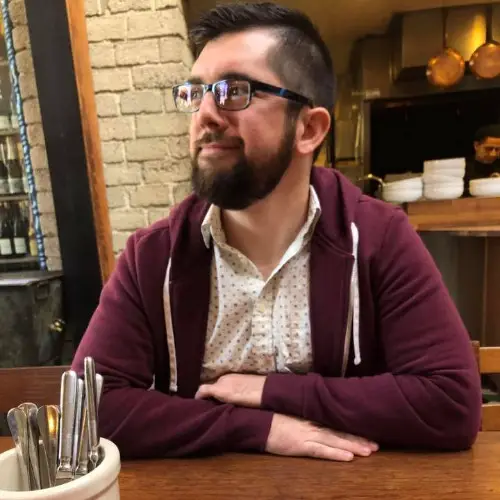 Hello, I am a writer and marketing specialist in Kansas City, MO. My love for swimming pools started as a child when I would visit my aunt & uncle's inground swimming pool on a frequent basis over the summer. Since then I have taught swimming lessons at a Boy Scout Camp, participated in the full setup, installation and maintenance of my father's inground swimming pool, as well as enjoyed constantly researching everything there is to know about swimming pools for 5+ years. I enjoy all water related sports, being part of the online swimming pool community and always learning new things!