Before we dive into our reviews of the best swim caps for long hair, lets look at the facts- there are a lot of benefits to using a swim cap while swimming, but if you have long hair, it can be difficult to find a swim cap that can hold all of your luscious locks.
Due to this, some swimmers may go without using one – and then put their hair at risk of damage due to the chemicals in the pool and at slowing down their performance.
So – what's the solution? Cutting off your amazing locks just to do the things you love? Luckily, there are plenty of quality swim caps out there built for those who have long hair.
Related Read: Does Swimming Pool Water Damage Hair?
This means that you can still enjoy swimming while keeping hold of that amazing hairstyle of yours. All you have to do is find the right cap for you…
That's where we come in.
We have researched dozens of different swim caps to find the best ones for swimmers with long hair. This way, you can get the best of both worlds with little stress.
So, check out our recommendations and reviews of the best swim caps for swimmers with long hair below!
If you take a look at any kind of recommendations lists for swim caps or gear, then Speedo will almost always be at the top of those lists – and for good reason!
This brand is well known for their high quality products and their swim caps are one of their most popular.
For such an affordable price, you can get your hands on a silicone cap designed for swimmers with long hair to help make swimming accessible to all.
Thanks to the high grade silicone made to use this swim cap, it's super durable and stretchy for an easy fit.
Plus, it's lightweight for optimum performance and still super smooth despite the extra space for your hair.
However, it's worth mentioning that caps designed with extra space for hair like this sometimes aren't fitted so tightly on your head – so be wary that you will probably have a fair amount of water seeping into your hair when you dive underwater.
Despite this, Speedo's swim caps for long hair tick a lot of boxes for swimmers so it's easy to see why this swim cap is so popular with swimmers with long hair!
Pros:
Speedo is a well known brand best known for some of their swimming products, so you know that what you are buying is high quality and from a reputable company.
The price for this swim cap is super affordable making it easy to purchase for many.
It's made entirely from silicone, which is one of the best materials to use for swimming caps due to their elasticity and strength.
Cons:
Although designed to fit heads with a lot of hair, the extra space may mean that the seal around your head is not as watertight as you would like.
Speedo's unisex adult swim cap for long hair is available to purchase at Amazon, SwimOutlet.com, and at Speedo.com.
Sale
Speedo Unisex-Adult Swim Cap Silicone Long Hair Speedo Black
Lightweight, latex-free silicone provides durable performance and optimum fit
Easy on-and-off design won't snag hair
Extra space allows long hair to be tucked inside without compromising a smooth fit
Designed to securely hug the head to reduce drag
Specifically designed for swimmers with long hair
Finding a suitable swim cap when you have natural afro hair, or dreadlocks, or very thick curls, can be super difficult.
A lot of swim caps are designed with straight, thin hair in mind and thus even some 'long hair' swim caps are not suitable for everyone.
So, if you have a lot of hair and need that extra space, the Dsane extra large swimming cap is a great choice for you to choose.
Although it is a little more costly than other swimming caps, it has a lot of extra material and room to fit all of your hair in while providing great protection.
Made from silicone, this swim cap is also very durable and flexible which makes it easy to fit onto your head again and again. You can also choose from a range of colors to best suit your personality.
It also comes with a pair of ear plugs and a nose clip to help protect your ears and nose from the water too – so some freebies are always a bonus!
Pros:
The Dsane extra large swimming cap is perfect for those with thick, curly, and afro textured hair.
It's durable and flexible thanks to its silicone material.
Also comes in a range of colors for you to choose from.
Cons:
Slightly more expensive than other swim caps but typically only by a few dollars.
The Dsane extra large swimming cap can only be purchased at Amazon.
Sale
Dsane Extra Large Swimming Cap for Women and Men,Special Design Swim Cap for Very Long Thick Curly Hair&Dreadlocks Weaves Braids Afros Silicone Keep Your Hair Dry(Black/XL)
LARGE SIZE AND ROOMY: Larger than average bathing shower swim caps (23 x 29 cm/9.1 x 11.4 inches in length and width), this DSANE swim cap has enough room to fit any bulky hairstyle or curly hair. Designed for Braids, dreadlocks, Crochet Mambo, Extensions, Weave on, Very long hair, Afro hair. Let your hair sit comfortably.
PROTECTION FOR HAIR WITH VOLUME :Hair and health conscious swimmers know that swimming is a great form of exercise, and although the harsh chemicals in most pools make them safe - they can be extremely harmful to the condition of your beautiful hair. Our premium, extra-large swim cap is the best form of defence.
UNISEX AND VARIOUS COLORS :Concise generous design fits both men and women; Various fashion solid colors to suit most people's choices, enjoy a happy swimming time.
PREMIUM & SOFT MATERIAL: Made from 100% good quality silicone to ensure strength durability and flexbility, We've done extensive research and are convinced that we've sourced the best quality material which will ensure your curls, braids, extensions, twists, dreadlocks or weave will stay protected. The DSANE CAP is built to last and is BPA free.
FREE BONUS ACCESSORIES: Nose Clip and Ear Plugs are included in the kit (Value $5), it prevents water from entering the nose and ear canal to a certain extent, so that you'll be able to swim with maximum comfortable experience.
If you are swimming outdoors, then you will need a swim cap that can keep your head nice and warm while helping to keep your long hair out of your face.
The best swim cap for outdoor swimming is the TYR lycra swim cap.
Lycra is a great material for outdoor swim caps because it helps keep your head extra warm although it is not the best at keeping your hair dry.
Despite this, it helps reduce drag and is a pretty snug fit even for those with long hair.
This means that if you want to try outdoor swimming and have long hair, the TYR lycra swim cap is an ideal choice.
Fairly priced and easy to purchase, this is the cap for all long haired outdoor swimmers.
Pros:
The lycra swim cap from TYR is a snug yet comfortable fit for long haired swimmers.
The lycra material is great for keeping your head warm while swimming in cold waters.
It's available for a fair price for a high quality swim cap.
Cons:
Lycra is not the best material for protecting your hair from water (including splashes).
TYR's lycra swim cap is available at Amazon, and at TYR.com.
Sale
TYR mens all-season Swim cap, Black, One Size US
FORM AND FUNCTION: UPF 50+ technology and a comfortable fit
PERFORMANCE: Works to reduce drag lap after lap
CASUAL: Designed with the recreational swimmer in mind
UNISEX: Ideal choice for both male and female swimmers
AGES: 16+
Our Comprehensive Buyer's Guide
This is our pro buyer's guide to finding the best swim cap for long hair. Enjoy!
We have applied the same criteria to the above products but if you want to search for your own, then here are the areas you need to take into consideration.
Know Why You Should Buy A Swim Cap
Most people purchase swim caps because they believe it will keep their hair nice and dry after their swim – but this isn't the case.
Swim caps are not a sure way to keep your hair bone dry although it can help prevent it getting wet from splashes.
This doesn't mean that there is no point in getting a swim cap – there are still plenty of benefits to purchasing and wearing one.
The best advantage a swim cap can offer for a swimmer with long hair is that it keeps your hair from falling out and getting in your face while you are swimming.
This way, you can concentrate better and see where you are going.
Although you can always tie your hair back, that ponytail will still be waving around your head for the whole session – and anyone with long hair knows that if you turn your head too quickly, the slap that heavy hair can deal can be super painful!
Not only that but wearing a swimming cap can also help your hair stay protected from the chemicals in the pool.
Frequent exposure to chlorine can make hair dryer and weaker in the long run, so if you are a frequent swimmer, it's a good idea to invest in a swim cap that will cover all of your hair.
Plus, wearing a swim cap is proven to help reduce drag and make your swim times faster.
If you want to swim competitively, then a swim cap is a must so don't let your long hair hold you back from reaching your full swimming potential!
Finding the right swim can is easier said than done but if you want more options than our above recommendations, then here are some areas you will want to consider when searching for the right swim cap for you and your long hair.
Material
There are a lot of swim caps out there and you will find some made from better materials than others.
Latex is a good material to use but it is thinner and more likely to rip.
However, for those on a budget, this could be material that does the job for you for a lower price – just remember to handle your swim cap with care.
Other stronger materials include silicone and latex. Silicone is generally considered the best because it's very strong and durable, while lycra is soft and comfortable but adds drag.
Therefore, lycra is not recommended for swim racers but fine for those who try out water aerobics or therapy.
And finally, we have neoprene – a great thick material that will help keep your head warm if you are swimming out in open water rather than an indoor pool.
So, think about what kind of swimming you will be doing and what your budget is, then decide on the right material for you.
Elasticity
Swimmers with long hair need a good, flexible swim cap so it is easier to fit over your head.
While size is also an important factor to consider as bigger swim caps will fit over your hair easier, a cap that is too big for your head will be at risk for slipping off. So it is important to consider the size of your head 犀利士 as well as the type/length of your hair. Check out some of the best swimming caps for black hair here!
So, an elastic, stretchy swim cap is recommended over a larger swim cap for swimmers with long hair.
Stick with your head measurements and look for a great, stretchy cap that will fit over your head with ease and still cling on tight.
Budget
Like we said earlier, there are a lot of swim caps out there and they all range in price. This is due to factors like brand names, the materials they use, what swim sports they are designed for, and so on.
So, it's important to consider your budget and stick within a price range you are happy with.
You should also consider how frequently you swim as it may be worth paying a bit extra for a higher quality swim cap that you know you will constantly use.
Frequently Asked Questions
Check out our top pro's answers to some of the most asked FAQs we get around swimming caps for long hair below!
How Do I Put On My Swimming Cap With Long Hair?
Putting on your swimming cap can be a struggle sometimes so here's some tips you can try out. A lot of people tie up their hair and gather it as close to their head as possible.
This makes it easier to fit the swimming cap over it. So, tie up your hair and then stretch your swim cap as wide as possible, letting the front of the cap catch your forehead first so you can lower the rest over your head.
Some swimmers even wet their hair first while in the showers because swim caps are more likely to slip on more easily.
If you are still struggling, then some conditioner as well should help.
Does Hair Still Get Wet Under A Swim Cap?
Swim caps are not completely watertight so when you stick your head underneath the water line, water will slowly seep into your cap and wet your hair. There are some swimming caps that are better at keeping your hair dry than others though if this is an important buying factor for you.
However, above the surface, your hair will remain dry from any splashes.
However, most swimmers don't wear swim caps just to try and keep their hair dry – there are a lot of benefits to wearing a swim cap as you can find out in the above buyer's guide section.
Do Swimmers Wear One Or Two Swim Caps?
Some swimmers do wear two caps instead of just one to help create less drag, fit the cap onto their head more tightly, and thus make it unlikely to slip off during their swim.
In the 2012 Olympics, the cap of American swimmer Dana Vollmer slipped off during her 100-meter butterfly swim final so wearing two caps makes this kind of situation less likely.
Some swimmers also use this method to hold their goggles in place. They put the first cap on, then their goggles, then fit the second swim cap over the strap of their goggles.
These methods are usually done by professional, competitive swimmers so if you are swimming just for health or fun, you don't really need to wear two caps.
However, if you are entering in competitions, then two caps could just be the difference between victory and defeat.
Enjoy Your New Swim Cap For Long Hair!
We hope you enjoyed our guide on the best swim caps for long hair!
Also, check out the video below by eHow for some additional long hair swimming cap recommendations as well and happy swimming!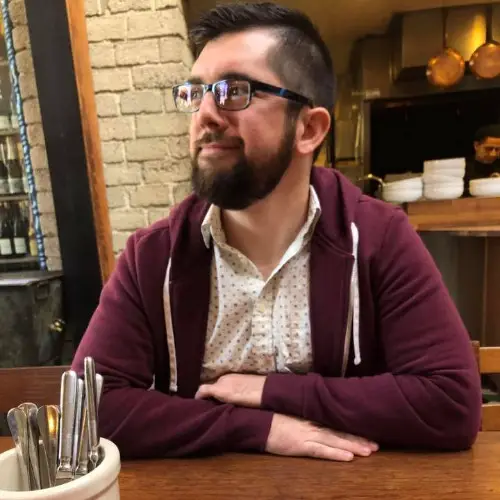 Hello, I am a writer and marketing specialist in Kansas City, MO. My love for swimming pools started as a child when I would visit my aunt & uncle's inground swimming pool on a frequent basis over the summer. Since then I have taught swimming lessons at a Boy Scout Camp, participated in the full setup, installation and maintenance of my father's inground swimming pool, as well as enjoyed constantly researching everything there is to know about swimming pools for 5+ years. I enjoy all water related sports, being part of the online swimming pool community and always learning new things!