Looking for the best pool sand filter? Our team is here to help!
Swimming pool sand filters are among the most commonly used pool filters. Even so, it isn't always easy to decide which are high in quality as there are dozens on the market. To help you narrow down your search, our team has tested and reviewed the 9 top-rated options available on the market today so you find the best pool sand filter for your home's swimming pool.
The pool sand filters on our list have an adequate flow rate (depending on individual requirements), are easy to maintain, and have good durability. We focused on these features as well as price and performance when creating our top nine products list.
Want the TLDR Version? We've got you covered! The #1 pick for our favorite swimming pool sand filter is the Hayward S166T ProSeries Sand Filter.
Why Should You Buy a Quality Swimming Pool Sand Filter?
The top three reasons you should buy a pool sand filter are that they are user-friendly, cost-effective, and effective filtering for your swimming pool!
User-Friendly
It can become tedious to maintain your pool. Sand filters can ease some of that stress in terms of maintenance. Once you have installed them, unless there's a defect, you usually don't bother with them for a few years when the sand needs changing.
When it comes to using them, backwashing is relatively simple and done about once a week on average. Of course, depending on individual use, you may backwash more or less often than that.
Cost-Effective
Owning a pool can become expensive. One of the main reasons sand filters are commonplace is that they're rather affordable. It's true that some of them can sell for more than two hundred dollars, but even so, other pool maintenance equipment easily exceeds those costs. In addition, the sand itself is easy to come by, and it only needs replacing every handful of years.
Effective Filtering
Of course, an advantage of buying any type of pool filter is its overall ability to perform. Sand filters perform by having water flow through and the sand then traps contaminants. This process allows the filters to catch finer particles that can otherwise get by the likes of cartridge filters.
Check out our updated pool sand filter reviews below!
9. Blue Wave 22-Inch Sand Filter System w/ 1-1/2 HP Pump
First up on our search for the top pool sand filter is the Blue Wave 22-inch filter. It leans more toward the expensive"end in terms of sand filters. In terms of performance, it's stated to have a 24,000-gallon turnover in about 8 hours. It requires 220lbs of sand to operate.
This uses a high-efficiency pump, and the tank itself is a molded one-piece polyethylene tank design to withstand corrosion. The top mount features a multi-port in an effort to simplify and speed up backwashing.
Pros
Quiet operation
Easy to put together
Cons
Could benefit from more power
The plug doesn't lock in place like previous models
8. Best Choice Products Pro 2400GPH 13-Inch Sand Filter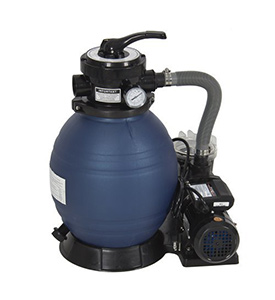 The Best Choice Products Pro Sand Filter is a budget-friendly option that doesn't sacrifice its value. It's meant for above ground pools up to 10,000 gallons. This doesn't have the easiest instructions for installing, but help is available online if you look for it.
This sand filter is housed in a one-piece 13-inch thermoplastic tank with a capacity of 42lbs of sand. The self-priming pump features a top mounted 6-position multiport valve and a filtration rate of 2400 GPH. Lastly, this sand filter meets safety standards as it is ETL and UL listed, and its CSA certified.
Pros
Good suction power
Cleans quickly
Cons
May develop a leak around pressure gauge
Lacks replacement parts
7. GAME Complete 0.5HP Replacement Pool Sand Filter Unit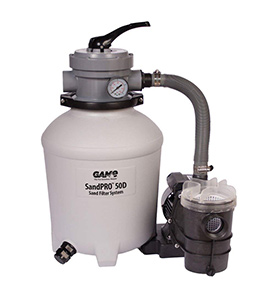 Next, on our best pool sand filter list is the GAME Complete Sand Filter Unit that has an easy-to-use 4-position rotary valve. It filters, backwashes, rinses, and winterizes. This has a 40 GPM flow rate, and it is designed to work with above ground pools up to 15,000 gallons.
This SandPro 50D sand filter is known to be an energy-saver; the ½ HP pump helps it maintain a lower energy cost without interfering with its functionality. Along with this sand filter, you get a large capacity hair and debris strainer basket that has a see-through lid.
Pros
Cleaning is done well
Runs quietly
Cons
Smaller than expected
The plastic around gauge may crack
6. Sand Master Soft Sided Above Ground Pool Sand Filter System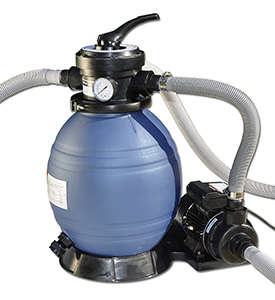 With the Sand Master Soft Sided Sand Filter System, you can get an economical filter that features a stable pump (20 GPM). It is suitable for pools that are up to 9,600 gallons and has a 4-position multiport valve and system base.
Concerning what this sand filter is made of, it features a 12-inch filter tank. This is designed to be corrosion proof to help give it longevity. The tank is capable of housing 42lbs of sand. This system can readily be installed, and it operates on 115V.
Pros
Easy to assemble
No need for fittings/adapters
Cons
Some dirt settles to the bottom
Low-quality hoses
5. Intex 28675EG Krystal Clear 1500 GPH Sand Filter Pump & Saltwater System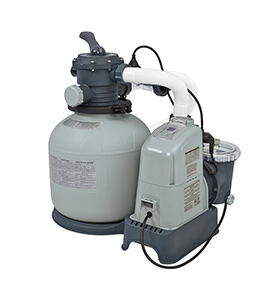 Another product seen by many as one of the top pool sand filters on the market is this Sand Filter Pump and Saltwater System from Intex. This is because it aims to keep water safe and clear by merging sand filter and saltwater systems together into one product. The saltwater system has an E.C.O. (electrocatalytic oxidation) that can make it more comfortable to swim in the water.
This sand filter is intended for above ground pools from 2,600 to 8,500 gallons. It has a pump flow rate of 1,600 GPH and a system flow rate of 1,500 GPH. The tank has a 55lb sand capacity or a 40lb glass filtration media capacity.
Pros
Creates quality clear water
Reduces harsh chemicals
Cons
Quality control problems
May still run while in sleep mode
4. Hayward S244T ProSeries Sand Filter, 24-Inch, Top-Mount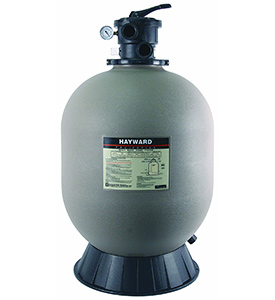 The Hayward S244T ProSeries is another sand filter that tips the scale toward expensive in terms of these types of filters. With that said, it claims to be a dependable all-weather performer made of corrosion-proof materials.
This top-mount model can come in either a 6-position or 7-position VariFlo control valve. On this model, it uses 1-1/2-inch VariFlo. It features large pressure draining meant to help with rapid servicing or winterizing. This requires about 300lbs worth of sand to operate. By using full-flow technology, this sand filter attempts to help you cut back on energy costs.
Pros
Simple backwashing
Quick to set up
Cons
Questionable longevity
Filter may crack
3. Intex Krystal Clear Sand Filter Pump, 16-Inch, 110-120V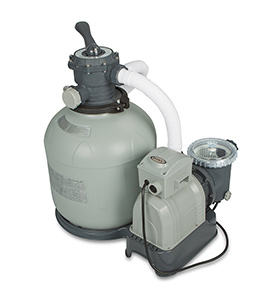 Next on our favorite pool sand filters list, we have the Intex Krystal Clear Sand Filter Pump that features a built-in 24-hour time to offer you more convenience when maintaining your pool. This timer has 2 to 12-hour preset cycles. The filter has a 6-function control valve that does the following: filter, backwash and rinse, recirculate, drain, and close the system.
The pump flow rate for this filter should generate 3,000 GPH. As for the system flow rate, it's about 2,450 GPH. This has a sand capacity of 120lbs, and it can work in above ground pools from 5,500 gallons to 19,600 gallons.
Pros
Works quickly
Quality built-in strainer basket
Cons
The pump can become noisy
A bit too heavy
2. Rx Clear Radiant 24-Inch Inground Swimming Pool Sand Filter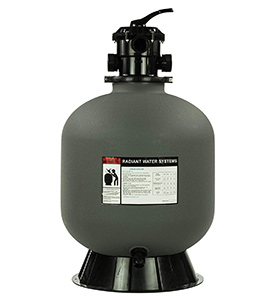 The Rx Clear Radiant Sand Filter is built for above ground pools that measure up to 33,000 gallons. With traditional sand, it has a 300lbs capacity. Whereas with zero-clear filter media, the sand filter has 150lbs capacity. You can even use six boxes of filter media instead.
This sand filter features labeled ports on the 6-way top mount filter valve. When you acquire this product, it comes along with 1.5-inch threaded connections and a filter base.
Pros
Offers exceptional cleaning
Using it is easy
Cons
Might leak
Comes with poor install instructions
1. Hayward S166T ProSeries Sand Filter, 16-Inch, Top-Mount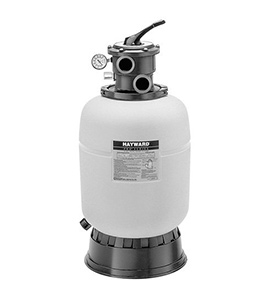 The Hayward ProSeries Sand Filter is dubbed by many as the best pool sand filter for its quality features, and rightfully earned it's spot as our overall favorite pick. This high-performance filter uses a corrosion-resistant tank to help it last longer. For installation purposes, the flange clamp allows for 360-degree rotation.
It has a 7-position VariFlo valve to cut back on pressure drop. This filter can support 100lbs of sand. It's a multipurpose tool as you can use it for above ground pools, in-ground pools, aquariums, and even ponds.
Pros
Easy setting up
Lowers frequency of backwashing
Cons
Possibility of defects
Fittings may leak
Frequently Asked Questions (FAQs)
Check out our team's answers to some of the most frequently asked questions related to pool sand filters below! If you have any additional questions about swimming pool sand filters, please reach out to us.
What is A Swimming Pool Sand Filter?
A swimming pool sand filter is a common type of filter used in many swimming pools to remove impurities and debris from the water. It uses specially graded sand as the filter medium to trap particles and contaminants and is an effective filtration method.
How Does a Pool Sand Filter Work?
A pool sand filter works by circulating water through the sand filter medium. As pool water passes through the sand, dirt and debris are trapped and filtered out. Clean water is then returned back into the pool.
How Full Should My Pool Sand Filter Be?
Our team recommends that you always check the manufacturer's manual of your filter specifications to see the limit of sand provided. It is important to know that swimming pool sand filters are never completely full of sand, but only about 2/3 full in most cases, which allows free space in the tank above the sand bed, this provides the sand enough room to work properly.
What Size of Sand Filter That is Ideal For An Above Ground Pool?
In choosing a sand filter for your quality above-ground pool, know the filter flow rate must be rated at least the same GPM as your pool pump, or slightly higher. Generally speaking, know that you need at least 1 square foot per 10,000 gallons of swimming pool capacity.
Below are some general guidelines for the size of pool sand filter you will need depending on what type of above-ground pool you have.
Round Above Ground Pools:
8' to 15' Round: 14-Inch Filter Tank & Up
15' to 24' Round: 16-Inch Filter Tank & Up
24' to 36' Round: 18-Inch Filter Tank & Up
Oval Above Ground Pools:
12' X 17' to 12' X 24' – 14-Inch Filter Tank & Up
12' X 24' to 15' X 27' – 16-Inch Filter Tank & Up
15' X 27' to 18' X 33' – 18-Inch Filter Tank & Up
How Do You Vacuum A Pool With A Sand Filter?
When vacuuming your pool with a sand filter, the choice of settings generally depend on the amount of dirt in the pool. Routine levels of dirt in a typical residential pool can usually be vacuumed with the multiport valve turned to the Filter setting. The "Filter" Setting directs the vacuumed water into the filter then back to the pool through the return lines.
Can I Use Any Type Of Sand In My Swimming Pool Sand Filter?
No, you should use only specially graded pool filter sand in your pool sand filter! Other types of sand may not filter the water properly and can cause damage to the filter system.
For A Full Video Tutorial on How To Vacuum A Pool With A Sand Filter, watch this helpful video from the team at Bob's Pool Service-
What Kin犀利士
d Of Sand Is Needed For A Pool Filter?
As mentioned above and nailing the idea of simple nomenclature, most pool filter sand will be labeled "Pool Filter Sand", making it relatively easy to find and buy. The actual "type" of sand most commonly used is silica sand, which is made up of mined ground quartz. We do not recommend using play sand or any other type of sand in your filter that is not labeled pool filter sand.
How Much Sand Do I Need For My Pool Filter?
As we mentioned, before your swimming pool filter should only be about ⅔ full of pool filter sand. Pool filter sand typically comes in 50 lb bags and you can often see how many bags or how many pounds of sand are needed by checking the label on your pool sand filter.
How Do I Change The Sand In My Pool Filter?
In order to change the sand in a pool filter, first backwash the pool filter and then remove the drain plug (if it has one) to let the water drain. Then remove your filter cover and multiport valve. Next we recommend you cover your standpipe with a plastic bag or duct tape to prevent any sand from falling down it as you remove the sand. Removing the sand is next, and we recommend removing the old sand with a Shop Vac if you have, and if not, use a cap or gently use a small garden shovel.
It is important to be careful not to damage the "fingers" located at the bottom of your filter when doing this. After the sand is removed, rinse the inside of the tank and use a sponge to clean the inside of the filter. Reapply the drain plug and fill the tank about halfway with water, once this is done, gently add the new pool filter sand, spreading it evenly around.
Remove the tape or bag you used to cover the standpipe, then check the lid's O-Ring and replace it if needed. Next, re-install the multiport valve and filter cover, along with all of the screws and unions. Backwash your filter for a few minutes, and then switch it from backwash to rinse. Set it to rinse for a couple of minutes and finally set your multiport valve to filter.
Why Is My Pool Filter Blowing Out Sand?
Generally speaking, sand coming from out of your pool filter is the tell-tale sign of a broken component somewhere within your pool sand filter. The two most common causes of this that we saw are a cracked lateral (the perforated pipes at the bottom of your filter) or a crack in your filter's standpipe. If both of these components are in good shape with no damage, there is a possibility you could have a seal that is worn or broken somewhere within your filter.
How Do You Prime A Pool Pump With Sand Filter?
To prime your pool pump with a sand filter, first, turn your multiport valve to the "Recirculate" setting and remove any plugs from your swimming pool. If your pump housing is not currently full of water, add water using your garden house or a large pitcher to fill the pump housing up. Once this is done, turn it on. It may take a few seconds to get the water pumping through the system. If turning it on does not work for you, we recommend you turn the filter system off, add more water to the pump housing, close the lid and try turning it on again.

How Often Should You Replace The Sand In Your Pool Filter?
On average, your pool filter sand should be replaced every 3 to 5 years. You may be able to get away with waiting longer if your swimming pool stays clear, or you may have to replace the pool filter's sand sooner if your filter runs all of the time. In most cases though, it is important to replace the sand in that 3-5 year time frame, as the jagged edges of the sand (usually made of mined ground quartz) wear down and become smooth as the sand gets older, leading it to not filter your swimming pool as efficiently and effectively over time.
How Do You Backwash A Sand Pool Filter?
First, turn off the pool pump, then move the multiport valve handle from the Filter setting to the Backwash setting. Make sure your waste hose is where you want it to be to drain the waste water and then turn on your pool pump for a few minutes. Once this is done, turn it back off and turn the multiport valve handle to Rinse and then turn it on for 1-2 minutes. Turn your swimming pool pump off again after a minute or two of running on Rinse, and lastly adjust the valve handle back to the Filter setting and turn it back on.
How Do You Clean A Sand Swimming Pool Filter?
Here are our team's recommended steps for properly cleaning your sand pool filter.
Turn Off Your Swimming Pool Pump
Switch Your Valve Setting From Filter To Backwash
Turn Pool Pump Back On For About 2 Minutes
Turn Off Pool Pump & Let Loose Sand Settle
Switch Valve Setting From Backwash To Rinse
Turn Pool Pump On Again For Another 2 Minutes
Turn Pool Pump Off and Clean Your Pump Basket
Set The Valve Setting Back To Filter & Turn On
Where Can You Buy A Pool Sand Filter?
Swimming Pool Sand Filters can be pretty easily purchased online on websites like Amazon, Leslie's Pool Supplies, or The Pool Supplies Superstore. We recommend Amazon due to their often better prices and range of options. If you want to shop in-store, you can often find pool sand filters at Home Depot or Lowe's, but the choices may be limited compared to online. No matter where you buy one, a swimming pool sand filter is a great option to keep your pool clean, beautiful and crystal clear!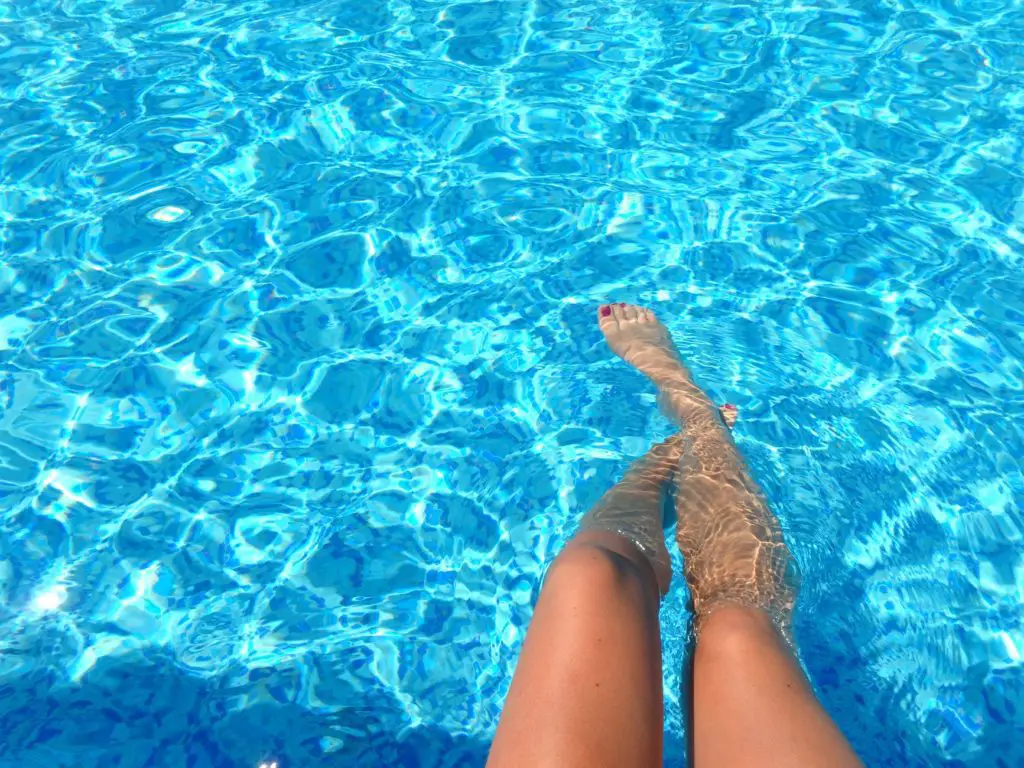 Our Team's Conclusion on The Best Swimming Pool Sand Filters
We hope you enjoyed our guide on finding the top sand filter options for your swimming pool!
At the end of the day, the ideal swimming pool sand filter is one that is easy to maintain and performs well. These are the core features of this type of pool filter. Our team's #1 tested pick is the Hayward S166T Pro Series Sand Filter.
Do you agree with our reviews and what we have on our best pool sand filters list? Let us know how you feel in the comment section below!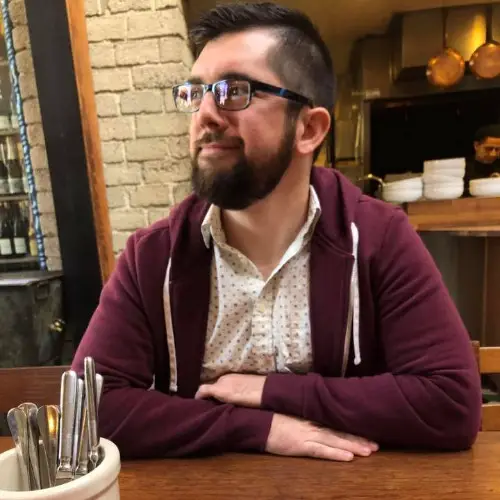 Hello, I am a writer and marketing specialist in Kansas City, MO. My love for swimming pools started as a child when I would visit my aunt & uncle's inground swimming pool on a frequent basis over the summer. Since then I have taught swimming lessons at a Boy Scout Camp, participated in the full setup, installation and maintenance of my father's inground swimming pool, as well as enjoyed constantly researching everything there is to know about swimming pools for 5+ years. I enjoy all water related sports, being part of the online swimming pool community and always learning new things!