Ever wondered what a spool pool is?
Or what makes a swimming pool a spool?
We can help!
In the swimming pool trade, the word 'spool' is a portmanteau, combining the words 'spa' and 'pool' to create spool, these are also sometimes called swim spas or mistaken for "cocktail pools".
A spool is basically a small swimming pool, but whereas in a regular pool you would be doing laps, in a spool you will be more likely to be kicking back with a drink in your hand.
The average size of a spool is 400 to 700 cubic feet, and its dimensions are usually 12' x 12' and 4' in depth.
Unlike regular swimming pools, spools don't tend to have a "deep end", and most spool pools can normally accommodate no more than 8-10 people. 
But what is the cost of running a spool pool? What are its advantages and disadvantages? And can you build one yourself? That's what we'll be covering in our comprehensive guide on spools.
First, let's take a closer look at what makes spools different from other pools. 
What Makes A Spool Pool Different From Other Pools?
The main feature that distinguishes a spool from a regular pool is that they often combine the features of a hot tub or a spa such as blowers, heating, and jets, and they are also of a similar size to a hot tub or a spa. 
As you have control over the heat in the spool you can take advantage of its hybrid nature and use it as a hot tub or a spa to keep you warm during winter, and as a plunge pool where you can cool off in the summer. A spool is the best of both worlds!
Can You Build One By Yourself?
Yes, you can! If you have some DIY know how and have experience building pools you absolutely can build a spool pool by yourself. 
For best results however, we do recommend getting a professional to do the job, but we understand this is expensive. 
All you need to do is build a spool, dig a large hole and lay a concrete slab, before building 4 feet high walls around the perimeter.
This will give you a basic foundation for your very own spool.
How Much Does It Cost To Build A Spool Pool?
This is a tricky question, as the cost of building a spool pool will differ. However, building a spool is definitely not going to cost as much as building an average pool.
Most large hot tub projects – which are equivalent to building a spool – usually cost under $10,000, so this would be a good estimate for the cost of building a spool pool. 
However, the total cost will be determined by the features and finishes of the spool pool.
For example, if you would like to use swimming pool tiles in your spool pool rather than a liner, or you would like to add hot tub style jets to your spool pool, then this will bump up the cost. 
But when you're planning your spool pool you should be able to determine how much it is going to cost you.
Any expensive finishes will obviously drive up the costs, but if you want a no-frills spool pool on a budget you should be able to do it for under $10,000. 
How Much Does It Cost To Run A Spool Pool?
Again, this is a tricky question to answer as there are a lot of factors that can drive up the cost of running a spool pool, such as how you heat it, how well you insulate it, what sanitizers you use, and even what the ambient climate is like. 
A spool pool is usually considered a luxury garden feature, so the costs of running it every year could reach thousands of dollars, especially if you're heating it up a lot.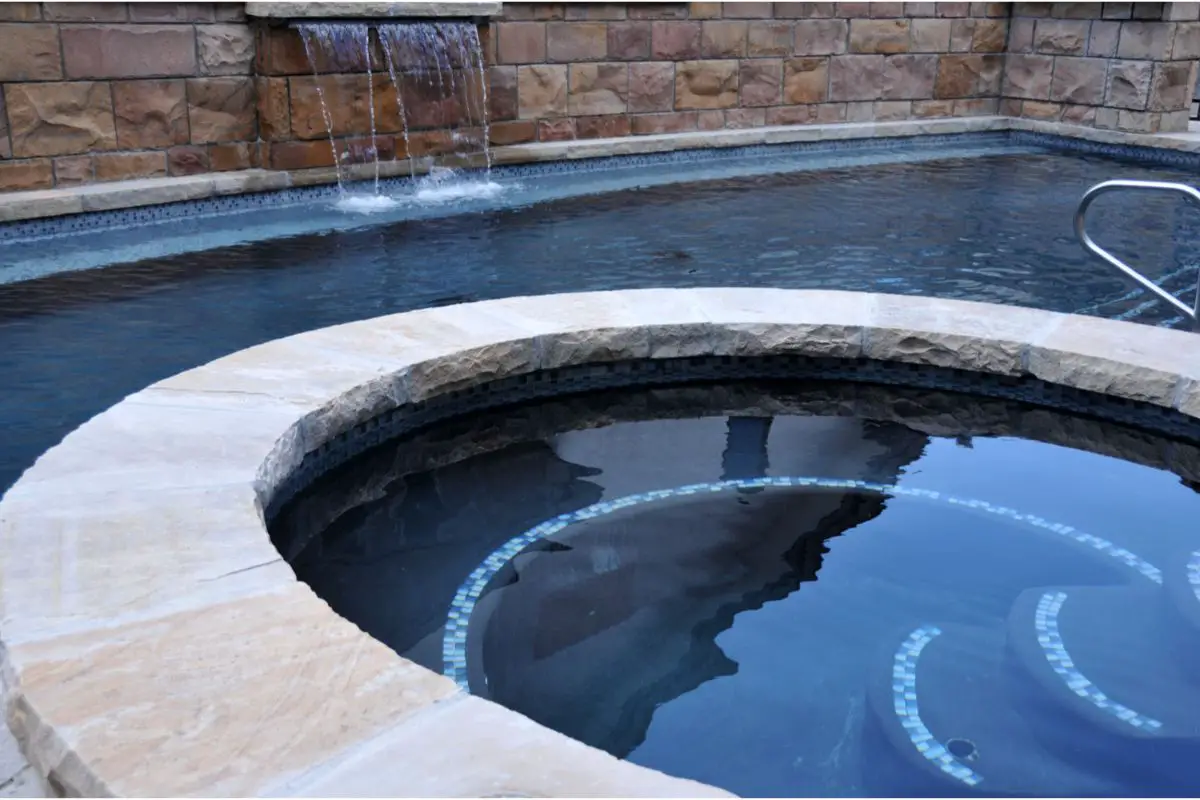 Can You Work Out In A Spool Pool?
Yes, you can! People mainly use spool pools to relax in, but you can also use it for exercise purposes if you want to. 
Another thing that separates a spool pool from a swimming pool is that they often have jets which create a current for you to swim against.
This provides an excellent workout, despite the smaller size of a spool pool. 
If you would like to exercise in a spool pool though, there are a couple of things to keep in mind.
The temperature should be kept on the low side, as if the water is too warm you can quickly get uncomfortable which makes your workout a lot harder – and not in a good way! A good idea is to lower the temperature of the water when you plan to exercise, then turn up the temperature later on in the day so you can soothe your tired muscles in warm water. 
There are even spool pool models that have a partition and you can change the temperature of different sections of the pool.
So you could swim laps in the cooler part of the spool pool, while somebody else relaxes in a warmer section of the pool, however if swimming pool laps would be a main use of your pool, you may want to consider a lap pool, which are usually 40-80 ft in length.
Main Factors To Consider
Below are the main considerations when either buying or building a spool or spa pool for your home or backyard.
Size
As mentioned earlier in the article, a spool pool is defined as being under 14' x 14' and at the most 4' deep.
However, these dimensions will of course vary depending on the size of your backyard and what space is available to you.
However, there are a couple more things to consider when it comes to size, such as where the filter, jet pump and pump will go if you have a spool pool with a heater.
To protect these features from the elements they will need to be covered, and about 3' square to properly house these pieces of equipment. 
Shape
When you're building your own spool pool, what determines the shape will come down to how confident you are in building shapes out of brick or block.
So for example, a square spool pool, or one built out of blocks is a lot easier than building a cylindrical pool or a kidney shaped pool. 
However, no matter what shape spool pool you have, the plumbing will remain the same, so it's best to choose a spool pool that will fit in with your backyard.
If you're also building your spool pool it is best to go with a shape that you are more confident constructing. 
If you are building your own spool pool but the shape you want requires block laying that is beyond your capabilities this will make the job a lot harder.
We recommend hiring a bricklayer to complete this part of the project, so you can rest easy that the job is going to be of good quality.
It is more expensive, but may be the better option in the long run. 
Heated or Unheated
Whether you want your spool pool to be heated or not depends on when you plan to use your pool.
If you're going to use your pool all year round and not just in the summer then you may want your pool to be heated.
However, if you live in an area with a warm climate you may not need a heated pool. 
There are also a few other considerations when it comes to heating your pool.
The larger your pool is, the more energy you will need to heat it, and this will add to the overall cost of running it.
You also need to consider how exactly you're going to heat your spool pool.
Using electricity to heat your pool is going to be very costly, and heat your pool very slowly.
Using gas or propane to heat your spool pool would be better, but you would need to have a tank fitted if you don't have a supply of gas or propane already. 
Air source heat pumps are also becoming a more popular option, but they are rather expensive and if you're constructing the spool pool yourself, this will add to the overall cost.
However, the running costs of an air source heat pump are lower overall when compared to other sources, and it will heat the pool quickly. 
Jets
If you're constructing your spool pool yourself, deciding whether you want jets is also something you will have to consider when designing your spool pool.
You can add jets and pipework after you've finished designing your spool pool, but this is highly impractical and very messy. 
You will also need to decide how many jets you need.
This will affect what pump you can use in your spool pool, as each jet will need a certain amount of water flow so it can circulate the water properly. 
Generally, 16 jets or fewer will work fine with a 4HP pump as long as it's close enough to the pool.
If the pump is further away, a head height of water will need to be pushed and pulled by the pump which will negatively affect the flow. 
Finish
What finish you use on your pool will affect a few things, such as the cost.
But while swimming pool tiles are more expensive than a pool liner, they do last longer than liners.
Due to wear and tear, liners will have to be replaced every few years. 
The finish of your spool pool will ultimately come down to what your personal preference is, and what your budget is.
Just keep in mind how much it will cost to replace things like liners.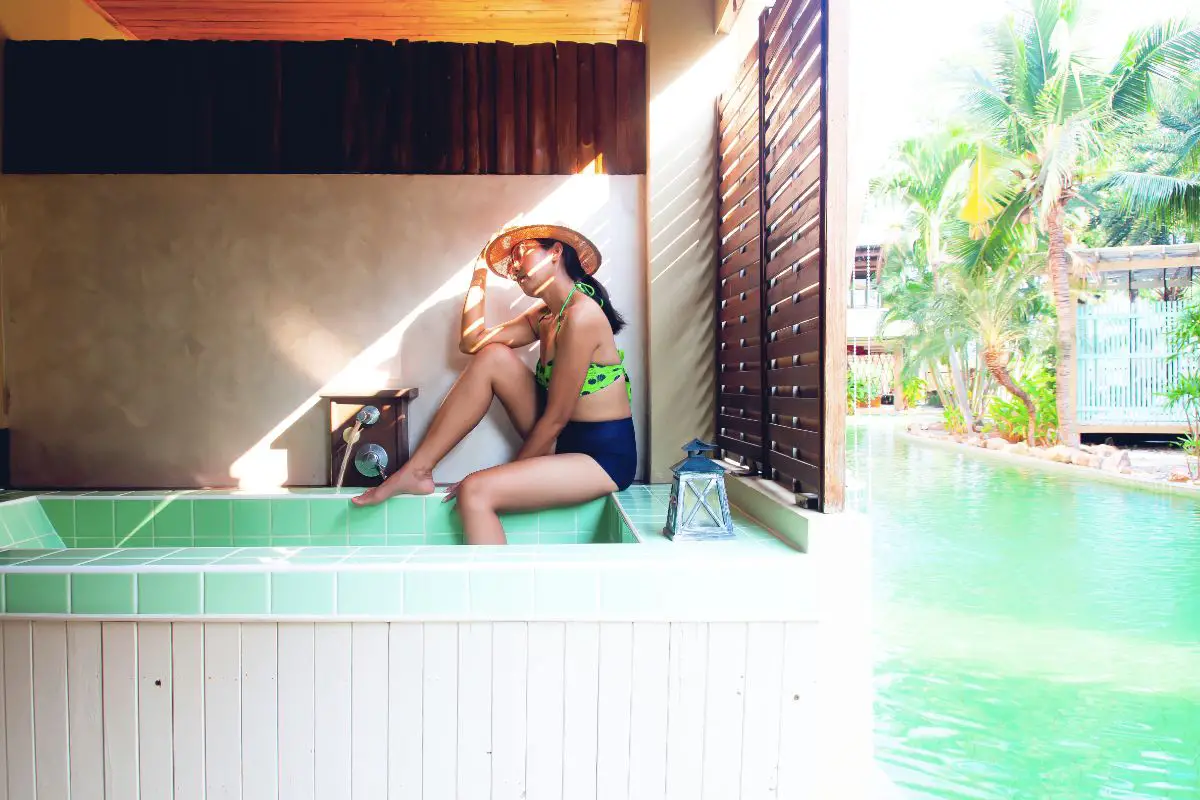 Constructing Your Spool Pool
If you have the time, budget, and experience there is no reason why you can't build your own spool pool! We'll take you through the basic steps so you'll have an idea of how much you need to do to complete this project.
Step 1: Make sure the area is clear.
Step 2: Dig a hole where your spool pool will be.
Step 3: Create a concrete base. We recommend putting down a liner as this stops dirty water ingress in the pool, and putting a metal rebar into the base to make it stronger.
Step 4: Lay the brickwork for walls and seats. This is optional, however.
If you would like to have seats in your spool pool, just build up the block work.
Use stones to form the concrete base to alleviate the pressure of the concrete and to prevent cracking.  
Step 5: Add basic plumbing fixtures.
Step 6: Add jets. This is an optional step. To do this, bore any holes you need and then use Gunite fittings to get the jets into the wall.
Step 7: Finish off the surface.
Step 8: Fill with water and enjoy. Kick back with a your favorite drink and enjoy your new spool pool!
The Pros & Cons of Spools
While spool pools may seem like the perfect compromise between a swimming pool and a hot tub, they're not without their pros and cons. 
Pros
They are less expensive than a full-sized pool.
They're great for small backyards.
They can be installed indoors as well as outdoors.
You can adjust the temperature, and they can even be used all-year round in milder climates.
You can work out as well as relax in a spool spool. 
They can be installed pretty quickly. 
Easy to maintain. 
Cons
They have lower real-estate value compared to a full-sized pool.
You may not be able to have as many people in a spool pool.
If your spool pool is outdoors, zoning ordinances may require you to have a fence around your spool pool.
If you live in a colder climate, heating and electrical costs can make having a spool pool expensive. 
Our Final Thoughts on Spools aka Spa Pools
A spool may be the best of both worlds between a pool and a hot tub, but that doesn't mean it's for everyone.
If you have a friend or family member who has a spool pool why not try theirs out, and ask them what they like or dislike about it.
Or you can try a spool pool out at a local spa if they have one. 
As you research, you may discover that a spool pool might be too small for you and you would like a regular-sized swimming pool.
Or you may discover you really just want a warm, relaxing soak and a hot tub meets your needs.
Like any purchase or DIY project, think carefully about whether a spool pool or cocktail pool is right for you.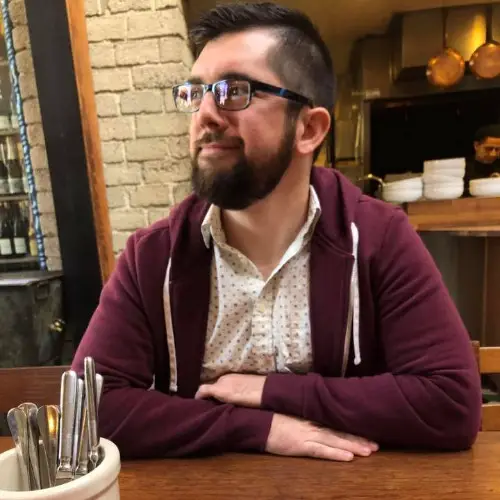 Hello, I am a writer and marketing specialist in Kansas City, MO. My love for swimming pools started as a child when I would visit my aunt & uncle's inground swimming pool on a frequent basis over the summer. Since then I have taught swimming lessons at a Boy Scout Camp, participated in the full setup, installation and maintenance of my father's inground swimming pool, as well as enjoyed constantly researching everything there is to know about swimming pools for 5+ years. I enjoy all water related sports, being part of the online swimming pool community and always learning new things!