Researching the best swim caps for African-American hair? We can help!
Swim caps are a great accessory for anyone who likes to spend time in the water. They keep your hair out of your face while you're swimming, and help protect your hair from the harmful chemicals in pool water.
However, it can be hard to find swim caps for textured and Afro hair, as a lot of swim caps aren't designed with black hair in mind.
Don't worry, though, because we've got you covered! In this handy guide, we've gathered and reviewed six of our favorite swim caps for black and Afro-textured hair!
Here, we'll take you through what makes each swim cap great, as well as some things that could be better.
We've also included a Buyer's Guide to help you find the best swim cap for you, as well as an FAQ section to answer any questions you might have.
So let's get started!
Starting off our list strong is the Dsane Extra Large Swim Cap.
This silicone swim cap is roomy and flexible, and (as the name suggests) is able to fit extra-long hair like braids, dreadlocks, and afro hair comfortably.
The Dsane Swim Cap is BPA-free, and its durable materials mean that you don't have to worry about your hair tearing through the swim cap.
This swim cap keeps your hair snug and safe from the harsh chemicals in pool water without the risk of tugging and snags.
And to top it all off, the Dsane Extra Large Swim Cap also comes with earplugs and a nose clip for all your swimming needs!
Pros:
The swim cap is roomy and can hold long, thick hair comfortably with no snagging
Its high-quality silicone is durable and won't tear
You also get a nose clip and earplugs
Cons:
It isn't fully leak-proof, and some water can get to your hair
It can be tricky to fit the cap correctly at first
Get it on Amazon here.
Sale
Dsane Extra Large Swimming Cap for Women and Men,Special Design Swim Cap for Very Long Thick Curly Hair&Dreadlocks Weaves Braids Afros Silicone Keep Your Hair Dry(Black/XL)
LARGE SIZE AND ROOMY: Larger than average bathing shower swim caps (23 x 29 cm/9.1 x 11.4 inches in length and width), this DSANE swim cap has enough room to fit any bulky hairstyle or curly hair. Designed for Braids, dreadlocks, Crochet Mambo, Extensions, Weave on, Very long hair, Afro hair. Let your hair sit comfortably.
PROTECTION FOR HAIR WITH VOLUME :Hair and health conscious swimmers know that swimming is a great form of exercise, and although the harsh chemicals in most pools make them safe - they can be extremely harmful to the condition of your beautiful hair. Our premium, extra-large swim cap is the best form of defence.
UNISEX AND VARIOUS COLORS :Concise generous design fits both men and women; Various fashion solid colors to suit most people's choices, enjoy a happy swimming time.
PREMIUM & SOFT MATERIAL: Made from 100% good quality silicone to ensure strength durability and flexbility, We've done extensive research and are convinced that we've sourced the best quality material which will ensure your curls, braids, extensions, twists, dreadlocks or weave will stay protected. The DSANE CAP is built to last and is BPA free.
FREE BONUS ACCESSORIES: Nose Clip and Ear Plugs are included in the kit (Value $5), it prevents water from entering the nose and ear canal to a certain extent, so that you'll be able to swim with maximum comfortable experience.
The XL Swim Cap from Lock Journey is made from 100% premium silicone. This makes it thick and durable, and helps prevent it from tearing while you swim.
However, this swim cap is also flexible and stretches easily when slipping it on and off, so don't worry about your hair getting yanked!
The Lock Journey XL Swim Cap is incredibly spacious, and is big enough to accommodate extra-long braids, and even waist-length dreadlocks!
Simply tie your hair into a bun before slipping the swim cap on, which keeps it in place while you swim.
But despite how easy it is to slip this swim cap on, it stays firmly in place in the water to keep harsh chemicals away from your hair.
Pros:
100% premium silicone makes this swim cap as flexible as it is durable
Its size lets it hold even the longest, thickest hair, no problem
You can slip it on easily and it stays secure while you swim
Cons:
Some water can still get through the seal
Longer hair isn't the most secure in the cap
Get it on Amazon here, or buy it directly from Lock Journey here.
Unlike many other swim caps, the Lahtak Swim Cap boasts a nearly 100% waterproof seal to keep your hair as dry as possible.
This is because its thick silicone material offers maximum protection against water, and you can squeeze the air out of the cap once it's on to create a perfect seal. This also makes it a great choice as one of the best swim cap for people with long hair of all ethnic backgrounds.
Not only that, but this swim cap is made out of 100% hypoallergenic materials!
But despite its tight seal, the Lahtak Swim Cap is able to hold locks, braids, and dreadlocks comfortably without tugging or pulling at your hair.
Not only that, but you can adjust the tightness on this loose-fit swim cap to help keep thick hair in place and prevent water from reaching your hair while you swim.
Pros:
The loose-fit style holds long and thick hair comfortably in place
The waterproof seal keeps your hair as dry as possible
You can adjust the tightness by squeezing the air out of the cap
Cons:
It's not the most durable swim cap despite its thickness
It's on the pricier side for a swim cap
Get it on Amazon here, or buy it through Lahtak here.
Sale
Swim Cap for Long Hair - Swim Cap Braids and Dreadlocks - Bathing Swim Caps for Women Swimming - Swimming Cap for Women - Extra Large Swim Cap Men Afro - Waterproof Silicone Keep Hair Dry (Black XL)
LARGE SPACE for your HAIR to fit COMFORTABLY. The size is EXTRA LARGE – fits very long and curly braids, locks, dreadlocks, etc. Some colors come in a smaller DOWNSIZED versions as well – for long-haired kids, girls, teens and for men & women with moderately long hair.
LOOSE-FIT DESIGN – unique lab creation. NO TIGHTER THAN A HEADBAND. Imagine, NO PRESSING your hair bun or ponytail TO YOUR HEAD, no sliding off, NO MORE HEADACHES. Easily slides onto your head Lahtak swimming cap, holding GENTLY.
DRY HAIR IS THE GOAL. Although no swim cap KEEPS HAIR DRY 100% of the time, proper use of Lahtak™ Swim Caps for long hair can help you achieve this MOST OF THE TIME. You can ADJUST the TIGHTNESS by squeezing air out of the cap and getting a perfect seal.
EXTRA DURABILITY and SUSTAINABILITY lead to an EXTENDED WARRANTY. 100% allergy free waterproof silicone used for Lahtak Swim Hat is the THICKEST POSSIBLE and simply CAN'T BE torn or BROKEN. We stand behind our quality and offer you a 120-DAY MONEY BACK GUARANTEE. If you don't like your Swim Cap, we'll refund your money upon your request.
STYLISH, ELEGANT & FASHIONABLE LOOK. Lahtak Swim Cap for women with long hair is an additional fashion accessory. You can have your LONG HAIR PROTECTED in a fresh, novel and ATTRACTIVE WAY. With our LUXURIOUS COLORS, you will always be visible either in the swimming pool or in the open water.
If you want a high-quality swim cap without breaking the bank, then the Soul Cap XL is just what you need.
This BPA-free, high-quality silicone swim cap is designed to hold extra-long and thick hair comfortably and keep it safe from the harsh chemicals in pool water – and it comes with great value to top it all off!
The Soul Cap XL is made of 100% silicone, making it flexible and surprisingly soft.
This means that it's easy to slip on and off comfortably, without snagging your hair in the process.
With enough room to accommodate long braids, weaves, dreadlocks, and afros with ease, what more could you ask for from a swim cap?
Pros:
Large volume holds long, thick hair like braids and dreadlocks comfortably
The high-quality silicone is flexible and soft on your hair
It's lightweight, BPA-free, non-toxic, and latex-free
Cons:
The swim cap can tear easily
Its seal still lets some water through
Get it on Amazon here, or buy it directly from Soul Cap here.
Sale
SOUL CAP Large Swimming Cap for Long Hair - Designed for Long Hair, Dreadlocks, Weaves, Hair Extensions, Braids, Curls & Afros - Women & Men - Silicone (XL, Black)
DESIGNED WITH YOU IN MIND: Finding a swim cap that fits well isn't easy. So, we designed the SOUL CAP: with extra room in mind for your hair to fit comfortably.
KEEPS YOUR HAIR HEALTHY: Health-conscious swimmers know it's a great way to exercise. But the chemicals that make pools safe can also be harmful to your hair -- and our premium swim caps are the best form of defence.
FINDING YOUR FIT: Our large swim caps are ideal for those with long hair past the shoulders, including dreadlocks, weaves, hair extensions, braids, curls and afros. And if you're short on volume, don't worry, the cap falls flat against the back of your head!
WHAT MAKES US SO DURABLE? Our caps are made from 100% premium silicone to ensure strength and flexibility. After extensive research and outstanding feedback, we can promise that all hair types will stay protected, with less snag and less stress compared to latex products. The SOUL CAP is built to last and BPA-free.
WE ARE BLACK OWNED: Based in London, SOUL CAP a black-owned swimming brand -- with a mission to make swimming inclusive for everyone.
The Copozz Extra Large Swim Cap lives up to its name and is specifically designed for long and textured hair.
This high-quality swim cap is made of water-resistant silicone, which gives it a snug (but not uncomfortable) fit that creates a leak-proof seal.
This makes it great for keeping your hair dry and safe.
Not only is the Copozz Swim Cap nearly 100% waterproof, but it's also odor-free and non-toxic so you can rest assured that your hair will be fully protected against damage.
It also fits over the ears, keeping water out and reducing the risk of ear infections.
Pros:
The snug fit isn't too tight, and makes a waterproof seal to keep water out
It's odor-free and non-toxic, keeping your hair safe while you swim
The silicone material fits comfortably over the ears
Cons:
Some people may find covering the ears uncomfortable
The material isn't particularly stretchy and may tear
Get it on Amazon here.
Sale
COPOZZ Extra Large Swim Cap, Designed for Long Hair Braids Dreadlocks Weaves Hair Extensions Curls & Afros, Silicone Bathing Cap Swimming Hat for Women Men
Stylish & Elegant Design: Besides the solid black color, COPOZZ extra large swim caps are featured with black cat/ swan printed, eye-catching design make you shine in the swimming pool.
Large Size & Roomy: This swim cap comes in extra large size which is perfect for Big heads or people with LONG & THICK Hair. Specifically designed for Braids, Dreadlocks, Crochet Mambo, Extensions, Weave on, Very long hair, Afro hair.
Reduce Water Intake: The best feature of the swimming cap is to reduce water from entering, but doesn't completely keep dry, protect your hair and ear from bacteria, chloride and other substances in the water to ensure a safe and happy swimming experience.
Comfortable to Wear: These oversized swim caps are made of premium silicone, which is non-toxic, no deformation, quick dry and wrinkle-free, and with great flexbility, can be stretched to fit snugly.
Customer Services: If you have any problems with COPOZZ swim cap, please feel free to contact us, we will try our best to assist your concern as soon as possible.
Rounding off our list is the Extra Large Swim Cap from Dread Empire.
This premium swim cap has plenty of room for even the longest dreadlocks and afros, and its extra-soft silicone is flexible to make putting it on quick and comfortable.
The thick materials of the cap make it durable, so you don't have to worry about any rips and tears.
This thickness also helps insulate your head when swimming in cold water for maximum comfort!
Pros:
Large capacity accommodates long, thick hair easily
The silicone stays secure while you're swimming
The extra-soft and flexible materials make it easy to slip on and off
Cons:
Some water can still get to your hair
One of the pricier swim caps on this list
Get it on Amazon here.
Our Comprehensive Buyer's Guide
So now that you've seen six of our favorite swim caps for black hair out there, now you can think about which swim cap is ideal you.
To help you make your choice, we've made this handy Buyer's Guide; here, we'll take you some things you should consider when picking the right swim cap for black hair for you!
Material
Material matters when it comes to your swim cap, but some materials are more effective at protecting your hair than others.
Most swim caps are made out of silicone; these swim caps are thick and durable, while also being comfortable and easy to take off.
Silicone swim caps are also fairly water-tight, and keep your hair dry with a rubber seal around the inside.
Latex is also a common material for swim caps. However, latex is more likely to pull on your hair when you're putting it on or taking it off.
Additionally, they are also less water-tight than silicone swim caps and aren't suitable for those with latex allergies.
You can also find polyester and lycra swim caps, although these are mostly just intended to keep your hair in place and don't offer much in the way of water resistance.
Size
The size of a swim cap is also an important factor to consider.
If your hair isn't especially long, but is still too thick and textured for most swim caps, then any of the caps on this list are great options.
However, if you have longer hair or larger styles like afros, braids, and dreadlocks, then you'll need a swim cap that can accommodate more volume.
This is where swim caps like the Soul Cap XXL and the Dread Empire Extra Large Swim Cap are the most logical choices.
Water Resistance
Unfortunately, most swim caps aren't completely waterproof and will let at least a bit of water through. However, as mentioned earlier, some materials offer more water resistance than others.
Silicone swim caps offer great protection, with waterproof materials and an extra water-tight rubber seal around the inside of the cap.
Latex swim caps don't offer as much defense against the water, but will still keep your hair reasonably dry.
Meanwhile, lycra and polyester swim caps are both made of porous materials and will let the water right through to your hair.
Waterlogged hair isn't great, especially when it's thick and textured. Wearing a swim cap for black hair with more water resistance will help reduce the risk of your hair getting wet.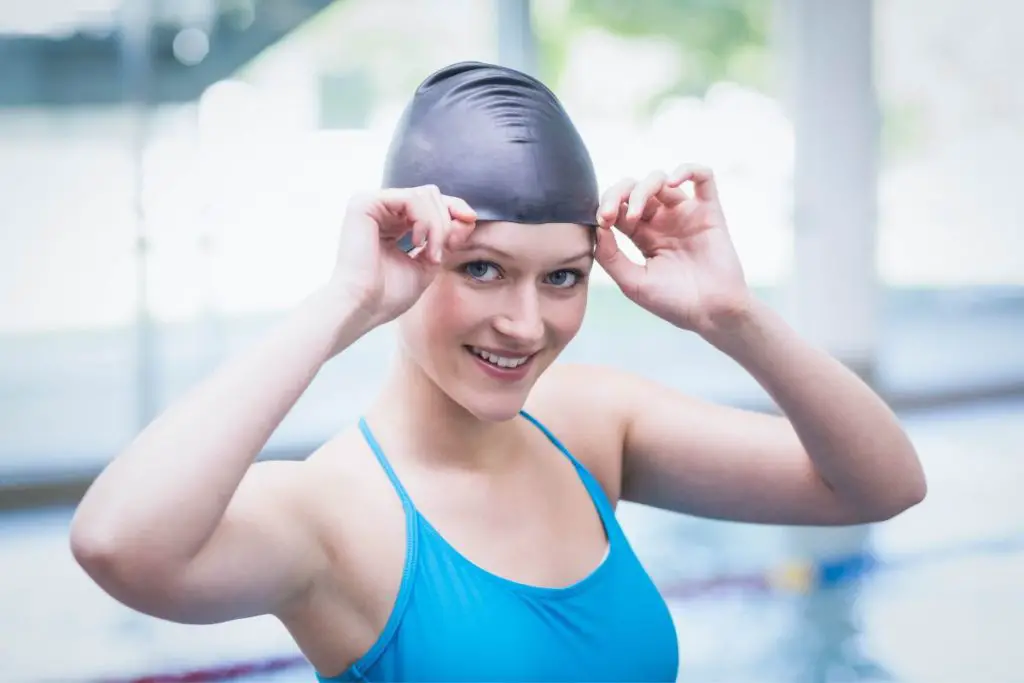 Frequently Asked Questions (FAQs)
Check out our answers to the top frequently asked questions related to swim caps for African American hair below. Enjoy and also check out our list of the best swim caps to keep your hair dry as well!
Why Is Wearing A Swimming Cap Important?
It's no secret that pool water can be bad for your hair. Pools often contain chlorine or baquacil and other harmful chemicals to keep the water clean.
These chemicals can strip the protective oils out of your hair, leaving it dry and damaged.
Swim caps protect your hair from the harsh chemicals in pool water by creating a seal, keeping the water out and your hair dry. See our deep dive into why many Olympic swimmers wear two swim caps as well.
They also keep your hair out of your eyes and mouth while you swim, which is especially important if your hair is particularly long and/or thick.
By keeping your hair in one place, swim caps make you more streamlined – this lets you swim faster and more easily.
Which Material Is Most Comfortable?
Some materials are more comfortable than others, and picking the right material will reduce the risk of the swim cap pinching or pulling your hair.
Silicone is the most comfortable material for swim caps – it is relatively soft to the touch, and is flexible enough to be put on and removed without yanking at your hair.
Latex swim caps, meanwhile, are far more likely to pull and yank at your hair, and also let water get to your hair.
Lycra and polyester swim caps are also some of the most comfortable kinds; however, these materials are both porous and will let your hair get wet.
This means that your hair can still get waterlogged and damaged by the pool water.
Do You Need To Wear A Swim Cap In The Sea?
The chlorine in pool water isn't the only thing that can damage your hair while you're swimming. Sea and ocean water can also be harmful to your hair, because of the salt content in the water.
Salt can strip the nutrients and moisture from your hair, leaving it damaged and dry; the effects of salt water aren't as bad as the damage chlorine can deal, but it's still a good idea to wear a swim cap if you're swimming in the sea or ocean.
Final Thoughts on Getting The Best Swim Cap For Black Hair
So there you have it – six of the best swim caps for African American hair out there!
All of these swim caps are great options if you have thick and textured hair – and with all these options, there's something for everyone to love!
So whichever one of these swim caps for black hair you choose, you can be sure that your hair will be protected and out of the way while you swim. Now all you need to do is pick one!
Also, check out a cool video on the benefits of wearing a swim cap below.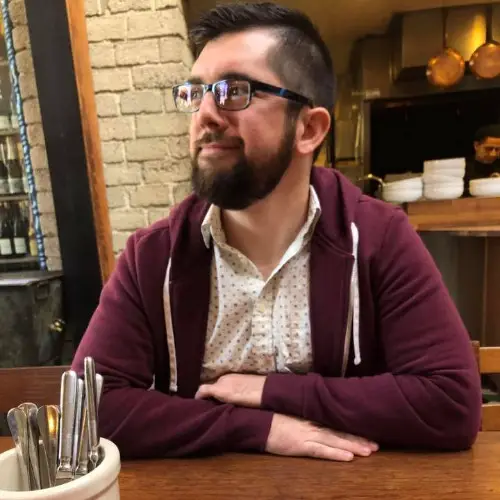 Hello, I am a writer and marketing specialist in Kansas City, MO. My love for swimming pools started as a child when I would visit my aunt & uncle's inground swimming pool on a frequent basis over the summer. Since then I have taught swimming lessons at a Boy Scout Camp, participated in the full setup, installation and maintenance of my father's inground swimming pool, as well as enjoyed constantly researching everything there is to know about swimming pools for 5+ years. I enjoy all water related sports, being part of the online swimming pool community and always learning new things!