Looking for best solar cover for your inground pool? We can help!
Not to be confused with a winter pool cover, which you use when your pool is closed, you can consider several solar options when trying to keep your pool covered and the temperature maintained when it is open.
That's where one of the high-quality solar pool covers (also known as a solar pool blanket) can come in handy.
If you're unsure about these types of swimming pool covers or are looking for recommendations, then check out the following article to find the best solar cover for inground pools!
Our Testing Method & Process On Finding Our Favorite Solar Swimming Pool Cover
In order to discover the top solar swimming pool covers for inground pools, we used our outdoor swimming pool testing facility to test over 20 different covers over a period of 60 days. We tested and evaluated the ease of setup and use, cover durability, average pool temperature, and factored in the average price of the solar swimming pool cover online. We were able to narrow down our sample test size of 20 covers down to our top 10.
After narrowing down our list to the top 10, our team reviewed them individually and arranged them from best to worst based on durability, water temperature impact, pool protection, price vs. value, and general ease of use.
Our top 10 products consist of solar pool covers that do well at keeping the temperature in your pool steady, keeps out debris and other elements that can pollute your pool, and are generally simple to use. We kept these features and others in mind when creating our top 10 list.
TLDR? We've got you covered- Our #1 Pick For The Best Solar Cover For Most Swimming Pools is the Sun2Solar Blue Rectangle Cover.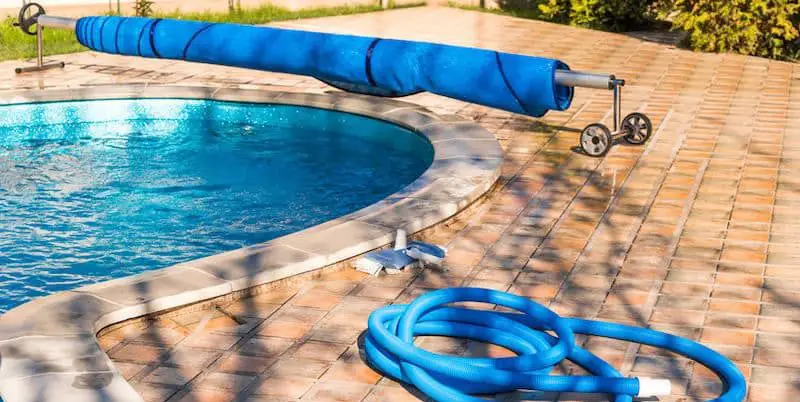 What Are Their Main Benefits?
In addition to warming your swimming pool, these solar swimming pool covers provide some money-saving advantages. Let's break them down below.
Maintain Water Temperature & Retain Heat
The main purpose of a solar pool cover is to help keep pool water at a certain warmer temperature. This is done via heat transfer from the sun. How much the temperature is maintained or raised depends on a variety of factors such as the design of the cover and how much sun exposure there is.
Save Energy Costs and Water by Reducing Evaporation
A solar cover uses nothing but the sun's natural energy to keep your pool at a warm temperature. Even if you already have an additional heating element such as a pool heater, a solar cover can help prevent the heat from escaping.
In turn, it can save you on heating costs. You can save even more if you have enough steady sunlight to not even require another heating element. Another thing you can save with a quality solar cover is water. The cover can help reduce the evaporation that naturally occurs. In turn, you won't have to replace the water as frequently.
Protect the Pool From Debris & Bugs
If you don't cover your pool, you risk leaving it exposed to a number of elements. Leaves, debris, and even bugs can fall into the water. This can risk damaging your filter. Also, as a solar cover maintains a steady temperature, it can reduce the chance of mildew developing inside the pool as a result of uneven temperatures.
Our Team's Solar Pool Cover Reviews
Check out our team's countdown of reviews for the solar pool covers for inground pools that we tried and tested below. Although we installed and tested a total of 20 different covers, we narrowed our initial sample size down to the top 10, which is what we reviewed in detail below.
Enjoy!
10. Robelle 1836RS-8 Box Heavy-Duty Solar Cover
To start off our review to find the best solar cover for inground pools, we take a look at the Robelle 1836RS-8 Heavy-Duty Solar Cover. This cover comes only in blue, and it is made from 8-mil polymer. For some people, putting it on and removing it may be a two-person job, otherwise, it may bunch up and be cumbersome to handle compared to others.
Although this is 18 x 36 ft., you can easily cut this to fit your specific pool size. In case something does happen to your cover, rest assured it comes with a 3-year warranty. Our team's favorite feature of the Robelle 1836RS-8 is that it was very fast in increasing the swimming pool's temperature compared to the other solar swimming pool covers for inground pools we tested.
Pros
Keeps evaporation down
Raises temperature fast
Cons
May bunch up
A bit too lightweight
9. In the Swim 12 Mil Rectangular Swimming Pool Solar Blanket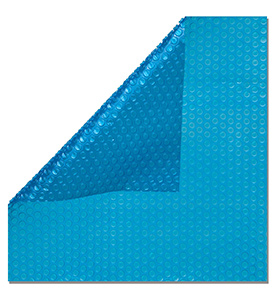 This solar pool cover from In the Swim can be purchased at a somewhat reasonable price when compared to other similar covers. It is available in a light blue color only. When it comes to the materials used to make the solar cover, it features 12-mil UV-stabilized resin.
If needed, this can trim down to size without difficulty. You can make it fit oval, kidney, or other irregular-shaped pools. Though it's backed by a 7-year limited warranty, there's a list of things the included warranty doesn't cover, so it's important to read up on it. Although this cover is one of our top 10 options of the 20 solar pool covers we tested, it ranked low on durability and we would be surprised if it lasted you more than a few years.
Pros
Good weight
Can reach high temperatures easily
Cons
Needs to be handled gently
May deteriorate within a season or two
8. Sun2Solar Midwest Canvas Clear Diamond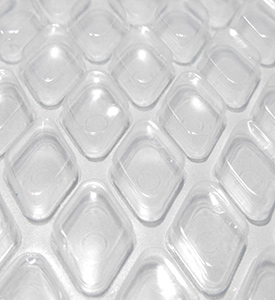 The Sun2Solar Midwest Canvas Solar Cover is one of the most logical solar cover options for an inground pool for those looking for a budget-friendly option. It offers good heat retention throughout various seasons. This is made from a resin material, and the cover itself is a clear cover.
Unlike many other common solar covers, this uses diamond-shaped bubbles with the claim that with a diamond design you get greater coverage of bubbles to absorb more UV rays. While the low price on this solar pool cover definitely makes it a good value for the ones we evaluated, it did rank low on both ease-of-use as well as durability compared to others.
Pros
Easily removed/replaced by one person
Holds up well against cool weather
Cons
Doesn't seem as thick as advertised
Hard to lay flat
7. Down Under Blue Solar Cover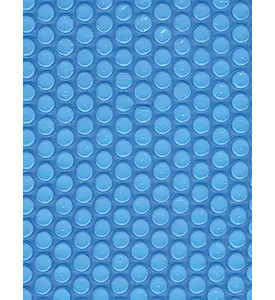 Next, on our inground solar pool cover for inground pool list, we have this solar cover from Down Under that makes use of a double blue layer technology that aims to give the cover more durability. It features reinforced seams that try to help it fight against wear and wind resistance in spite of the fact that it is very lightweight.
More about the durability, this solar cover is made from vinyl that is UV stabilized to fight of fading from both the sun and the chemicals from the pool. Also, it comes with a decent 3-year warranty. Although it works well, our biggest issue with the Down Under Blue Solar Cover is that it is often not always available to buy from Amazon and probably not the most ideal choice for someone needing a solar pool cover in a timely manner.
Pros
Comes w/ good warranty
Raises temperature quickly
Cons
Could have better weight
The cut may be off
6. MidWest Canvas SC-BS-000045 Space Age Cover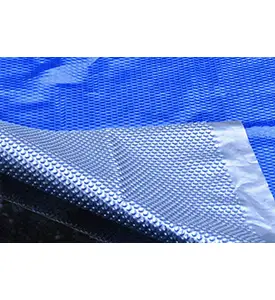 The MidWest Canvas Space Age Solar Cover has a unique color design that is blue on silver. It helps the solar cover pull in a good deal of heat during the day, and it helps it hold onto that heat at night. This rectangular cover is 18 x 40 ft., and it appears that you can trim it easily enough.
The 8-mm material in this solar cover is UV protected. By being so, it can allow the Space Age cover to hold up against heavier heat without taking in damage. Our biggest complaint when evaluating the Midwest Canvas Space Age cover is that it started to slowly but surely deteriorate in the pool water after several weeks, causing little blue dot debris to be floating in the pool. I would imagine this cover to not last more than a couple of years of usage.
Pros
Does well at fighting evaporation
Easy to handle
Cons
Feels thin
May develop small holes
5. Pool Mate 1836RS-8SBD BOXPM Deluxe Solar Blanket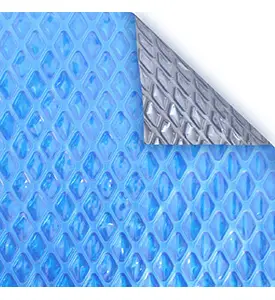 The Pool Mate Deluxe Solar Blanket is the one of our favorite solar covera for inground swimming pools that uses an aluminum heat shield. Overall, the solar cover is made from polyethylene material that features a unique aluminum shield on the other side. This blue on silver design can do a better job at trapping heat inside the pool.
In total, the solar cover we tested was 18 x 36 ft but also comes in two other sizes depending on how big your pool is. It does come with a 5-year warranty, but you'll need to speak with the company to see exactly what it does and doesn't cover. This pool cover was one of the top performing ones we tested when it came to helping heat up the inground swimming pool it was in, but similar to the MidWest Canvas Space Age cover, it also started showing signs of deterioration after several weeks of being tested in our facility.
Pros
Cleans off well
Cuts to shape easy
Cons
Needs better longevity
Some quality control problems
4. Thermo-Tex Rectangle Cover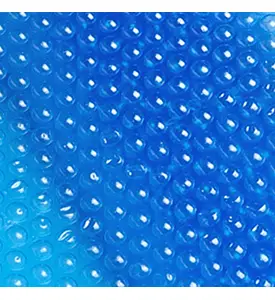 Thermo-Tex Solar Cover is made from UV stabilized polymer material. It is a type of material designed to fight against degradation caused by the sun and pool chemicals. This material is 6-mil thick and is light in weight in order to make it easier to put on and take off by one person.
Though this is rectangular in design and comes in at 16 x 32 ft., you can trim it to fit a variety of pool styles and sizes. It comes with a 3-year manufacturer-limited warranty. Our team's general consensus is that although this one is on the pricier end, it's quality is worth it. We had some mild issues with it on a particularly windy day, but overall this is a solid choice for an inground pool solar cover.
Pros
Cuts well
Good quality out of the box
Cons
Doesn't hold well in the wind
Might tear
3. Splash Pools Round Solar Pool Cover
Leading off our top 3 picks and next on our favorite solar covers for inground pools list, we have this blue solar cover from Splash Pools that is made from polypropylene material. It features thousands of tiny bubbles that do a good job at capturing heat. In fact, it can do such a good job that it may be too much for those that live in areas with hot climates.
The Splash Pools Solar Pool Cover is round in design and is 21 ft. in total. It may seem larger than many pools, but the excess is enough to allow you to trim if needed. This pool is excellent at heating your inground pool up, and is also one of the lower-priced options on our list, our one issue is that the quality and durability were lacking compared to our top 2 picks we tested.
Pros
Good sized bubbles
Keeps water warm longer
Cons
Can have calcium build-up
Feels a bit flimsy
2. Blue Wave NS520 14-Mil Solar Blanket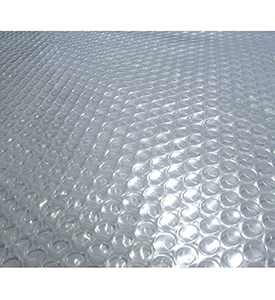 This Blue Wave Solar Blanket is designed for rectangular pools. The one we tested was 16 x 32 ft., but it can be trimmed down well if need be and also comes in 4-5 different sizes usually available online. The cover is 14-mil thick, and this gives it a good amount of weight so that it won't blow away. At the same time, you may need a solar cover reel or another person to help remove it or place it down.
The solar cover features round bubbles and is clear by design. This effort is meant to help the cover soak in more of the UV rays to better maintain the temperature in the pool. The Blue Wave NS520 14-Mil Solar Blanket knocked it out of the park with durability, quality, and heating capability, but is a little bit of a choir to handle and set up on an inground pool.
Pros
Holds up well against pool chemicals
Lays flat
Cons
Feels a bit stiff
Hard to manage by hand
1. Sun2Solar Clear Rectangle Solar Pool Cover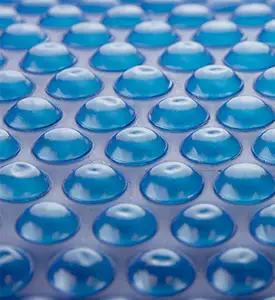 Now onto the cream of the crop.
Many see the Sun2Solar Solar Cover as the best solar cover for an inground pool, including the vast majority of our team that was involved in testing the solar covers. It's affordable, durable, heats pools extremely well and it still offers good value for its price. The 16 x 32 ft. cover that we tested comes in either blue or clear color, and they are made from thousands of round bubbles.
This pool cover also comes in over a dozen different sizes for both rectangle and square pools, meaning less cutting and more convenience in setting it up. When considering what color to go with, blue can provide an appealing look, while clear does a better job at acquiring more heat.
This solar cover is 12-mil thick, and it can have a reasonable amount of durability. You can trim it to suit your specific needs, and you won't have to worry about voiding the warranty. This was hands down our team's favorite of the 20 solar pool covers we tested and is an online best seller.
Pros
Helps balance chemicals
Raises temperature fast
Cons
Can be tough to remove
Seams can open
Frequently Asked Questions (FAQs)
Check out some of the most common FAQs our team encounter related to solar swimming pool covers, along with their expert answers! If you have any additional questions, feel free to email me.
Do They Actually Work?
Yes, Solar Pool Covers do really work! They help to both retain heat and reduce humidity, and when used on outdoor pools, they also help to add heat to the swimming pool water.
What Is The Ideal Cover Thickness?
The thickness of solar polar covers ranges from around 8 mils to 16 mils. Thicker covers are better at retaining heat and aren't as easily blown off the pool by strong winds, but they are heavier.
How Do They Work?
So, how exactly does a solar pool cover work?
Our Team's Answer: A solar cover for swimming pools essentially works like a heating lid. It captures the heat from the sun and prevents your pool from debris and dirt. It also prevents heat loss as well as helps prevent the water from evaporating.
Which Side The Pool Cover Is Up? (Bubbles Up or Bubbles Down?)
Simply put, when trying to figure out which side of your solar pool cover is up, know that the "bubbles side" should go down and facing the water. This means that the "smooth side" of your cover should be up and facing the sky.
Where Can You Buy Them?
Our team agrees that the easiest place to buy a solar pool cover is online, due to the often cheaper prices and variety of options available. We recommend Amazon, In The Swim, or PoolSupplies.com. If you prefer to shop in-store, Home Depot or Leslie's Pool Supplies are good options if you have a location nearby.
What Size Do I Need?
Our team recommends that in order to properly determine the correct size of solar pool cover you need for your swimming pool, you should simply measure the longest and widest points of the pool.
The goal is that when the cover is installed, it completely covers the pool water surface so there aren't any coverage gaps for heat to escape. Knowing your pool's length and width helps prevent you from getting a pool cover too small, if a cover is too big it can usually just be cut to fit your swimming pool size & shape.
How Do You Install A New Solar Pool Cover?
Installing a new solar pool cover is not incredibly difficult, but there are a couple of steps you want to make sure you don't miss. First, simply remove the cover from the box it came in and lay it next to your swimming pool. Carefully unfold it, as to not create any rips or tears, and then gently spread it over your pool's surface with the bubble side down (as we covered above). Our team suggests leaving it out in the sun for a couple of hours if possible to give the cover time to decompress.
If you have a solar reel, this can usually be done with one person, otherwise, we suggest having a family member or friend help with this process. The next step is to cut the solar pool cover to fit your pool size & shape if needed, you want it to be a fairly tight fit, with a tiny bit of excess so no coverage gaps exist that would allow heat to escape. Check out our Full Guide on How To Install Solar Pool Covers for more details.
What Is The Best Color To Choose?
As covered above, Solar pool covers are available in several degrees of thickness. When it comes to blue vs clear solar pool covers, in general blue solar covers are lighter and often less thick than "clear" or non-colored solar pool covers, this makes them more durable and usually better at heating your inground swimming pool.
Blue solar covers often measure 4 mils (thinner and lasts 1-2 years) and 8 mils (thicker and lasts 2 to 3 years). Clear solar covers can measure 12 mils (2nd thickest option and lasts 4 to 5 years) and 16 mils (thickest option and can often last from 6 to 10 years).
Thicker pool covers (which are often clear) can be more on the pricey end compared to their thinner blue counterparts. We recommend picking one of our top 3 options we tested and reviewed in detail above based on your budget and how long you want your solar pool cover to last.
How Fast Do They Actually Heat A Pool?
In an inground swimming pool, a solar cover can increase the water temperature by 5 to 8 degrees F for every 12 hours of coverage. With no cover at all, pool water absorbs a substantial amount of sunlight. A white plaster pool averaging 4.5 feet in depth absorbs approximately 60% of the sun's energy. This energy will heat the pool by about 0.7°F per hour under direct midday sunlight. See our full deep dive into how fast a solar cover heats a swimming pool here.
How Long Do They Last?
Because a solar cover is made of plastic material, it will begin to deteriorate after a while. Also, because of the outside elements and chemicals in your pool, the pool cover will begin to dry around the corners and the bubbles will start to deflate as well. High-quality solar pool covers can remain in good quality condition for about 4-5 years on average.
Our Summary on The Top Solar Covers For Inground Pools
We hope you enjoyed this guide on how to choose the absolute best solar pool cover for your inground swimming pool!
There are many benefits to having a quality solar swimming pool cover from maintaining your pool temperature to balancing out your pool's chemicals. You can use the above reviews to decide which product is the best solar cover for your inground pool, our team's personal top pick is the Sun2Solar Clear Rectangle Solar Cover.
Let us know what you think about our picks for the best solar cover for inground swimming pools in the comment section below!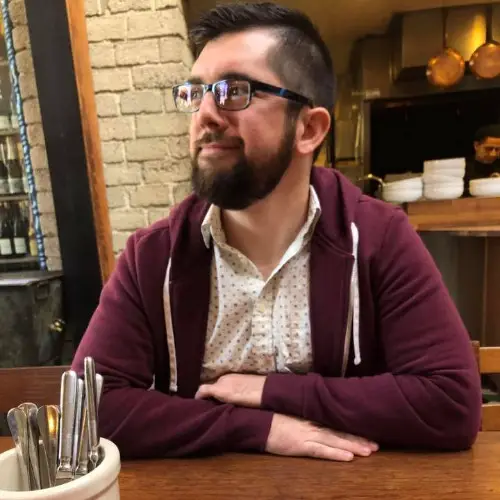 Hello, I am a writer and marketing specialist in Kansas City, MO. My love for swimming pools started as a child when I would visit my aunt & uncle's inground swimming pool on a frequent basis over the summer. Since then I have taught swimming lessons at a Boy Scout Camp, participated in the full setup, installation and maintenance of my father's inground swimming pool, as well as enjoyed constantly researching everything there is to know about swimming pools for 5+ years. I enjoy all water related sports, being part of the online swimming pool community and always learning new things!