Above ground pool lights breathe new aesthetic life into your home's above ground swimming pool, especially at night!
The ambiance they create brings a sense of safety, luxury, and calmness at night when you're swimming, and they allow you to take full advantage of your pool at whatever time of day.
In this article, we're going to review the best above-ground pool lights that are worth your attention. Let's dive right in!
Top 7 Above Ground Pool Lights to Illuminate Your Night Festivities
From LED to Floating lights, there are multiple design options to choose from in this category, including multicolored and color-changing options. The top seven swimming pool lights we're going to review today were selected due to their unique features, build quality, and lumen capacity.
#1. S. R. Smith LED Pool Light – Best Overall
The S.R.Smith Light is one of the most high-quality pool lights in the market today. It has everything you need in a light and more: low power consumption, multiple color options, and high luminosity.
The S.R.Smith Light is installed into 1.5-inch pool fittings. Its cord ranges from 30 feet to a massive 150 feet, making it the best option for those who own large above-ground pools.
Along with 49 color variations, the S.R.Smith light comes with two light shows that can be controlled via the included VAC remote controller. It also allows you to increase or decrease the brightness of the lighting using the same device.
Pros
Easy to install; no draining or drilling required
Made of high-quality material
Cons
#2. TOVEENEN Color-Changing LED Pool Light – Runner Up
The Toveenen LED Pool Light is a tremendous addition to any pool. Along with its high-quality build, it's designed in a way that guarantees equal underwater illumination.
This underwater pool light comes with a remote control that allows you to switch between one to seven different colors.
It's also up to two times brighter than regular incandescent lights, which means you don't need more than two or three lights to brighten up your entire pool. In fact, a single bulb is sufficient to light up a 16×32-foot pool!
Installation is fairly simple and straightforward; screw the light into an existing lamp base, turn the remote's switch on, and voilà! You don't even need to empty the pool to install it.
On top of the seven lights, the Toveenen LED Pool Light offers seven dazzling light shows.
Pros
Extremely power efficient
Cons
Requires existing lamp base to install
#3. Intex Magnetic Pool Wall Light – Best Magnetic Pool Light
The Intex Magnetic Pool Light is specifically designed for above-ground pools. It has a magnetic mounting system that allows you to attach the light to the side of your pool. No wiring, cutting, or complicated installation is required. It lights up both inside and outside the pool!
This pool light illuminates a 24-foot pool with ease. The outlet connection comes with a 26-foot power cord, giving you the freedom to plug the cord wherever you want.
If that's not enough, the Intex Magnetic Pool Light grants you the chance to pick one of five different colors for your pool. Can't decide which color is your favorite? No problem! Why not choose the color-changing mode, instead?
The unique lens design of the Intex pool light allows the bulb to illuminate your pool evenly. It also uses magnetic energy to provide low-electricity illumination to reduce energy costs.
If the light accidentally detaches from the magnet, you'll be glad to know that it can actually float. Plus, it's extremely safe due to its low electric charge.
Pros
Illuminates up to 24 feet
Cons
Doesn't come with a remote controller
#4. Pentair Above Ground Light – Best Halogen Pool Light
The Pentair Aboveground Light requires a bit of skill to install, but once you have it up and running, you'll be impressed by the power it brings.
Manufactured by reputable water control specialists, the Pentair is designed with inbuilt hydro-optic technology that guarantees bright and powerful light illumination.
Similar to the S.R.Smith Light, this product is to be installed in an existing water return above-ground pool hole. No cutting or wiring is required. It also comes with two different colored lenses that you'll have to manually install as it doesn't come with any smart features.
When it comes to energy efficiency, Pentair performs relatively well. Instead of an LED light, it features a halogen quartz light, making it a greener option than traditional bulbs.
Pros
Compatible with most above-ground pools
Provides bright illumination
Cons
Isn't as energy efficient as LED lights
Slightly difficult to install
#5. LOFTEK LED Floating Pool Light – Best Floating Pool Lights
The Loftek Floating Pool Light is a great aesthetic addition to any pool. It comes in multiple sizes, from 3 inches to 24, and can be switched to 16 different colors.
Along with excellent IP65 waterproof performance, the Loftek Light has five brightness adjustments and four dynamic lighting modes to suit your mood. This includes Fade, Smooth, Strobe, and Flash. You can also control the ball through either a remote or a button found on the ball itself.
This LED light ball is powered through a 2200MAh lithium battery. It stays illuminated for up to 10 to 12 hours at a time and only requires approximately 2.8 to 3.8 hours to fully charge.
A 5V1A adapter is included in the box, so you won't have to worry about purchasing a separate unit to charge it.
The Loftek Floating Pool Light is ideal for those who don't have the time or patience to install a pool light.
Pros
Multi-color options and modes
Cons
Battery compartment may leak over time
Isn't as bright as most other lights on this list
#6. LEDMY Flexible Led Strip Lights – Best Strip Pool Light
If you're searching for something that'll illuminate the surrounding sides of your pool, the Ledmy Pool Light might be for you.
The Ledmy is an LED ribbon light equipped with surface-mounted light-emitting diodes. A single strip is 16.4 feet, which is enough to cover a medium-sized above-ground pool.
Cutting marks are provided so you can safely shorten the light without damaging the rest of the strip.
The Ledmy Pool Light comes in three colors: Daylight White, White, and Cool White. Each light gives you a high-intensity 1,500-lumen brightness with a lifespan of 50,000 hours.
This pool light is extremely easy to install and doesn't have any other extra requirements. It comes with a self-adhesive back and adhesive tape that allows you to simply attach it to the sides of your pool.
Pros
Flexible and easy to install
Backed with a 3-year warranty
Cons
Power supply needs to be ordered separately
#7. Qoolife Rechargeable Magnetic Led Lights – Best Budget Option
The Qoolife LED Light is a budget-friendly pool light option. It can be mounted on steel using magnetic mounts, or placed inside the pool using suction cups. It also comes with mounting holes if you want to permanently attach the light with nails.
One of the best things about the Qoolife LED Light is that it comes with built-in rechargeable batteries. When the battery runs out, simply connect the light to its high-capacity USB cable and wait a few hours until it's fully charged.
Due to its IPX8 dural waterproof mechanism, you can place the light in the bottom of a pool up to 20 meters deep. What's more, the lights stay fixed on the ground even if the suction gets accidentally dismantled.
Another great feature found in the Qoolife LED light is its remote control function. Its wide connection range allows you to control the lights of the pool from a far distance.
A single remote can control up to 10 LED lights at a time, so you won't have to use multiple remotes if you bought more than one light.
The color-changing feature provides up to 11 different changing patterns, most of which are holiday-themed. It also has up to 10 levels of brightness adjustment, five dynamic modes, and a convenient automatic turn-off function.
Pros
Multiple installation options
12 different color options
Cons
Biggest Factors and Features to Consider
There are hundreds, if not thousands, of pool lights available for purchase today. Each light comes with its own style, color, and technology. Here are some factors to consider when choosing an above ground pool light:
Size and Shape of Your Pool
When buying a pool light, it's important to consider the size and shape of your pool. The bigger your pool, the more lights you're going to need.
According to the Model Aquatic Health Code, pool lighting shouldn't be any less than eight
initially rated lumens per square foot of pool surface area.
Waterproof Rating
If you're planning to permanently install the pool lights in your pool, it's best to purchase units with an IP68 waterproof rating. They should also be rustproof and non-corrosive. For temporary submersion, IP67 rated products are sufficient.
Pool Light Type
There are five basic types of above-ground pool lights available: LED, Magnetic, Incandescent, Floating, and Halogen.
LED lights are the most popular among the five, primarily because it's highly energy efficient. LED pool lights consume up to 85% less energy compared to conventional pool lighting, therefore allowing users to greatly cut down on their energy bill consumption. Plus, they have a long lifespan and provide instantaneous illumination.
Magnetic pool lights, as the name suggests, come with a magnetic mount that allows users to directly attach them against the sidewall of an above-ground pool.
Incandescent and Halogen pool lights are two of the most traditional pool lights known today. They more or less operate with the same principle: an electric current heats the bulb's filament until it produces a bright light.
These lights are unfortunately not as energy efficient as LED bulbs, but they emit a cleaner, brighter illumination, and last longer than LED lights.
Floating pool lights are lights that float. No installation nor wiring is required. They're powered through disposable AA batteries, rechargeable batteries, or solar.
Also note that if you're fond of visual effects, you might want to go for those with multiple colors.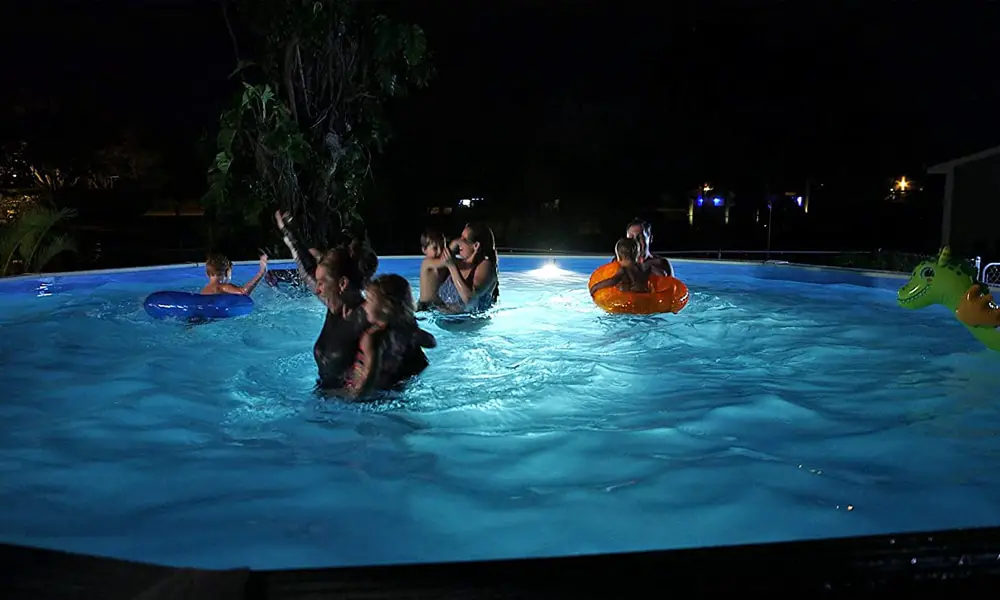 Frequently Asked Questions (FAQs)
Here are some of the web's most frequently asked questions concerning above-ground pool lights, as well as our expert's answers to them:
Are Pool Lights Safe To Install?
Pool electrocution is one of the biggest concerns of most pool owners. To avoid any potential accidents, it's best to purchase low-voltage lights that are specifically designed for pool use.
You may also want to contact your local electrician to not only check the safety standards of your pool but to help you install it in a safe manner, as well.
What Is The Best Type For Above-Ground Swimming Pools?
Among the types of pool lights available- LED, Magnetic, and Floating lights are the best for above-ground pools.
LED lights generally come with a high lumen rate and are extremely energy efficient. Floating lights, while not as bright or powerful, provide an aesthetic value to your pool and don't require any installation whatsoever.
Magnetic pool lights are specifically designed for above-ground pools as they can be installed on the side of the pool.
How Many Should I Buy For My Pool?
According to the website SwimmingPool, a 15×30-foot pool only requires a single light. Pools that are over 20×42 feet may require three or more lights.
If you're not fond of installing or buying more than one light, you may want to purchase a light strip, instead.
How Do You Properly Install Above Ground Pool Lights?
Depending on what kind of above ground pool lights you choose, the installation process is going to vary, however always be strategic with your lighting placement, test out your lights before installing, and make sure you order enough lights to create the mood and adequate lighting you desire.
Where Can You Buy Them?
Many different options of above ground swimming pool lights can be purchased online on websites like Amazon or In The Swim. If you prefer and in-store shopping experience, our team was able to find above ground pool lighting at Walmart and Home Depot. We recommend shopping on Amazon, as they have the best selection and you can read reviews/FAQs.
Our Team's Final Thoughts on Above Ground Swimming Pool Lights
Swimming pool lights are a great way to beautify and brighten your pool. Our personal pick for the best above-ground pool light is the S. R. Smith LED Pool Light. Not only does it have a high lumen rating and low power consumption, but it has multiple color options, as well!
If you're searching for a more budget-friendly option of above ground pool lights, the Qoolife Magnetic Led Lights might be for you. Similar to the S. R. Smith, the Qoolife light also has multiple color options. It's entirely controlled via a remote controller for maximum efficiency.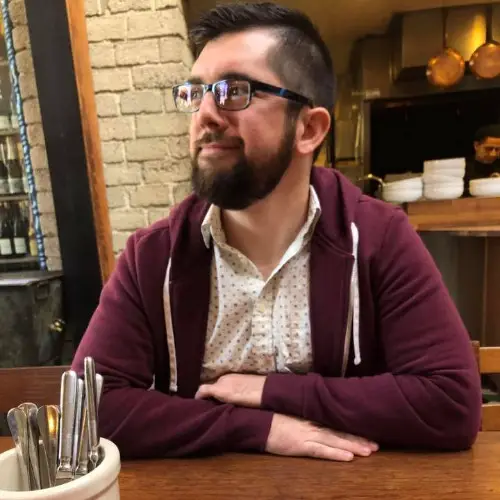 Hello, I am a writer and marketing specialist in Kansas City, MO. My love for swimming pools started as a child when I would visit my aunt & uncle's inground swimming pool on a frequent basis over the summer. Since then I have taught swimming lessons at a Boy Scout Camp, participated in the full setup, installation and maintenance of my father's inground swimming pool, as well as enjoyed constantly researching everything there is to know about swimming pools for 5+ years. I enjoy all water related sports, being part of the online swimming pool community and always learning new things!