Curious on how solar swimming pool covers actually work? Let's dig into it!
Nothing beats enjoying your weekend by your backyard pool. However, it's always an issue to get into the water if it's ice cold. That's why a lot of people use electric and gas heaters to warm up the water.
The problem is, these consume a ton of electricity and you lose a ton of water by evaporation. That's where a solar swimming pool cover option comes to the rescue. One question that might come to your mind is "how do solar pool covers work?"
Below you'll find everything you need to know about solar pool covers, including their working mechanism, their benefits, and the best options that you can find out there.
Understanding Exactly How They Work
To understand how a solar pool cover works, you should know what happens to the water in your pool if you leave it completely uncovered or with a regular pool cover.
During the day, if you leave the pool uncovered, it'll absorb a lot of the sunlight throughout the day. Ideally, pool water will absorb more than 60 to 70% of the solar energy directed at it. This energy will end up heating up the pool by about 0.7 to 1 °F every hour. 
However, with an uncovered pool, the water will start to counteract the warming process by evaporation. 
One property that always follows water evaporation is a quick reduction in temperature. In fact, this can cause the water to cool up at a much higher rate than it heats up, rendering the water icy cold on a hot summer day.
A solar pool cover is simply a huge blanket that looks like a thick sheet of bubble wrap. How solar pool covers work is by capturing the heat energy that comes from the sun and use it to keep the water warm. This resembles the greenhouse effect used to keep the plants in warmer conditions.
The great difference here is that although it heated up much faster, the blanket doesn't allow the evaporation process to escalate. So, the pool remains warm without using external means of heating.
It goes without saying that the solar pool cover also works as a physical barrier that blocks all the external factors of the environment from tampering with the chemical composition of your water.
What Are the Benefits of Having a Solar Pool Cover?
Here are some of the benefits you'll get by opting for a solar pool cover.
Achieving Higher Cost-Efficiency Than Using a Water Heater
While using a solar pool cover, you'll be able to harness the power of the free solar energy to warm up your pool. This will save you a lot of money on electricity bills.
One thing you should know is that a solar pool cover's heating efficiency is highly dependent on the availability of solar energy throughout the day where you live. 
In other words, if it isn't sunny enough during the day in your region, the solar pool cover might not be enough to warm up your pool on its own. 
In that case, you might still need an electric or gas water heater to get the pool to the ideal temperature for swimming and retaining chemicals. However, you'll still save a ton of money by combining both systems.
Keeping the Swimming Pool Water Clean
By adding the physical barrier of the solar pool cover to your pool, you'll also enjoy the benefits of a regular pool cover. This includes keeping debris and dust out of your pool.
This keeps your water cleaner for longer, so you won't have to spend time or money on continuously cleaning or refilling your pool with clean water. 
The increase in water temperature will also prevent algae from forming in your pool.
Preserving Pool Chemicals
Pool chemicals are also affected by the evaporation process, so you have to refill them in a tedious process to maintain the cleanliness of the pool.
That's why retaining the chemical composition of the pool is another added perk of having a solar pool cover
How Much Do They Cost?
Solar pool covers are available in a wide variety of shapes, styles, and sizes. For example, a solar pool blanket fit to cover a pool of about 10 ft in diameter should cost you about $70 to $80.
As a rule of thumb, you should expect a solar pool cover to be fairly inexpensive, especially when compared to the value they bring and the money they save. 
Most solar pool covers on the market will set you back anywhere between $70 to $400 depending on their sizes and thickness while retaining the heat.
Usually, these blankets come in bulk where you can cut and trim them to fit whatever shape of a pool you have in your backyard. 
Top Options Available on the Market Today
Finding a good solar cover for your pool depends on various factors, and there are various options out there that you can come across.
To save you the hassle of finding the ideal one for your pool, we scoured the market to get the top solar pool covers on the market. See our top 3 picks depending on what kind of swimming pool you have and your budget that are available on Amazon below.
One of the highest quality products on the market. However, it's also one of the priciest. According to Blue Wave, this one saves up to 95% water and chemicals from evaporating.
Intex Solar Cover is one of the most popular solar pool covers for above ground pools out there due to its high efficacy and budget-friendly price. 
Sun2Solar offers an excellent level of heat entrapment while staying relatively well priced. It's also available in both blue and clear varieties, so you can choose the one that fits your needs. 
Our Conclusion on How Solar Swimming Pool Covers Work
There you have it. A complete guide with everything you need to know about solar pool covers and how solar pool covers work.
As you can see, solar pool covers will work by entrapping and preserving the heat without costing you more on electricity bills!
Also, it'll keep all dirt and debris out of your pool and maintain the water's chemical stability for longer.
For that reason, a solar pool cover is an excellent investment that you should consider if you want to worry less about your pool.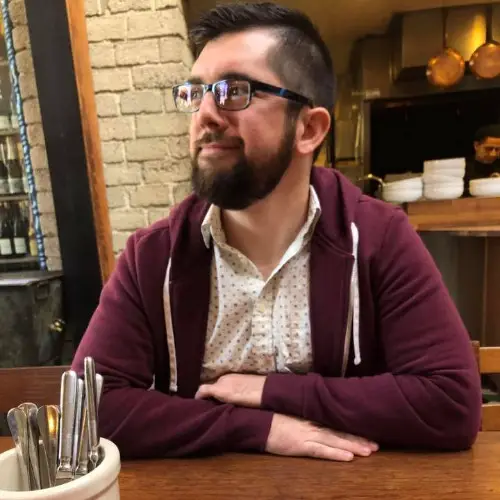 Hello, I am a writer and marketing specialist in Kansas City, MO. My love for swimming pools started as a child when I would visit my aunt & uncle's inground swimming pool on a frequent basis over the summer. Since then I have taught swimming lessons at a Boy Scout Camp, participated in the full setup, installation and maintenance of my father's inground swimming pool, as well as enjoyed constantly researching everything there is to know about swimming pools for 5+ years. I enjoy all water related sports, being part of the online swimming pool community and always learning new things!