Curious about the best above ground pool pump on the market today?
We can help!
Pools are a fun way to beat the summer heat. However, since swimming pools are almost always exposed to the outdoors, they tend to collect all sorts of debris, dust, and even algae. Having crystal clear water is not just aesthetically pleasing, but it also limits health risks.
Whats The Solution?
It's often simply having one of the best above ground pool pump and filter systems installed with your swimming pool.
Pool pumps help clean out the water in your above ground pool and provide you with the crystal clarity you need to enjoy yourself and stay safe. We spent 90 days testing 15 different pump and filter systems on a 27-Foot by 52-Inch above-ground swimming pools by Splash Pools.
In this article, we'll review our 7 favorite above-ground pool pumps from what we tested and help you pick which is most ideal for your pool. Let's dive in!

Our Top Picks For Above-Ground Swimming Pool Pumps with Reviews
We took a look at the various types and brands of pool pumps and narrowed them down to the top 7 to keep your pool in tip-top shape.

1. Rx Clear Radiant Cartridge Pool Filter Pump
Starting with our #1 favorite pick, the Rx Clear Radiant Cartridge Pool Filter Pump is made to withstand the toughest of weather conditions with its corrosion-proof polymer material and is suitable for above ground pools up to 40,000 gallons.
Built with power efficiency in mind, this above ground pool pump and filter helps you cut down on bills while providing pristine water. It also requires less frequent maintenance due to its large size, the cartridges are also a breeze to clean with just a quick rinse or a replacement.
Factoring in it's price, power, effectiveness and ease-of-use, the Rx Clear Radiant Cartridge Pool Filter Pump was a dominant winner and a clear favorite of the 15 different ones we tested.
Pros:
Easy to use and maintain
Quick drain access for easy cleaning
Can be stored in off-seasons
Large size means you'll have to clean it less often
2-year warranty
Cartridge included with purchase
Cons:
Doesn't include a pre-pump trap basket
Seals may be prone to leak over time with high pressure

2. Intex Krystal Clear Sand Filter Pump
Available in 2 models that are designed for pools that are 16' to 24' with a pump flow rate of 2,100-3,000 GPH (gallons per hour). Both include a 24-hour built-in timer so you can manage electricity consumption efficiently, as well as a strainer basket to get rid of bigger debris easier.
The most prominent feature in this filter would have to be the built-in 6-way valve. This valve allows you to easily switch between the 6 functions of the pump: filter, backwash, rinse, re-circulate, drain, and finally to shut it off.
Pros:
Cost-efficient
24-hour timer
Integrated safety shut-off
Easy maintenance
Quiet
Variety of tank sizes
Cons:
Prone to leaking
Adapters to different pools sold separately

3. Hayward Perflex D.E. Pool Filter Pump
This Hayward pick can filter dust and debris particles that are as small as 2 microns. Its tough build offers a corrosion-free, dependable filter that will live on. This series has a set of 8 models that suit every need.
We do recommend the W3EC75A model for its pressure gauge that helps you figure out when it needs a cleaning. As well as the EC50AC model for its versatility and high-strength build.
Pros:
No need to backwash
1-year limited warranty
Different models to choose from
Cons:
D.E. powder may puff into the water on the first use

4. Blue Wave 22-Inch Sand Filter System
Despite being on the pricier side of the spectrum, the Blue Wave sand filter provides optimal flow rate and long working hours, as well as an external hair and lint debris catcher for ease of cleaning.
This filter has a high efficacy rate in the long run when maintained properly, and is known to run quietly. However, if you are not willing to put in the time towards maintenance, this may be more of a loss than a win.
Pros:
Strong 1 ½ HP motor
Runs quietly
Easy assembly
Cons:
Steep price compared to its counterparts
Sand is not included (requires 220 lbs of sand)
No timer

5. Intex Krystal Clear Cartridge Filter Pump
This filter comes in 3 models that can filter out pools of 6000 gallons up to 15,200 gallons. It's easy to set up and changing out the cartridge is easy as it only has one.
And the best part? This above ground swimming pool pump comes packaged with all the needed hoses and clamps so you can set it up right out of the package.
This one, however, doesn't include an on/off switch so you need to unplug it once you're done.
Pros:
Easy to assemble
1,000 GPH flow rate
Easy to clean out
Air release valve to release the air trapped in the filter
Cons:
Needs to be cleaned out often, depending on the amount of debris
Water intake housing needs to stay submerged
No on/off switch

6. Hayward ProSeries Sand Filter Pump
This series of sand filters that range from 16 to 20 inches in size are known for their top performance due to the top-mount filter that distributes the water evenly on the sand, which makes it ideal for above-ground pools and even aquariums!
These Hayward filters have a special 7-position valve that provides optimal flow with minimal pressure. Not to mention that it makes the cleaning much easier.
Pros:
Cost-efficient option
Strong, durable material that withstands all weather conditions
Easy installation due to the 360 flange clamp design
Cons:
Prone to leaking
Weak at the side seam when not fitted with the correct valve size

7. GAME SandPRO 75D Series
Lastly, we have the GAME (Great American Merchandise and Events) SandPRO 75D. This filter works well with pools that are as big as 15,000 gallons.
This filter has a 0.75 HP motor that provides efficient energy consumption and quiet operation. As well as provide maximum vacuum power to keep your pool clean.
Don't be intimidated by its bulky looks, this filter is easy to maintain with its 4-position rotary valve which makes clean-up a hassle-free process. However, the needed 75 lbs of sand are not included with the purchase.
Pros:
Large capacity
Easy access debris strainer basket with see-through lid
Easy to operate
4-position valve to filter, rinse, backwash, and winterize
Quiet filtration process
Cons:
No built-in timer
No on/off switch
Sand not included with purchase

Types of Swimming Pool Pump and Filter Systems
There are 3 main types of above ground pool pumps: sand filters, cartridge filters, and D.E. (diatomaceous earth). While they all filter out debris, there are subtle differences between them.

Sand Filters
As the name suggests, they contain silica sand (or 'filter sand') that filters out dust and smaller particles as they sift through the sand. The sand acts like small sponges that can filter out particles as small as 20-40 microns, especially algae, which is around 30 microns.
Pros:
Simple to use and operate
Cost-efficient in the long run
Sand needs to be changed every 5 to 8 years (depending on usage)
Cons:
Prone to leaking with prolonged use
Require backwashing to clear out the sand

Cartridge Filters
These push out the pool water through the removable cartridge to filter out debris and contaminants. They can filter more than sand filters do, but they also require more frequent cleaning.
Unlike sand filters, they can be easily cleaned out by washing the cartridge with a hose or simply replacing it.
Pros:
Easier to maintain and clean than sand filters
Filters out particles as small as 10-15 microns
Larger filtration area than sand filters
Cons:
Require more frequent cleaning than sand filters
More costly to maintain

D.E. Filters
Diatomaceous earth is a white powdery substance made of silica, D.E. acts like tiny sponges that absorb contaminants and dust particles that are 2 microns in size. This makes it the most powerful of filters when it comes to keeping your pool water clean and shiny.
The filter is made up of a grid that is coated with D.E. and when water passes through, the particles are caught on the grid. Just like sand filters, you can backwash it to clean it.
Pros:
Filters particles as small as 2-5 microns.
Lasts months before needing to be cleaned
Cons:
Highest cost compared to sand and cartridge filters
D.E. is toxic to inhale or consume
Must be added to the filter grid after each backwash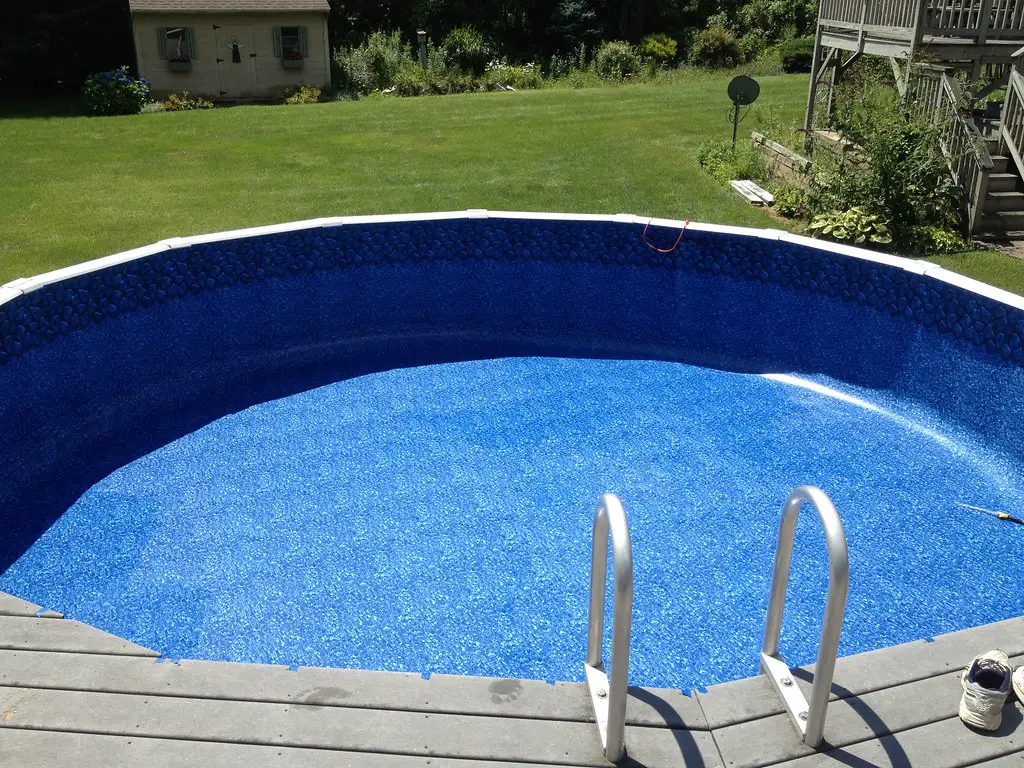 Factors To Help Decide What Pool Pump Is The Best For Your Above Ground Swimming Pool
Now that we've taken a look at the different types of swimming pool pumps and what makes each type special, there aare still a few questions left to answer to help you choose the ideal pool filter.

How Big Is Your Swimming Pool?
The size of your pool is the first thing to consider when buying a pump, as each type can only handle a certain volume of water and has certain pumping speeds. The shape and build of your pool will also help you determine the right size of valves and the number of pipes you may need. 
Small to medium pools can easily be filtered by pumps with 1 ½ horsepower, while pools on the larger side will need a higher HP to be able to run efficiently.
Check the specifications on the product's page for how much HP the pump provides and how much electricity it will need.

How Do You Pick The Right Material?
You need to pay close attention to the materials the filter is made out of since it will be exposed to the weather at all times (except the ones that may be stored), and we don't want a filter that melts when the sun shines brighter.
You should look for filters that are made out of thermoplastics, or plastics that are designed to withstand sun-damage and overheating. These should be labeled UV-resistant for easier spotting.
Cheaper filters may be plastic, but they could use a cheaper grade to lower the cost. This could lead to leaks, ripped seams, and malfunctioning valves.

What Are The Energy and Safety Features?
When choosing your above ground pool pump, make sure to check its energy consumption levels and how much power it needs. Does it have an automatic timer to turn it off or do you have to unplug it manually?
You also need to make sure that all cables are well-insulated, that the filter is fitted according to its instructions. Some filters may need to be put on a platform in case of any flooding, while others can withstand being submerged by water.
If your choice of filter requires being hooked up to the house's circuit, make sure to hire a professional to set it up for you to avoid damaging your house's wiring.
We recommend doing regular checkups on all electrical wirings, insulations, and connections to fix any wear and tear.

What Is Your Above Ground Swimming Pool Pump Budget?
It's safe to say that these filters are quite an investment! An expensive pool pump may not necessarily be the best fit for your above ground swimming pool, so before opting for the Ferrari of filters, make sure it has the features you want and need.
We recommend taking a look at running costs as well, for example, sand filters need a change every 5 years if used heavily, while cartridges may need more frequent replacements. Make sure to weigh in how much time (and money) you'd be willing to invest in a filter on both the short-term and long-term.

What Are The Rules and Regulations You Need To Know About?
Residential pools need to adhere to a certain set of guidelines and rules, be it indoor or above-ground pools. Filters and pool pumps must also adhere to their own specific rules.

Are There Any Extra Features To Know About?
You may have noticed that filters can have add-ons that make operating them easier, but are they all necessary?
A pressure gauge is not included in all filters, but it does help you figure out when it's time to clean as the pressure drops when it's clogged.
A built-in timer that automatically shuts the filter off can help you cut down on energy costs vs a filter that you have to unplug automatically.
All these features are handy, but it comes down to you to decide if these are worth the extra coin or if you can live without them.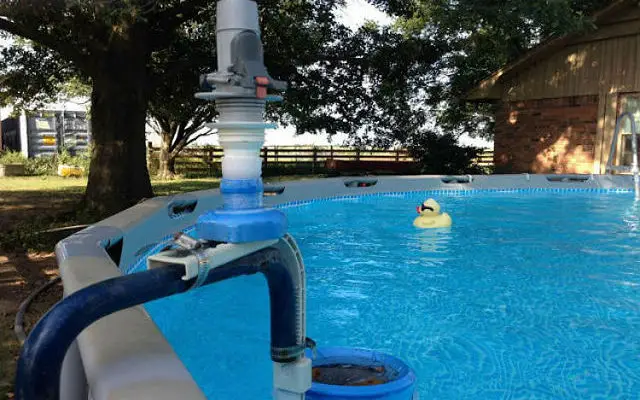 FAQ's About Above Ground Pool Pumps and Filter Systems
Check out our most frequently asked questions about above-ground pool pumps and above ground swimming pool filters.
Which type of filter is best?
This depends entirely on how much time you're willing to invest in maintaining your filter as well as how much you're willing to invest. Sand filters live the longest before needing a change, while cartridge and D.E. filters require more frequent maintenance.
How much horsepower do I need for an above ground swimming pool pump?
This depends on the size of your pool, small to medium-sized pools require 0.25-0.5 HP to operate efficiently. While pools on the bigger end of the spectrum may need 0.5 and above.
How often should I clean my filter?
Sand filters will need a sand change every 5-8 years with regular usage, while cartridges and D.E. filters will need a clean every couple of weeks. If your filter has a debris strainer, this will need to be cleaned once it is visibly full.

Our Team's Conclusion on the Best Above Ground Pool Pumps
After going through and reviewing our top 7 picks, our winner has to be the Rx Clear Radiant Cartridge Pool Filter Pump. This above-ground pool pump and filter system is an all-around winner with its wallet-friendly benefits and overall sleek design and performance.
The most prominent feature about it is the built-in timer that takes away the burden of having to plug and unplug it manually.
If you're not really keen on getting a sand filter, our next runner-up is the Intex Krystal Clear Sand Filter Pump. Its corrosion-proof build and being energy-friendly make it a top choice in the cartridge filter range.
We hope our team's test results and review guide helps you find the best above ground pool pump system for your swimming pool so you can enjoy the upcoming summer days with ease.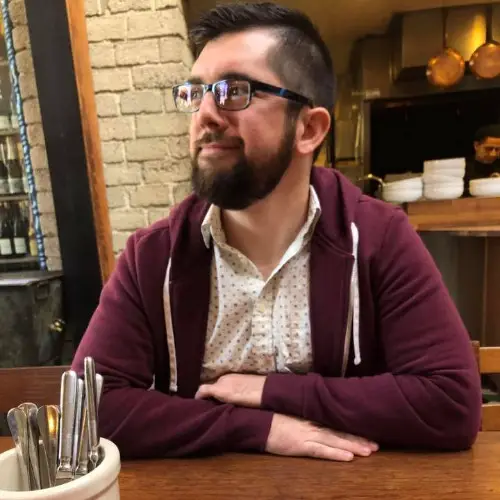 Hello, I am a writer and marketing specialist in Kansas City, MO. My love for swimming pools started as a child when I would visit my aunt & uncle's inground swimming pool on a frequent basis over the summer. Since then I have taught swimming lessons at a Boy Scout Camp, participated in the full setup, installation and maintenance of my father's inground swimming pool, as well as enjoyed constantly researching everything there is to know about swimming pools for 5+ years. I enjoy all water related sports, being part of the online swimming pool community and always learning new things!