Interesting in finding the best underwater treadmill for your pool? Our team is here to help!
An underwater or aquatic treadmill may sound like an absurd contraption to most.
You may be wondering how a treadmill could possibly operate underwater, and what benefits one could get from using one in this manner.
Well, the best underwater treadmills are not only real but also very popular with professional athletes. 
If you have ever walked on the floor of a swimming pool, then you will know that moving underwater takes more effort than moving on dry land.
The increased resistance provided by water, helps greatly with building muscle mass, which is why swimming is often recommended for physiotherapy, and why longer lap pools are growing in popularity.
Running underwater also reduces the impact of each footfall, reducing the wear and tear that occurs when running over solid surfaces such as concrete. 
All of the above are reasons why underwater treadmills are used by athletes during training.
Running underwater offers more benefits in terms of muscle gain, and far less of the drawbacks that come with running over land.
There are a few different brands of underwater treadmills, and in this article we will take you through some of our favorite underwater treadmill reviews of ones that are currently available on the market. 
If you are short on storage space, then this underwater treadmill can be made super compact when you need to pack it away.
The H2Ogym Flip and Go utilizes a folding design that means you can easily store it in the same place as your other pool equipment. 
It weighs roughly 55 lbs, which is reasonably lightweight for a treadmill and means you shouldn't have too much trouble lifting it in and out of the pool.
To make this process even easier, there are small casters on the bottom which help with rolling the treadmill over your deck. 
The folding railings are quite large and provide plenty of support for pushing the belt of the treadmill.
Like most underwater treadmills, there isn't a motor, meaning you need to push the belt with your feet.
This brings the advantage of more exercise for you, and less electrical components that could malfunction if exposed to moisture. 
Pros
Folding design makes this unit very easy to store. 
Long handrails for better stability when running. 
Made from durable materials for better longevity. 
Cons 
Requires regular cleaning 
H2OGym Flip and Go Aquatic Treadmill #606M
Setup your pool any time. Base wheels are designed to make it easy and fast to slide in/out of the pool by a single person.
Simple assembly and maintenance. Ready for aquatic walking in a few minutes.
Fold up and go whenever and wherever you want.
No installation required, just roll it into the pool.
Lightweight, innovative design allows for easy movement.
This underwater treadmill is a little heavier than the last one we looked at, weighing in at around 60lbs.
As such, it may be a little harder to lift into your pool, but once you do, it works very efficiently. 
You can use this manual treadmill in the pool itself, or up on the deck next to the pool if you need a change of speed.
It has a front facing handle bar that is tall enough to poke out of the water, so you can get a firm grip on it for better support. 
Most of the parts are made from durable plastic or stainless steel to make sure they are resistant to corrosion.
Even the belt is made from soft polyethylene that feels great to run on with bare feet.
The combination of materials means that this unit will last for a long time provided it is properly maintained and looked after. 
There are small wheels at the front of the treadmill which make it easier to roll along your deck.
The handrail is also removable, which helps when you need to pack up the treadmill and store it.  
Most aquatic treadmills are very light by necessity, which also means that they aren't as durable as their land based counterparts.
However, the Aquasizer is a heavy-duty unit that is suitable for larger individuals who want to work out in their pool 
Pros
Durable build that is suitable for larger users. 
Wheels at the front make it easy to roll your treadmill over your deck. 
Removable handle for easy storage. 
Cons
Won't work well in very deep water. 
Also available at: Aquabuilt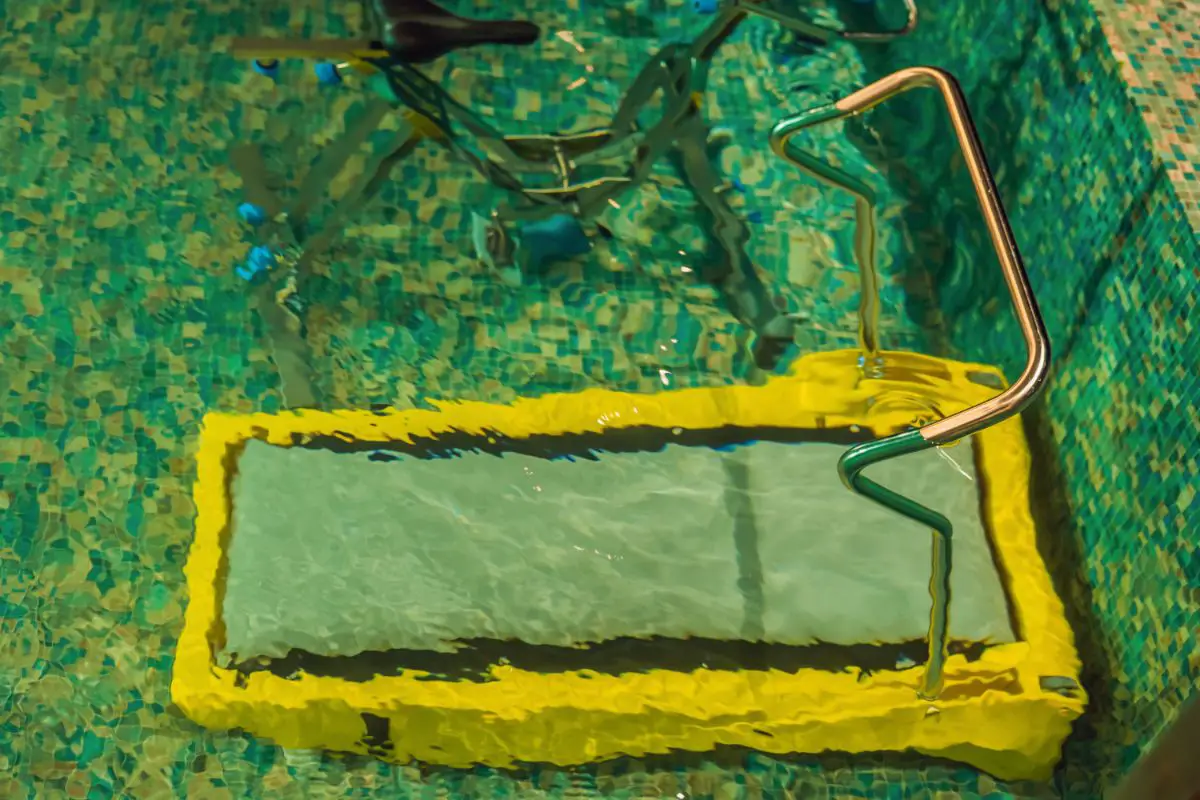 The Aquaness Swimspa is perfect for anyone who wants something more streamlined than the Aquasizer we just looked at.
This pool treadmill is incredibly compact and folds completely flat for easy storage when it isn't in use. 
The base of the Aquaness has rubber feet to give it better grip on the floor of your pool.
This prevents the treadmill moving while you are running on it, which will help you to get the most out of your work-out. 
Unfortunately, the main handlebar isn't great, and sits a little bit too low for taller individuals to hold onto it comfortably.
It still offers enough support to stop you falling over while you run, and it can fold away for when you want to store your treadmill. 
To help those who need a bit more stability, this model actually comes with two removable sidebars.
These can be easily and quickly installed so that those with less strength in their legs can still use the treadmill to help with rebuilding their muscle mass. 
This is a compact yet effective pool treadmill, making it a great option for spa pools or spools, that is built from durable metal and plastic materials to ensure it will last you for many years to come. 
Pros
Made from a durable metal frame. 
Folds flat for easy storage. 
Comes with removable sidebars for those who need more support while running. 
Cons
The front handle bar may be too short for taller users. 
Also available at: Aquaness 
This pool treadmill made by Aqua Creek is designed to be ergonomic and very easy to place into your pool.
There are two sets of three wheels at the end of the folding handlebars, which makes it very easy to roll this device over your deck. 
These wheels also help with lifting the treadmill into and out of your pool, since you can rest them against the pool wall while you are lifting.
The adjustable handle bars themselves are curved to give you multiple spots where you can comfortably rest your hands.
This means you can get all the support you need while you are running. 
Aqua Creek has made this unit to withstand almost any type of pool water, and it is completely resistant to corrosion.
Provided you look after it and regularly oil the belt, it should provide a smooth underwater running experience and a great workout. 
Just make sure when you place this treadmill in your pool that you put it in a level section of the floor.
If you put it on a surface that is too slanted, then the treadmill may slide around since the rubber feet are quite small. 
Pros
Ergonomic handles bars that provide lots of support while running. 
Anti-scratch wheels make it easy to lift the treadmill in and out of your pool. 
Made with a durable stainless steel frame for better longevity and performance. 
Cons
Small rubber feet means the treadmill may slide if placed on an uneven surface. 
Also available at: PoolSupplyUnlimited
Aqua Creek Products - Pool Treadmill, AquaJogg Treadmill, Underwater Treadmill for Aquatic Fitness- Aqua Jogg
AquaJogg combines the benefits of water buoyancy with the ability to walk or run.
Work at your own pace on muscle strength, endurance, and rehabilitation safely with excellent stability.
Easy to move Anti-scratch wheels Easy to open Adjustable resistance
Compatible with all types of water (sea, chlorinated, bromine) Suitable for all pool finishes
Please note this set ships via freight carrier and a valid phone number is needed for a delivery appt.
Our Buyer's Guide
Underwater treadmills come in a variety of shapes and sizes, which can make it difficult to find the right one for your pool.
Most of the models we have looked at are manual treadmills built to be used in the water, and these are the cheapest type available to buy online.
In this section, we will give you some top tips for choosing the best aquatic treadmill. 
Weight
Unlike a regular treadmill, an aquatic one needs to be portable.
You can't leave your treadmill in the water overnight, and it should always be removed and left to dry out on the deck after you have used it. 
By their nature, most manual treadmills will be between 50 and 70lbs.
If you don't have a lot of power in your arms, you may want to go for a lighter model.
If you are buying a treadmill as part of your physiotherapy regime and have someone to help you move it, then you can probably afford to buy a larger, heavier, unit. 
Wheels 
You will want any underwater treadmill you buy to have wheels, so you can easily roll it around your deck.
However, you will want to make sure the wheels aren't too large, as otherwise they may cause the treadmill to move while you are using it. 
Some units like the Aqua Creek Aquajogger have sets of three wheels on each side.
This means they can make contact with the walls of your pool when lifting the treadmill out of the water.
These wheels are anti-scratch, which is another quality you want to look out for.
Anti-scratch wheels won't damage the floor or walls of your pool when you are moving the aquatic treadmill around. 
Materials
The difference between an aquatic treadmill and a regular manual treadmill is the different material used to make them.
Aquatic units need to be made from water-resistant materials such as plastic and stainless steel.
This is to prevent corrosion that could negatively impact the performance of the machine or contaminate your pool water. 
The belts on underwater treadmills are often softer, since most people will run on them in bare feet.
You still want the belt to have a surface with plenty of grip, so you won't slip and fall over while you are running. 
Treadmills with metal frames are durable, but may scratch the floor of your pool if you aren't careful.
If you are worried about this, then you may want to buy an underwater treadmill with a plastic frame, or large rubber feet to protect the floor of your pool. 
Handlebars
The handle bars are one of the most important parts of an aquatic treadmill.
Since these units don't have working motors, you need to push the belt with your own feet.
This isn't possible without a good set of supportive handlebars.
Ideally, you want the handle bars to just poke above the surface of the water, so you can get a secure grip on them. 
If you are using an underwater treadmill for physiotherapy, then you will want to buy a model that has sidebars.
These are handles bars that go on the sides of the machine to offer additional support for those with very little power in their legs. 
Storage 
As we said earlier, you can't just leave your aquatic treadmill in the water, and it will need to be stored somewhere with the rest of your pool equipment when it's not in use.
As such, if you don't have much space, you will want to buy a treadmill that can be folded completely flat.
These can be leaned against a wall for easy storage and quick installation when you want to use them. 
If you aren't keen on a folding treadmill, then you should buy a model with removable handlebars instead.
This will make it easier to store, although you will need to make sure the handlebars are securely attached before you start running, as you don't want them to come loose in the middle of your workout. 
Frequently Asked Questions
Enjoy some of our answer's to the most common questions we get about buying a new underwater treadmill for your swimming pool below!
How Deep Should My Swimming Pool Water Be? 
Placing your aquatic treadmill in deeper water will greatly reduce the impact on your legs while you are running.
Having the water at waist level will reduce impact forces by half, while having the water at chest height removes roughly 75% of the impact. 
As such, those with weaker legs will want to have their treadmill in deeper water to make using it less strenuous. 
Does The Temperature Of The Water Matter? 
Some models of aquatic treadmill are designed to work with hot or warm water for additional therapeutic benefits.
However, for most of the manual underwater treadmills, the temperature of the water will not affect their performance at all. 
What Benefits Do Aquatic Treadmills Provide? 
Jogging in water provides more resistance against your leg muscles, which means they will get more of a work out.
Aquatic treadmills are great for those trying to rebuild the strength in their legs after a severe injury. 
This is because the increased resistance can help to build back muscle mass much faster, and the water reduces impact forces on the legs while running.
This is why some athletes will use one of the best underwater treadmills while training to work out their legs without the usual wear and tear that comes from running on solid surfaces.
Enjoy Your New Underwater Treadmill and comment below!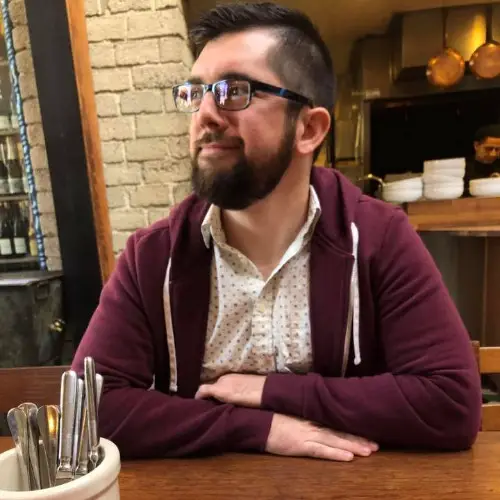 Hello, I am a writer and marketing specialist in Kansas City, MO. My love for swimming pools started as a child when I would visit my aunt & uncle's inground swimming pool on a frequent basis over the summer. Since then I have taught swimming lessons at a Boy Scout Camp, participated in the full setup, installation and maintenance of my father's inground swimming pool, as well as enjoyed constantly researching everything there is to know about swimming pools for 5+ years. I enjoy all water related sports, being part of the online swimming pool community and always learning new things!