With summer in full swing, many of us are going to make a beeline for the nearest body of water.
Whether it's a pool, river, or lake, swimming gives us the best opportunity to cool down, have some fun, or even just lazing around in the water. Getting one of the best pool rafts (aka pool floats) can do both jobs while also keeping your kids or less experienced swimmers safer in the water.
Therefore, while keeping in mind quality, usability, as well as using ratings and reviews we scoured the market for you and we found seven of the absolute best pool rafts you and your family can use this summer.
Why Should You Get a Pool Raft?
In our team's opinion, there are 3 main reasons to look into getting a new pool raft or fun flotation device.
Safety
Pool rafts are basically large floatation devices suited for adults. Investing in one or two rafts is like investing in arm floaties and/or kick boards for your little ones. A family outing isn't much fun when one or two people are excluded because they aren't strong swimmers. Having a pool raft at hand helps everyone to join in and stay safe.
New Element of Fun
A game of pool tag just got a lot more interesting with a pool raft serving as "base". Not only can you form your own "mini island" in the middle of a pool or a lake with a pool raft, but they have evolved from the old pool rings you used to see. Now, you can bring a swan, a unicorn, or even a pizza slice on the water. Moreover, some of the best pool rafts even have cupholders too!
Multi-functional
Because of their unique shapes and sizes, there are various ways a pool raft can come in handy outside of the pool. They can make good makeshift air mattresses for slumber parties. While small pool rings can become booster seats for kids or seat cushions for uncomfortable office chairs. The possibilities are nearly endless!
Check out the top 7 swimming pool rafts & pool float reviews below!
7. Face to Face 2-Person Swimming Pool Lounge Raft with Cup Holders
First on our reviews of the best pool rafts, we have this jumbo raft that is basically a nice tandem lounger. It has built-in cushions with a comfortable incline, cupholders, and is built with a durable vinyl material so it will float easily.
It also comes with a patch kit. Reviews on this are pretty mixed, especially for the money. Some are saying theirs was durable and very comfortable while others said it was poor quality and did not last long.
Pros
Made from durable vinyl material
Can easily hold two people at the same time
Comfortable headrests and built-in cupholders
Cons
It might come with holes
A bit on the expensive side
Gets holes quickly
6. Intex Clear Color Tube – 4 Pack
This 4-pack of inflatable pool tubes is a classic pool float and extremely affordable. The design has a flower print and comes in different colors, is 36 inches in diameter, and can hold up to 200-250 pounds. Many of the reviews lauded how durable and affordable they were, but other customers mentioned how it was hard to keep air in them.
Pros
Made of durable vinyl
Different color options
Cons
Might lose air fast
Not very durable
5. Jasonwell Giant Inflatable Mermaid Tail Pool Float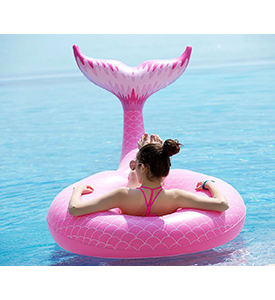 A great summer birthday gift, this mermaid float is made from a durable premium, raft-grade material. It even comes with a bag to store it safely until the next time you hit the pool! Several of the reviews said that it was extremely easy to inflate. However, other reviews mentioned it losing air quickly.
Pros
Made from a safe and durable material
Affordable
Large size that can hold two or three people
Cons
Might lose air quickly, particularly in the tail
Several reviews stated their product came with a hole
4. Intex Folding Inflatable Lounge Water Chair
This was one of the best water lounge chairs we could find. Designed with a unique wave pattern, it has a backrest and armrest for comfort and three air chambers for safety. The manufacturer recommends only people over 15 to use it. A lot of reviews were happy with how comfortable their float was, but it was also mentioned that it was hard to get on in some situations.
Pros
Affordable
Very comfortable
Three air chambers for safety
Cons
Might be hard to get on
Some had troubles getting theirs to inflate
Might get holes after the first use
3. GoFloats Giant Inflatable Unicorn
In the top three of our best pool rafts list is this really cool unicorn pool tube. This large tube can hold up to 500 lbs and built to be 25 times stronger than similar floats. It also has a rapid release valve for faster inflation and deflation.
The float comes with a bonus unicorn cupholder float. A lot of the reviews were surprised at how big it was and how long it lasted, especially for the price.
Pros
Affordable
Huge size can hold two adults or several kids
Cons
Trouble holding air or ripping
The cupholder might not come with the package
2. OUTERDO Water Hammock Pool Lounger Float
This water hammock is designed with a float on either end, so you can lounge in the water as you would lie in a hammock. This pick was also included in our reviews of the best pool floats for tanning as well! Many of the reviews were surprised with how comfortable it was and that even their kids were safe using it. Some of the reviews warned that after a couple uses, they did notice the fabric or seams coming apart, though it could've been defective products.
Pros
Good price
Very comfortable
Easy to store
Cons
Thin material
Seams might come undone or holes might appear
1. Kelsyus Chaise Lounger
At the top of our best pool rafts list, this is the best-rated lounger we found even though it is a little more expensive than other loungers on the list. It has a mesh seat that supports your lower body in the water, a comfortable back and footrest, and it comes with a mesh bag for easy storage or transport. Some of the reviews said this lounger can hold up to 250 lbs safely and comfortably. Our tests confirmed this as well.
Pros
Fabric-lined pool raft
Mesh seat to support the lower body in the water
Cons
More expensive than other loungers
The mesh seat rots easily with prolonged sun exposure
Could lose air quickly after first use
Frequently Asked Questions (FAQs)
Enjoy some of our team's answers to the most common FAQs we encounter on a regular basis surrounding pool floats and swimming pool rafts below!
Where Do You Buy Pool Rafts?
The reality is that pool rafts and pool floats are fairly easy to find. In store, they can be bought at Walmart, Target, Home Depot, or pretty much any local pool supply store near you. Online, they can be bought on many e-commerce stores, with our favorite being Amazon, due to it's large variety and overall great prices on pool rafts and floats.
How Do You Blow Up Pool Floats?
While many swimming pool floats can be blown up by simply blowing in the air nozzle with your mouth, there are some easier and faster ways you may want to consider (especially if you have a large pool float or if you have multiple rafts that need to be aired up). If you have an electric air pump, that's a definite go-to, however many people do not, that's why we advise you also try using a shop vac (on blow setting) or a leaf blower.
While these methods can be easier and faster, be careful not to over-inflate and pop your pool floats when doing so! It also helps to have a second pair of hands helping when using the shop vac or leaf blower methods.
What Are Swimming Pool Rafts Made Of?
Pool rafts are generally made of polyvinyl chloride (more commonly called PVC), which is a vinyl material. Older pool rafts and floats were often made with foam, and occasionally pool rafts will be made with nylon.
Why Do Pool Rafts Stick To Water?
Pool rafts seem to stick or suction to the water on that the bottom of the raft is touching is due to the material the pool rafts are made of interacting with the water as it floats (displacement). Since a majority of pool rafts have a large amount of surface area touching the water without being submerged, it creates a feeling of suction of stickiness when trying to pull the raft directly up from the swimming pool water.
Are Pool Floats Recyclable?
Unfortunately, no. Almost all pool floats, water wings, beach balls, lounge chairs, and rafts are made of polyvinyl chloride (PVC), which is not recyclable. Our team recommends you properly storing and occasionally cleaning your pool floats to keep them in good shape and prevent you from having to throw them away and replace them more than you need to.
How Should You Store Swimming Pool Floats?
If viable, our team recommends that you contain and store your pool floats in a cargo net. However, if you only have a couple of rafts or pool floats, it may make sense to just store them under any pool chairs you have or inside somewhere. If you have a decently large empty wall or gate close to your pool, then you have the perfect place for pool float storage. We advise you simply gather some outdoor hooks with adhesive on the back, place them along the wall and hook the cargo net on each of the hooks for storage use.
How Do You Clean Pool Floats & Rafts?
In order to properly and safely clean your pool floats and rafts, first fill a spray bottle with a half cup of water and a half cup of white vinegar. Second, simply spray the entire surface of your swimming pool float, you can then gently use a soft sponge to easily wipe away most smudges or dirty area on the float. If your swimming pool rafts or floats have any signs of mold or mildew,  we do recommend you also apply some bleach to disinfect and clean them properly before using in your pool.
How Do You Deflate Pool Floats?
While you can usually deflate pool floats and rafts by opening the air valve and pinching it, this process can be speed up by using a couple of different household items. Our team's favorite is a binder clip, simply use the binder clip to apply pressure to the valve when open. If you do not have a binder clip on hand you can also try using a drinking straw, simply stick the drinking straw to your pool float's opening in its stem valve, which should hold it open and allow the float to deflate through the straw.
When Were Swimming Pool Floats Invented?
Peter Markus invented the first inflatable life preserver or "swim ring" in 1928, and water wings followed shortly after coming out in the early 1930s, while swimming pool noodles were not invented until the early 1980s. The fun and big pool floats (think big swans and unicorn floats) most of us enjoy today were not created until the early 2010s.
How Do You Fix Pool Floats?
With swimming pool floats and rafts getting more elaborate and expensive, along with not being recyclable, many would prefer to repair their floats if damaged as opposed to replacing them. Luckily, fixing a pool float is often fairly straightforward! We recommend using a Gorilla Waterproof Patch or duct tape. First, ensure the patch piece is large enough to fully cover the surface area around the hole. Second, carefully cover the hole with your waterproof patch or duct tape. Once this has been applied and smoothed out, allow the patched area to dry completely before using it in the water.
Enjoy Your New Pool Raft!
We hope you enjoyed our guide on the best swimming pool floats. From classic pool rings to loungers and even a cool unicorn float, we found seven of the best pool rafts for your Summer holiday or casual home use. While our team had their favorite pick, they are all great options and it may simply come down to your design preference. Also, if you have an above-ground swimming pool, for more safety and comfort check our best above ground pool ladder recommendations.
Do you know of a pool raft or luxury pool float that you think should be on our list? Comment below and let our team know!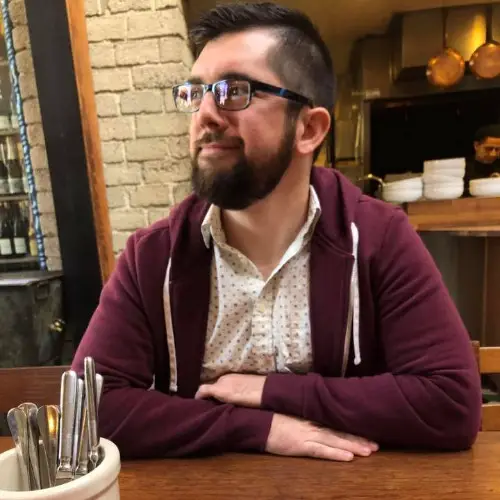 Hello, I am a writer and marketing specialist in Kansas City, MO. My love for swimming pools started as a child when I would visit my aunt & uncle's inground swimming pool on a frequent basis over the summer. Since then I have taught swimming lessons at a Boy Scout Camp, participated in the full setup, installation and maintenance of my father's inground swimming pool, as well as enjoyed constantly researching everything there is to know about swimming pools for 5+ years. I enjoy all water related sports, being part of the online swimming pool community and always learning new things!