Many swimming pool owners are faced with the choice of using chlorine in their pool, or switching to an alternative chemical solution like Baquacil.
What are the pros and cons of each, and when it comes to Baquacil Vs Chlorine, which one is best for you and your pool?
Baquacil
Although most people think of the smell of chlorine when we think of swimming pools, chlorine isn'; actually the only chemical that can be used to maintain a swimming pool.
Another one that is becoming more popular is Baquacil! Many people have been using it as an alternative to chlorine for quite a few decades now.
However, not everybody is a fan of Baquacil too. We'll take a quick look at some of the pros and cons of Baquacil!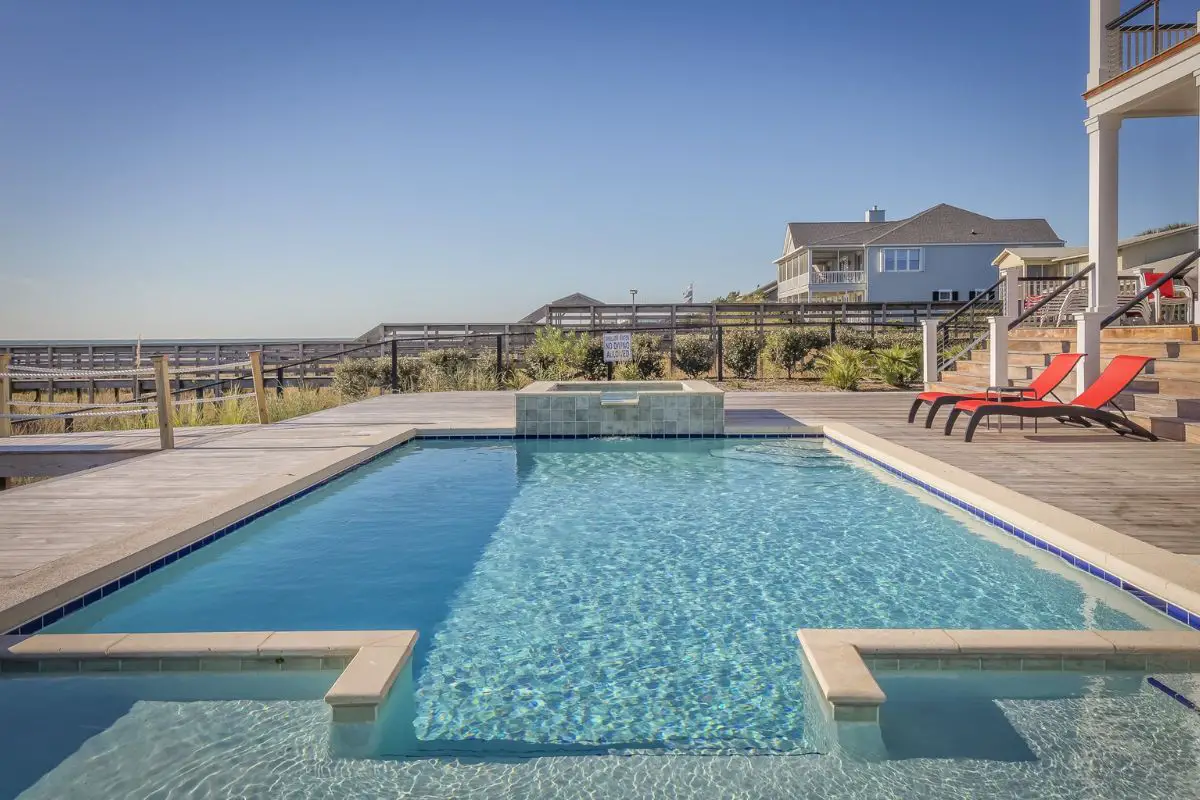 Pros
More Modern – Baquacil is a more modern technology for pool sanitization than chlorine. However, it has actually been in use since the late 1970s!
Greener Than Chlorine – Baquacil is thought to be better for the environment than chlorine.
Deals With Sunlight Better Than Chlorine – a lot of people think this makes Baquacil a better choice for their outdoor pool.
Can Be Better For People With Allergies – especially people who are allergic to chlorine.
Cons
Comes At A Higher Price Than Chlorine – this alone can be off putting, as chlorine is often a much cheaper solution for pool sanitization. Baquacil can sometimes be up to ten times the price of chlorine to treat the same size pool!
Less Effective Against Bacteria And Algae – coupled with the price, this can be a big deciding factor for a lot of people.
Needs To Be Tested More Frequently – you'll have to monitor your pool more carefully and do more pool chlorine tests than you would with a chlorine pool.
Harder To Balance – you'll need to use more pool chemicals to keep the pool balanced.
Resistance – some organisms can actually become resistant to Baquacil.
About Baquacil
Baquacil is an alternative pool sanitization chemical to chlorine. It is derived from hydrogen peroxide, but contains no bleach and no chlorine.
Much like chlorine, Baquacil does many of the things any pool owner would expect from a sanitizing chemical.
It has a weaker odor than chlorine, can be less irritating to the skin, and can still control bacteria and algae.
However, it can be less effective at this than chlorine for some people, and can often cost a lot more to use.
Chlorine
Practically everybody who has been in a swimming pool remembers the smell of chlorine in the water.
Chlorine has long been used as a way of keeping pools clean and safe, and stopping the growth of bacteria, algae, and mold. It's extremely effective at this, and has been used seemingly forever!
Compared to Baquacil, chlorine is cheap and effective. However, chlorine can also be quite irritating, particularly to the eyes. And, chlorine can be very dangerous if not used properly.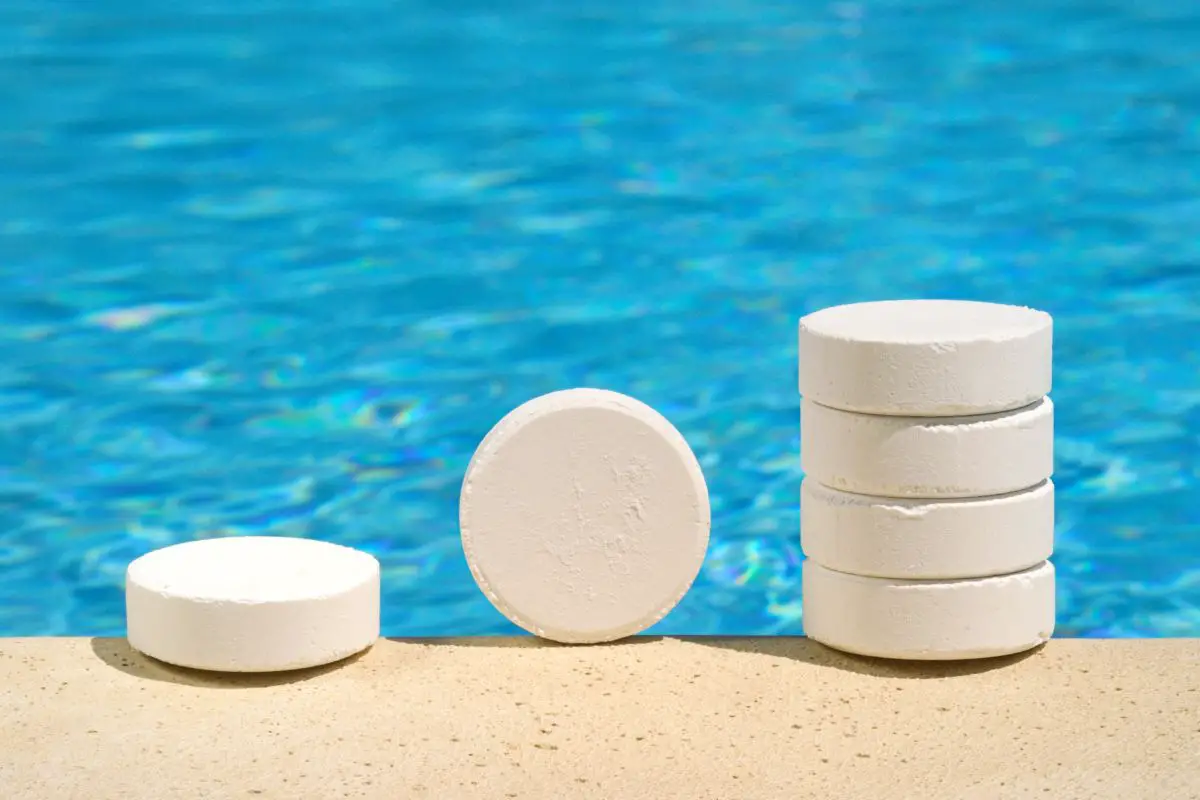 Pros
Extremely Effective – chlorine has been used for so long precisely because it is so good at its job of killing bacteria and algae!
Cost Effective Too – chlorine is far cheaper than many alternatives like Baquacil, which can be really important when considering budget.
Much Easier To Keep Water Clear – chlorine doesn't tend to make the water cloudy in the same way that Baquacil can.
Cons
Irritates The Eyes – everyone remembers the slight stinging feeling and red eyes you get from swimming in a swimming pool protected by chlorine!
Irritates The Skin Too – chlorine can be harsh on the skin. In fact, chlorine can cause not just skin dryness, but can also affect your hair and nails.
Chlorine Can Ruin Clothes – it can stain and bleach clothes that touch any chlorinated water, so be careful.
Harmful To Plant Life – if you're using chlorine in your pool, you have to be careful to make sure that you don't harm any of the plants in your garden.
About Chlorine
Chlorine is an element that we've known about for hundreds of years. Chlorine is a chemical that is used in many industries and fields for sanitation.
Of course, we know it as the sanitization agent that we use in pools. Indeed, chlorine is a great disinfectant, and is used for this purpose often.
However, its nature as an extreme irritant has also led it to being used as a weapon of war – such is the effect that it can have on the eyes, lungs, and skin.
Can You Use Both Together?
Many people have often asked whether it is possible to combine both chlorine and Baquacil, using them both at the same time to prevent bacteria, mold, and algae from growing in a swimming pool.
The simple answer is that no, you can't. You either have to use one of the other – not both at the same time. And if you want to switch from one to the other, you have to do it as part of a process.
Let's take a look!
Switching From Chlorine To Baquacil
Clean your pool filter, or replace it, so that you have a filter without any residual chlorine. Ideally, you'll have a test done on the pool to determine the composition of the water.
If necessary, add chemicals to compensate for metals present in the water. Add necessary amounts of sanitizer, oxidizer, and CDX, and you should be ready!
Switching From Baquacil To Chlorine
To switch back from Baquacil to chlorine, the best time to do so is in spring. This is when many people reopen their pool after closing it for winter.
Stop adding Baquacil chemicals to the water until they reach zero, and then clean out or replace the pool filter to make sure the system is completely Baquacil free.
After testing the water, add chemicals to adjust alkalinity and ph (or you can even use baking soda to raise your pool's pH levels). Everything should be ready now!
Common Baquacil Problems
Although Baquacil is a common solution for many people who are seeking a replacement or alternative for chlorine in their pool, it's not without potential problems.
Not only is Baquacil more expensive than chlorine, it comes with its own unique challenges and learning curve.
You should not just switch from chlorine to Baquacil without being aware of some potential issues.
There are a few things that are common issues amongst Baquacil users – let's take a look at them!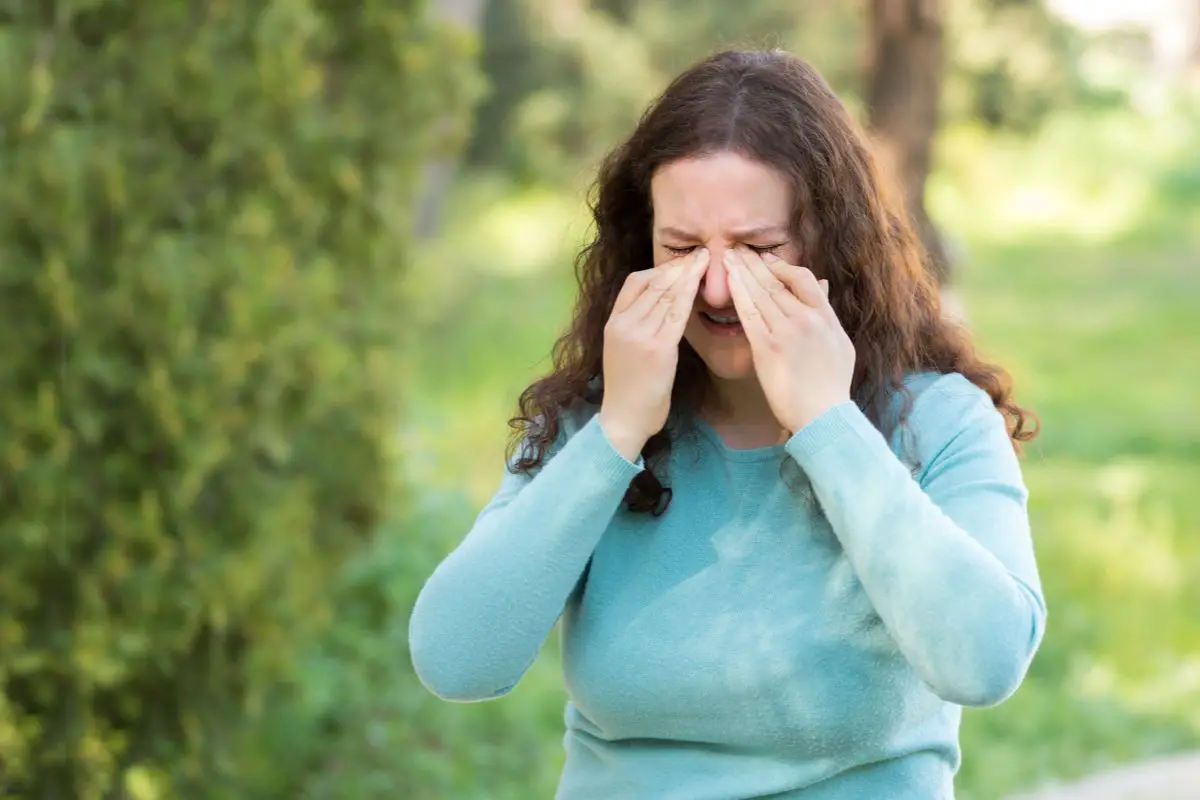 Too Much Foam
One common issue amongst Baquacil owners, especially those who aren't used to using Baquacil instead of chlorine, is excessive foam in the water.
This is commonly caused by an imbalance in the chemical makeup of the water in the swimming pool.
The pH can be out of line, as well as the calcium hardness. Test the pH levels, and consider adding appropriate chemicals in order to maintain the delicate balance that your swimming pool needs.
Irritated Eyes
One common complaint from people who swim in chlorine pools is irritated eyes.
Unfortunately, Baquacil can also be a cause of irritation to the eyes. This is typically caused by one or more of a few factors.
There can simply be an overabundance of chemicals added to the system – in which case, use less. Or, the pH levels of the pool water can be too high.
It's also possible that insufficient oxidation can be a cause of irritation to the eyes when swimming in a Baquacil pool.
Strong Smell Or Noticable Taste
Another complaint that many users of chlorine have is that it has a very strong, unmistakable odor.
Many people switch to Baquacil because of this, but that doesn't mean that a Baquacil pool can't fall victim to a strong smell too.
Again, this is often caused by simply using too much chemical solution in the water.
High pH levels and poor oxidation can also be a contributing factor. This can also induce a strong taste to the pool water.
Blocked Filter
Baquacil can sometimes be a reason why your pool filter becomes clogged, or gets blocked.
A pool filter that's clogged up simply won't be as effective, and won't let water flow as easily. It can also lead to mechanical issues with the filter equipment.
The most important thing to do if Baquacil is the cause of your pool filter becoming blocked is to make sure that you're not using too many chemicals in the water. Adjust your levels accordingly.
Buildup At Waterline
One side effect of the way that Baquacil works is that it can lead to a buildup at the waterline.
Typically, this buildup will consist of things that have been trapped by the chemicals added to the water. This can lead to safe but unsightly marks on the waterline of the pool.
These can easily be remedied by using an appropriate pool cleaner. Cleaning isn;t very fun, but it needs to be done!
Cloudy/Discolored Water
One of the reasons that many people don't often like using Baquacil in their own swimming pools is because of this!
It's common amongst many Baquacil users to complain about cloudy or discolored water in their pool.
This can indicate excessive metallic content in the water, a chemical imbalance, mold, or many other factors.
These can typically be remedied by adjusting chemical levels, as well as making sure that the filter is in best condition and is as clear as possible.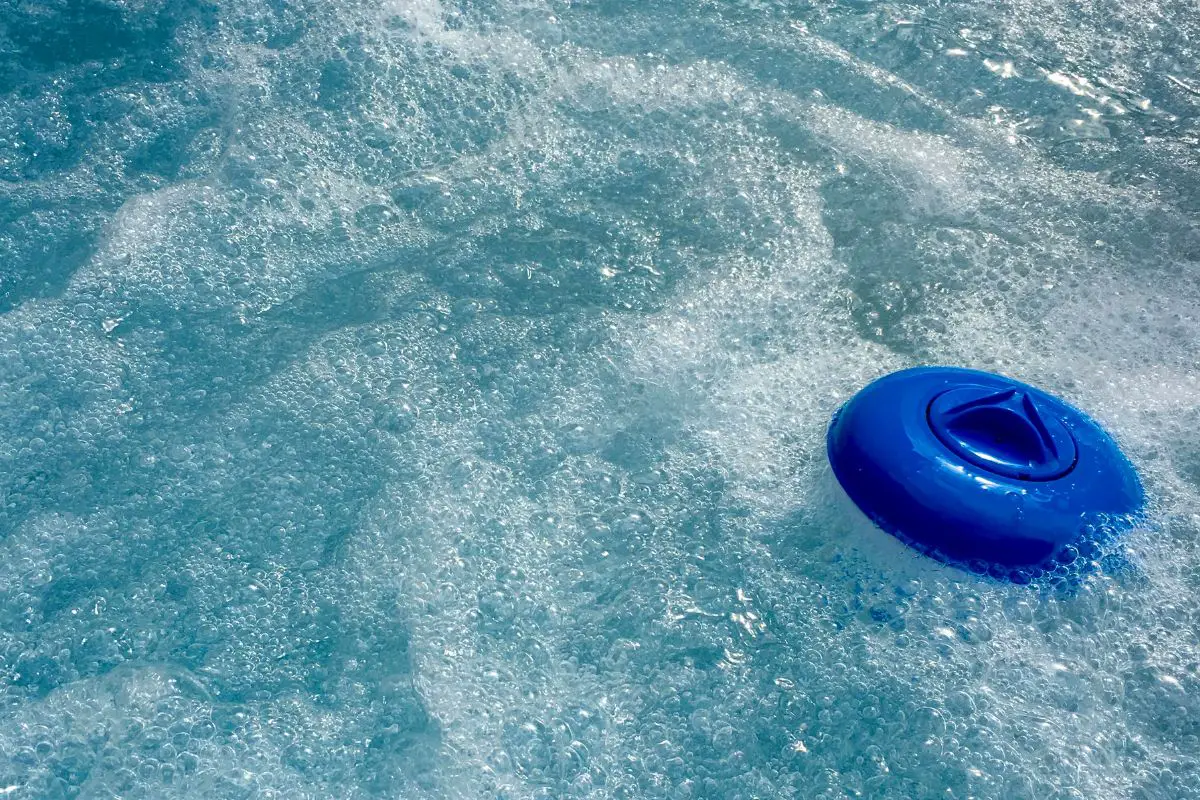 Common Chlorine Problems
Chlorine is of course extremely popular amongst swimming pool owners for its use as a sanitizing agent.
And, of course, chlorine can be extremely cost effective when compared to other chemical methods like Baquacil! However, chlorine also comes with its own issues when being used.
Many of these are well known, but it's always important to be aware of them and keep them in mind when using chlorine to sanitize your pool.
Cloudy/Green Water
One thing that chlorine is specifically meant to guard against is cloudy or discolored water!
If you're noticing that your pool water is a cloudy green color, then it's a sign of an immediate chemical problem with your swimming pool.
The green color is possibly an indicator of algae growing in the water, and means that your chlorine levels are probably far too low and needing to be raised. You may also have to lower your pool's chlorine level on occasion as well, depending on your pool water pH and other factors.
You'll likely need to also use an algaecide. In extreme cases, this can mean you'll have to drain the pool and fully disinfect the entire pool.
Green water can also be a sign that levels of dissolved metals in your water are too high, which can again require a chemical treatment.
Dark Spots On Pool Bottom/Sidewall
If you're noticing that there are some dark spots forming on either the floor of the pool, or on the walls at the side, then it's likely that they're caused by algae growing in your pool.
Again, this is a sign that your chemical balance is off. You'll likely need to treat the water with more chlorine and possibly an algaecide.
Depending on where the stains on your pool are, you might have to drain entirely to deal with them.
Irritated Eyes
If your eyes are becoming irritated, it can be a sign that the chlorine levels in the water are too high. This is a common cause of eye irritation amongst swimmers in chlorine swimming pools.
One of the most important things about using chlorine to sanitize your swimming pool is that you need to monitor and maintain the pH levels and the chlorine content of the water.
Dry Skin
Chlorine is notorious for drying people's skin out, and leaving swimmers feeling like they need to moisturize right after swimming!
To a certain extent, this is normal, as safe levels of chlorine in the water can still irritate some people.
And, if you swim often, you're more likely to feel dry skin – so swimming less often can help. However, it can also be a sign that the levels of chlorine in the water are slightly off balance.
Chemical Burns
If you're not very careful with chlorine when you handle and use it, it can cause serious immediate problems.
For a start, chlorine is responsible for thousands of chemical burns every year.
It's also extremely bad for the entire respiratory system! Also, it's even possible that too much chlorine in the water of your pool can lead to chlorine poisoning!
Conclusion on Chlorine Vs. Baquacil
It's not an easy choice to make between Baquacil vs. chlorine, as there are upsides and downsides to each of them. If you feel you are having trouble with one, it may be worth considering a switch. Hopefully this article has helped you to decide which one is better for your swimming pool and needs!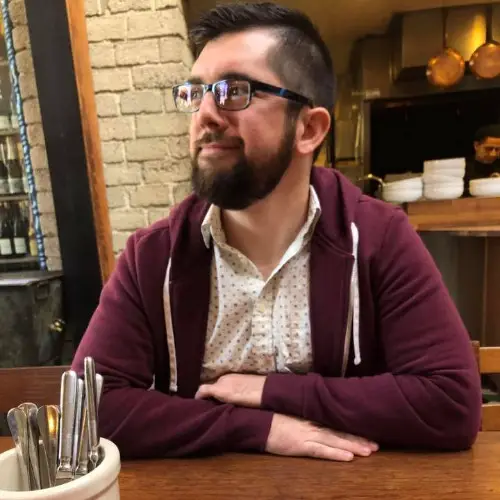 Hello, I am a writer and marketing specialist in Kansas City, MO. My love for swimming pools started as a child when I would visit my aunt & uncle's inground swimming pool on a frequent basis over the summer. Since then I have taught swimming lessons at a Boy Scout Camp, participated in the full setup, installation and maintenance of my father's inground swimming pool, as well as enjoyed constantly researching everything there is to know about swimming pools for 5+ years. I enjoy all water related sports, being part of the online swimming pool community and always learning new things!