Looking for the best above ground pool ladder or steps for getting in and out? We can help!
Above ground swimming pools are definitely a popular choice among people who want to have some fun in the sun without all the hassle, investment, and commitment of an in-ground pool.
However… above-ground pools need to have a safe entry system, aka a way to properly enter and exit the swimming pool on a regular basis.
This is where above ground pool ladders or pool steps come in. There is a wide range of above ground pool ladders and swimming pool steps that can help you accomplish this.
From the most basic to the most extravagant, here are our team's reviews of 7 of the best above ground pool ladders and swimming pool steps.
Want The Short Version on The Ladders or Steps For Above Ground Pools We Reviewed?
Our team at All About Pools has got you covered! Cutting right to the chase, our #1 overall pick for our favorite above ground swimming pool ladder is the Confer Above Ground Swimming Pool Curve Base Steps.
Confer's Above Ground Swimming Pool Steps also come in a "Complete System" option (pictured below) in addition to the pool steps only option.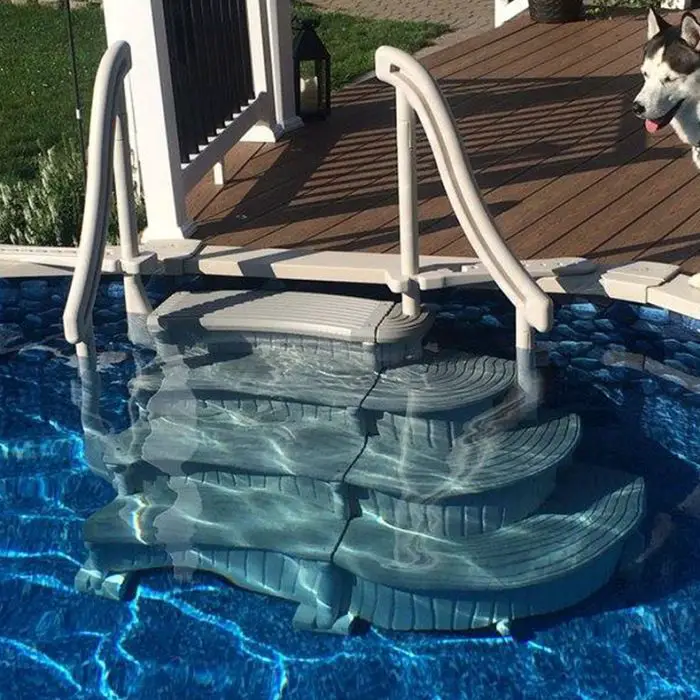 Why Do You Even Need An Above Ground Swimming Pool Ladder?
The main benefits of getting an pool ladder are safety, convenience with getting in and out, and a comfortable experience!
Safety
Pool safety is often quite rightly a great concern for many pool owners. Pool areas obviously get slippery when wet, which creates a prime environment for slip and fall accidents. In addition, pool owners often need a way to secure their pool from use when they are not present. Pool ladders can help keep your pool environment safe both when you are there and when you are not.
Convenience
While most above ground pools on the market are generally fairly shallow, that doesn't necessarily make them easy to get into or out of. While some people may be able to lift themselves up onto the pool rail and out of the pool without assistance, many people cannot. A pool ladder provides a comfortable and convenient way for everyone to enter and exit your above ground pool.
Comfort
Many people like to use a wide variety of things in their pool. From pool games to flotation devices, like pool rafts, and even food and drinks, the ways in which people like to use their pools are limitless. Many of the top-rated above ground pool ladders are stair-type ladders that make entering and exiting the pool a breeze. In addition, pool water can be chilly. Pool ladders help people take their time entering and exiting the water so their bodies can adapt to the temperature, making for a far more comfortable experience.
Our Team's Process & Reviews 
Now let's dig into our above ground pool ladder and step reviews. Our testing process involved testing out 14 different pool ladders and pool steps on our facility's Splash Pools Round Deluxe Pool. We evaluated the overall quality, installation process, average price, and how secure the pool steps or ladder felt going in and getting out of the pool.
From the 14 we tested our team agreed on the top 7, which we have reviewed in detail below. Depending on how your above ground pool is setup (standalone or with a platform/deck attached) certain pool ladders reviewed below may be a better option for your swimming pool setup.
1. Confer Above Ground Swimming Pool Curve Base Steps – CCX-AG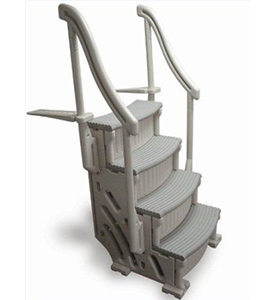 This swimming pool ladder is number one on our best above ground pool ladders list, being part of a system that can be used on both freestanding pools or pools that are built into a deck. The staircase is molded from a super-strong resin that can hold up to 400 pounds and can be installed curving inward or outward.
Large, oversized mounting brackets hold the stairs stable and will reach across any top seat. The stairs are adjustable from 48 to 60 inches and are easy to assemble and install. Overall our entire team agreed that these felt the most secure getting in the pool and getting out of the pool, and were made with quality and slip resistance in mind.
Pros
Heavy and durable
Large oversized handrails
An expandable system as your needs change
Cons
The system can get pricey
Takes up a great deal of space
Can be difficult to clean behind
2. Confer Plastics A-Frame 7200 Above Ground Adjustable Pool Safety Ladder With Platform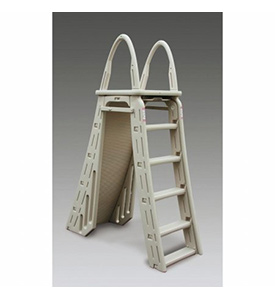 The Confer Plastics A-Frame 7200 Above Ground Adjustable Pool Roll-Guard Safety Ladder is a deluxe ladder with a number of high-end features. It has ladders on both sides and is made for above ground pools with no deck. The ladder adjusts to fit pools 48 inches to 56 inches tall and has an extra-large platform on top.
The steps are a generous 18 inches wide and 5 inches deep creating a stable, steady platform for entering and exiting an above-ground pool. This ladder is definitely among the pricier of pool ladders but is also a lot of ladder for the price and our top pick for above ground pool ladders with a platform.
Our team did all agree that this was the most sturdy and safe option for free-standing above-ground pools that are not currently attached to a deck or platform.
Pros
Stable and sturdy
Durable plastic
Features a Platform for getting in and out
Combines favorite features of a ladder and staircase
Cons
Takes up a great deal of space
Needs to be braced to pool
Can't be used with inflatable pools
3. Confer Heavy Duty In-Pool Above Ground Ladder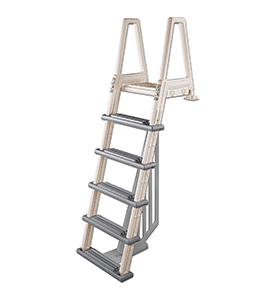 The Confer Heavy Duty Above Ground Ladder has steps on one side that go down into the pool and is meant to be used with pools that are built into a deck or patio. The ladder is adjustable to accommodate pools that are between 42 and 56 inches high. The treads of the ladder are 18 inches wide and are flat and sturdy making for easy access.
This ladder is in the mid-range of price points for swimming pool ladders, combining sturdiness with affordability, we also love the angle of the steps as it descends into the pool. Our team's only mild complaint in testing the product, compared to the Confer Curve Base Steps, is that it was slightly more awkward in getting in and out of the pool, but that's only when directly compared to our #1 pool ladder pick. This above ground swimming pool ladder is still a great option and is about half the cost of our #1 pick as well.
Pros
Easy to enter and exit
Top platform for a safer transition
Sturdy and secure
Cons
Protrudes nearly 3 feet into the pool
Needs to be bolted into a deck
Not quite as easy as stairs
4. Main Access Easy-Incline Pool Ladder
Third on our top above ground pool ladders list, we have this product from Main Access, this is a great ladder for people who don't use their pool very often or are looking for a sturdy but economical ladder. This ladder features wide staggered steps, with the bottom step measuring 9.5 inches deep and the top step is 6.5 inches deep.
The pool ladder can be used with flat bottom pools up to 52 inches deep and is meant to be used with a pool that is built into a deck. It is definitely our favorite economical option for pool ladders under $150 for above ground pools attached to a deck.
Pros
Sturdy but economical
Wide steps
Will hold up to 300 lbs of weight
Cons
Vertical ladder
Thin handrails
May require additional hardware to fully secure
5. 32-Inch Safety Step Above Ground Swimming Pool Ladder With Handle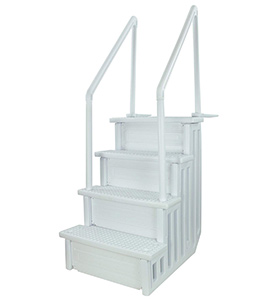 Safety Step Above Ground Swimming Pool Ladder is a stair-style ladder that is convenient and easy to use for children and people that may lack the mobility necessary to use a traditional style ladder. This ladder assembles in minutes with pieces that snap together easily requiring few tools. The outer steps also slide up and lock when not in use to keep pool safe from children.
This ladder is on the higher end of ladders in general, but on the lower end of stair-type ladders, so all-in-all a very economical option. While the quality and usability is there, our biggest complaint on this one is that it was slightly flimsy and can is often not available for purchase online.
Pros
Easy to assemble and install
Stairs are easy to ascend and descend
Takes up more space
Cons
Somewhat shaky, not entirely sturdy
Requires sand (not included) to hold in place
Railing can be difficult to stabilize
6. Vinyl Works Deluxe Above Ground Swimming Pool Ladder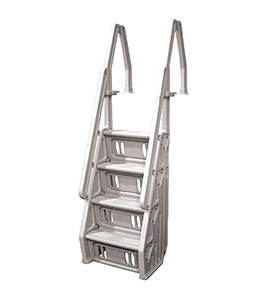 The Vinyl Works Deluxe Above Ground Swimming Pool Ladder combines the ease of stairs with the compact size of a ladder making it one of the most acclaimed above ground pool ladders. Made for pools that are built into a deck, the stairs have an optional platform that can be purchased separately to protect the pool rail.
The ladder adjusts from 46 to 60 inches and includes two flanges for attaching the ladder to the deck for additional stability. The ladder includes a handrail on each side for safe entrances and exits. In testing getting in and out of our above ground pool with this ladder, multiple people on our team thought these steps were a little awkward and the handrail could've been better positioned on the steps.
Pros
Lightweight and low profile
Easy to assemble
Stair-style ladder for easy entrances and exits
Cons
Railing may be flimsy
Might be hard to install
Flanges may not last
7. Vinyl Works Slide-Lock A-Frame Ladder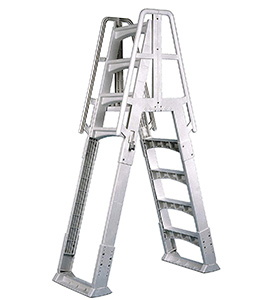 For pool owners concerned with securing their pool when not in use, the Vinyl Works Slide-Lock A-Frame Above Ground Pool Ladder is the right pool ladder for you. The outside ladder slides up and locks into place when not in use, keeping anyone from entering the pool. "No diving/ no jumping" warnings are permanently embossed into the frame for additional safety.
The ladder is adjustable to fit pools with walls from 48 to 56 inches high and has a large top platform with an anti-skid surface. Barely squeezing into the top 7 of the 14 above-ground pool ladders we personally tested, this one is still an ok pool ladder, but we felt the quality was lacking and for over $200 we really recommend going with one of the options we reviewed higher up above.
Pros
Great for pool safety
Angled steps for easy climbing
Large top platform
Cons
Assembly may be difficult
Steps may be slightly unsteady
May not be fully stable without additional support
Frequently Asked Questions (FAQs)
Check out our team at All About Pool's answers on the most frequently asked questions we get related to above ground swimming pool steps and ladders below!
How Do You Install One Properly?
While there are many different types of pool ladders, as well as many different types of above ground pools, there are some general guidelines to installing an above ground pool ladder.
First, know what kind of pool you have. "Soft-walled" above ground pools, especially the vinyl models, primarily only use ladders that fit over the pool wall and essentially require no installation. "Hard-walled" above ground pools usually require ladder installation.
Below are the general instructions that apply to most ladders, however, if your swimming pool ladder came with instructions, we do recommend you follow the instructions provided by the ladder manufacturer.
Assemble the ladder according to the instructions
Place the ladder in the pool so that the support legs are on the outside
Set the ladder on a solid base
Fasten the Above Ground Pool Ladder With Included Hardware
Test or Attempt To "Wiggle" The Pool Ladder To Make Sure It Is Secure
How Should You Weigh Down Pool Steps?
If you have recently bought some pool steps you may be surprised when you try dropping them in your above ground pool and they just float to the top! Most newer pool steps have a hollow bottom step or a compartment that is made specifically to hold sand in order to anchor them down while in the pool. We recommend only using sand as other objects or materials can cause issues being submerged in your pool for long periods of time.
How Do You Protect Your Pool Liner From The Ladder?
Since above ground swimming pool liners are considering an essential part of having an above ground pool, the ladder damaging the pool liner is a fairly common problem. To avoid this, our team recommends looking into a quality pool ladder mat, these a fairly inexpensive and will protect your pool liner from your swimming pool ladder.
How Do You Properly Clean Them?
For most pool steps, our team recommends you scrub the pool steps by hand with a chlorine-based cleaner. We have also seen the Mr. Clean Magic Eraser perform cleaning miracles on pool steps as well, especially fiberglass ones (but I mean what can't the Magic Eraser clean?!). After your pool steps are clean, we recommend testing your pool water and balancing it if needed, as this is the ideal form of preventative maintenance.
How Do You Remove Rust From One?
The best way to properly remove rust from a pool ladder is to first remove the ladder from the pool and let it dry, then create a mixture of baking soda and a powdered cleaner like Ajax with Bleach, adding water to the mixture until it is "paste-like". Coat your above ground pool ladder rust spots with the "baking soda + Ajax + water" paste and then use a nylon scrubber and some good ole fashioned elbow grease to get rid of the rust.
Note: Most swimming pool ladders that you can buy are made of stainless steel now, which is extremely resistant to rust, even being with the ladder being in a pool 24/7, this is a fairly uncommon issue.
What Causes Some Pool Steps To Turn Yellow?
What causes pool steps to turn yellow is usually mustard algae, which can leave powdery yellow, green or light brown deposits along your pool walls, and pool steps. Pool step yellowing can also be caused by minerals/metals in your water as well, especially if you have white fiberglass steps. Algaecides can and making sure your pool water is balanced can help prevent this.
To clean pool steps that have turned yellow, our team recommends using vitamin c or ascorbic acid-based cleaning products, like Ascorb-X, which will usually help remove the stain.
How Do You Repair Cracked Plastic Steps?
Our team recommends using the Bondo Fiberglass Repair Kit in order to repair your pool steps. Most people don't know this, but fiberglass is simply fiber-reinforced plastic using glass. To repair cracked pool steps:
Drain the Swimming Pool
Clean and Fully Dry the Cracked Area
Sand The Area Around the Crack (with 100-grit sandpaper preferably)
Clean the Area again to Remove Any Dust
Apply the Fiberglass Repair Kit Following The Instructions
Once it Is Dry And Hardened, Sand & Smooth The Repair Area
Clean Again & Re-Apply/Re-Coat Using Epoxy Paint
Let Dry Before Filling Pool Up With Water
How Do You Remove An Old Pool Ladder?
You should be able to fairly easily remove your pool ladder from your above ground pool by removing the bolts or screws that are securing the ladder. Depending on how it is secured, you may have to drain the pool water in order to completely unsecure and lift the ladder out of the pool.
How Do You Properly Measure Ladders & Steps?
Assuming this is for proper installation, all you need is two measurements which can be easily obtained with a tape measure. First, measure from the center of one ladder pole hole to the other ladder pole hole center, and second, measure the inside distance between the top poles of the pool to determine how far away from the pool is from the pool ladder steps should be. Also, check out this full video on pool ladder step installation (Warning: Video Sound Quality is Not the Best)-
What Is The Top Option With A Platform?
Although we did cover this in our top reviews list, our team gets asked this question a ton, so we thought we would directly answer it in our FAQ section as well. Our pick for the best above ground pool ladder with a platform is the Confer Plastics A-Frame Above Ground Safety Ladder. This is our #2 overall pick and the top pick for a "pool ladder" vs the option of "pool steps".
Where Do You Buy A Swimming Pool Ladder?
Swimming pool ladders can be bought pretty easily online on websites like Amazon or PoolSupplies.com, or in-store at Walmart, Home Depot, or Lowe's. Our team did feel that some of the "big box stores" did have limited options and therefore we would be partial to purchasing one online. All of the above ground pool ladders and pool steps we reviewed above are usually available for purchase online.
You can also build your own above ground swimming pool steps if you are handy and have the right materials!
Enjoy Your New Above Ground Pool Steps or Ladder
Whether your swimming pool gets heavy traffic all summer or all year or whether you only use your above ground pool occasionally, there is a pool ladder that is right for you. Whether you prefer steps or stairs or have a built-in deck or freestanding pool, there is a wide range of some of the best above ground pool ladders and steps with just the right features for you.
In case you missed it above, our personal pick for the best above ground pool ladder/steps goes to the Confer Above Ground Swimming Pool Curve Base Steps! Also, check out the "Complete System" option if you want the best of the best. Feel free to tell us about your favorite pool ladder below!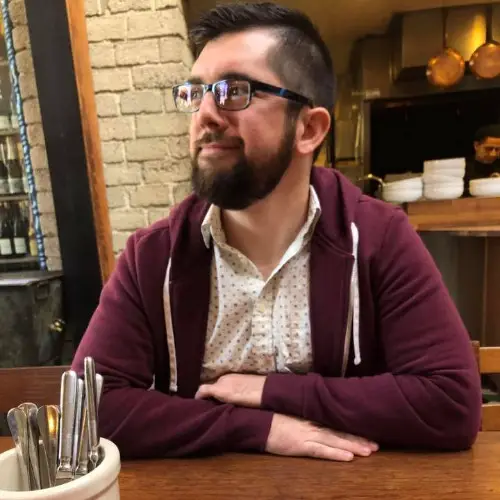 Hello, I am a writer and marketing specialist in Kansas City, MO. My love for swimming pools started as a child when I would visit my aunt & uncle's inground swimming pool on a frequent basis over the summer. Since then I have taught swimming lessons at a Boy Scout Camp, participated in the full setup, installation and maintenance of my father's inground swimming pool, as well as enjoyed constantly researching everything there is to know about swimming pools for 5+ years. I enjoy all water related sports, being part of the online swimming pool community and always learning new things!