Owning a swimming pool can be a rewarding experience, especially if you live in a country that is prone to hot and humid summers. And while swimming pools can offer rest bite from the sun, they can also be difficult to maintain and clean. 
Because of this, many owners will have to use chemicals to keep their pools clean, which is a lot easier than it sounds. The only negative is that you will have to purchase dangerous substances that should not be left lying around the house. 
In cases like these, some people may consider pouring their chemicals into new containers, which can be messy and cause irritation to your skin. So if you want to know how to store your pool chemicals correctly, then you have come to the right place. 
In the following article, we are going to show you how to store your pool chemicals in a safe and controlled environment – so that you can rest knowing that your chemicals are in a secure place.
We have also included some information about inground and above ground pool chemicals and the precautions you should take. 
So if you want to learn more about proper chemical storage, this article has everything you need to get started… 
Where To Start? 
If you have found this article, then chances are you own a swimming pool and want to store your cleaning chemicals in a secure place.
However, there is no one place to store your chemicals, as the final location will vary depending on where you live and the materials you have access to. 
But before you can begin storing your chemicals, you must first understand what kind of substances you are working with, as well as how to use a pool water testing kit. 
In the section below, we have compiled a list of the most common chemicals used to maintain your pool: 
Chlorine (sodium hypochlorite) 
Bromine 
Cyanuric acid 
Alkalinity increaser 
Calcium hardiness increase 
Chlorine neutralizer 
When it comes to storing your pool chemicals, it is advisable to know what you're handling, as certain substances can be more harmful than others.
It is also important to always read the labels and instructions, as these will often provide the necessary information about how the chemicals should be stored. 
Should Pool Chemicals Be Stored Inside?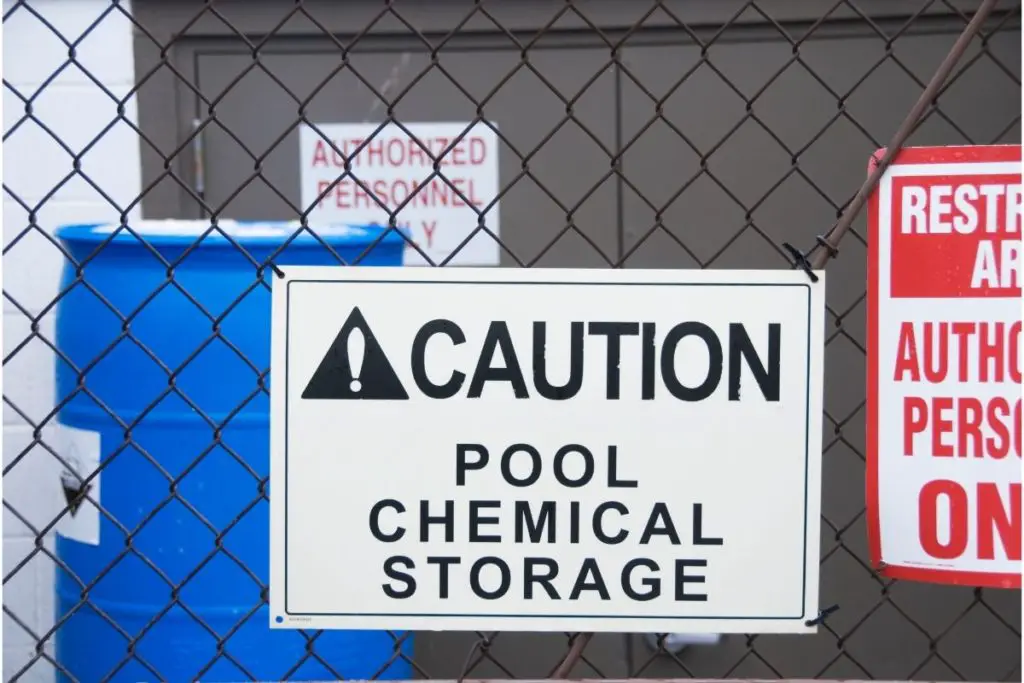 Of course, one of the first things you will need to consider is whether your pool chemicals should be stored inside or outside.
However, it is important to note that pool chemicals should not be placed in a location that is warmer than 95 degrees. 
This is because pool chemicals are reactive to the rays of the sun, which means they should never be stored in a warm environment with lots of direct sunlight. 
With this in mind, you still need to consider whether you are going to store your pool chemicals inside or outside.
We would recommend keeping the substances in a dry and well-ventilated area, such as a locked cabinet or storage facility. 
We do not advise storing pool chemicals in your home as the lack of ventilation could cause the products to fester.
Such chemicals are also capable of corroding metal, which means they can severely damage your vehicles if stored in a garage. 
While it is not advisable to store pool chemicals in a closed area, sometimes this might be your only option.
So if you have to store your chemicals in the garage, we recommend placing them in a sealed storage container to prevent corrosion. However, you will need to use a different container for each chemical. 
Now you might assume that tightening the lids will keep everything secure, which is not always the case.
In fact, pool chemicals often come in breathable bottles, which means they emit powerful fumes. Not only can this impact your health, but it can also be destructive to the environment. 
Should Pool Chemicals Be Stored Together? 
If you consider yourself a control freak, then you may want to store your pool chemicals in the same cabinet, which can make them easier to find.
However, pool chemicals should always be stored separately to prevent the risk of contamination. This is because the chemicals can react when mixed together. 
By storing the chemicals separately, you will reduce the chances of spills and reactions, which will make it easier in the long run. So when it comes to storing your chemicals, make sure to separate them as much as possible. 
In most cases, it is recommended to group your pool chemicals with other like-chemicals, especially when it comes to long term storage. This means keeping your algaecides in one container and your pool shock or chlorine in another. 
Should Pool Chemicals Be Stored By The Pool? 
While it may seem obvious to store your chemicals by the pool, this method is not recommended by pool experts.
This is because pool chemicals should never get wet, as this could cause heat and gas to build up and cause a chemical reaction. 
When pool chemicals are added to a large body of water, they react safely because of the dilution, especially if you are testing the chlorine levels and pH of the water properly.
But a small amount of water is enough to cause a bad reaction, which is why they should always be stored in a dry area that is situated far away from the pool. 
For the best results, we also recommend storing your chemicals off ofthe floor, as this will help to prevent them from getting wet in the case of a leak or spill. 
How To Safely Store Swimming Pool Chemicals 
As we previously mentioned, the best way to store your pool chemicals is in a sealed container, which can be placed in a childproof area with little sunlight or moisture. 
The best thing about these cabinets is that they can be put inside or outside, although their final location will depend on the weather in your area. 
For safe storage, pool chemicals should always be kept in a locked container that is inaccessible to children.
In fact, this is something that every pool owner should keep in mind to ensure everyone's safety. 
To do this, we recommend purchasing a lockable storage container that is made from industrial materials and capable of holding 100 gallons – as this will give you enough space to store your chemicals in a safe and controlled manner. 
While the cabinet you choose is your decision to make, we have also recommended two amazing products in the section below: 
Rubbermaid Outdoor Storage Shed (buy here)
Keter Borneo 110 Gallon Storage Container (buy here) 
Final Thoughts on Properly Storing Swimming Pool Chemicals
Pool chemicals should only be stored in dry and well-ventilated areas, where they will be safe from water and other substances.
Similar chemicals should be stored together to prevent chemical reactions, with the products being kept away from the pool and metal surfaces. 
We hope you enjoyed our guide on how to store swimming pool chemicals! For the best results, it is advisable to store your chemicals in a child-proof storage container, which will keep them all organized and safe. 
Hi, I am Victor, co-owner of All About Pools and an expert on swimming pool equipment and machinery. I have a degree in Business Marketing from the University of Missouri-Kansas City and my hobbies include lacrosse, teaching swimming, graphic design, diving, traveling, and going on hikes with my two dogs.