Curious about what the mush-have chemicals are for an above ground pool?
Us too! Luckily, our experts are here to help. Let's give in.
Learning how to put chemicals in your pool for the first time is not as difficult as you might think. So, don't worry that you are now asking "what chemicals do I need for my above ground pool?"
By simply asking, you are getting starting on the right foot! To learn how to put chemicals in your home's above-ground swimming pool for the first time, and to maintain it in the future, you must identify which are necessary.

The Most Common Above Ground Swimming Pool Chemicals
There are 8 must-have chemicals for above ground pool maintenance, let's do a quick overview of each.
Chlorine and Bromine:
Either of these will neutralize bacterial growth. That way, when you are in the pool, all the water is sanitary.


Cyanuric Acid:
When included with your chlorine, its useful lifespan extends. By stabilizing the chlorine to UV light, it does not break down as quickly.


Sodium Carbonate:
Use on an as-needed basis, this raises your pool water's pH.


Sodium Bisulfate:
When this is added, both the pH and alkalinity lower.


Sodium Bicarbonate:
To increase the pool's alkalinity, use a dash of this.


Calcium Chloride:
To raise water hardness, use some of this.


Quaternary Ammonia:
This is the most common anti-algae chemical used in swimming pools.


Sodium Di-Chlor:
This is an Oxidizer that is a sodium-based chlorinated granular shock, often designed to be used in a saltwater pool or spa environment.
Also, as an above ground swimming pool owner, always remember to safely store your pool chemicals as well!
Test for pH and Free Chlorine Levels
After becoming an above ground swimming pool owner, you will have a lot of responsibilities on your plate. To fulfill them, you've got to learn what is required, otherwise, you'll be lost in the dark.
We recommend using a quality pool water test kit. Below, we include a general guideline that you should use. That way, you can quickly check the appropriate parameters.
What Are Their Ideal Ranges?
When maintaining a pool, you can look at several indicators. Each of them tells you something else about the water. In the list below, we've included recommended ranges for some of the most common indicators. Follow along with them to ensure you've got quality water.
General Pool Water Indicator Guidelines
Free Chlorine: 1.0-3.0 ppm
pH: 7.2-7.6
Alkalinity: 80-150 ppm
(Optional) Bromine: 1.0-3.0 ppm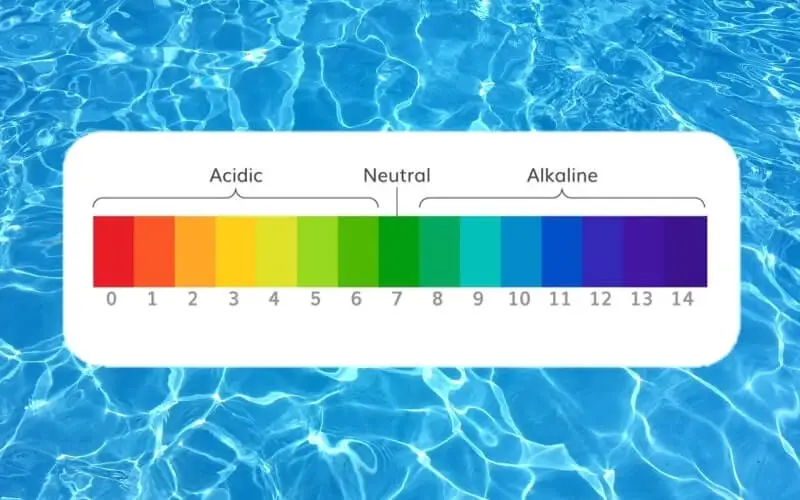 Balancing the pH Level of Your Pool
So, with all water, there is a scale called the pH scale. This measures how acidic or basic the water has become. If it goes out of balance, then it could cause issues.
Once Every Other Day, Test the Water
At least three times each week, test the pH level of your water. As long as you test it that often, it shouldn't go out of balance by too much.
Depending on the Results, Use an Appropriate Treatment:
Let's say that the pH level was higher than usual. Then, you should try to lower it. Additionally, if the pH level is lower, then you should raise it.
Usually, We Suggest Using a Litmus Strip:
Perhaps, the litmus strip is among the easiest testing methods. With one of these, you just dip the paper into the water. Then, see what color it becomes. Depending on the results, you'll have your answer
Use pH Adjusters For Your Swimming Pool
Adjusting your pH is relatively straightforward.
While following normal pool maintenance routines, it should be taken care of. If not, then use one of the following.
Alkaline Tablets:
Suppose the pH level has risen to high. If that is the case, then at an alkaline tablet. Afterward, it should lower quite a bit.
Pool Shock:
On the other hand, if things have become too basic, then you should talk about adding a quality pool shock to the water. That way, its pH will rise.
Properly Sanitizing Your Pool
Of course, water has always been a great growth medium for bacteria. Unless you treat it appropriately, a pool will quickly become a festering cesspit. To avoid such an unfortunate fate, we suggest following along with our recommendations below.
Understanding Chlorine vs. Bromine
In most pools, there will be one of these halogens. Chlorine and bromine share several characteristics on the chemical level. Since they have an identical number of valence electrons, they behave similarly. Thus, you can use them in the same applications to produce substantially comparable results.
Chlorine:
In most instances, chlorine is the pool sanitizer of choice. Once you add some of this, none of those bacteria can thrive.
Bromine:
If you are sensitive to chlorine, then bromine might be an appropriate substitute. Sometimes, people develop rashes when swimming in chlorinated water. If so, then try some bromine as a substitute. Typically, it will work better for those with hair or skin sensitive to chlorine.
Oxidizing Contaminants With Pool Shock
Even if you add an appropriate amount of chlorine, your water is not finished. After a while, the chlorine will have combined with things in the water. At that point, you can start to see the chlorine cloud in the water easily.
Since Pool Shock Oxidizes the Water, It Donates Electrons for the Halogens:
However, to unbind those halogens, you can add some pool shock. Once you do, the pool shock donates a few electrons. Afterward, the halogens are free to continue their work.
Halogens Bind to Free-Floating Debris
When the halogens are free, they bind things quite easily. Since they are so reactive, they tear through the pool water. Nevertheless, once they encounter something, they become inert.
Consequently, You'll Notice the Water Is Cloudy:
Once enough of it is deactivated, you can see it in the water. To the naked eye, it will appear as if there are clouds in it.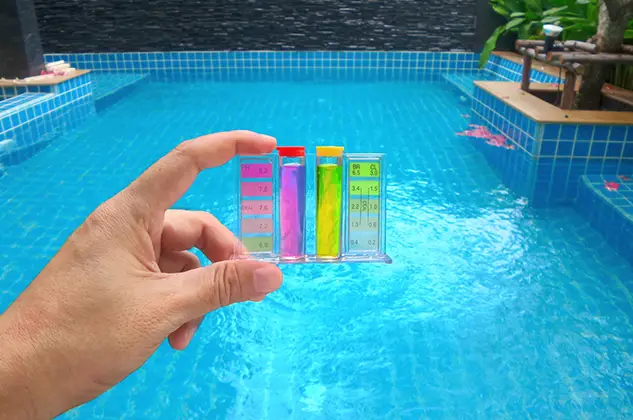 What About Preventing Pool Algae?
As the owner of a swimming pool, you've always got to keep an eye out for algal blooms. If one of those goes by without you noticing, it could be enormously expensive.
Algaecidal Application Is Crucial
If you would prefer water without algal blooms, then you should think about using algicide. These above ground swimming pool chemicals kill them on the spot.
Without That, Blooms Are Only a Matter of Time
Unfortunately, pool water without these chemicals is a great growth medium for algae. This can cause your pool water to appear green! Therefore, without preventing their growth, you'll see them before too long.
Luckily, With the Right Algicide, Preventing Blooms Is a Cinch
As long as you follow the directions, any common algicidal chemical should suffice. Depending on the one used, you'll have to apply it every so often. Ensure that the directions are followed strictly.
Otherwise, You Run the Risk of Skin Irritation:
Since the chemicals can be harsh, you don't want to use them excessively. If you do, things might not be as fun inside of your pool for guests. Harshly treated water tends to irritate the skin.
Water Hardness and Your Pool
Have you ever heard about hard water? If so, then you might have wondered whether it is something to worry about. Generally, it's not a huge deal. However, if left unattended, it could complicate things.
Should Hard Water Bother You?

Unless you let it go without treating it, it should not bother you too much.
If You Have a Lot of Calcium in the Water, Use a Water Softener
Water becomes hard when there are too many free-floating calcium ions. These can leave scale on the walls of your pipes. Thus, creating maintenance problems. To soften your water, use a quality water softener.
Our Conclusion on Necessary Above Ground Pool Chemicals To Have On Hand
We hope our guide and tips going over what chemicals you need for your above ground swimming pool and also how to put chemicals in your swimming pool for the first time have been helpful to you.
Whenever you are about to add a new chemical to your swimming pool, we always recommend reading the chemical's instructions carefully and making exact measurements.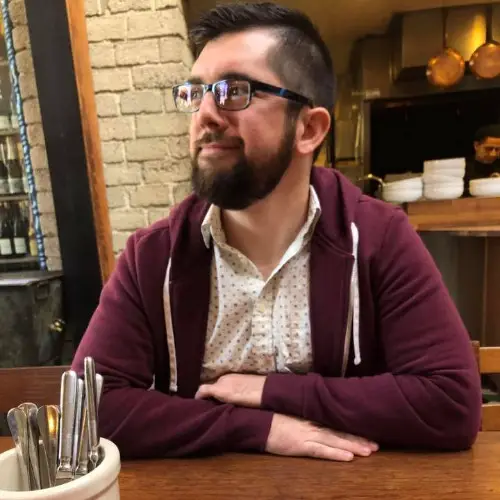 Hello, I am a writer and marketing specialist in Kansas City, MO. My love for swimming pools started as a child when I would visit my aunt & uncle's inground swimming pool on a frequent basis over the summer. Since then I have taught swimming lessons at a Boy Scout Camp, participated in the full setup, installation and maintenance of my father's inground swimming pool, as well as enjoyed constantly researching everything there is to know about swimming pools for 5+ years. I enjoy all water related sports, being part of the online swimming pool community and always learning new things!