Want to find the best swimming pool chlorine testers on the market today?
We can help!
Testing the chemistry of your pool is vital in terms of its long-term health as well as the safety of those that swim in it.
In our pool chlorine tester guide, you'll read comprehensive reviews to help you find the best pool chlorine tester or swimming pool chlorine test kit.
We focused not only on the user-friendliness of the testers but also on their accuracy. In addition, we touched on other features such as instructions and how much it tests. Discover the best way to test pool water correctly below!
Want The TLDR Version? We've got you covered. Our #1 pick for the best pool chlorine tester is the Hanna Instruments HI-711.
Why Do You Need a Pool Chlorine Tester?
From pool cleaners to top-quality swimming pool filters and more, there are many items you need to keep your pool running properly and the water safe to swim in. If you're unsure in any way about purchasing pool water testing products, then take a look at the advantages of using a pool chlorine tester:
Properly Measures Chemicals
Even though you know the number of chemicals you've added to your pool, that number doesn't stay the same over time. With a pool chlorine test kit, you can better determine the number of chemicals present. Moreover, you find out whether or not you need more chemicals or whether you should consider lowering the chlorine level of your pool.
Ensures Water is Free of Substances
Since many chlorine testers also have the ability to review other aspects, they can help keep your pool clean overall. A quality pool chlorine tester can alert you about a number of substances, such as bacteria and algae.
Economical Option
Indeed, there are some chlorine testers that are rather expensive. However, the majority is definitely affordable, especially when compared to professional services. In the long run, being able to test your pool on your own can save you time and money.
Check out our top swimming pool chlorine tester reviews below!
7. Poolmaster 22211
The Poolmaster 22211 tester is an inexpensive and versatile option that can be used for both pools and spas. When testing pool water, all you need to do is dip a strip into the water and read the results afterward. It's best to dip one of the strips at least 6″ into the water.
With a single 22211 kit, you receive 50 test strips. The Poolmaster chlorine tester can examine a total of four chemical factors: free chlorine, alkalinity, pH, and bromine, and pH. Also, the snap cap container is easy to open and close after each use.
Pros
Quick results
Waterproof container
Easy to use
Long product life
Cons
Test squares can fall off
Difficult to discern colors from the chart
Could test for more
6. LaMotte ColorQ Pro 2056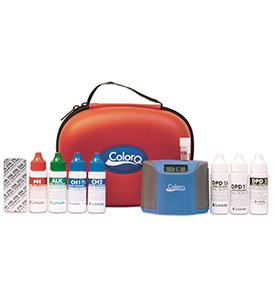 The LaMotte ColorQ Pro is known by many as the best expensive pool chlorine tester. With its photometer, it offers a digital reading of the test results. LaMotte's ColorQ Pro is capable of testing seven chemical factors: total chlorine, free chlorine, bromine, cyanuric acid, alkalinity, calcium hardness, and pH.
For most of the tests, you use liquid reagents. The only test factor that uses tablets is cyanuric acid. For the sake of protection, the Color Q Pro's housing and carrying case are water-resistant. Among its features, customers are thrilled that the kit allows you to calculate readings to a single decimal point.
Pros
Easy-to-follow directions
Precise results
Simple to use
Accessible refills
Cons
Poor quality control with package & products
Some consistency issues
Limited range chlorine test
5. Taylor Technologies Inc. K-2006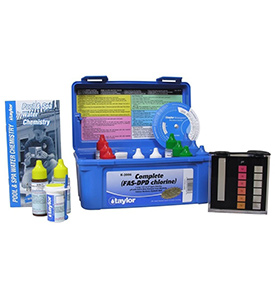 With the Taylor Technologies Inc. test kit, you enjoy versatile, trustworthy, and complete pool water testing. Even though you can find more affordable pool chlorine tester kits, it's still reasonably priced for its features. The K-2006 kit tests for a number of factors: total chlorine, combined chlorine, alkalinity, pH, calcium hardness, and cyanuric acid.
The all-inclusive kit comes with a Taylor 9058 comparator and .75 ounce reagents. In an effort to do away with color-matching issues, the sanitizer tests are titrations. To ensure accuracy, it better differentiates between free chlorine and total chlorine.
Pros
User-friendly
Easy to read
Precise testing
Reliable alternative for professional services
Cons
The product can arrive incomplete
Different expiration dates
Low-quality packaging
4. AquaChek 551236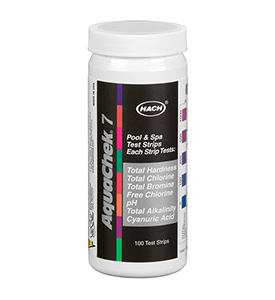 Another best pool chlorine tester that won't make you break the bank is the AquaChek 551236. The pool chlorine test kit is straightforward to use. All you have to do is dip the test strip into the pool and read the results. However, it works best as long as the instructions are closely followed.
With the AquaChek 551236, you get a total of 100 test strips with your order. The package also has a reusable color chart comparator. All in all, it tests free chlorine, total chlorine, total hardness, total alkalinity, bromine, pH, and cyanuric acid.
Pros
Clear instructions
Good value
Versatile testing
Simple to use
Cons
Easy to get false readings
Shades of colors too similar
Takes some time for results
3. Poolmaster 22260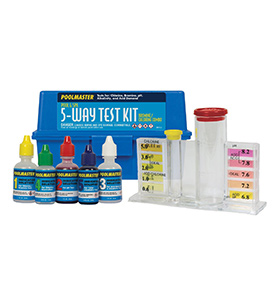 If you found the Poolmaster 22211 to be too basic, the company's 22260 kit can be a good pool chlorine tester for your everyday needs. The kit can test for five chemical factors: chlorine, bromine, acid demand, total alkalinity, and pH. Thanks to the step-by-step directions, the drop test becomes almost effortless.
Poolmaster's 22260 kit features a clear-view, round test block. For the sake of organization and proper storage out of the sunlight and humidity, the 22260 comes with a durable polyethylene case. Do note that the tests should be performed from a depth of 12″ to 18″.
Pros
Easy to follow instructions
Fast testing
Reliable results
Amazing value for the money
Cons
Sometimes hard to read
Low chlorine test limit
Charts aren't waterproof
2. AquaChek 511244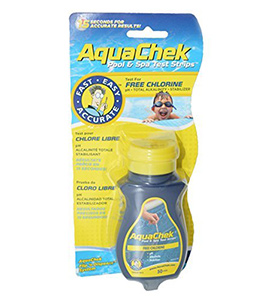 Another AquaChek pool chlorine tester you can try out is the 511244 strips set. We particularly recommend the yellow test strips if you have a tight schedule and want a user-friendly experience. A single pack of the product is highly affordable, and even a 4-pack can still cost less than many other chlorine testers.
The AquaChek 511244 set is noted for compatibility in both freshwater and saltwater pools. You can use the strips to test four chemical factors: free chlorine, total alkalinity, stabilizer, and pH. With this 511244 strips, it's best not to leave them in sunlight or heat of any kind.
Pros
Straightforward to use
Test done in seconds
Helpful instruction sheet
Comparable to reagent testing
Cons
Water can wash color away
Some results can read low
Color can fade naturally over time
1. Hanna Instruments HI-711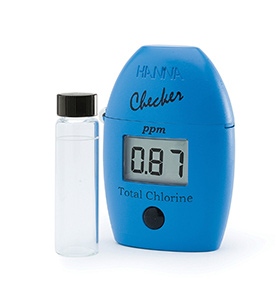 Want to take your pool water testing to the next level? The Hanna Instruments handheld colorimeter is seen by many users as the best pool chlorine tester of all, and after testing many options, we agree with that conclusion. For the professional quality and digital benefits provided, the HI-711 is worth every penny. To test your pool water, all you have to do is press a single button.
Results are shown on a large LCD screen, even though it only measures total chlorine. When you receive the HI-711 colorimeter, you also get two samples of cuvettes and caps, one 1.5V battery, six powder reagents, and instructions. Owing to its portability, the Hanna Instruments chlorine tester can be used for pools in various locations.
Pros
Clear digital readout
Good accuracy
Simple to operate
Pro-level results
Cons
Poor instructions
Consumes a lot of additives
Only tests total chlorine
Conclusion on Our Best Pool Chlorine Test Kit Reviews
Overall, though testing pool chemistry isn't exciting for everyone, it's important to ensure safe swimming conditions. The best pool chlorine tester should provide you with peace of mind so that's one less thing to worry about in terms of pool maintenance.
For taking even better care of your pool, you can look at our pool sand filters recommendations. If you have any feedback or questions about our reviews, let us know in the comments below.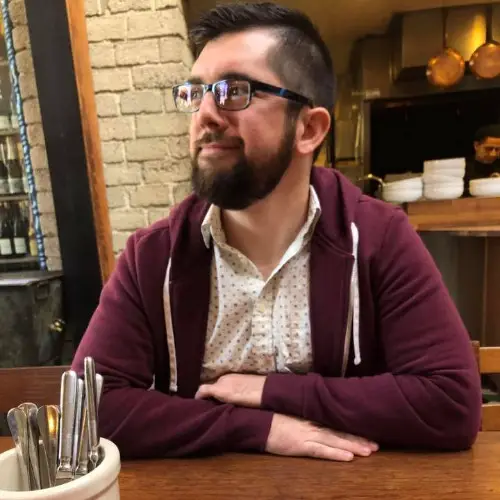 Hello, I am a writer and marketing specialist in Kansas City, MO. My love for swimming pools started as a child when I would visit my aunt & uncle's inground swimming pool on a frequent basis over the summer. Since then I have taught swimming lessons at a Boy Scout Camp, participated in the full setup, installation and maintenance of my father's inground swimming pool, as well as enjoyed constantly researching everything there is to know about swimming pools for 5+ years. I enjoy all water related sports, being part of the online swimming pool community and always learning new things!