Thinking about using muriatic acid in your pool? If you are, then you're going to need to make sure you know the ins and outs of this hydrochloric acid alternative so that you'll be using it both safely and effectively!
Read on to learn how to correctly use muriatic acid in your pool below.
What Is Muriatic Acid?
In a nutshell, muriatic is essentially a type of diluted acid that is widely considered to be a weaker, less pure version of hydrochloric acid.
Due to the fact that it's so corrosive, it means that this acid can be used for a variety of different purposes, including to help neutralize and reduce the pH of water – so it should come as no surprise to hear that it's a staple in the pool maintenance collections of homeowners worldwide.
Needless to say, despite the fact that muriatic acid is so efficient at reducing the levels of pH present in water, it's still a highly corrosive solution that can cause extremely serious burns if it comes into contact with fabric, leather, and human skin, so it's very important to make sure that it's being used with caution, and that you are wearing proper protective clothing/accessories.
Why Should Muriatic Acid Be Added To A Pool?
As we have already mentioned above, due to the highly corrosive nature of muriatic acid, it means that it's exceptionally good at being able to reduce the levels of pH present in water.
Generally speaking, healthy levels of pH within your pool water should fall anywhere between 7.2-7.8, which means that if the figure is anywhere higher or lower than this range, you're going to need to reduce the levels of pH to fall back between the proper range. 
While water that contains far too low a pH level can cause water to become potentially acidic, it is far more problematic for the pH level to be allowed to get higher than 7.8 – as this will then mean that water has become alkaline.
If pH levels are allowed to rise, then the alkaline water could cause your pool water to become cloudy, which will make your pool look unappealing to swim in.
In addition to this, high levels of pH in pool water can also cause the chlorine to become far less effective, which can lead to your pool water becoming unhygienic to swim in. 
Not only that, but extra high pH levels can also cause something known as scaling to occur, which is a process in which calcium deposits begin to form inside the pool water.
These deposits can then "stick" onto surrounding objects (including tiles) and become extremely hard to remove once attached.
So, if you're currently suspecting that your pool water composition isn't balanced in the way that it should be, then it might be a good idea to add some muriatic acid to your pool water in order to effectively bring the pH level back down to the healthy range.
How To Properly Use Muriatic Acid In A Pool
Enjoy our 5-step guide on how to use muriatic acid in your swimming pool below. Remember to wear protective gear and be safe when using!
Step 1: Test Pool pH Levels
First things first, in order to determine whether or not your pool is in need of some muriatic acid, you should first check the water chemistry levels.
Ideally, we recommend that you use a pH sensor if possible (as these are the most accurate of all pH detection products) or if you don't have one to hand, you could alternatively opt to use a pH reading strip. 
Whichever pool pH testing product that you choose, you'll need to make sure that you are correctly following the instructions so that you get an accurate measurement of how high (or low) your pH levels are.
As we've already mentioned above, the ideal pH levels for a pool tend to fall within the range of 7.2 to 7.8, so anything higher than that will require some muriatic acid.
Step 2: Put Protective Clothing On
After you have detected the pH levels of your pool water and you've decided to go ahead and use muriatic acid, the next step will be to make sure that you're wearing protective gear and clothing.
It's very important to not get any acid on your skin, clothing, or in your eyes, so you should take extra care to make sure that you're wearing protective clothing, including goggles and a mask.
If at any point, you accidentally get a splash on your skin, you should immediately wash it off with water.
Step 3: Switch On Your Pool And Dilute The Acid
After you have put on your protective gear, you'll then be ready to add the muriatic acid to your pool water.
However, before you start pouring the acid into your water, you're first going to need to make sure that you've diluted your acid, otherwise, the concentration will be far too high.
In order to correctly dilute your muriatic acid, take a bucket and then proceed to fill it with 4 parts water and 1 part muriatic acid.
This will work out to around a 1/10 ratio between water and muriatic acid, which will be the perfect amount for a standard-sized pool.
Step 4: Add The Acid To Your Pool Water
When you're ready, slowly begin to add your muriatic acid to your pool water.
On average, the acid will take around 30 minutes for it to penetrate throughout the body of water, so you should make sure that you don't touch or enter the water for at least two hours after you have added the acid to your pool water.
Step 5: Check The pH Levels (Again)
After you have given the acid enough time to work its way through your pool's water, you can then go ahead and double-check the pH levels once again.
If the pH level has lowered to the optimum range, then you can continue using your pool as you normally would. However, if your pH level is still too high, then you can repeat the process one more time.
Before getting started, we also recommend you watch this quick 2-3 video tutorial on using muriatic acid in your pool by Orenda Technologies below!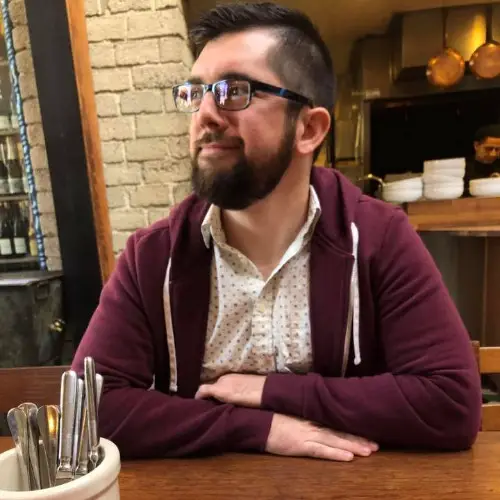 Hello, I am a writer and marketing specialist in Kansas City, MO. My love for swimming pools started as a child when I would visit my aunt & uncle's inground swimming pool on a frequent basis over the summer. Since then I have taught swimming lessons at a Boy Scout Camp, participated in the full setup, installation and maintenance of my father's inground swimming pool, as well as enjoyed constantly researching everything there is to know about swimming pools for 5+ years. I enjoy all water related sports, being part of the online swimming pool community and always learning new things!