Before we get into how to keep frogs out of your swimming pool, picture this:
It's early morning on a beautiful day. It's late spring, summer, maybe even the beginning of fall. The sun's rising. There's a bird's song in the air, you've had breakfast, and you have a few minutes to kill before you need to do anything.
Sounds like the perfect time to go for an early morning dive!
So, you go out to your perfectly heated pool, peel the cover back, only to find a bunch of dead frogs floating in your pool!
This isn't some far-flung horrible surprise imagined from a nightmare, either.
Plenty of pool owners will come out to check on their pools after waking up, only to find the bodies of floating critters of all species and sizes floating in their pool.
Gross.
This is definitely something to be avoided by all swimming pool owners, not only for the health of you and anyone else that uses the pool (who wants to swim in something that an animal died in, after all) but for the sake of the local wildlife in your area too.
So, here's what to do if you want to keep frogs and toads away from your pool.
Why Do Frogs Go Into Your Swimming Pool?
First, it's important to understand why a frog would even want to take a swim in your perfectly managed and heavily chlorinated private watering hole.
The first reason a frog might try and make its way into your pool is a pretty obvious one: Frogs, toads, and other amphibians love to swim.
Not only do they love to swim, but they also need to be around water to survive.
Frogs may have lungs, so they can breathe air, but they mostly breathe through their skin to survive.
And that skin can only breathe when it is moist. Otherwise, frogs can only survive out of water for a few hours before they die from dehydration and suffocation.
A frog doesn't see the pools you, or I, do. They see it as a well-lit pond for them to swim and live in.
Not only that, but frogs are also often attracted to the many little insects that are themselves attracted to the water in our pools, including bees and wasps, whether because they are attracted to the lights that we turn on to keep our pools illuminated, or because they need to lay their eggs under the surface of the water, as their larvae are water-bound.
For whatever reason, this will attract insects around your pool. And because many species of frogs and toads are insectivores, meaning that they eat bugs of all kinds, and will be attracted to those bugs. Swimming pools are also known to attract snakes as well.
And your friendly neighborhood frogs they have eaten their fill, they will likely attempt to moisturize in the pool so that they can breathe.
For many, this is the last dive they will ever make.
Do Frogs Die In Swimming Pools?
Unfortunately yes, swimming pools will kill frogs and toads if they jump in and get stuck there, all the more reason to learn how to keep them out of your pool.There are several reasons why frogs will die when they enter your pool, and why you want them to stay out.
The first is that chlorine is toxic to many species of amphibians, including frogs and toads. Their thin skin easily absorbs moisture through capillaries that lead to the rest of its body.
And because it takes only a slight variation of chlorine in their body to do permanent damage. A frog doesn't need to be in the water for long to reason a deadly dose of the chemical.
The same goes for if you use salt water in your poos instead, as most frogs that enter pools are freshwater species, and will find the salt levels toxic to them too.
Still, it isn't necessarily instant death if they enter the water. If the salinity or chlorine levels are relatively low, and the frog manages to leave the water quickly enough, it may have a chance at surviving.
But most frogs are never able to leave the water. And this is because of the single most damning factor that condemns frogs to die in your pool:
They simply can't get out.
Most pools are not designed like ponds, with a sloping bank that allows for easy access to an exit that most animals can use.
Most ill have a few, sheer steps, or a metal ladder that can only be climbed up by relatively large animals, such as a human. And because of this, most frogs will die due to exhaustion if they enter a pool.
With no way to get out of the toxic levels of chlorine, they either die until the chemical imbalance in their body is too great, or until they have no more energy to swim, and simply swim themselves to death.
And this isn't even mentioning the health problem that having frogs and toads, dead or alive, in your pool water will bring, with the numerous bacterial health hazards they could potentially have. Or if they try to lay frogspawn eggs in your water!
Needless to say, there is plenty of reason why you don't want frogs in your pool.
How To Effectively Keep Frogs Out
So, we've talked a little about why frogs try and get in your pool, and why you should want to keep them out.
To avoid these curious and amphibious adventurers from going where they should not swim, we need to figure out some way of keeping them out or at least letting them get out if they do make that mistake.
Here Are Some Of Our Easy Solutions:
1. If your pool is surrounded by grass or a garden, make sure that it is well-trimmed or cut low. Frogs generally try and avoid crossing places where they cannot hide, and short grass is just one of those things, along with rocks, logs, and other decently large objects that they can hide under or behind. For this reason, you should keep your garden clean and clear of hiding spots.
2. Frogs cannot stand citric acid of any kind. With this knowledge, creating a barrier made of this kind of acid around your garden will discourage them from sticking their webbed feet where they should be. Either citric juices from fruit like lemons and limes, or even vinegar will do the trick. Simply spray the acid in a solution around your swimming pool for it to start taking its frog deterring effect.
3. If your swimming pool has lights, including above ground pool lights, make sure to turn them off before you finish using them. This will stop many insects from swarming around them, and will also not encourage many frogs to try and explore your pool looking for food.
4. Get a well-fitted pool cover for when you are not using it. This will stop frogs and other animals from getting into the water in the first place. It's also great for stopping debris building up both in the water and in your pool's filtration system. We also recommend a solid pool cover for keeping birds out of your pool as well.
5. Leave a frog escape ramp in your pool when you are not using it. These consist of a pad that is placed on the surface of your pool water, with a ramp that attaches to the side of your pool. This allows frogs that have fallen into the pool to escape before they become exhausted, or before the chemicals in the water kill them. Ideally, that frog will learn their lesson and not try to invade your swimming pool again.
Our Conclusion on How To Keep Frogs Away From Your Pool
So, it's clear to see that having frogs in your pool is a bad idea, for both the health of the frogs and for your pool maintenance.
Using the solutions we have provided above and others you find will help keep animals safely out of your water, and will keep your pool clean and ready to enjoy the next time you're going for a dip!
We hope this guide on how to keep frogs out of your pool has been helpful, and that you'll enjoy your future frog-free pool!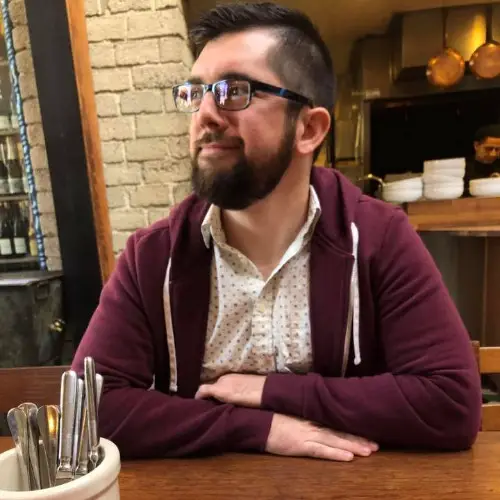 Hello, I am a writer and marketing specialist in Kansas City, MO. My love for swimming pools started as a child when I would visit my aunt & uncle's inground swimming pool on a frequent basis over the summer. Since then I have taught swimming lessons at a Boy Scout Camp, participated in the full setup, installation and maintenance of my father's inground swimming pool, as well as enjoyed constantly researching everything there is to know about swimming pools for 5+ years. I enjoy all water related sports, being part of the online swimming pool community and always learning new things!