Curious about how to keep bees & wasps away from your swimming pool?
We've all been there…
You're ready to jump into the cool pool and relax after a very difficult and hot day. You get into the pool and close your eyes – only, when you open them again – there's a bee or wasp in the pool with you! This leads many people to ask themselves "how do I keep bees away from the pool?" or "how do I keep wasps away from the pool?".
Our team is here to help with 9 different easy & effective tactics!
It's rare for people to be a fan of wasps, unlike bees. But what most of us share in common is that we'd rather these potentially stingy beings not be in the same pool of water as us! So, what's the answer? How do we keep bees and wasps away from the pool? Let's take a look. 
Why Are Bees And Wasps Attracted To Your Swimming Pool?
It probably comes as little surprise that on a hot day, we feel uncomfortably warm and need to cool off. When it comes to bees and wasps, this is no exception.
Both wasps and bees need water to survive just as much as we do, and pool water gives them a much needed cool-off. 
Additionally to this though, bees and wasps will often transfer the water from the pool to their nests. They collect it for the worker bees to use – and if necessary, will go back to the source of water for more.
So, if you've ever seen on a very hot day – that you're constantly being bombarded with bees and wasps, unusually more than normal – it's because their hives need more water for the hotter temperature! 
What some people don't realize though, is that even though bees and wasps are normally seen by your pool around the summertime when it's typically hotter – they actually collect water throughout the year, they just have little need for as much water in the colder periods and more less frequently seen by us. 
When the outside temperature is very warm, the bees' and wasps' hives are much hotter than usual, which can be dangerous for them. The workers in the hive will scatter the water that has been collected across the cells that contain eggs and larvae.
The other workers inside the hive will then work together to fan the area which will eventually evaporate the water. The resulting currents of air cool throughout the hive's interior. 
So, this has given you a little background as to the criticality of water to bees and wasps – but even though they need water, should you have to provide it from your pool?
You don't have to deal with this – so let's find out how we can prevent them from coming back. 
Natural Ways To Stop Them From Returning 
We all know how important bees are to us. They're crucial to our ecosystem through pollination and assist the growth and reproduction of flowers and plants. Because of this, we know we shouldn't be exterminating them if we can help it.
So, we should first think of some natural ways to prevent their return. 
1. Remove The Water Source – Drainage 
If you've constantly had bees and wasps recently at your pool, the chances are that they've identified your pool as their, now usual, water source. One way you could get them to move on is by draining your pool. 
After about a week, the bees will understand their water source is no longer available, their flight pattern is broken and they will move on elsewhere to find a new usual water source. 
2. Get Yourself A Cover For The Pool
Pool covers are a great investment. They can keep your pool clean, reducing the need for more maintenance and they can prevent unwanted pests getting into it. There are even solar swimming pool covers for inground pools that can help heat up your pool as well!
They tend to be quite expensive – but it is certainly worth it. As long as the cover can reach the entirety of the pool, the bees and wasps will not be able to get in and will move on.
This is also a great strategy to keep frogs out of your pool. Keep in mind -this measure won't stop them coming into the pool while you're in it though! 
3. Provide An Alternative Water Source 
If the bees or wasps are living nearby and are using your pool as their primary source of water, you could try and offer an alternative. You'll need to drain your pool first though if they're using that.
When they understand your alternative is their only nearby source of water left, they should start using that primarily, and you can get the pool back up and running. 
Consider using a bucket, bird-bath or even a children's pool that you don't need anymore. This method also works when trying to keep birds away from your swimming pool as well.
4. Beware Of The Types of Plants Nearby 
Anybody that knows anything about bees will know that they're quite fond of plants (but not all of them!). For certain plants, if they're around your pool area – the chances are, you'll have bees all around the place, so reduce this risk by removing the plants.
However, you can decide to opt for plants that bees absolutely hate like mint or lemongrass. So, if you must have plants – look for those. 
5. Mix Some Vinegar In Your Pool's Water
Vinegar shouldn't cause your skin much of a problem in the pool when mixed with water, but if the bees consume it – they will detest the taste and will avoid the pool for a second time. 
6. Use A Soapy Water Spray 
You can mix a spray bottle with soap and water to repel bees from your pool if you're relaxing in it. If you successfully spray a bee with this, they will die – so it's not the preferred method.
However, doing this will kill bees who can't convey to other bees where the water is, and after a couple of days – the bees should stop arriving. It should work for wasps too!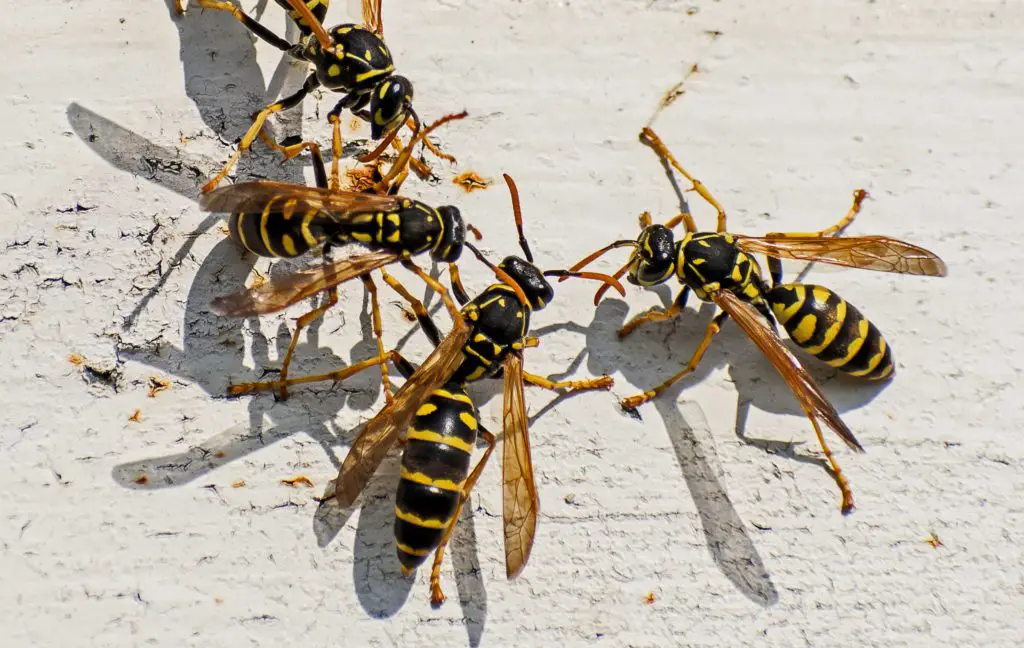 7. Use BBQ For Luring Away Wasps 
Wasps are fond of the smell of raw meat – if you've got some leftovers from your BBQ, consider putting some meat away from your pool (as far as possible) and they should be attracted to that and avoid your pool. 
8. Use Diesel And Batteries For Luring Away Wasps 
The scent of diesel attracts wasps, as does battery acid. If you've got either of these – place them safely into a tub and put them away from the pool. You could even double up on this by doing the following. 
9. Set Some Wasp Traps Nearby 
People often make traps using water bottles or wood. If you put syrup in a water bottle, the wasps will fly in for it, but cannot get out. The same applies with wood as they get stuck on it with the syrup. Just be careful with the removal later on. 
When Would I Need To Call A Professional?
You should call a professional if the bees and wasps situation is becoming dangerous due to their numbers or aggression.
Additionally, if they've made nests inside your property or lawn – you'd be wise to get in touch with a well-equipped pest control professional. 
Unnatural/Chemical Methods To Keep Bees and Wasps Away
You could invest in things like pesticides and purchase sprays that can be spread across the area – it will detract and kill some bees and wasps.
It should be noted though that these chemicals can be extremely dangerous to everything and everyone in the area, so try to avoid this method. 
Our Conclusion on How To Keep Bees and Wasps Away From Your Swimming Pool
Bees and wasps are a nuisance sometimes but there are several ways to keep them away from your swimming pool area.
You should try the natural methods first to prevent them, but if it continues or becomes dangerous to you and your family – you may need to consider getting in a professional or investing in unnatural chemicals in order to keep bees and wasps away from your pool.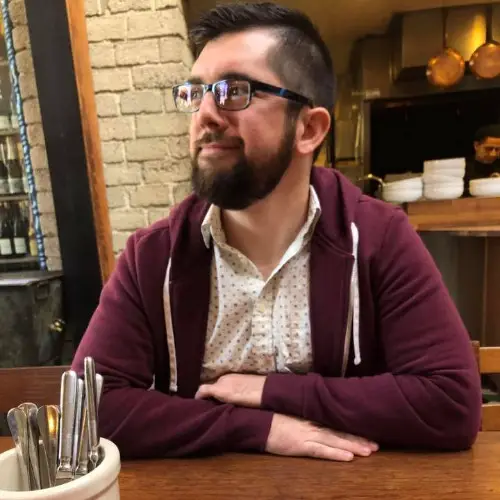 Hello, I am a writer and marketing specialist in Kansas City, MO. My love for swimming pools started as a child when I would visit my aunt & uncle's inground swimming pool on a frequent basis over the summer. Since then I have taught swimming lessons at a Boy Scout Camp, participated in the full setup, installation and maintenance of my father's inground swimming pool, as well as enjoyed constantly researching everything there is to know about swimming pools for 5+ years. I enjoy all water related sports, being part of the online swimming pool community and always learning new things!