A 20-minute sauna session is one of the best things to not only relax and wind down but also to open up your pores and sweat all the stress away. The heat can also relieve tension in your muscles, improving your overall health. Not to mention that it's a great way to pamper yourself! 
But did you know that there are different types of saunas? You don't necessarily have to use the traditional and common sauna anymore. Infrared saunas, which are an alternative, are becoming increasingly popular, and they can have quite a few advantages compared to the typical sauna experience! 
But…what exactly is an infrared sauna? And more importantly, how does it work? We can tell you everything you need to know about infrared saunas so that you know what they are like, and then you can choose to try one out for yourself! 
Are you ready? Let's get right into it! 
What Is An Infrared Sauna?
Let's start by answering exactly what an infrared sauna is so that we are on the same page. 
The main thing to know about high quality infrared saunas is that, unlike traditional saunas, they do not heat the air around you. Instead, infrared saunas use electromagnetic radiation through infrared lamps, in order to directly warm up your body.
So the air isn't getting hot, you are. 
Essentially, the infrared panels can penetrate the tissue of your body to heat it up, without heating up the air around you. 
This means that an infrared sauna can function at a lower temperature of around 120 to 140 degrees Fahrenheit, as opposed to a traditional sauna which usually needs to function at a temperature of around 150 and 180 degrees Fahrenheit. 
But that's not all. Infrared saunas also provide a heat that penetrates a lot deeper than heated air, so you experience more intense sweating, despite using a lower temperature, making the infrared sauna a lot more effective.
And as the air around you isn't hot, the sauna is also more tolerable, so people are able to stay in it for a longer amount of time too. 
Basically, to sum it up a little, an infrared sauna is a type of sauna that uses infrared panels in order to provide heat. And this heat penetrates your body directly, instead of heating up the air around you.
It causes more intense sweating at a lower temperature and is more bearable for longer periods of time. 
How Infrared Saunas Actually Work 
Now that we know what an infrared sauna is, it is time to satisfy the scientific curiosity, and explain how it works in a little more detail. 
Infrared saunas are made with an installed carbon/ceramic heater, and this heater is what created the infrared heat. Specifically, it created far-infrared heat, which is the longest wavelength of the infrared spectrum, and it is the one that is able to penetrate your body the deepest. 
Now, infrared heat is the same type of heat that is produced by the sun, and by our bodies. So it is completely safe, and different from other types of heat that aren't as safe, such as the one produced by microwaves. 
In the sauna, the infrared used will use 20% of its energy to heat up the air, and 80% of its energy to directly heat up your body. And the radiant waves will penetrate below your skin, deep into your body, heating it up.
This will cause you to sweat, as well as provide many health benefits to your body. 
The temperature within the infrared sauna can also be adjusted, but it can be left to be lower than a typical sauna while being more effective and allowing you to sweat more intensely.
And as the infrared isn't heating up the air around you too much, you won't find it difficult to breathe or feel claustrophobic in any way, so you can remain in the sauna for longer! 
Basically, the infrared sauna uses an infrared heater to warm your body up directly, in the same way, the sun would warm up your body. The heat penetrates deep in your body tissue so that it receives all of the health benefits, but as you avoid the hot air of a traditional sauna, it is a lot more comfortable and safe. 
Are There Benefits To Using An Infrared Sauna Vs A Normal Sauna? 
You might now be wondering if there are benefits to choosing to use an infrared sauna over a traditional normal sauna, and we'll start by saying yes, there are.
Overall, an infrared sauna is better and healthier than a traditional sauna, and we've listed some of the main benefits that you will get using one over the other:
Better sleep
A deeper sense of relaxation
Better relief from sore muscles and joint problems
Improved blood circulation
Clear and tighter skin
Detoxification through more intense sweating
Weight loss
It helps relieve symptoms of chronic fatigue syndrome 
As an infrared sauna heats your body directly, without causing the air around you to become extremely heated, you reap more benefits, with less of the dangers of using a sauna. And it does so more effectively, and at lower temperatures! 
Tips For Properly Using An Infrared Sauna:
If you're going to use an infrared sauna, and you've never used one before, here are some tips that might help you improve the experience and ensure that you are safe: 
Drink plenty of water beforehand! The main thing you do in a sauna is sweat, so you have to make sure that you are well hydrated before you begin.
For your first session, start by setting the sauna at a temperature of around 100 degrees Fahrenheit. With each session, you can then slowly increase the temperature, and we'd recommend staying at a maximum of around 150 degrees Fahrenheit.
The suggested time for an infrared sauna session is between 20 to 30 minutes. However, if it is your first time, we recommend you only stay there for 10 to 15 minutes. 
When going in a sauna, you can wear a bathing suit, or be naked. Whichever you prefer! (Naked is usually the best option if you're going to be alone!) See our full guide on what to wear in a sauna as well!
While in the sauna, you can relax and pass the time. You could even read, talk with friends, or meditate. The important thing, however, is to not fall asleep! Otherwise, you risk accidentally staying in there for too long, which is dangerous. 
Healthy use of the sauna recommends 3 to 4 sessions per week, in order to reap the most health benefits. 
Once you finish your sauna session, make sure to drink plenty of water once again, and to allow for your body to cool down. After a while, it is recommended that you shower or take a bath. 
We hope you enjoyed our guide on how infrared saunas work! Now get to safely relaxing and enjoying the benefits of your sauna.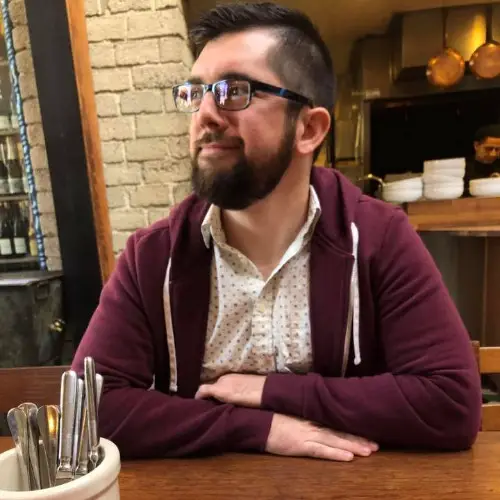 Hello, I am a writer and marketing specialist in Kansas City, MO. My love for swimming pools started as a child when I would visit my aunt & uncle's inground swimming pool on a frequent basis over the summer. Since then I have taught swimming lessons at a Boy Scout Camp, participated in the full setup, installation and maintenance of my father's inground swimming pool, as well as enjoyed constantly researching everything there is to know about swimming pools for 5+ years. I enjoy all water related sports, being part of the online swimming pool community and always learning new things!