The history of saunas and bathing in heat goes back centuries, and as many people know there are now different types of saunas available.
Many of the questions we get about saunas are related to Infrared Saunas vs. Traditional Saunas, lets dig into the benefits of both and then some pros & cons of each!
Long touted as a practice beneficial for health and purification, saunas are popular across many global cultures – from Finnish post-skiing saunas to roman thermal spas. Purportedly, they are useful for various purposes, including relaxation, detoxification, and treatment of various health conditions, like acne and asthma.
Studies have shown that regular sauna use can improve chronic pain, boost your mood and your immune system, reduce the risk of developing heart disease and Alzheimer's, and even increase people's longevity.
These health benefits might be caused by the short-term stress that a session in the sauna – the short-term exposure to intense heat creates positive stress within your body. In turn, this stress increases cellular turnover and repair, improves function within your cardiovascular system, enhances your overall stress tolerance, among other physiological benefits. Some spas suggest alternating between hot saunas and cold pools or showers, as this might increase the positive stress further.
Recently, there has been a large surge in the popularity of infrared saunas for home, which use infrared light (which is invisible to the human eye). This light penetrates the skin, and heats the body directly, without having to heat the surrounding air. This is in contrast to traditional saunas, which heat through the use of fire or electric heating units. At the moment, this type of sauna is getting a lot of hype, but scientific research investigating whether they were better than traditional saunas led to inconclusive results, so few conclusions can be drawn about the benefits of a session in the infrared sauna.
This article aims to answer the question – 'which type of sauna is better?'. Below, you will find a conclusive list of pros and cons when it comes to infrared saunas vs traditional saunas – including everything from health benefits to cost and size. Keep reading to work out which would be the best fit for you, your budget, and your lifestyle.
Infrared Sauna Pros:
Infrared saunas are hailed as a cheap alternative to a traditional sauna, as it uses light rather than a central heating unit – which reduces both their purchase price and their running costs when compared to traditional saunas.
Infrared saunas run at a lower heat than conventional saunas, potentially making them more comfortable, especially for those who rarely use saunas and aren't used to the heat. As infrared light heats the body directly (rather than the surroundings), the air inside the sauna gets less hot, you might also be able to spend more time in the sauna with a lower level of discomfort.
New infrared saunas are easier to operate at home than traditional saunas, as they require less maintenance and upkeep.
Anecdotal evidence from people who have used infrared saunas compares the way that they feel after a sauna session to the feeling after completing moderate exercise, like a fast-paced walk, or intensive yoga class. This endorphin high can help boost mood, and help you maintain a positive mood for longer.
Some research has shown that infrared sauna use can positively impact the symptoms felt by sufferers of chronic pain (like that of fibromyalgia and rheumatoid arthritis) and chronic fatigue syndrome. These studies have been small, but have all come back with results suggesting that saunas are beneficial. Infrared saunas are better at alleviating chronic pain and fatigue than traditional saunas, but repeated use has to be undertaken to see these benefits.
Infrared sauna users might also see improvements in mental health, mood, and relaxation. The risk of developing psychotic disorders is reduced, and symptoms of depression are alleviated to an extent. In particular, adults who had one whole-body infrared sauna session reported reduced depression for six weeks after the treatment. This might be because feel-good chemicals (such as the hormones/neurotransmitters serotonin and oxytocin) are released during sauna therapy. These chemicals improve feelings of general wellbeing straight after getting out of the sauna and might have a long-term effect. In addition to these neurochemical physiological effects, sitting still for 20-30 minutes during a sauna session could be relaxing, or even meditative.
Infrared saunas might help reduce the risks of heart disease and heart failure – a Japanese study found that infrared sauna use and Waon therapy (a type of infrared sauna therapy that is far more common in Japan) both improved several of the markers associated with chronic heart failure. A separate study showed that infrared sauna use improved disease status, walking distance, and heart size in patients with congestive heart failure.
Traditional Sauna Pros:
Scientific research about the health benefits of using traditional saunas has shown that they can help you become less stressed in the long term. The short-term positive stress through controlled exposure to extreme heat makes your body react better to stress, as it is trained to enact the antioxidant and cellular repair processes more easily and quickly. With regular sauna use, it is thought you will be able to better tolerate future stressors.
Brain health is also through to increase with sauna use – particularly, conventional saunas might prevent or slow the development of neurodegenerative diseases, like Alzheimer's and dementia.
Traditional saunas are also thought to improve the functioning of the cardiovascular system. Heat exposure increases your heart rate and cardiac output (i.e., the amount of blood that your heart pumps), and decreases your blood pressure, all of which improves your overall blood flow. This could impact your susceptibility to heart disease and general longevity, due to better cardiovascular health.
Saunas can also help to regulate hormones. Some evidence suggests saunas increase levels of the growth hormone (which stimulates cell regeneration and renewal), decrease fasting blood glucose, and raise levels of the hunger hormone.
Mental health may also be helped by regular saunas, for similar reasons as infrared light saunas.
Infrared Sauna Cons:
Due to their infrared light technology, this type of sauna has to be a dry sauna, whereas some people might prefer steam in their sauna experience.
The hype and popularity are may be due to marketing influence, rather than the creation of a truly revolutionary product. Because of this marketing influence, and the limited research surrounding the effectiveness of the infrared sauna, be cautious when evaluating claims made/influenced by the infrared sauna industry. Some manufacturers have relationships with the functional medicine field, and can therefore influence what is published about their product, making it hard to discern fact from hyperbole.
Infrared saunas are a lot colder than traditional saunas. The heat range used in infrared saunas is far lower than that used in traditional saunas. The heat in infrared saunas usually ranges between 113 and 140 degrees Fahrenheit, whereas conventional saunas tend to fall within the 176 to 200 degrees F range. In other words, the highest temperature reached by an infrared sauna doesn't come within 30 degrees F of the lowest traditional sauna temperature. For personal comfort, this could be a good or a bad thing, depending on how often you like to sauna, and how well acquainted you are with the heat.
Currently, scientists aren't sure how the lower temperature will affect infrared's health benefits, in comparison with the traditional sauna. Some long-running Finnish research has shown that higher temperatures in conventional saunas are especially effective at reducing cardiovascular-disease related mortality, all-cause mortality, and Alzheimer's. Though this seems like a negative point for the infrared sauna – it might not be so bad. In theory, as the infrared light directly penetrated your body, it may be able to achieve the same health benefits with a lower level of heat. In summation, whether the effects of infrared saunas on users' health compare the same as those of traditional saunas is currently unclear.
There is a potential electromagnetic field (EMF) risk associated with infrared saunas. Though only theoretical, some concerns have been raised about the possibility of harmful EMF exposure whilst using certain types of infrared saunas. However, these harmful effects haven't been documented by medical literature, and if this is of concern to you, some manufacturers offer EMF testing, or use methods that might cancel out the potentially harmful frequencies.
Limited and industry-influenced research means we may not know the extent of infrared saunas benefits and harms.
Traditional Sauna Cons:
Using a traditional sauna could leave you with burns. Although uncommon, the stove or electric heating element in a conventional sauna might leave users with burns if they come into contact with it. As infrared saunas use light, this happens infrequently, if ever.
Traditional saunas are far more expensive than their infrared counterparts. Cheap traditional home saunas can easily set you back $3500, not including construction and installation fees. When considering the running and electricity costs, they can become even more pricey.
They're also a lot bigger. Bulky conventional saunas can be difficult to fit into your home, especially if you're a little strapped for space.
Near-Infrared Versus Far-Infrared Saunas: Know The Difference
Not all infrared saunas are created equally, and if you are considering purchasing an infrared sauna, there are many factors you should take into account when choosing the perfect product for you. In addition to size, style, and cost, differences between infrared saunas include the type of light wavelength they utilize.
The spectrum of infrared light consists of near, middle, and far-infrared wavelengths, and you can purchase saunas that specifically use each type of wavelength. Each type of infrared has a different set of benefits:
Far-infrared wavelengths penetrate the most deeply into the body, meaning they are the most common choice for people wanting the strongest healing benefits.
Middle-infrared wavelength saunas are thought to aid in the reduction of inflammation and increase blood flow.
Near-infrared wavelengths are the most surface level. As they are only skin deep, they are predominantly associated with benefits like skin healing.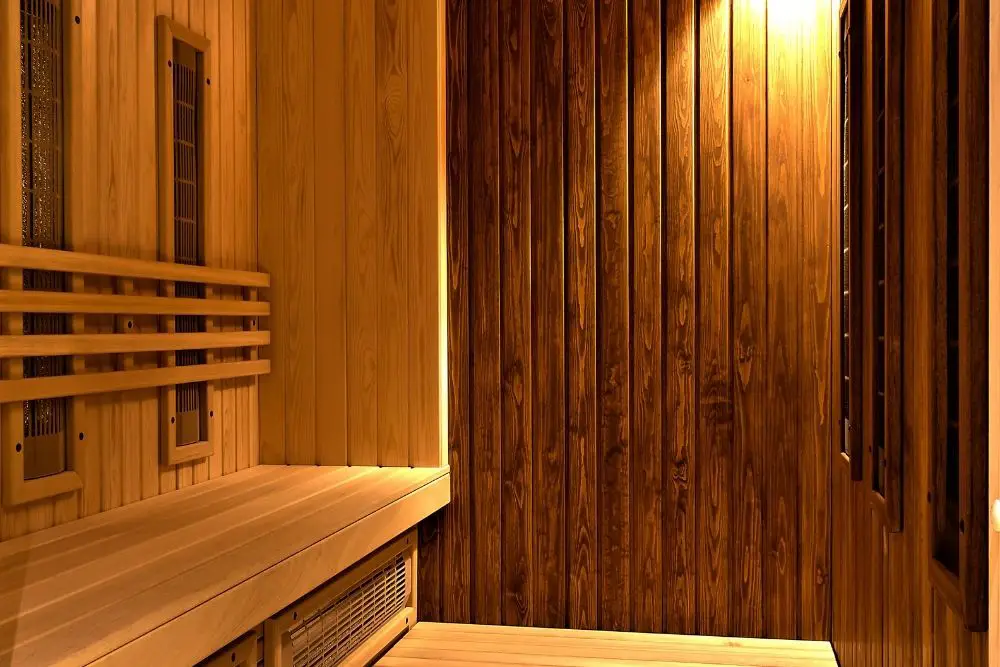 Risks Associated With All Types of Sauna Use
Before you go gung ho into buying a home sauna, there are a few risks associated with all types of sauna that you should know about. Though sauna use is generally safe and well-tolerated, some people suffer mild, temporary side effects during or shortly after a sauna session. These side effects, including temporary pain, heat discomfort, irritated breathing, lightheadedness, and low blood pressure, are often directly caused by the short-term positive stress that the body is put under.
To avoid these side effects, there are a few preventative measures you can take.

Drink water! Staying hydrated is a must when going in for a sauna session – you will lose fluids through sweating and can get dehydrated if you don't top up on H2O beforehand.

Stay away from the booze. Drinking alcohol before or during a sauna session can lead to adverse side effects, faster dehydration, and even death.
Leave the brewskis til after the sauna.

Don't go in if you're ill. If you are sick or have a fever, time in the sauna can make you feel worse and slow down your recovery time.

Listen to your body. You know your body best, so if you start to feel uncomfortable, take a sauna break.

Gradually build tolerance. Start with a shorter session and build up the length of time you feel comfortable in a sauna.
Wear the right clothes or lack of them! Know what to wear in the sauna to make your session more relaxing and breathable.
The heat of a sauna can also cause a temporary reduction in sperm count and motility, so men concerned about fertility or trying to conceive a baby might be best off avoiding or reducing sauna use.
Our Conclusion on Traditional Saunas Vs Infrared Saunas
Picking which sauna is right for you is a highly subjective matter. It all depends on your specific needs and budget. Generally speaking, traditional saunas have a wealth of scientific evidence supporting their claims of health benefits, but you are bound to pay for this – they're far more expensive to purchase, run and maintain, as well as taking up a large amount of valuable space in your home.
Conversely, there is less proof for infrared saunas, but they are cheaper. So when it comes to Infrared Saunas Vs Traditional Saunas, its important to evaluate your sauna experience, how you will use it, how often you will use it, and your budget of course.
If you're new to using the sauna, but want to install one in your home, we recommend the infrared sauna models – they're cheaper and smaller, but still have some evidence backing their health benefits, and infrared saunas are not too difficult to clean. Even if you decide saunas aren't for you, you haven't wasted too much money.
If you're a sauna connoisseur or are looking to purchase a sauna for your business (say, a spa or a gym) we suggest you go for a traditional sauna – they reach higher temperatures, have more proof supporting them, and are likely to attract new customers.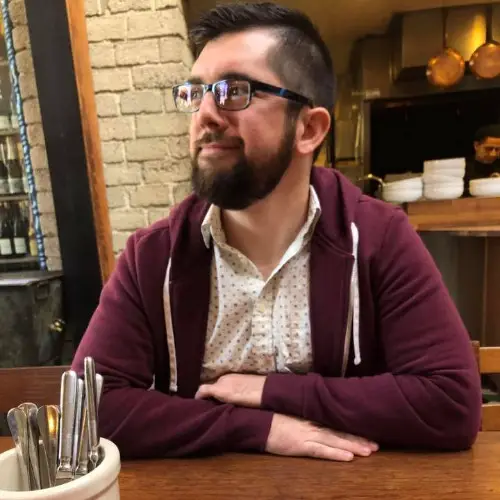 Hello, I am a writer and marketing specialist in Kansas Cit, MO. My love for swimming pools started as a child when I would visit my aunt & uncle's inground swimming pool on a frequent basis over the summer. Since then I have taught swimming lessons at a Boy Scout Camp, enjoyed the full setup, installation and maintenance of my father's inground swimming pool, as well as constantly researching everything there is to know about swimming pools for 5+ years. I enjoy all water related sports, being part of the online swimming pool community and always learning new things!