As you may know, most saunas are hot rooms where people sweat out toxins from their bodies. They are also great places to relax and unwind after a long day at work or school, or an intensive workout.
Although some are hotter than others, saunas are usually heated to around 100 degrees Fahrenheit (38 degrees Celsius) or more, including quality infrared saunas, which can get up to 150 degrees Fahrenheit.
Suppose you want to enjoy the benefits of a sauna without worrying about overheating. In that case, you need to dress appropriately. After finding out how to know how hot your sauna is, lets get into what to wear in a sauna down below! Also, check out the difference between traditional saunas and infrared saunas if you would like a deeper dive into the main sauna types.
How Do I Know How Hot My Sauna Is?
The temperature inside your sauna can be found by looking at the front of the unit. In addition, it will have a thermometer that shows the current temperature.
Check out our article on how infrared saunas work here!
The recommended temperature for most people is between 105 – 115 degrees Fahrenheit (41-46 degrees C).
This means your clothes need to stay away from the heater. You don't want them to absorb too much heat, so it's best to avoid wearing anything made with cotton or wool materials.
Instead, choose synthetic fabrics such as polyester. Synthetics won't hold much moisture against the skin, but they'll help keep you dry during the sauna session.
If you've ever been in a sauna before, you already know that there's no escaping the steam. Your clothing needs to be able to handle this kind of humidity.
While you could always take off all of your clothes to sit in the sauna naked, there's another option: swimwear.
These garments have unique material designed to wick sweat away from your body. They're typically made from spandex, which allows them to stretch and move while remaining soft.
Some types even feature built-in undergarments that help keep you cool and comfortable during the session. This type of clothing isn't ideal for everyone, however. People who suffer from arthritis or other joint issues might find swimming suits uncomfortable.
Plus, if you're in the sauna for longer than 30 minutes, you may get sweaty. If you are a first-time sauna user, do some research on how long you should stay in a sauna before trying it out.
If possible, it's better to go barefoot in the sauna room. You can use socks or shoes to step outside the sauna when you need to.
If you want to make the most of a sauna session, you need to be appropriately dressed. So whether you decide to go naked or wear something else, you need to know about the proper attire.
What Should I Wear For A Sauna?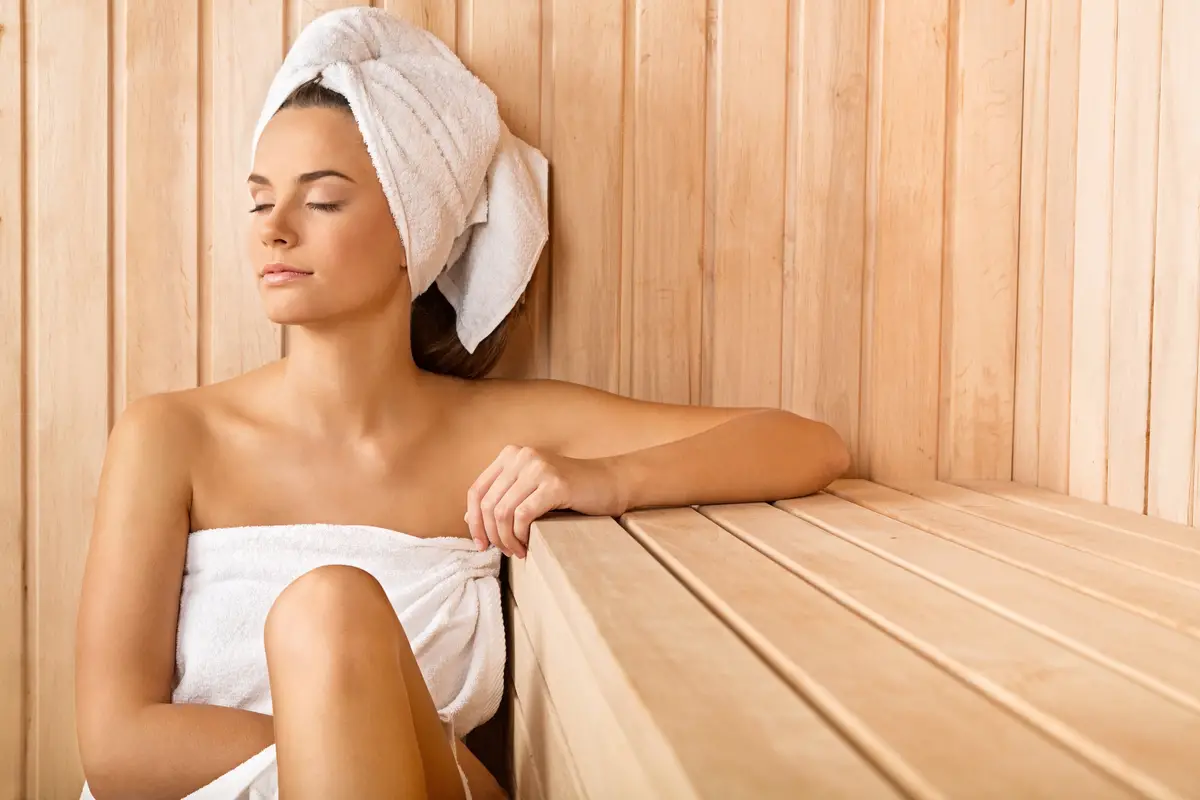 While you can wear whatever you like technically, and some debate on the question of if are you supposed to wear clothes in a sauna at all, most agree that when it comes to public saunas at the gym or health club, certain things shouldn't be worn or aren't best for wearing inside a sauna.
Here's a list of everyday items that can ruin a good time in the hot room and that we recommend you do not wear inside a sauna:
Cotton
While cotton is an excellent fabric choice for many things, it doesn't perform well in high-temperature environments.
As soon as the heat turns up, the fibers expand.
When this happens, they lose their ability to prevent sweating and cause discomfort.
Wool
Wool has a similar problem to cotton. However, its tendency to retain warmth makes it worse.
If you put one of these two items into a sauna, you'll quickly feel the heat on your skin.
Leather
Leather can also create problems because it attracts heat.
It tends to attract sweat, causing your skin to warm up rapidly.
Wearing leather during a sauna session can lead to a very unpleasant experience, especially in a high-temperature sauna.
Silk
Silk isn't usually used for clothing purposes, but it works well when making underwear.
Unfortunately, silk also holds quite a bit of heat, making it unsuitable for a sauna.
Cashmere
Cashmere works excellently for sweaters and jackets, but it's not suitable for long sessions in the sauna.
Sweaty cashmere causes the wearer to sweat more, leading to increased temperatures in the sauna.
This can lead to overheating and even burns.
Lace/Netting Materials
These materials are often found in lingerie.
While lace provides support and comfort, netting prevents moisture from escaping.
The combination of both factors can result in severe discomfort.
Underwire Bra
Underwire bras aren't usually meant to stay on for extended periods.
Overheated underwire bras become uncomfortable fast.
Spandex
Spandex is a type of elasticized nylon that helps with flexibility. This material stretches easily without losing shape.
Unfortunately, it also absorbs sweat.
Because of this, people with sweaty palms tend to feel clammy after using spandex garments.
Velcro
Velcro is an adhesive tape that comes in different strengths and designs.
It can be used for many purposes, including attaching accessories such as jewelry and scarves.
Unfortunately, it also creates friction, which leads to itching and chafing.
Tights
Tights may seem like a good idea at first, but they won't help anything.
Instead, they trap sweat against your legs, creating a warmer environment.
This increases the likelihood of developing blisters.
Even worse, tights can interfere with circulation and lead to blood clots.
Shoes
Shoes should never be worn in a sauna. Shoe soles will expand significantly when the warmth builds.

7 Different Ideal Sauna Clothing Options
There are many clothing and swimwear options which can be great for wearing inside of a sauna, each offering unique benefits and drawbacks.
Here's a quick overview of seven of the most popular clothing options for regular sauna use:
Speedos
Speedos are the most obvious option for those who want to enjoy a sauna while still clothed.
Some speedo styles come with built-in drawstrings or straps, making it easy to get them off.
Others require you to use a separate belt to hold them in place.
Speedos are often preferred by men who like to keep their testicles covered, but they have a few disadvantages.
First, they completely expose your body to the steam room and can cause unwanted attention from other patrons.
Second, they're challenging to remove if needed. Finally, they can be expensive.
Bikinis
Bikinis are a less extreme choice than speedos, allowing you to show just enough skin to feel comfortable.
However, they can still attract unwanted attention and are often too small to accommodate larger-than-average breasts.
Briefs
Briefs are another option for people who prefer to remain covered up.
Like bikinis, briefs are designed to fit closer to the body, exposing only the areas that need to be seen.
Many people don't realize how uncomfortable short shorts can be, so brief style bathing suits are an excellent alternative for anyone looking to avoid irritation.
Shorts
Like brief style bathing suits, shorts allow you to stay calm and dry.
They cover much of the same area as brief-style bathing suits.
However, since they extend past the knee, they offer excellent protection against hot air.
Shorts must be paired with some kind of underwear, though, which means you'll be wearing a pair underneath your suit.
If you decide to go without underwear, you'll need to find a way to secure your shorts to prevent them from slipping down.
One Piece
One-piece swimsuits provide the ultimate level of coverage.
They usually consist of one extensive material that covers the body.
Some include a skirtlike portion that hangs below the waistline.
These style swimsuits are particularly common among older adults.
Sweatpants
Sweatpants are great for staying clean and comfortable during a sauna session.
They resemble regular pants, with pockets in the correct locations (legs) for holding items such as towels and soap.
They leave the legs covered, meaning they're free to move about quickly.
Sweatpants are excellent choices for people who prefer to keep their body covered, and they take little time to put on.
Towels
Towels are essential when enjoying a sauna. They help keep you warm, but they also serve as a helpful tool.
Towels can be used to wipe away sweat after you've finished your workout.
They can also be used to soak in the tub once your temperature reaches the desired point.
For these reasons, it's essential to choose the right type of towel for your needs. There are many types available, including beach towels, bath towels, and hand towels.
Beach towels will work well for keeping you cool while sitting in a sun lounge or reading a book by the pool, whereas bath towels are better suited for soaking in the tub.
Hand towels are most commonly found in bathrooms. Some people use them to dry off after showering.
They're also helpful when getting ready before going to bed, as they can be used to dry your hair and remove makeup.

Conclusion On What To Wear Inside of A Sauna
To conclude, here are some clothing/dress tips to enjoy your next sauna visit:
Choose the Right Type of Material
Find The Perfect Location
Prepare Yourself Properly
Dress Appropriately
Enjoy Your Time With Friends
Remember Safety First
If you have any questions about adequately preparing for a sauna experience, please reach out to us through our website. Also, if you have access to a personal sauna or own an infrared one at home, make sure you know how to keep it clean and properly maintained!
We would love to hear from you! Also, enjoy this fun and simple video about sauna tips and what to wear inside of the sauna the next time you go.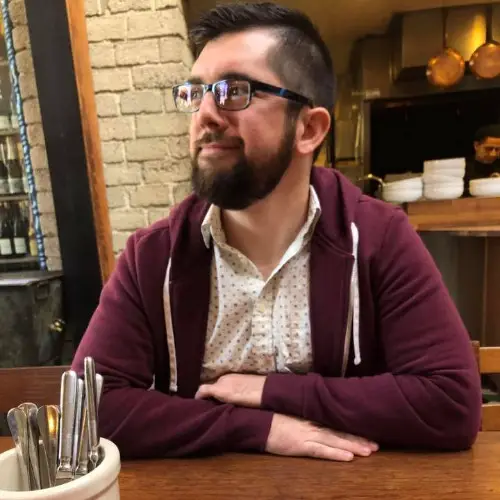 Hello, I am a writer and marketing specialist in Kansas City, MO. My love for swimming pools started as a child when I would visit my aunt & uncle's inground swimming pool on a frequent basis over the summer. Since then I have taught swimming lessons at a Boy Scout Camp, participated in the full setup, installation and maintenance of my father's inground swimming pool, as well as enjoyed constantly researching everything there is to know about swimming pools for 5+ years. I enjoy all water related sports, being part of the online swimming pool community and always learning new things!