There's nothing better than having a crystal clear pool in the back yard to cool off on a hot summer's day.
However, if your pool is looking unsightly and like it needs some TLC you might be wondering: Why is my pool green? Some people even believe the urban myth that pee can turn your pool green or blue. One thing is for certain though, green pool water is unsightly and uninviting.
In this article, we cover some key information about pool maintenance, including the most common reason why your pool is green and how to restore it.
Keep reading to find out why your pool is green, how to treat it and more!
Why Your Pool Water Is Turning Green
A pool is often a life saver during the long summer months. However, if your pool has turned a swampy green, you probably don't fancy jumping in the murky water that was once crystal blue.
The green discoloration is likely a reaction to algae growing in your pool and is known as algae bloom. 
Algae can grow rapidly, particularly when it's warm during the summer season, which is why it can appear overnight.
Once algae is present in your pool, it can take several days or even weeks to get rid of it. Algae often grows and spreads due to an imbalance of chlorine in the water.
On a particularly hot day, a mild case can become an algae infection overnight. This, in turn, renders your pool water a murky green color that is far from the crystal clear blue it usually is.
Allowing the chlorine levels to drop for even a day or two can lead to a green pool in a short period of time, so checking the chlorine level frequently is essential.  
How Do You Clear A Green Swimming Pool?
As your pool is most likely green due to a lack of chlorine, you should first try to boost the chlorine levels in your pool as soon as you have a chance.
The longer you leave it, the more likely that you'll need professional help to clear your green pool. 
In addition, you should think about adding an algaecide supplement to this chlorine shock if the algae growth is severe.
You can tell the severity of the problem by simply observing how dark the water has become. One pool shock treatment should be sufficient to clear it if your pool is only a light green. 
However, it's worth noting that a shock treatment may not always be enough to restore your green pool back to blue if it's become a darker color. This might be the case if the water is a dark, black-looking shade of green.
Check out our full guide on how to fix cloudy green pool water here!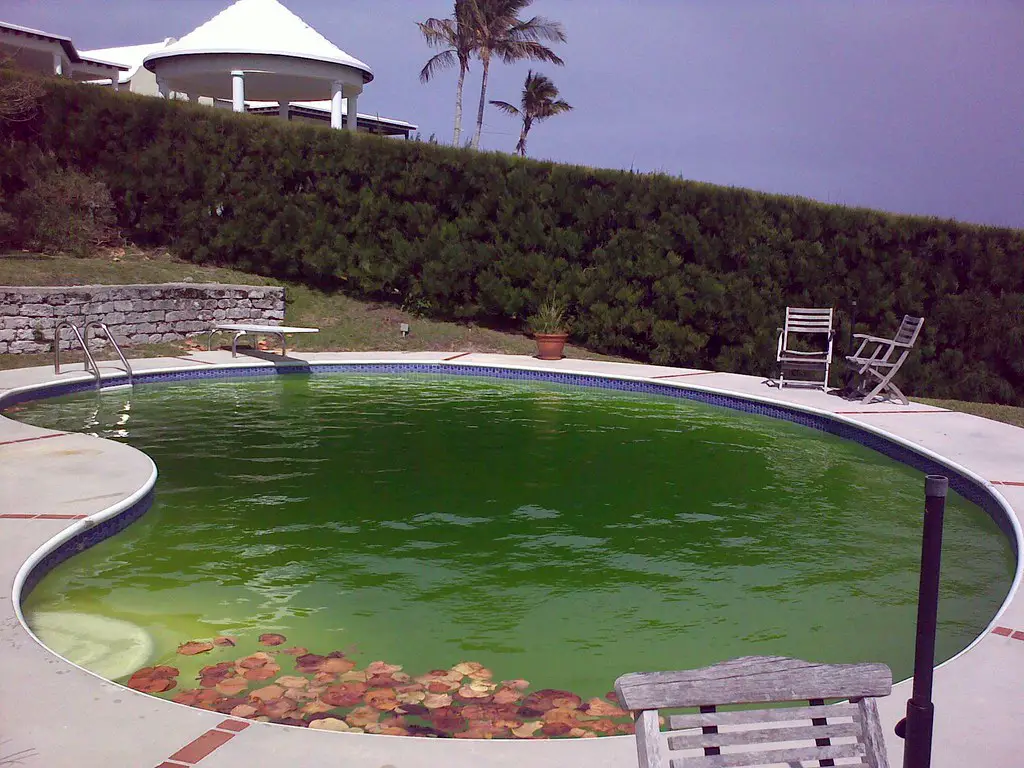 In this circumstance, the pool has been left untreated for too long and will therefore require professional pool treatment. At this point, you will need to get professional help to tackle the issue.
In severe cases, the pool will need to be drained and thoroughly cleaned by a qualified pool service engineer to get rid of the problem.
Once the algae have been dispersed, you might notice that your pool water still looks cloudy. However, this shouldn't alarm you.
Once you've run the pump and filter for a full 24 hours, you should notice the water slowly returning to normal.
When the color of your pool has been restored back to its gorgeous blue, you'll be eager to jump back in and make the most of the summer season.
How Do You Keep Your Pool Blue?
Once you've restored your pool to its crystal clear waters, you're probably wondering how you can keep it that way.
Proper maintenance is everything when you have a swimming pool, and making sure that you're not dealing with another gross looking green pool water situation in the future requires taking preventative measures.
Below are some tips on how to prevent your pool from turning green again:
Chlorine shocks and algaecide –  You need to shock your pool with a high dose of chlorine to kill any dormant bacteria or algae on a weekly basis.
In addition, if your pool is continuously affected by algae, you may also want to consider a weekly algaecide treatment that specifically targets algae.
Maintain proper chlorine levels – The easiest way to prevent algae from growing in your pool again is to make sure that you maintain proper chlorine levels.
Install a filtration system – Installing a quality pool filtration system in your swimming pool is another great method to keep your pool blue.
Algae tend to form in stagnant water, so a filtration system keeps the water flowing and thus can help prevent algae from growing in your pool.
Skim pool surface regularly – Cleaning your pool is a given, but you will also need to regularly check your filter to make sure it is not full of dirt and debris that may cause improper flow.
To achieve this, ensure that you are regularly skimming the surface of the pool using a reliable pool skimmer to prevent debris from going into the filter.
How Long Does It Take For A Green Water Pool To Clear Up After Treatment?
The answer to this question will depend on how green the color of your pool is. However, if your pool is still green after a day after you treated it, it might be a chemical issue.
For instance, high phosphate levels can cause algae problems in your pool. Phosphorus, or phosphate, can enter the pool by leaching out of leaves or organic debris in the pool.
This is why it's important to consistently skim the water for debris and dirt.
Will My Swimming Pool Turn Green If I Don't Add Chlorine?
Simply put, Yes!
Swimming pool water must have a sanitizer that will kill bacteria and algae. Algaecide alone without chlorine will not prevent the pool from turning green.
In order to stay on top of maintaining your pool and ensuring that it remains as blue as possible, you need to be shocking your pool water with chlorine every week or so.
Our Conclusion On Why Your Pool Water Is Green
The green discolouration of your swimming pool water is likely a reaction to algae growing in your pool and is known as "algae bloom".
Related Read: Why Is Swimming Pool Water Blue?
To ensure that your pool water remains blue after you've treated it, and to make sure you never have to ask why your pool is green again, carry out consistent chlorine shocks and stay on top of maintaining your pool!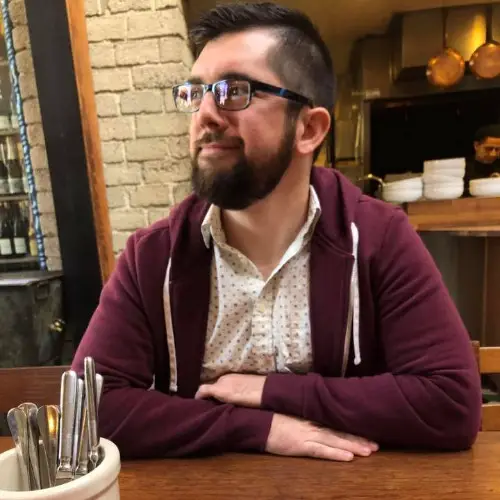 Hello, I am a writer and marketing specialist in Kansas City, MO. My love for swimming pools started as a child when I would visit my aunt & uncle's inground swimming pool on a frequent basis over the summer. Since then I have taught swimming lessons at a Boy Scout Camp, participated in the full setup, installation and maintenance of my father's inground swimming pool, as well as enjoyed constantly researching everything there is to know about swimming pools for 5+ years. I enjoy all water related sports, being part of the online swimming pool community and always learning new things!