Above ground swimming pools exist in various shapes, sizes, and prices. The variety of features and options available renders the selection process for the best above ground pool a rather daunting task.
In addition, there are many things that you have to consider before making a decision about the pool you require. For instance, your neighbor or friend's best above ground pool may not be your choice, depending on your budget and space. So, read below and we will help you find the best above ground pool for your needs.
TLDR Version?
We've got you covered! Our #1 overall pick for the best above ground swimming pool is the Splash Pools Round Deluxe Pool Package.
See some of our favorite features and details of our #1 pick below.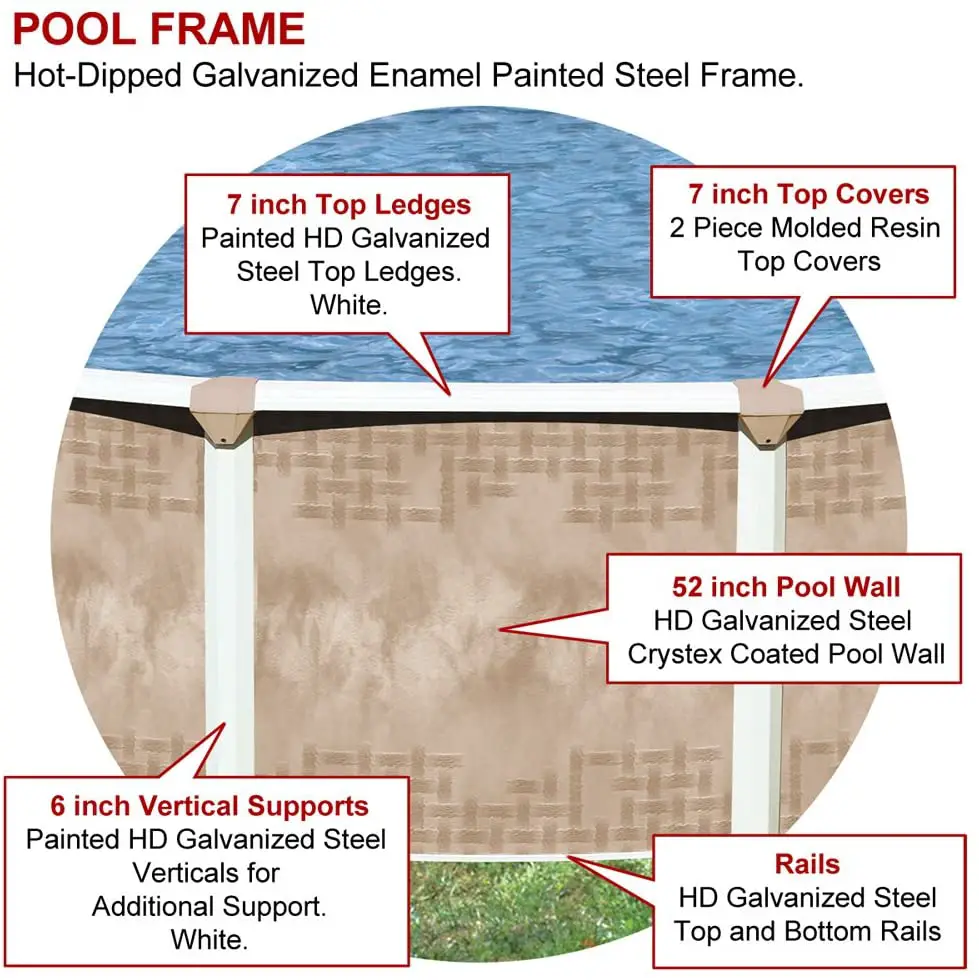 Now, let's get into our comprehensive above ground swimming pool reviews!
7. Intex 12ft X 30in Metal Frame Pool Set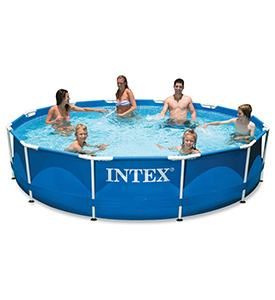 The Intex metal frame pool is among the best pools in the market. This is mainly due to its laminated PVC interior walls. The pump ensures the water that enters the pool is clean and has a ground fault circuit that cuts of the current when exposed to water.
The drainage plug is conveniently placed and can be easily connected to the garden hose pipe. Even though it is not among the biggest pools in the market, it is one of the easiest to set up. In addition, the pool comes with all the required equipment, eliminating the hassle of buying extra parts.
Pros
Affordable
Larger enough to accommodate up to eight adults
Convenient outlet fitting
Cons
Small pump
Not very sturdy
6. Intex 14ft X 42in Ultra Frame Pool Set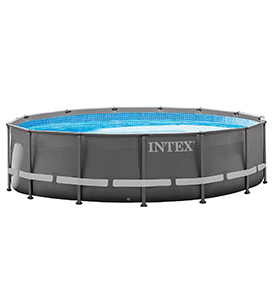 This is another amazing product from Intex. The pool is bigger than the previous model to accommodate up to ten adults. It does not require tons of water to fill and is ideal for an average family.
Unlike other above ground pools in the market, it is toughly built with rust resistance and an elegant design. In addition, it has an easy setup routine that you can use without assistance. You only need sufficient space on the sides to attach other necessary equipment such as the ladder.
Pros
Ideal size for both medium and large families
Comes with the necessary equipment
Powerful pump to fill the pool in less than one hour
Cons
Short warranty
Unstable ladder
5. Heritage TA 301552GP-DXP Taos Complete Above Ground Pool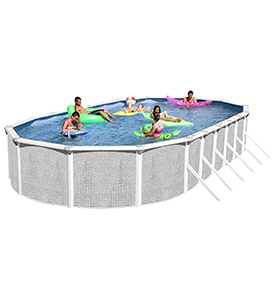 If you have enough space in your backyard and a big family, then you might consider the heritage TA above the ground pool. It is oval in shape, with sturdy material and a good structure. The design is also nice with a vinyl interior liner for added comfort and durability.
The pool is equipped with all the required parts and an easy-to-set-up manual. Due to its size, it might be difficult to set up alone and you might have to consider extra help. One advantage of this pool is that you don't need to remove it during winter. The sturdy frame enables you to winterize it like conventional pools.
Pros
Large enough to accommodate more people than most above ground pools
Sturdy frame
Vinyl interiors for comfort and durability
Cons
Difficult to set up
Unstable ladder
4. Intex 18ft X 52in Ultra Frame Pool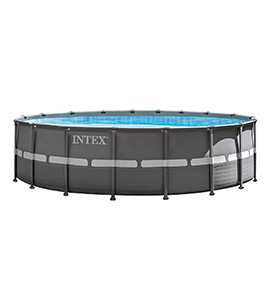 Next on our best above ground pool list, we have this product from Intex. This pool is sturdy and supported by strong steel frames, resistant to frosting and cracking. In addition, it features laminated PVC sidewalls. Due to its large size, setting up the pool takes more time, although it is an easy process.
Unlike other models, the pool comes with a dual suction outlet fitting for cleaner water and also for water circulation. It is among the biggest above ground pools and can contain up to twenty-six thousand liters of water. This is the reason why it comes with a powerful pump enough to fill the pool within a short time and also improves the clarity of the water. The pool comes equipped with a cover, ladder, and an instructional DVD.
Pros
Easier to clean pump
Sturdy structure
Elegant and luxurious design
Large enough to accommodate more than ten adults
Cons
Set up takes more time
Fragile ladder
The cover is fragile and can easily break
3. Fitmax iPool D Set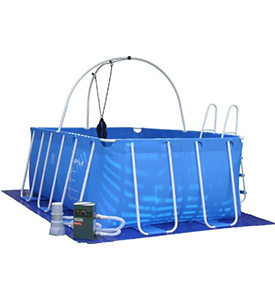 Unlike most conventional above ground pools the iPool pool has a unique design. It is quite convenient for your workouts and allows you to cool during the winter season. It is smaller in size too, due to the Velcro harness attached at the top to aid in exercises.
The smaller size does not mean the pool is not well built. In fact, it has a steel frame and the interior features a vinyl polyester coating. The steel frame, together with the interior coating, makes the pool sturdy and long-lasting. For easier workouts, the pool is fitted with a dual tether system with a knob to adjust the resistance.
Pros
Ideal for cardio exercises
Powerful pump
Sturdy frame
Cons
Higher above the normal price range
Takes a long time to heat up all the water
2. Intex 24ft X 12ft X 52in Ultra Frame Rectangular Pool Set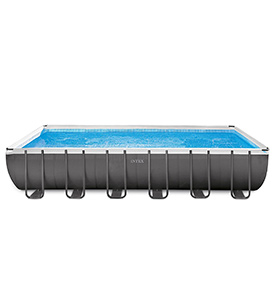 This pool is large enough for people who like to party and hold fun games in the pool. The pool is not only strong with an elegant design; it is very large with a capacity of up to thirty thousands of water.
It comes with all the necessary accessories such as a powerful pump, a saltwater system, ladder, debris cover, cleaning accessories and a complete volleyball set. The frame is coated for rust resistance and to enhance beauty.
Pros
Great price
Easy to set up
Easy to find parts
Cons
Some customers received defective products
Bad customer service
1. Splash Pools Round Deluxe Pool Package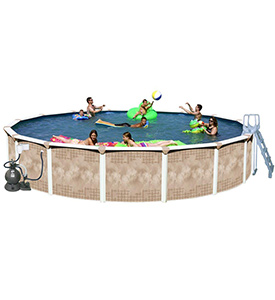 Finally, our number one product in our search for the best above ground pool is this Splash Pools product that is available in a variety of sizes, ideal for any family size. It is an all-inclusive package for easier setup. However, the larger sizes might require extra help. All the variants are coated with a vinyl liner and have a strong steel frame for maximum support. Compatible with vacuums and skimmers, Sturdy galvanized steel frames
Pros
Well made and sturdy
Quality material
Cons
Hard work to install
The pump and filter are not convenient
Our Conclusion on Above Ground Swimming Pools
Due to innovations and advanced technology, vendors are producing new and better products every year. The best above ground pool that you enjoyed in your childhood might not be in use by now. So, finding the best pool among the ones we presented above is the best thing to do. You can also look at our best above the ground pool ladders recommendations. Have you tried any of these pools?