A solar pool cover saves energy and water. It heats your pool water naturally and effectively.
Traditional swimming pool heaters will run up a high utility bill. The best solar swimming pool covers save you from all that hassle of having to frequently clean and filter your pool.
All these benefits are great, but you might ask "How fast does a solar cover heat a pool?"
In this article, we'll answer this question along with a few others.
Let's dive in!
So Exactly How Fast Does a Solar Pool Cover Actually Heat A Swimming Pool?
How fast a solar swimming pool cover hears a pool mainly depends on how many hours of direct sunlight your pool is getting each day.
A solar cover can increase the temperature of the pool by 5 degrees every 12 hours.
Remember that your pool should be covered as much as possible. Plus, it should be getting no less than 6 hours of sunlight daily.
Why Do I Need a Solar Pool Cover?
Traditional pool covers keep out dust and debris from your pool. They also cut down on maintenance and energy costs.
A solar pool cover serves all these purposes with a few added benefits. These solar-powered covers heat up your pool by preventing water from evaporating.
If it's not covered, it can lose up to two inches of water a week. While it may not seem like much water, it can add up to at least 10,000 gallons of water each year.
They also trap in the sun's heat during the hot summer months and retain it inside the pool.
Anytime no one's using the pool, you can leave it covered. It'll absorb the sun's heat during the day and retain it during the night. It's also a great way to prevent any debris or bacteria build-up.
Besides heating your pool, solar pool covers have many benefits. Here are a few reasons why you might want to invest in a solar cover. 
Reduces water evaporation
Saves energy
Reduces debris and algae spores from creeping into your pool
Gives you an extended swim season because it keeps the water warm for longer
The 3 Kinds of Solar Pool Covers
There are several types of solar covers available. Let's check them out. 
Liquid Solar Covers
If the previous two choices don't appeal to you, you might find liquid solar covers useful. Liquid solar covers don't come in a bulky, hard-to-manage package. Instead, they come in a bottle or pill form.
Measure your pool and check the manufacturer's instructions on how much to use. Then, simply add the pill to the pool water and watch the magic happen. It disperses slowly and evenly in still water to create a layer on the pool surface. This layer retains the sun's heat and passes it onto the water.
It can heat water up to 6º F. Plus, it prevents evaporation and reduces debris.
The only catch is you have to repeat this process monthly. Liquid solar covers last for 30 days.
Solar Rings
Solar rings consist of two layers and both are UV resistant vinyl. The top layer directs the sun's rays downwards and the bottom layer traps it, heating up the pool. 
One great benefit of solar rings is that you can buy several to cover your pool. It's an advantage over solar blankets that have to be trimmed. Plus, if your pool is square-shaped rather than round, you can opt for the solar squares.
Another excellent feature is that you can attach them with magnets. This serves several purposes:
Makes them easier to install
Cover a wider area
Keeps them stationary in the water
Solar Blankets
Solar blankets are also referred to as bubble solar covers because they look like a large sheet of bubble wrap. These bubbles are what capture the sun's UV rays and toast up your pool. They also keep in moisture, which means a reduction in evaporation levels.
Pro-tip: buy one slightly bigger than your pool. Once you're home, unfold it, place it over the pool. Then you can trim it to get a perfect fit.
Solar blankets and rings are usually made of plastic, which deteriorates over time. Plastic is also susceptible to chemicals, as well as rain and wind.
It's recommended that you replace your solar cover every two or three years, depending on the type of climate you live in. Curious on other ways to heat your pool? Check out our post on how swimming pools are heated.
Solar Pool Cover Features and Specifications
Here are some features to consider when buying a solar cover.
UV Resistance
Having a solar cover with high UV resistance means more protection. The material will be better at resisting damage due to continual sun exposure. It'll also last longer.
Size
Look for something larger than the area of your pool. It's better if the cover is overlapping the edges a bit to maximize its effectiveness.
Thickness
The thicker the material, the more you'll get out of your solar cover. The average thickness for a pool cover is 12 ml.
If you want something that'll last longer, go for the 14 ml thick cover. Just remember that the thicker the cover, the heavier it'll be. You may even need a retractor to hold it up and roll it in.
Get the Most out of Your Solar Cover
Follow these tips to make your solar cover last longer.
Buy the thickest material you can afford.
Keep the chemicals in your pool between 1.0 and 3.0 ppm.
Maintain a 7.4 pH balance for your pool water.
Reel up or store your cover when it's not being used.
After adding chemicals, wait at least 30 minutes before replacing the cover.
Clean it regularly with a broom and water hose and hang it to dry.
Our Conclusion On How Fast A Solar Cover Heat a Pool
If the pool is properly covered during the day, the solar cover can heat it up by 5+ degrees during a 12-hour period.
Solar pool covers work great year-round. They retain heat and minimize evaporation in your swimming pool, see exactly how solar pool covers work here.
By properly cleaning and storing your solar swimming pool cover, they can last for a couple of years, and save you time and money in the process!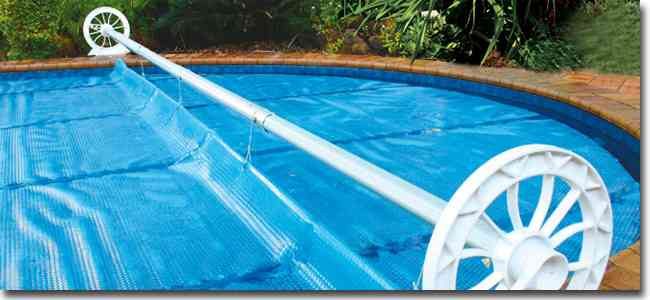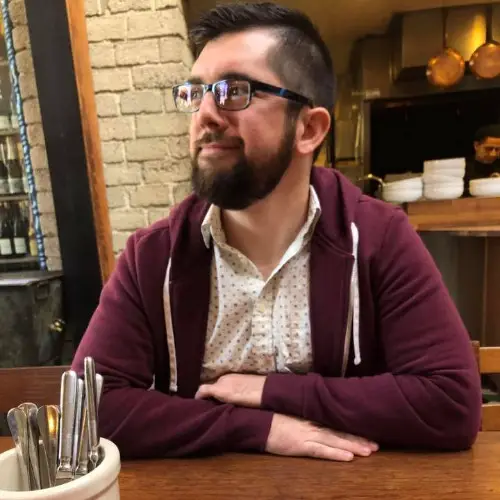 Hello, I am a writer and marketing specialist in Kansas City, MO. My love for swimming pools started as a child when I would visit my aunt & uncle's inground swimming pool on a frequent basis over the summer. Since then I have taught swimming lessons at a Boy Scout Camp, participated in the full setup, installation and maintenance of my father's inground swimming pool, as well as enjoyed constantly researching everything there is to know about swimming pools for 5+ years. I enjoy all water related sports, being part of the online swimming pool community and always learning new things!