We're not the only ones who like swimming pools. A lot of critters, birds, and insects might go nuts when they learn you have a functioning pool, especially in the fall and winter months.
The answer… Investing In A Top-Rated, Quality Winter Pool Cover! 
Clearly, nobody wants to keep cleaning their above ground pool every single day. Unfortunately, even if you do, you'll be incredibly inconvenienced during winter. Lucky for us, the solution is simple. With a durable winter pool cover, you can enjoy your pool every day with the least amount of cleaning. 
In this article, I'll list 4 of the best winter covers for above ground pools. But before that, let's explore the benefits of a pool cover so that you decide if you really need one. 
The Benefits of Winter Pool Covers
As you'll see later on, pool covers come in a wide variety of designs. Therefore, some of the following benefits might be exclusive to certain products. Nevertheless, it's still a good idea to explore the general concept to see what you might be missing. 
Natural & Free Heating
We love swimming in our pools around the whole year. But it's literally impossible to relax in the freezing temperatures of winter. That's why most people opt for gas and electric pool heaters. Still, nobody likes to pay those fat service bills! 
Using natural energy can be the easiest way around this. Normally, sun rays heat up the water mildly during the day. But once the sun sets, heat gets dispersed rapidly into the cold atmosphere. 
When you get a transparent or light-colored pool cover, it'll prevent the air from carrying up the heat energy. As a result, you can enjoy a soothing swim in the dusk. 
However, if you get a dark-colored pool cover, you'll lose a considerable part of this benefit. A black cover, for instance, will absorb most of the rays instead of letting them pass onto the water. 
Convenient Pool Barrier
Shedding shrubs and trees look fascinating in fall, but they're definitely the most annoying thing a pool owner might face. You'll have to spend every single afternoon fishing for an unlimited amount of leaves when you should use this time to relax after a long workday. 
But you know what? Fallen leaves are a lot easier to deal with when compared to other debris. You might be dealing with dead insects, dirt, and maybe even the leftovers of raccoons and cats that sneak into your backyard. 
Obviously, a pool cover is the easiest solution for this problem. It'll keep the water clean until your next swim. 
Generally Improves Pool Safety
Generally speaking, above-ground pools are much safer than their in-ground counterparts. But while kids might be smart enough to stay away, some pets might not. If you sent a kitten or a puppy to play unattended in the backyard, their curiosity might bring unfortunate incidents. 
If you installed the right pool cover, it'll ensure the safety of your family and pets. Obviously, plastic covers and tarps won't be suitable for this job. On the other hand, some fiberglass covers are sturdy enough to carry up to 400 lbs.
Reviews of The Absolute Best Winter Covers for Above Ground Pools
Now that we've established the perks, we can start reviewing each cover to see which would fit you the best. 
Sun2Solar Clear Rectangle Solar Cover – Best for Everyday Year-Round Use
Are you planning to keep using the pool during winter? If so, then you'll love this pool cover from Sun2Solar, which also happens to be one of our best solar pool covers that we reviewed.
Unlike most of the other covers, this one is either clear or colored in semi-transparent blue. This way, it can let the sun rays pass onto the water to heat it efficiently. And I must say, the blue version looks super stunning. It highly resembles water from a distance.
Over the bottom face, Sun2Solar placed dozens of air bubbles. When placed over water, these bubbles will stay afloat without the need for the annoying cable and winch. Furthermore, these bubbles concentrate the sun's heat in a way similar to a magnifying lens.
Lucky for us, Sun2Solar was incredibly generous with the sizing of their pool cover. You can receive one as small as 16 by 30 ft or as big as 30 by 50 ft.
Unfortunately, if you have a circular pool, you'll have to trim the cover yourself since there are no pre-made circular covers. It's not hard, but you have to be extremely cautious. Otherwise, you might end up ruining the whole cover. 
Pros
Can stay afloat without a tightening cable
Traps and concentrate heat properly
Multiple sizing options 
Cons
They don't produce circular covers
If you trimmed it wrong, it'll be permanently ruined
Pool Mate 5724-4 Sandstone Winter Pool Cover – Best for Circular Pools 
Pool Mate is well-known for making pool supplies with acceptable quality at reasonable prices. This pool cover comes a single circular sheet that perfectly matches circular above-ground pools. 
Unlike most of the other covers, this one doesn't feature a color variety. It comes only in light solid brown. While brown might not look as good as blue, it blends better with fallen leaves. That's why it'd be an obvious choice if you have thick, tall trees in your backyard.
Over the sides, this pool cover extends for an additional 4-foot overlap. This ensures that nothing can creep into the pool during the winter, no matter how small. Surely, Pool Mate sends the cable and winch required to properly close the pool.
To fit the biggest number of users, Pool Mate supplies this pool cover in a wide range of dimensions. The available sizes are: 12, 15, 18, 21, 24, 28, 30, and 33 feet.
Pool Mate claims that this cover is able to last for 12 years before wearing out. They even show off a bit by offering a 12-year warranty. But at this price range, you can tell that this is practically impossible. 
In fact, many customers said it started to seep water onto the surface after 2 or 3 years. And even then, Pool Mate wasn't willing to send a replacement. 
Pros 
Reasonably-priced
Comes with a cable and winch
The seams are heat-treated for better sealing
Cons
There's no color variety
It starts ripping after 2 or 3 years of use
Blue Wave Silver Oval Above-Ground Pool Cover – Best for Oval Pools
Unfortunately, most above-ground pool covers come with a circular design It's arguably hard to find covers that match other pool shapes. If you have an oval pool, you can stop searching because this is one of the best covers you can find. 
Best of all, Blue Wave releases a bunch of different sizes to serve most, if not all, of the pool owners. The available dimensions are 12 by 20 ft, 12 by 24 ft, 15 by 30 ft, 16 by 25 ft, 16 by 32 ft, 18 by 34 ft, and 21 by 41 ft.
In all of these sizes, the pool cover extends for an extra 4 inches to achieve the tightest seal possible. 
However, in terms of color, you don't get to have the same freedom. The only available color is dark olive green. Although it fits well in a green backyard, it might be perceived as algae from a distance. Then again, this is left for your personal judgment.
Over the bottom, this cover has sturdy metal grommets in which the tightening cable goes. Expectedly, this resists tearing better than rubber-lined inlets. What's more, the tightening cable is covered with vinyl, which gives larger elastic capacity with a lower risk of tearing.
Pros
Sturdy construction
Metal-lined grommets
Comes in a wide range of sizes
Cons
Olive green looks like accumulated algae
Swimline 24 Ft Round Above Ground Winter Pool Cover – Best Value Under $75
If you're tight on budget, you can save some bucks with this pool cover from Swimline. 
Not only does it cost notably less than most pool covers, but it also comes with a free air pillow. If you're unfamiliar, placing an air pillow under the pool cover is super important if you live in an area with a freezing climate.  Simply put, this pillow gives space for ice to expand without damaging the pool walls. 
The pool cover itself is supplied as a 24-foot sheet only, which is quite unfortunate. Swimline makes a bunch of other sizes, but they don't have the extra pillow. 
Over the top, this cover is treated with a material that resists UV rays. This way, you can winterize your pool in the midst of fall without worrying about heat damage. 
Pros 
Affordable 
Sturdy construction 
Comes with a free air pillow
Cons
There's no color variety
No sizing variety
What to Consider Before Buying a Swimming Pool Cover For Winter
Contrary to the common belief, pool covers aren't just a piece of plastic that you place over your pool. There are some important points you need to bear in mind before making a purchase. 
Over-Winter Storage vs. Day-To-Day Use
The first thing you need to consider is the intent. How do you plan on using the pool cover? Will you completely close the pool until the next spring? Or will you keep using it from time to time? Let's see how every application can be different from the other. 
Dark Covers for Winterizing
Let's face it, no pool is 100% clean. And I'm not talking about large debris that can be picked up by a net. I'm talking about the sneakier microscopic pollutants. On top of the list, comes this awful green monster, algae. 
Believe it or not, your pool might be swarming in algae cells even if the water isn't green. When you close your pool over the winter, you give the perfect chance to thrive. Expectedly, cleaning the pool in the summer will be much more difficult this way. 
Just like green plants, most algae depend on sunlight for growth. Therefore, using a dark pool cover will drastically improve the situation. But since some algae can survive with low light, you'll still have to do some cleaning when you reopen the pool. 
Clear Covers for Everyday Use
Like I said earlier, clear covers are incredibly useful if you want to cut down on the pool heating bills. They allow the highest amount of sun rays to pass while blocking the air from carrying the developed heat by convection. 
But please, do yourself a favor and never use a clear cover for more than 2 consecutive days. Otherwise, you'll be giving algae the perfect amounts of heat and light they need to thrive. 
Bubbles or No Bubbles
Recently, a lot of brands have been making pool covers with small air bubbles, just like the shipping bubble wrap that we love to pop.
Ideally, all manufacturers recommend placing the pool cover with the bubbles facing downward. This way, the air inside the bubbles will aid in keeping the cover afloat. 
Additionally, the air bubbles act like small magnifying lenses. When the sun rays pass through them, they gain a bit of energy, which heats the pool more efficiently.
That said, getting a bubble cover will be perfect if you intend to use the pool during winter. Avoid bubbles for seasonal closure to prevent algae growth. 
Frequently Asked Questions About Winter Swimming Pool Covers
Can I Drain My Pool in Winter and Fill It in Spring?
That's a big no! When you leave a pool unfilled for months, you're increasing the likelihood of damaging the walls and floor. Extreme weather conditions will cause vinyl or plaster to peel off or pop out completely. 
How Do You Cover An Above Ground Pool With A Winter Deck?
The process is fairly simple. For small pools, you can fix the cover directly and tighten it with the cable and wrench. 
Bigger pools are a little bit tricker. You have to form a web with the elastic cable before placing the cover, or else it'll sink inside. Aside from this, the process is rather easy. 
Our Team's Conclusion on The Best Winter Covers For Above Ground Pools
After our thorough research, I can say that Sun2Solar Clear is the best winter pool cover for above-ground pools. Its clear construction allows for efficient, free heating even on the coldest days. The bubbles are great if you don't want to hassle with ropes and winches. 
If you're planning to fully winterize your pool, you can also opt for Swimline Above Ground Winter Pool Cover. With the attached air pillow, you can rest assured about your pool's walls. 
Last but not least, the Blue Wave Silver Above-Ground Pool Cover should be the best option for oval pool owners. 
Enjoy your new winter cover for your above ground pool! Remember, never leave your swimming pool empty for the whole season to avoid cracking and peeling.
P.S. Check out this full guide on how to winterize your above ground pool, or watch the quick 2-3 minute video below.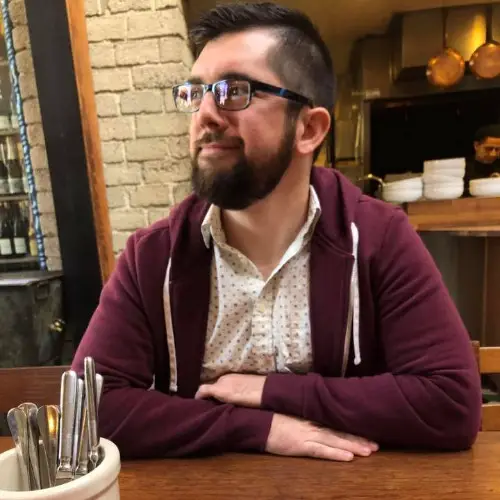 Hello, I am a writer and marketing specialist in Kansas City, MO. My love for swimming pools started as a child when I would visit my aunt & uncle's inground swimming pool on a frequent basis over the summer. Since then I have taught swimming lessons at a Boy Scout Camp, participated in the full setup, installation and maintenance of my father's inground swimming pool, as well as enjoyed constantly researching everything there is to know about swimming pools for 5+ years. I enjoy all water related sports, being part of the online swimming pool community and always learning new things!