Before we dive into the best solar cover reels for inground pools on the market today, lets acknowledge that simply owning an inground swimming pool comes with plenty of benefits, from relaxation to regular exercise, but it can also require a lot of work.
Keeping your swimming pool clean and suitable for swimming takes time, but it can take a lot less if you have the right equipment. 
All it takes is one windy day for your pool to become filled with all manner of detritus. Without a pool cover, your only option would be to remove every stray leaf and piece of flotsam with a hook or net.
Solar swimming pool covers solve this issue and provide other benefits such as saving you money on pool heaters. Of course, to enjoy the benefits of a solar pool cover, you need to be able to remove it. You can do this manually but that leaves you trying to fold a large, soaking wet plastic sheet with your bare hands.
If you want to expedite this process, it is worth buying a proper pool cover reel. The following solar cover reels are great choices if you want to easily roll up your pool cover and get ready to swim in a matter of minutes.
Now, lets dive into our inground solar pool cover reel reviews!
If you have a smaller pool, then it may be unnecessary for you to buy a massive, bulky reel.
Hydrotool has designed this reel to be an affordable fixture for your pool to easily roll up your cover with minimal effort. 
This reel doesn't have wheels so you will have to screw it permanently into the decking at one end of the pool.
While you may be reluctant to take a drill to your decking, this comes with the benefit that your reel will never tip over and fall into the water.
The wheel is nice and large for ease of use, and the set comes with all the straps you will need to connect your cover to the reel. 
At 16.5 feet long, this reel can accommodate most small pool covers without having too much leftover space.
Since it needs to be screwed into the ground, the initial installation can be a little tricky, similar to the initial solar pool cover installation but once you're done you will have a much easier time handling your solar pool cover.
Pros:
Affordable – Great for any pool owner concerned about spending too much. 
Straps and Clips included – Just attach the clip to your cover and start rolling. 
Large wheel – easy to operate without having to bend or kneel down.
Cons:
Not suitable for larger covers – Only works with pool covers that are 16ft wide and under. 
Has to be screwed in place –  This is a permanent fixture that cannot be moved around.
Sale
This pool cover reel by Sun2Solar is available in three different sizes to accommodate covers of any width.
Even if your solar cover is trimmed to fit exotic shapes like kidney bean pools, the telescopic pole on this reel makes it easy to adjust the length as you need, so it is equal to the widest section of your cover. 
Made of durable, stainless steel, this reel can comfortably carry up to 25ft wide solar covers. You will also receive all the necessary straps for attaching your pool cover to the central pole.
There are 18 inches of clearance between the ¾" thick reel and the floor, meaning even extra long covers can be rolled up without sagging or touching the ground. 
The crank incorporates an EasyGear bearing system, that will reduce the amount of effort needed to roll up the cover.
You can move this reel to any side of your pool that you want thanks to the wheels at one end.
Pros:
Adjustable length – The reel is telescopic, allowing you to adjust it for any size of pool cover.
Made from durable stainless steel – This reel is designed to be long-lasting and rust-resistant. 
Wheels at one end – Easily move your pool cover wherever you need it without risking the whole reel rolling into the pool.
Cons:
Velcro adhesive for attaching straps – Straps are not securely attached to the reel and may detach over time.
Sun2Solar 20-Foot Stainless Steel | Solar Cover Deluxe Reel System | Works with 800 & 1200 Series | Perfect for In-Ground Swimming Pools
SWIM EASY – The use of a solar cover on a swimming pool comes with many benefits, but they can be a pain at times when having to remove them manually. Getting into the water can now be done without assistance or even breaking a sweat with the Sun2Solar Easy Gear Solar Cover Reel. Spend more time taking a lap and less on getting into the water.
HEAVY DUTY CONSTRUCTION – The Sun2Solar blanket roller is composed of five aluminum reel tubes measuring 3 ¼" in diameter, two large treaded tires and a durable stainless-steel frame. The bundled kit also comes with the necessary solar cover attachment equipment. All hardware for installation is included. Will work with 8 and 12 mil solar covers.
CRANK IT UP – Reduce the effort needed to roll up your solar blanket as the Easy Gear system allows for smooth operation. The easy-to-use crank handle makes rolling up or out your attached solar cover a one-person operation. Treaded tires also allow for easy maneuvering away from the water into an area not in the way of the fun about to be had.
MANEUVERABLE – This cover reels design along with two wheels makes it very easy for one person to move the reel and cover to and from the pool when in storage. If you just prefer it being at the other end of the pool, no problem. Just pick up by the handle (opposite side of the wheels) wheelbarrow style.
ANY POOL SHAPE – The reel will fit all shaped pools up to 20' wide such as kidney, roman, free form, Grecian, figure 8 and rectangular swimming pools.
Many pool cover reels have wheels at one end so they can be moved around, but this comes with the issue that your reel may tip over and fall into the pool.
Rocky's 3A In-ground pool reel has two sets of wheels making it even easier to roll along your deck, as well as special bolts for locking it in place when you need the extra stability. 
To make use of the locking bolts on this reel, you will need to drill holes for them to slide into at one end of your deck.
If you don't mind a little bit of DIY, then this die-cast aluminum reel is made to survive any weather without rusting. 
The 20ft long center tube has 12 sides to improve grip and prevent your cover from sagging. There are also locking wheels to stop the cover from unraveling if you let go of the crank.
Straps are provided, but installing them will require you to drill holes in the aluminum tube so they can be screwed in place.
Pros:
Two sets of wheels – Makes moving this reel and the attached cover very easy. 
Twelve-sided rolling tube – Improves grip on the cover to prevent sagging. 
Die-cast Aluminum reel – This lightweight reel is highly durable and made to withstand all weather conditions. 
Locking wheels – Ensure the reel only turns in the direction you want it to.
Cons:
You need to drill holes in your deck – Making use of the locking pins will require drilling holes in the deck around your pool
DIY experience necessary – As well as drilling holes in the decking of your pool, you will need to drill holes for the straps into the aluminum tube itself
Taller pool reels not only provide more clearance between the central tube and the ground, but they can also be easier to use, especially for anyone who struggles with bending over due to a bad back or other similar injury.
This reel by Nova has a crank attached to a large steering wheel so the reel can be operated in whatever position you find most comfortable. 
The adjustable aluminum tube is highly durable and can be extended to fit covers that are up to 21ft long.
This kit comes with all the necessary straps and clips, which are attached to the reel by strong velcro that is wound all the way around the central pole to prevent them from coming loose.
The two wheels at one end have solid tires to make the reel easy to move, while the non-slip legs improve stability and protect your decking from damage.
Unlike some of the other designs we've looked at, this solar cover reel won't require you to drill any holes for fixing the whole arrangement in place or attaching the straps.
Pros:
Large wheel with crank – Makes rolling up your pool cover very easy either standing up, kneeling, or bending over. 
Telescopic pole – This reel can be extended or shortened to accommodate different widths and lengths of pool cover
Wheels at one end – For ease of transport while non-slip legs at the other end prevent the reel from tipping over. 
Pool thermometer included – So you can measure the temperature of your water before you jump in.
Cons:
May sag under heavier covers – There may be some sagging in the middle with heavy pools covers, especially when using all 7 of the provided poles for maximum length. 
Can be blown over – Since it is made from lightweight materials, this cover reel may be blown over by very strong winds.
Nova Microdermabrasion Swimming Pool Cover Reel Set 21 FT Aluminum Inground Solar Cover Reel w/Thermometer
【Durable & Adjustable】Made of polishing aluminum tubes, won't rust or droop even after a long time of use. The length can be adjusted, which make it work for different size of swimming pools.
【User-friendly Design】Features a hand crank on one end of the wheel for smooth operation, which helps you to roll up and down easily. Comes with a Thermometer, help you easily monitor the water temperature of the pool .
【Stable & Portable】 2 wheels for easy moving. They are made of full solid tires, durable and stable, won't fall into the pool easily. Anti-slip legs to protect floor and increase stability.
【Make Your Life Easier】Covering your pool can keep debris from falling in your pool. This pool cover reel set protects the cover from damage and make your pool clean, allows you to relax after a hard day's work.
【Easy Assembly】Fit in-ground pools 17.5' ft - 21' ft long. Straps and stakes included, easy to assemble. Long straps can attach to the cover at different points. ★★★Warm Note:The item will be shipped seperately by two boxes.
This reel is a little shorter than some of the others, only able to accommodate covers that are up to 18ft wide.
That said, the VINGLI reel set comes with plenty of advantages to make up for its lack of length. 
The straps for this reel are fed into grooves in the central pole, meaning they can be slid along the length as required and are less likely to come off than velcro straps.
The thick wheels with bulky tires provide mobility and help to stop the reel from tipping over. 
Like everything else on this reel, the steering wheel is very solid, with a helpful crank to make rolling up your pool cover an absolute breeze.
With legs made of stainless steel and a central tube composed of aluminum, this solar cover reel is highly durable and unlikely to rust even in extreme weather.
Pros:
Grooved reeling tube – Prevents straps from coming undone. 
Thick tires on wheels – Improves stability and stops the reel from tipping over while rolling
Heavy-duty Steering wheel with crank – To reduce the effort needed to roll and unroll your pool cover so you can save your energy for swimming. 
Rust-free construction – Legs made from stainless steel and pole made from aluminum to ensure no rust in any weather.
Cons:
Only suitable for pools that are 18ft wide – Not suitable for holding larger pool covers.
Sale
VINGLI Pool Cover Reel Set Pool Solar Cover Reel for Inground Swimming Pool, Aluminum Solar Swimming Inground Cover Blanket Reel (Upgrade) (18 Feet)
NOTE:18 ft and 21 ft reel ship in more than one box and may arrive separately.The package has upgrade. Easy to Assembly and Easy to Use. Embedded strap link design, making the pulling force bigger and more stable. Lockable telescopic tube can prevent shaking in the process of use. Because it is elevated it really works better than the normal ones that sit on the ground. This reel has a good balance, easy and large enough to allow the cover to easily roll up.
Durable, Maintenance-free,Rust Resistence Construction.. Excellent value when compared to other reels. 3-section Φ3.19''/Φ2.99'' aluminum pipe design , not easily droop. Grooved reel tube design to avoid strap fall off. It's thick and relatively solid, the legs are stainless, the reel is aluminum, so nothing can rust, wheels are made of large full solid tires, so this reel will durable.
Fit in All Shape Pool. Adjustment for width. This pool cover roller is suitable for 14 feet to 18 feet wide in-ground swimming pools. This swimming pool reel can fit in all shape pool, but the width must within 18ft. Use perfect in rectangular pool, and also can works bean shape pool, kidney shaped, odd shaped, Marilyn Monroe shape, or Oyster shaped pool. Just cut the cover to fit the pool. The straps are fairly long so they could attach to the cover at different points.
Make Your Life Easier. Covering your pool can provide numerous benefits: Keep a solar cover on the pool to help with evaporation during the hottest months and to keep the water warm enough for swimming during shoulder season, you NEED this reel! Also covering your pool can keeps debris from falling in your pool. Keeps the pool clean! This reel can keeps the cover safe from damage and make your life easier.
Eco-friendly Design. The swimming pool cover reel offers a unique design that allow for easy wheel barrow-style maneuverability to take your cover to or from the pool. With 1 Hand crank on one end for smooth operation helps in rolling and unrolling the cover and 2 wheels for easy portability. Has a mechanical lock to prevent rotation of roller when cover is rolled. Extra gift of a number of clips.
Our Comprehensive Inground Pool Solar Cover Reel Buyer's Guide
Ideally, you want to be able to jump in your swimming pool with minimal preparation beforehand. Solar pool cover reels accomplish this by removing all of the strenuous lifting and folding that is required to remove a pool cover by hand. Here are some helpful tips for buying a reel that will be suitable for your solar cover. 
How big is your solar pool cover? 
Pool covers are often spooled onto the reel lengthways so the narrower end is the one wrapped around the tube. Some designs include telescopic poles so the length can be adjusted as you need.
Be warned that these reels can also be weaker as they are unable to handle the weight of the cover while at full extension.
When shopping for a reel, make sure the length of the central pole is equal to, or greater than the width of your solar cover. 
Wheels VS static fixture
Most reels will come with a set of wheels at one end so you can pick up the whole arrangement and move it like a wheelbarrow.
These are great if you are not using your pool all year round and want to store your reel away when it isn't being used.
If you are worried about the reel tipping over and falling into your pool consider a static reel that you can permanently screw in place.
This option will require you to drill holes in the deck, but it will save you from having to fish your reel and pool cover back out of the water. 
Are Velcro straps enough?
The straps that guide the cover onto the tube are as important as the reel itself. Velcro and adhesive are one method used to connect the straps to the pole, while clips are placed at the other end to grasp onto the cover.
It is better to choose a design where the velcro is securely attached to the pole, or avoid velcro all together and choose a reel where the straps are firmly attached to the reel by grooves or screws.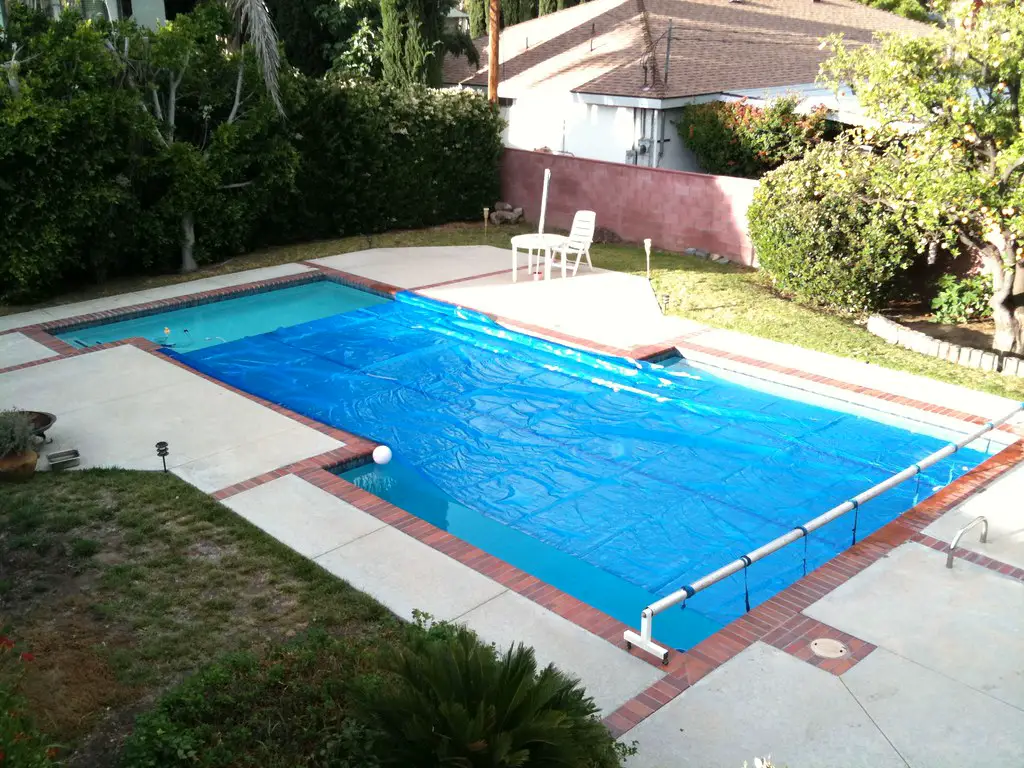 Frequently Asked Questions (FAQs)
Enjoy our teams' answers to some of the most common questions we get related to solar pool covers and cover reels for inground pools below.
What is a solar pool cover? 
Unlike regular pool covers, solar covers are designed to trap heat and prevent the water from getting colder. This is accomplished through special materials, or a bubbled texture on the cover to absorb more heat from the sun.
These covers are intended to not just keep your swimming pool free from debris, but to also ensure that the water is nice and warm every time you jump in, 
How do I get my cover back off the reel? 
One of the easiest ways to get your solar cover back off the reel is to tie a rope to the loose end.
Pulling this rope will un-roll the plastic so you can position it over the surface of the water, ensuring that all the edges are touching the walls of the pool.
If you are worried about the reel tipping over, you can ask a friend to hold it for you or place heavy objects like sandbags on the feet to weigh it down. 
Enjoy Your New Solar Cover Reel For Your Inground Swimming Pool!
We hope you enjoyed this guide on how to choose the best solar cover reel for your inground swimming pool. Having a quality pool cover reel can make opening up your pool and protecting it much more easier and less time-consuming, leading to more fun in the sun and pool enjoyment!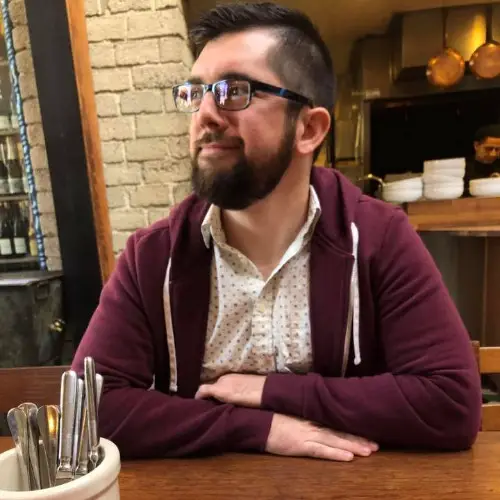 Hello, I am a writer and marketing specialist in Kansas City, MO. My love for swimming pools started as a child when I would visit my aunt & uncle's inground swimming pool on a frequent basis over the summer. Since then I have taught swimming lessons at a Boy Scout Camp, participated in the full setup, installation and maintenance of my father's inground swimming pool, as well as enjoyed constantly researching everything there is to know about swimming pools for 5+ years. I enjoy all water related sports, being part of the online swimming pool community and always learning new things!