Want to keep your swimming pool warm and free from debris?
Buy a high-quality solar pool cover and learning how to protect and install your solar pool cover using these simple steps.
How do you keep your pool protected, especially when not around? Do you know how to install a solar blanket pool cover to a solar pool cover reel for an inground swimming pool?
Solar pool covers stack up to regular covers in ways that make them the best option. Besides being cost-friendly, solar pool covers also warms the pool water. Their design traps heat beneath, especially during high solar intensity. That means you don't have to heat your pool with electric coils unless it's winter.
Another top benefit of solar pool covers is that they prevent water loss through evaporation by up to 80%. The last thing you want is refilling the pool every time you need to have a good time. It can also help you save on water bills, especially during summer. Most importantly, you don't need to worry because solar pool covers fit in any pool size.
However, your solar pool cover will only work as intended if you install it properly. How do you ensure that your solar blanket functions optimally? Do you want to learn how to install solar pool covers? Let's talk about it.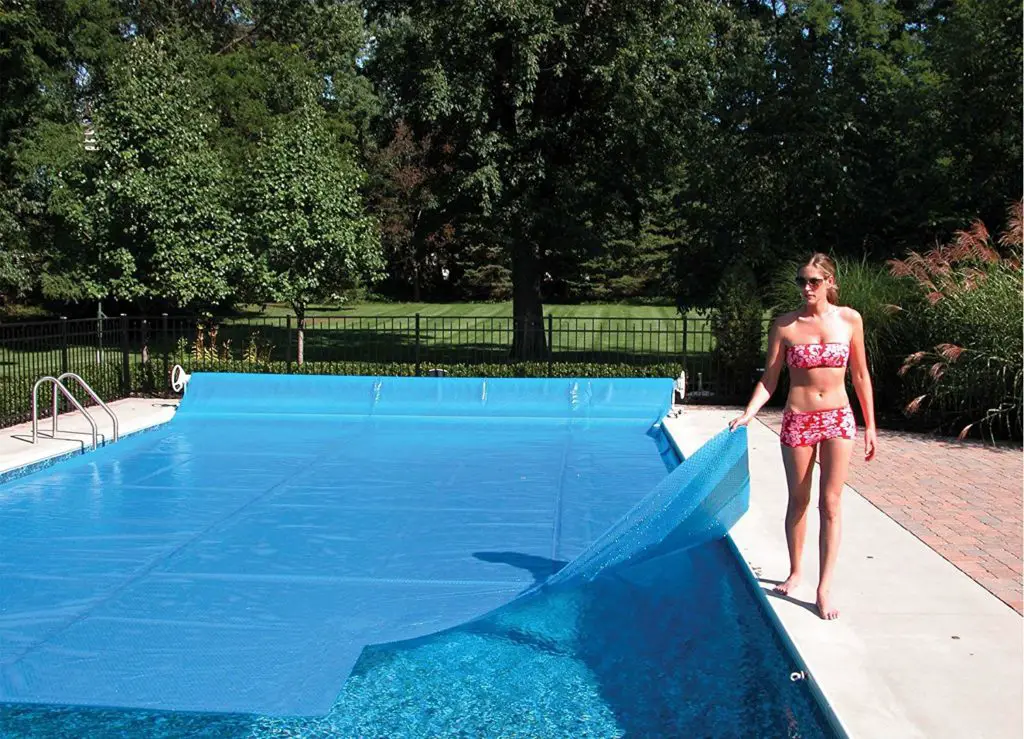 Unboxing the Solar Pool Cover
Unpacking a pool blanket is a delicate process since you don't want to punch any holes in the process. Therefore, it will help if you use a blunt object to break the seal. Remember, the installation process of a pool cover is a simple DIY process, and you don't have to hire a handyman to do it. Take your box out in the opening, next to the pool, and break the seal. A brand-new seal also means that you bought a functional blanket that hasn't covered any pool before.
Remove the pool cover from the box and lay it on the ground. Spread it on the ground, bubble side down, and smooth side up. You might want to leave it under the sun for a while because it will likely gain heat and expand uniformly. Ensure that no pets are around as they can bite the fabric and punch holes.
Installing the Swimming Pool Cover
Depending on your pool's size and shape, the installation process can be a walk in the park. Most solar swimming pool covers fit well in oval, circle, and rectangular-shaped pools. In that case, you'll simply pick up the cover and place it on the water. You have to follow the same process you did when leaving the pool blanket to expand under the sun. The bubble side goes down while the soft side remains up to enhance an efficient heating process.
The soft side easily allows sun rays to penetrate the blanket and reach the water. The other side with bubbles is vital in trapping and insulating the heat such that it doesn't escape back to the atmosphere. Most pool covers will come in transparent fabric, but some are black to enhance maximum absorption of heat energy. It is essential to note that a well-covered pool will take about 12 hours to increase the water's temperature by 5 degrees.
Installation on a Freeform Pool
A freeform pool will require more work compared to standard shapes. You might want to hire a professional since the cover needs to stretch out to all corners of the pool. It may be beneficial to get a swimming pool expert or a knowledgeable handyman to help with this installation.
It will also help if they know How to attach a solar cover to reel for above ground pool. Everyone should pull the pool blanket on their side to touch the perimeter equally on all sides. You might also want to use weights at the edges to keep the pool cover in position.
Placing weights at the edges will also reduce wrinkles on the cover, which can impair its heating function. However, it is advisable to use relatively light and soft weights to avoid puncturing the pool cover. Depending on the type of your fabric, stones can easily punch holes, especially during strong winds. Also, watch out for areas where weights may exert intense pressure on the fabric.
Cutting to Form (Freeform Pools)
After placing the pool cover on a freeform pool, it is now time to trim its edges for efficiency. It will help if you cut the fabric material as close to the pool perimeter as possible. This minimizes the gaps between the pool and the solar cover. Such gaps can be a perfect avenue for cold and debris. Moreover, when fast winds blow through the gaps, they'll likely carry your cover away. If you live around a beach, you might have to go and collect the cover from the ocean.
You can cut your cover in two main ways. For instance, you might want it to fit perfectly like a glove to prevent drifting. A firm pool cover will ensure effective heating as all heat gets trapped beneath the cover without an escaping route. In that case, cut your fabric to a tight-fitting cover.
Conversely, you might also want to protect your pool from debris. In that case, you'd want to leave some parts extending out of the pool. This cutting will be ideal for pools around landscapes and outdoor gardens. Moreover, it works well with rectangular-shaped pools. Either way, kindly use a sharp object that cuts with precision to minimize the chances of damaging the cover.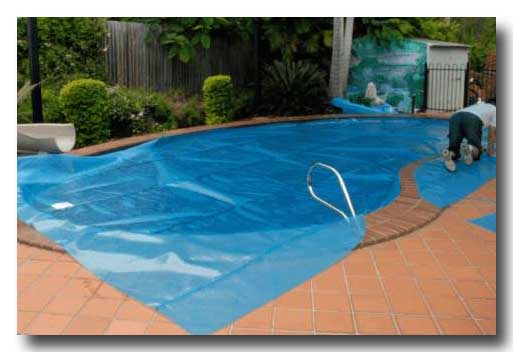 Properly Keeping Your Solar Swimming Pool Cover from Blowing Off
To keep your solar cover in place even during strong winds, you can:

• Use anchors that attach to the cover
• Use a heavy pool cover.
• Place weights on the excess material
Using anchors attached to the cover is the best option as it keeps the blanket firm, even in the strongest winds. If you live in a coastal area with minimal trees and adjacent buildings, anchors will be the perfect bed. Trees and buildings help in reducing the speed and strength of fast-blowing winds. If you're protecting your pool from debris, using weights on the cover will suffice to keep it from blowing away. Sturdy and heavy solar pool covers can withstand mild winds on their own.
Protecting the Swimming Pool Cover
Lastly, you want to protect your pool cover for it to last as long as possible. It will help if the cover stays in perfect condition for a long time to reflect the value of your money. For instance, you can use solar blanket reels to protect the blanket from intense UV rays. In that case, you'll need to learn How to install solar blanket pool cover to reel to prevent it from pinching and folding. Folds can easily result in torn parts. It will also help if you know How to attach solar cover to reel for above ground pool.
Our Conclusion on Solar Pool Cover Installation
The above tips will help you learn how to install solar pool covers around pools of various shapes. Pool covers will redefine your swimming experience and help you save a lot in terms of chemicals and cleaning. Remember, proper installation means that the cover can also shield the pool from annoying debris like dirt, leaves, and worms.
It will also help if you buy a high-quality cover that can withstand harsh weather conditions like strong winds. Most importantly, don't forget to properly protect your solar swimming pool cover to prolong its longevity and durability!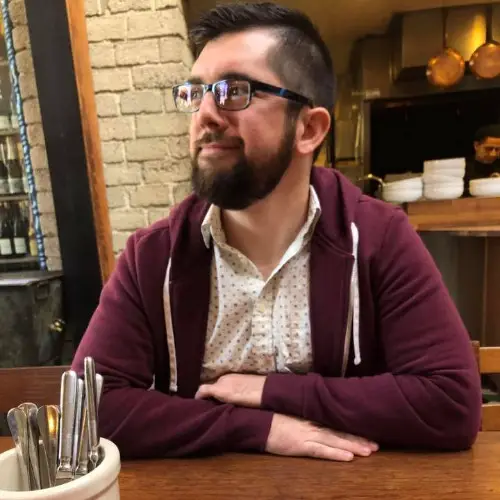 Hello, I am a writer and marketing specialist in Kansas City, MO. My love for swimming pools started as a child when I would visit my aunt & uncle's inground swimming pool on a frequent basis over the summer. Since then I have taught swimming lessons at a Boy Scout Camp, participated in the full setup, installation and maintenance of my father's inground swimming pool, as well as enjoyed constantly researching everything there is to know about swimming pools for 5+ years. I enjoy all water related sports, being part of the online swimming pool community and always learning new things!