Ever wondered what a plunge pool is?
Or what makes them unique?
We can help!
All swimming pools are a staple in hot climates. But if you have a small backyard or a tight budget, such a luxury might feel out of reach, especially if you prefer the inground pool look and feel vs. that of above ground pools.
Nevertheless, if you've been doing some research, you might have come across the words "plunge pool."
In this guide, we'll share must-know details about plunge pools, including when it is & isn't a good fit for your backyard.
A Plunge Swimming Pool Overview
There are two classic characteristic types of a plunge pool—small size and deep water. 
You'll only be able to get a few swim strokes in before arriving at the other end, so plunge pools are ideal for staying cool on a hot summer day as you sip a cocktail. 
Nevertheless, if your goal in wanting a pool is for exercise, there are certain water aerobics you can perform in them. 
Plunge pools are getting more traction in the United States, and people love their aesthetic look. Whereas full-size pools can be an eyesore in certain yards, a plunge pool fits beautifully among vegetation and adds to landscaping.
Traditionally, plunge pools don't have jets. However, some brands now sell these pools with jets included, although this creates a fine line between plunge pools and endless pools where you swim against the current for exercise.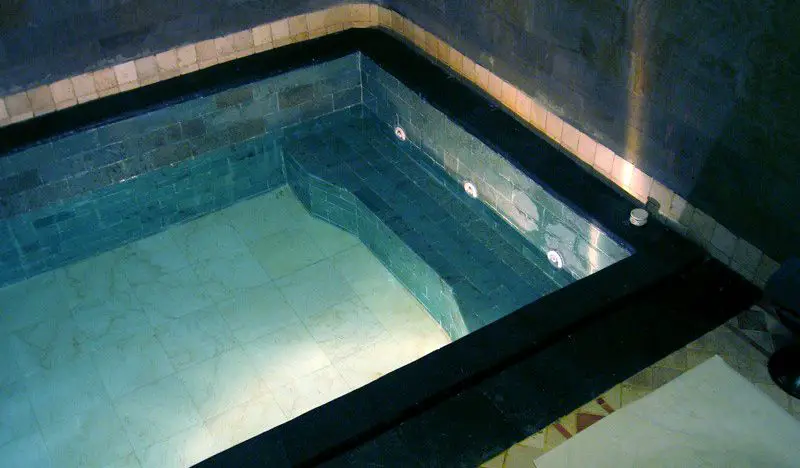 Common Sizes
The small size of plunge pools gives them their classic look. Many plunge pools are as small as 8 x 8 feet. However, some have a more rectangular shape, with sizes ranging up to 8 x 16 feet.
Despite the rather tight range in size, a plunge pool's volume varies significantly. Factors that impact its volume include the pool's shape and depth. 
Traditionally, plunge pools are square. However, you can choose from round or half-circle pools according to your yard space or landscaping goals. As with regular pools, you can also custom design your plunge pool.
Common Depth
You might ask yourself, how deep is a plunge pool?
When people think of plunge pools, deep water that they can't stand in usually comes to mind. In fact, many plunge pools average 6-8 feet deep.
However, if deep pools aren't your thing, you can get a plunge pool that's as shallow as four feet. 
Generally speaking, if you plan to use your plunge pool for exercising, it's best to install a deep pool. If you'd rather use your pool to lounge around on a summer day, a shallow pool will likely suit you better.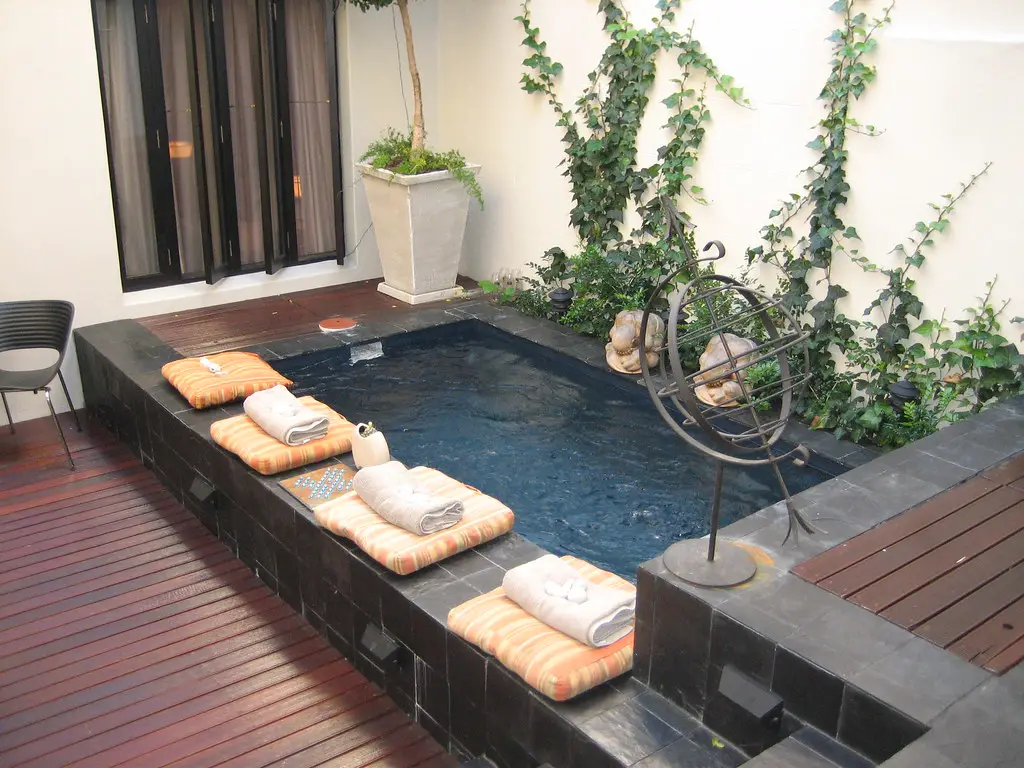 The Ideal Water Temperature for Pools
The ideal water temperature for plunge pools depends on the user; just like a regular pool, they withstand hot and cold temperatures. 
If you prefer warm water, you can add a heater to your plunge pool. Most people like their swimming water to fall somewhere between 78 to 86 degrees Fahrenheit.
That said, athletes use cold plunge pools because it helps their muscles recover. Even if you're not a formal athlete, but you plan on using your pool for exercise, you should keep your pool on the lower end of the temperature range, as higher water temperatures can cause your body to overheat.
Top Advantages of Plunge Pools
You may have stumbled upon plunge pools when wanting to save space or money, but the benefits of plunge pools go far beyond these two items. Examples include:
Less maintenance than larger pools.
Cheaper to maintain since you don't need to purchase large quantities of pool chemicals.
Helps you save money on your electricity bill since the cost of running filters and heaters is less.
Offers an aesthetic flair in your backyard—you can even install a fountain in them.
Potential Disadvantages of Plunge Pools
Despite the many advantages of plunge pools, there are a few downsides you should take into consideration before making your purchase. They include:
These pools aren't suitable for diving.
If you have children, there won't be a lot of space for them to play.
You can't use them for a huge pool party—only a few people can fit at a time.
What Is A Plunge Pool At A Resort or Hotel?
Plunge Pools are becoming more popular at luxury resorts and hotels, including some of the all-inclusive Sandals resorts. Traveling to one of these may be the first time someone heard the term "plunge pool" and often leaves people wondering "what is that?!".
Simply put, a plunge pool is a mini version of the traditional swimming pool that is meant to be used not so much for swimming, but relaxation, sort of like a "normal pool temperature hot tub". They come in various depths and sizes and are usually bigger than a hot tub, but smaller than a traditional pool.
Are These Types of Pools Expensive To Install?
As a general rule, you can expect plunge pools to cost about half the price of a traditional pool. 
Of course, many factors come into play that impacts how much you will spend on your plunge pool. Some examples include:
The size of your pool.
Extra features such as fountains.
Whether you choose a pool with a lot of architectural design.
Material you use—vinyl siding is less expensive than fiberglass or concrete.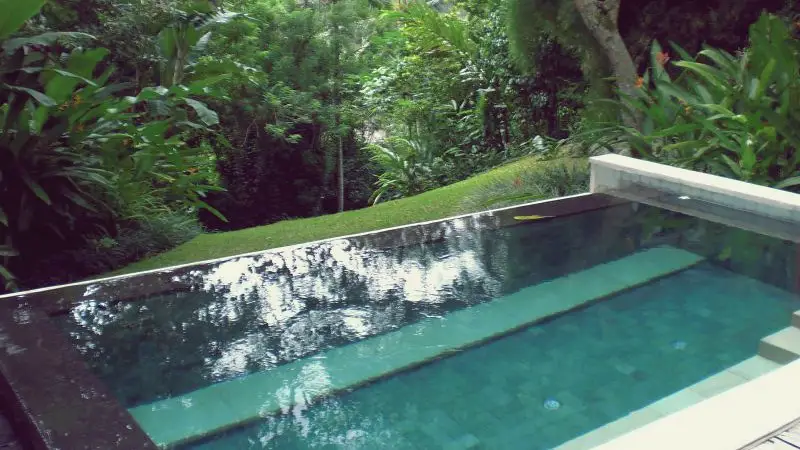 Is It Possible to Build a Plunge Swimming Pool on My Own?
Yes, f you know how to build a traditional pool, you can build a plunge pool. However, most people will need to hire a professional to install a leak-free plunge pool that complies with building codes.
Whether you decide to go at it on your own or hire a pool installation company, below are some factors to consider when preparing to build your plunge pool.
Space
You only need about 12 feet by 6 feet of yard space to install a plunge pool. If you have the flexibility, try to place your pool in a sunny portion of your yard. Just like traditional pools, you can also install an indoor plunge pool.
Materials
You'll have three choices when it comes to the material of your plunge pool—vinyl, fiberglass, and concrete. Vinyl is the cheapest choice but tears more easily. If your budget allows, choose concrete; it can last you up to 40 years.
Building Expenses
A smaller size means that plunge pools are cheaper to install. Nevertheless, you still need to prepare for a significant initial expense. Excavation, fencing, decking, and a filter system are all costs you'll need to consider. 
Furthermore, you'll need a pool cover and cleaning equipment, and you may wish to purchase a pool heater.
Optional Add-Ons
Many people install plunge pools for their aesthetics and a place to relax. Therefore, you may want to include a water fountain, massage jets, or built-in seating. 
Are You Ready to Install a Plunge Swimming Pool?
Plunge pools are a trendy option for people with small spaces or a low budget who want to own a private pool. With so many customization options, you can design the plunge pool of your dreams.
Check out this helpful 7-minute video from This Old House on How To Install A Plunge Pool from start to finish below-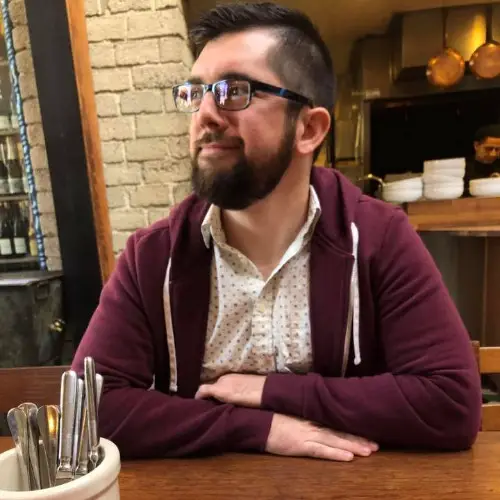 Hello, I am a writer and marketing specialist in Kansas City, MO. My love for swimming pools started as a child when I would visit my aunt & uncle's inground swimming pool on a frequent basis over the summer. Since then I have taught swimming lessons at a Boy Scout Camp, participated in the full setup, installation and maintenance of my father's inground swimming pool, as well as enjoyed constantly researching everything there is to know about swimming pools for 5+ years. I enjoy all water related sports, being part of the online swimming pool community and always learning new things!