If you have a modest budget or limited space, a plunge pool may be perfect for you! A plunge pool is an ideal addition to any backyard and can provide hours of fun for the entire family, but how deep is a plunge pool?
The water in a plunge pool is typically moderately deep (often 6 ft deep or more), perfect for an adult to be dipping in or lounging about, but it takes up far less space than a regular pool as it's not long enough for swimming.
It also provides a great place to cool off on hot days and offers a refreshing alternative to swimming pools.
A plunge pool is usually made from concrete, but it can also be constructed with other materials including wood, fiberglass, plastic, and even metal.
In general, a plunge pool should not exceed 10 feet deep because this will make it difficult for small children to swim properly.
However, if you want to build a deeper plunge pool, there are plenty of options available.
The depth of your plunge pool depends entirely upon how much money you're willing to spend and what size you'd like.
For example, a 6-foot deep plunge pool would cost around $1,500 while a 12-foot deep plunge pool could run anywhere between $5,000-$10,000 depending on its design. 
What Is A Plunge Pool?
A plunge pool is a small pool of water that can be found outside many homes. They are typically much smaller in length and square footage than normal inground swimming pools.
Plunge pools are often used by those who live in areas where temperatures get very hot during the summer months.
These pools offer a way to stay cool without having to go into the ocean or use a Jacuzzi.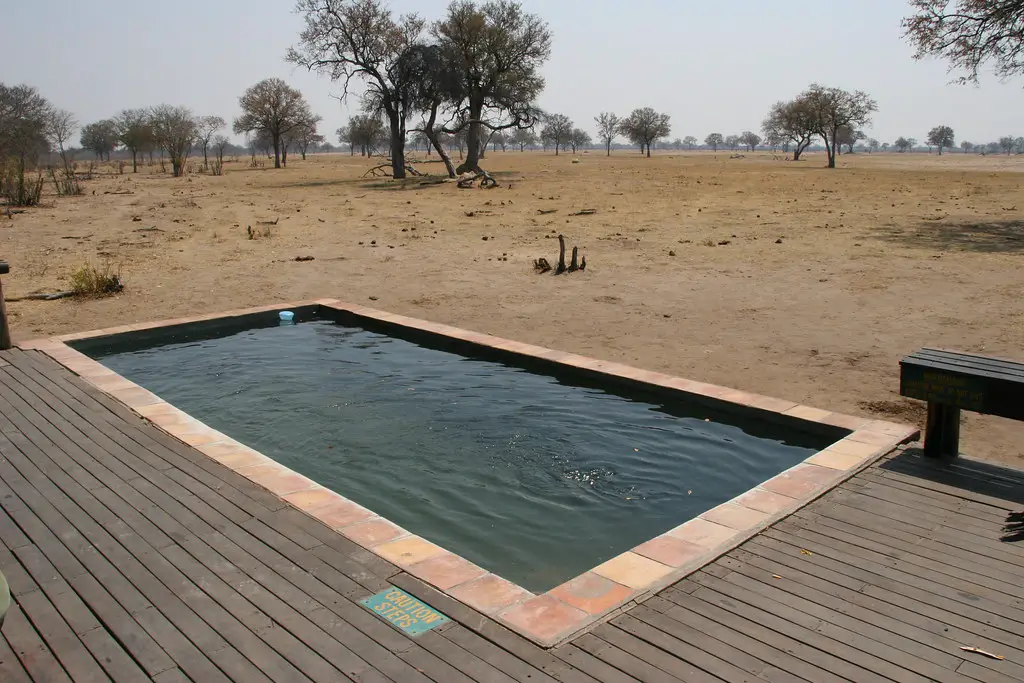 Why Get A Plunge Pool?
There are several reasons why you might want to consider getting a plunge pool. One reason is simply to enjoy a relaxing soak in a compact, private area.
If you live in a part of the country where summers can get extremely hot, then a plunge pool can be a good idea.
You'll be able to relax in the garden all day long without worrying about getting too hot.
Plunge pools, which are popular in countries across Europe and other hotter locations, are just beginning to take more of a hold in the United States.
They tend to be the most appealing to those who are intrigued primarily in the aesthetic appeal of the pool and the low cost of maintaining them.
A plunge pool can be installed for less than a larger pool, but it requires maintenance, although on a way smaller scale. A plunge pool can also be used in any landscape setting. They are usually a small, relatively shallow pool designed for dipping in or lounging in.
They're great for people who enjoy relaxing by the pool, sipping a glass of iced tea in the summer, and living in very hot climates where they use their pools mostly to stay cool.
Because they're so small, you can't fully swim in a plunge pool. However, you might be able to do other kinds of exercise, such as water aerobics.
How Big Is A Plunge Pool?
You can find plunge pools in sizes ranging from 8 feet wide to 20 feet wide.
Most plunge pools are 8-12 inches deep, but some can reach depths of 10 feet. The average depth is usually around 1.5 meters. 
The size of your plunge pool depends on what design you want, how much money you have to invest in it, and the space you have available.
If you plan to buy a house with a smaller backyard, but want a pool, you may want to consider building a plunge pool.
Whilst there's no set rule saying how deep it must be for it to be called a plunge pool, most are around four to eight feet deep.
If you're planning to use a plunge pool for exercise, you might want to consider making it a bit deeper or longer.
And if you plan to use a plunge pool as a place to relax or with small children, you might want to make it a bit shallower.
What Kind Of Maintenance Does A Plunge Swimming Pool Require?
The upkeep of a plunge pool isn't very different from that of a regular swimming pool.
It does require more frequent cleaning because of the amount of dirt and debris that gets into it, (that's if you don't install a solar pool cover, which many people don't bother with),  but this doesn't mean that you need to hire someone every week to clean it out.
Your local pool service company will probably be happy to come out once a month to give it a thorough cleaning, or you can give it a deep clean yourself.
If you do plan on doing it yourself, you'll be able to do a pretty good job with a simple net for catching debris, and a handheld pool vacuum for catching all the sinkers.
You will still need to use some chemicals, but not as many and not as harsh.
What Temperature Is A Plunge Pool?
In general, plunge pools are usually cold enough to allow you to comfortably dip your feet in them.
The temperature of a plunge pool should be at least 50 degrees Fahrenheit.
This means that you won't need to worry about freezing your toes off when you jump into the pool.
The main aim of a plunge pool is to easily be able to cool off during the hot summer months, without the hassle of having and maintaining a full-sized pool.
Of course, if you live in an area where the weather gets very cold, you may want to think twice before installing a plunge pool.
There is no right or wrong answer, and if you want a heated plunge pool that you can have a little wade about in, go right on ahead!
How Much Do Plunge Pools Cost?
You may be asking yourself- exactly how much are plunge swimming pools? If you decide to build a plunge pool yourself, you will likely spend anywhere between $1,000-$5,000 depending on what kind of materials you choose to use.
When buying a pre-made plunge pool, expect to pay between $2,500 and $10,000. You'll also need to factor in the cost of installation, which can range from $3,000-$8,000.
Plunge Pools Vs Swimming Pools: Which One Should I Choose?
When deciding whether to install a plunge pool or a regular swimming pool, you'll first need to figure out what type of pool will suit your needs and situation the most.
If you're a veritable "Thorpedo" type looking to do loads of laps, a swimming pool is the way forward, but bear in mind that you'll need a large space and an even larger budget.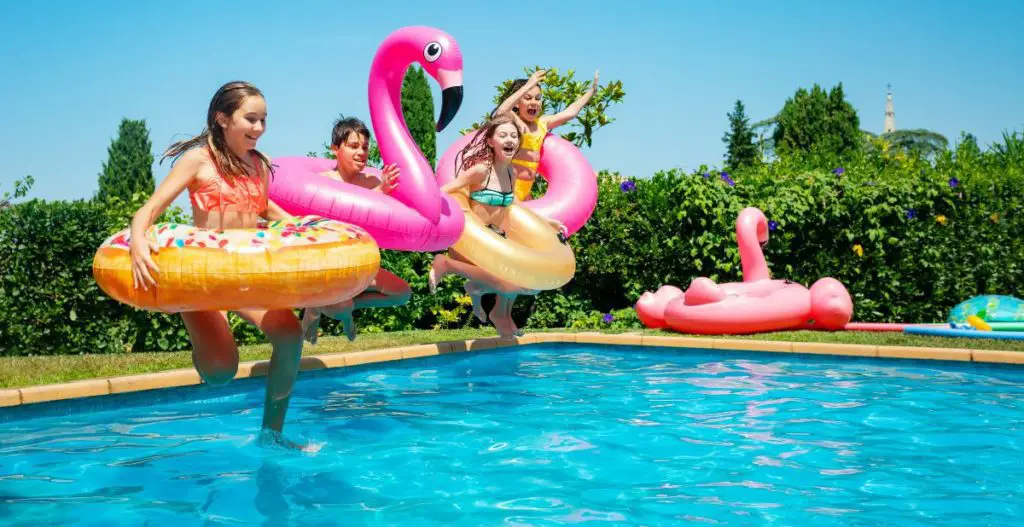 If you're not fussed about the idea of a regular pool, here are some benefits to choosing a plunge pool instead.
First, a plunge pool is easier than to maintain an above ground swimming pool, and especially easier to maintain than a traditional inground pool.
It doesn't require many chemicals or any filtration systems, and because it isn't as large as a swimming pool, you don't need to hire someone to clean it.
Second, a plunge pool is more versatile and safe than a swimming pool.
For example, you can use a plunge pool to keep smaller kids safe while they play outside. Or you could use it to help cool down after a long day at work.
Third, a plunge pool is cheaper than a swimming pool. On average, you can save up to 30%+ by choosing a plunge pool over an inground swimming pool.
Our Final Thoughts on Plunge Pool Depth
There are no unwritten rules about how deep a plunge pool should be, which gives you the ultimate flexibility to choose something that suits your budget, your needs, and your space.
With minimal maintenance, a plunge pool can be a great addition to any garden, especially during those hot summer months when you just want a slice of paradise at home!
My name is Denise and I am an Analytical Chemist located in the Kansas City metro area. Some things I am passionate about are gardening, science, swimming, and blogging. I am happy to be part of the All About Pools team & contribute my knowledge & expertise to help swimming pool owners and backyard enthusiasts!