Are you thinking about building a plunge swimming pool? Do you know what kind of pool would best suit your needs? How much does it even cost to build a plunge pool? Plunge pools are a great way to enjoy swimming, but they can be expensive. 
The average cost of an inground pool is about $20,000, according to the National Association of Pool & Spa Professionals (APSP). Most plunge Pools are generally a little smaller than the average inground swimming pool and will usually range in cost between $10,000-$20,000 to fully install.
This article will discuss plunge pools, how much they cost, and whether they are worth the money.
What Exactly Is A Plunge Pool?
A plunge pool is a small, shallow swimming pool that has an opening at its bottom through which water flows into it.
As the water fills the pool, it rises up its sides until it reaches the top of the pool where it spills over the edge and falls down onto the deck below.
How Much Is It To Install A New Plunge Swimming Pool?
The price of a plunge pool depends on several factors, including the size of the pool, the materials used to build the pool, plunge pool depth, and the features included in the design.
Some plunge swimming pools have a small opening for filling the pool with water; others have a large opening that allows the entire pool to fill quickly.
Some plunge pools include features like underwater lighting or built-in speakers. Other plunge pools may not include any special features.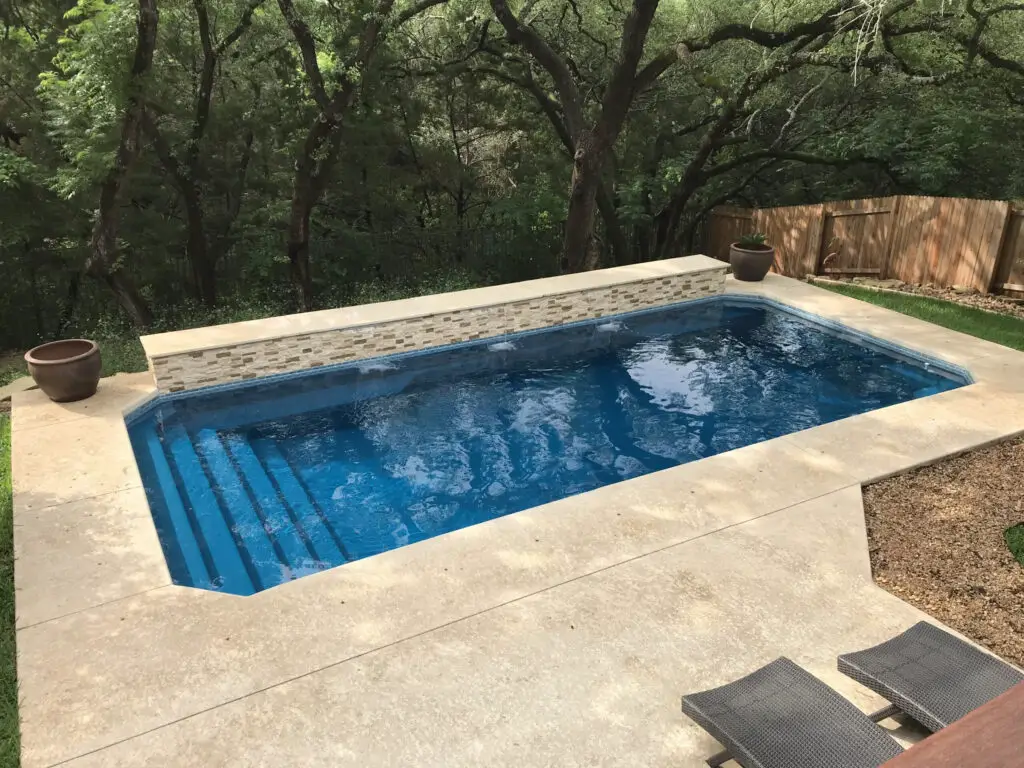 How Much Does It Cost To Build A Plunge Pool?
The cost of building a plunge pool varies depending on the type of pool you choose to build.
For example, if you decide to use concrete as opposed to fiberglass for your pool walls, the construction costs will increase significantly.
If you plan to install a spa pool, you will need to pay extra fees to cover plumbing work.
In addition, installing a spa pool requires more time than simply pouring a concrete slab. Installing a spa also requires additional skills and tools. Your excavating costs will also be a factor, as well as if you are installing your inground pool on a sloped yard or not.
If you do not plan to add a spa pool, you can save money by choosing a smaller pool option.
Smaller pools require less concrete and fewer pipes, so the overall cost of building a plunge will be lower. Nonetheless, we see even basic plunge pools costing close to $10,000 when all is said and done.
Can I Afford A Plunge Pool Or Should I Wait Until My Home Value Increases?
You should consider purchasing a plunge pool only if you can afford the upfront costs, your home value in relation to installing an inground pool is a secondary consideration in our opinion, unless you have an intent to sell your home shortly after installing the plunge pool.
You will need to make sure that you have enough money saved before buying a plunge pool. If you cannot afford to buy a plunge pool now, you may want to wait until you can.
You should also think carefully about the value of your home when considering the purchase of a plunge pool.
If your home is currently valued low, you might want to wait until your home values rise before making this investment, but the main factor is having the cash upfront to cover the plunge pool installation.
Are There Any Benefits To Having A Plunge Pool Over An Above Ground Pool?
A good quality above-ground swimming pool provides many benefits, but plunge pools offer a unique experience because they allow you to swim in a natural setting.
As great as above ground pools can be, a plunge pool offers some distinct advantages.
An above-ground pool generally does not provide privacy from neighbors.
If you live near other homes, you may find that having an above-ground pool makes it difficult to enjoy swimming in your backyard without being seen by people who live nearby.
Plunge pools also allow you to enjoy swimming in a relaxing private area. Also, when you swim in an above-ground pool, you may sometimes share space with other swimmers.
Plunge pools offer more flexibility than above-ground pools. With an above-ground pool, there are certain times during the year when you cannot use the pool because of weather conditions.
When you own a plunge pool, you can use it whenever you want!
You can even use it at night, which is something that is generally not recommended do with an above-ground pool, unless you have some reliable above ground swimming pool lights.
Because of these features, you may want to invest in a plunge pool instead of an above-ground pool, if you are looking for a more permanent fixture that is focused on relaxation and cooling off.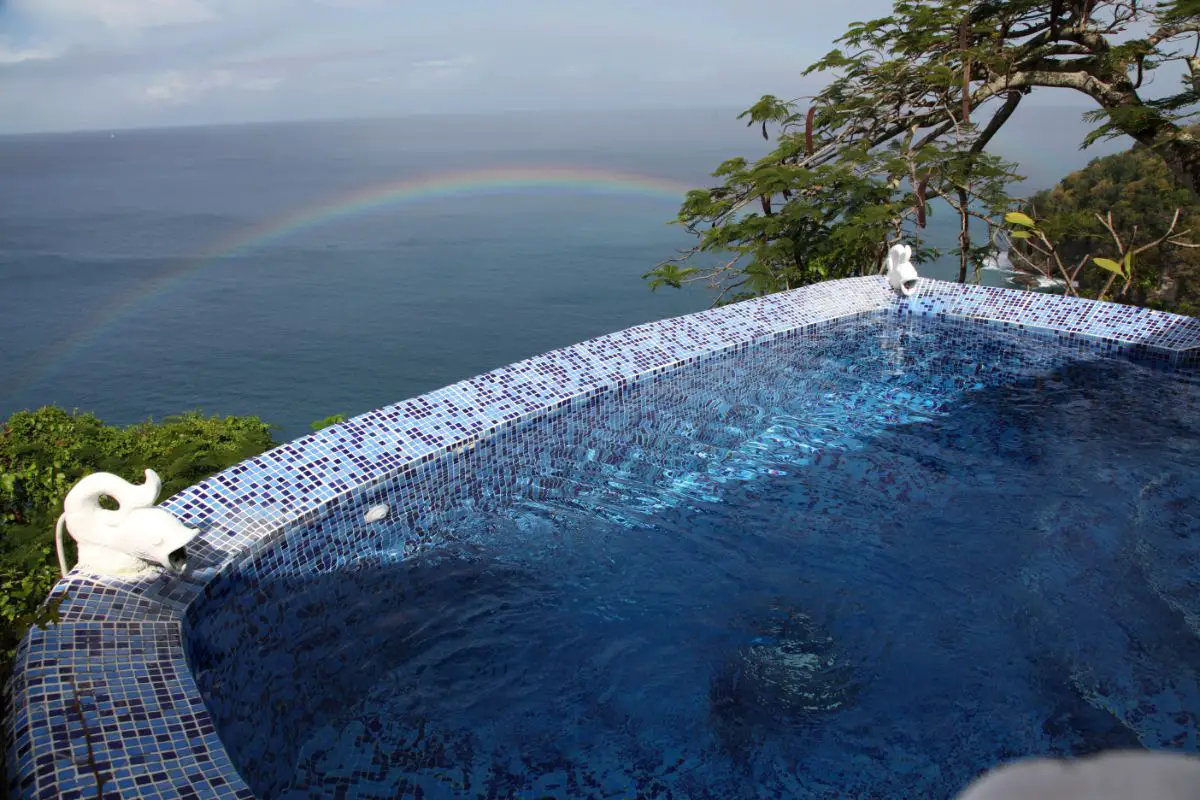 What Are The Advantages Of Buying A Pre-Owned Plunge Pool?
Buying a pre-owned plunge pool is often a good option for those looking to get into the water quickly with a smaller budget.
Many people might prefer to dive into their pools right away rather than waiting for them to be built.
Pre-owned plunge pools are also generally cheaper than new ones, this is because buying a pre-owned plunge can allow you to avoid paying for some of the construction expenses.
Pre-owned plunge pools are usually cheaper than new ones. New plunge pools typically cost tens of thousands of dollars.
However, you can often find a used plunge pool for under $10,000. While new plunge pools are built using state-of-the-art technology, they still require maintenance.
Even though a pre-owned plunge pool has been around for years, as long as you take good care of it, you can generally count on it to work properly.
How Long Will The Construction Of A New Plunge Pool Take?
The amount of time it takes to build a plunge pool depends on the size of the pool and how many contractors are working on it.
Most plunge pools take between four weeks and six months to complete.
If you plan to build your plunge pool yourself, it could take a very long time to complete.
However, if you hire a quality contractor to help you build the pool, you can expect to wait on average around 4 to 8 weeks or longer.
Where Can I Find More Information About Purchasing A Plunge Pool?
You can learn more about purchasing a plunge pool online or by visiting local home improvement stores or pool supply stores.
There are companies that specialize in selling pre-owned plunge pools or will usually be happy to refer you to someone locally who does. They often sell these pool products through catalogs and websites as well.
Another way to purchase a plunge pool is to visit a pool store. Some retailers carry models of plunge pools. You can choose one based on its design and features.
Conclusion On How Much Plunge Pools Cost
Purchasing a plunge pool can be a great investment. It will add value to your property and make your home look better as well. When considering how much plunge pools cost, we recommend you have at least $10,000 to consider installing a new plunge swimming pool, and be ready to allocate close to $20,000 if you want a higher end one with more features.
In doing so, you can enjoy spending time in your plunge pool year round! Want more info on plunge pools? Check out the video below to get more details on what a plunge pools is used for and how they are built!
Hello! I am a swimming pool contractor with over 10 years of experience helping homeowners install and repair both inground swimming pools and above-ground swimming pools. I enjoy barbecue, Star Wars, blogging, and spending time outside enjoying the backyard with my family.