If you have an above ground pool, then your favorite part of the summer season will probably be getting to relax and jump into the water, to cool yourself down and enjoy the fun.
Especially when you invite family and friends over! 
However, having a pool comes with a lot of responsibilities, mainly the maintenance required to ensure that the pool is clean and sanitary, thus the need to know how to clean an above ground pool properly.
This is really important, because if the pool isn't properly maintained or cleaned, it will be a hub for all sorts of bacteria and dirt, and swimming in it could affect your health and cause damage! 
So if you have an above ground pool, it is going to require some regular maintenance and cleaning, as well as a deeper clean at the beginning of the season, as the pool will have been inactive and will have accumulated extra dirt and debris. 
But…how do you clean an above ground pool? What are the necessary steps? What tools do you need? 
Don't worry, we're going to explain the entire process, and give you plenty of tips along the way to make it as easy as possible. 
Does that sound good to you? Then let's get right into it! 
Materials And Equipment That You Will Need:
When cleaning your above ground pool, it is very important that you use the right materials and equipment.
Not only so that you actually get the job done to an acceptable standard, but also so that you do so without damaging the pool in any way! 
If you own the pool, then you should also own the necessary maintenance equipment. However, some people choose to have communal maintenance equipment with other nearing pools, in order to save money on the average cost of above ground pool maintenance.
Whatever you choose to do, just make sure that you have the right equipment on hand. Especially because you will have to use the equipment regularly, for regular maintenance. 
Here are some of the things that you will need in order to clean your above ground pool, and keep it clean and safe for use:
There are many more things you might need while cleaning your pool, but the ones listed are the most important essentials that you are guaranteed to use during regular maintenance and cleaning.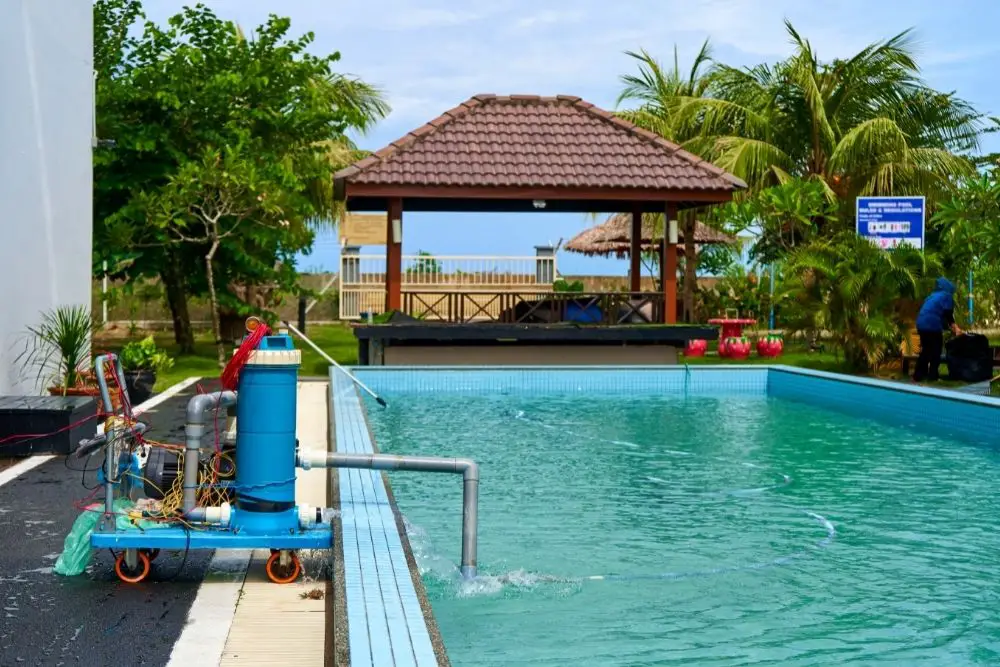 Our Step-By-Step Guide On How To Clean An Above Ground Pool: 
Without further ado, let's break down the entire process into steps that are easy to follow, so that you can get to work and clean that above ground pool. We've divided the instructions into sections, and have then gone into more detail for each one. 
Ready To Begin? Here's what to do: 
1. Filter And Skim The Pool:
First up, you have to be running the filter pump of the pool for at least 8 hours a day. This filter pump is in charge of circulating the water, so that it cycles through the filter, and debris and dirt is removed. Ideally, these 8 hours minimum should be during the day, for a more effective result. Most filter pumps come with a timer too, so you can set it to automatically function for the right amount of time, in a schedule that is convenient for you. 
Next, you have to backwash the pool as soon as the pressure rises. Basically, when dirt becomes trapped in the filter system, the pool water becomes dirtier. So you need to backwash the sand or DE filter above the ground pool, to reverse the water flow and flush it out. 
This should be done if you notice that the pressure gauge is around 8 to 10 pounds above normal (the normal will be stated in the manual of instructions).
Also, just in general, check the manual for any backwashing steps. 
 The next step is to clean the cartridge filter, once the pressure rises. (That is, if your above ground pool uses a cartridge filter, as not all do!) For this, you have to turn the filter off, remove the cartridge, clean it, and then put it back into place, monitoring the pressure. 
On a weekly basis, it is important that you clean the pump basket. This is where all the dirt and debris is collected, so you have to empty it out and clean it, to avoid it from over-filling. Otherwise, it will stop collecting the dirt, and the pool will become dirty. When you do this, make sure you put the basket back properly, or else it will be faulty! 
Another thing you should do regularly is empty the skimmer basket. This is the basket that attaches to the wall of the pool, and that removes debris. To avoid it from becoming clogged, we would recommend emptying it at least once a day!
In order to quickly clean up any new debris or dirt that is floating around in the pool, you should use a flat skimmer net. This will allow you to lift out the items from the water, to keep it cleaner. We also recommend doing this at least once a day. 
Use a leaf rake or bag to remove bigger amounts of debris from your above ground pool. Especially if there has been a storm, or bad weather, which will have dragged items into the water!
2. Brush The Pool:
Filtering and skimming the pool to remove dirt and debris isn't enough to have a properly clean above ground pool. Brushing, for example, is vital in order to ensure the walls of the pool are clean.
Especially as some areas of the pool will not receive proper circulation from the filter, so they will be hot spots for algae growth and similar.
Here Is How To Brush The Pool: 
Start by attaching the brush head to a telescopic pole. We recommend using a brush with nylon brushes, so that it doesn't damage the pool walls. And make sure the pole is long enough to reach every part of the pool. 
Using downward motions, brush the entirety of the pool walls. This will loosen up any attached dirt or algae. (This is something that should be done around once a week). 
Make sure to also brush the pool ladder! This is easy to forget, but it is equally important. It might also be more convenient to use a handheld brush for this part, as it has an awkward shape. 
3. Vacuum The Pool:
Vacuuming the pool is another one of the vital jobs of regular maintenance that having an above ground pool requires. You can do this manually, or by using an automatic pool vacuum, which we absolutely recommend having. 
The pool vacuum will essentially clean the bottom of the pool, which is where the most amount of dirt and debris accumulates, and where most algae and bacteria will begin to grow.
Vacuuming is the difference between having a green-tinted gross-looking pool floor, to having a clean and shiny blue bottom. And it is essential to ensure proper hygiene so that the pool is safe to swim in. 
We would recommend vacuuming at least once a month, but more often if it is needed. It depends on the pool and the activity. Most people will vacuum once a week. 
In order to use the pool vacuum cleaner, make sure to read the manual of instructions for the specific vacuum that you are using, and follow the steps closely.
Take your time, and have patience, as you will want to make sure you vacuum every last inch of the pool floor. 
4. Maintain The Chemical Levels:
Maintaining the chemical levels of the pool is another vital step in keeping it clean, and safe for use. Here is what to do:
Every week, make sure to check the chemical levels of the water, using a PH kit. The chemical levels indicate whether the water is clean or not. And it is absolutely essential that they are within the accepted range, as otherwise the pool isn't safe to swim in. 
Adjust the chemicals as needed, depending on the results of the tests you run. You do this by adjusting the amount of chlorine, as well as using PH reducer or increaser, depending on what is needed. 
While you adjust the chemical levels, make sure nobody is going in the pool. It will take a few days for the levels to be right, and for the pool to be clean and safe for use.
Just follow the instructions on the products that you use. 
Maintain the appropriate chemical levels by putting in place a functioning chlorine system, and a way to regularly check the levels and PH, so that adjustments can be quickly made as soon as they are needed. There are many different systems that you can use, and different ways of using chlorine within the pool. So do your research, and choose the ones most convenient for you!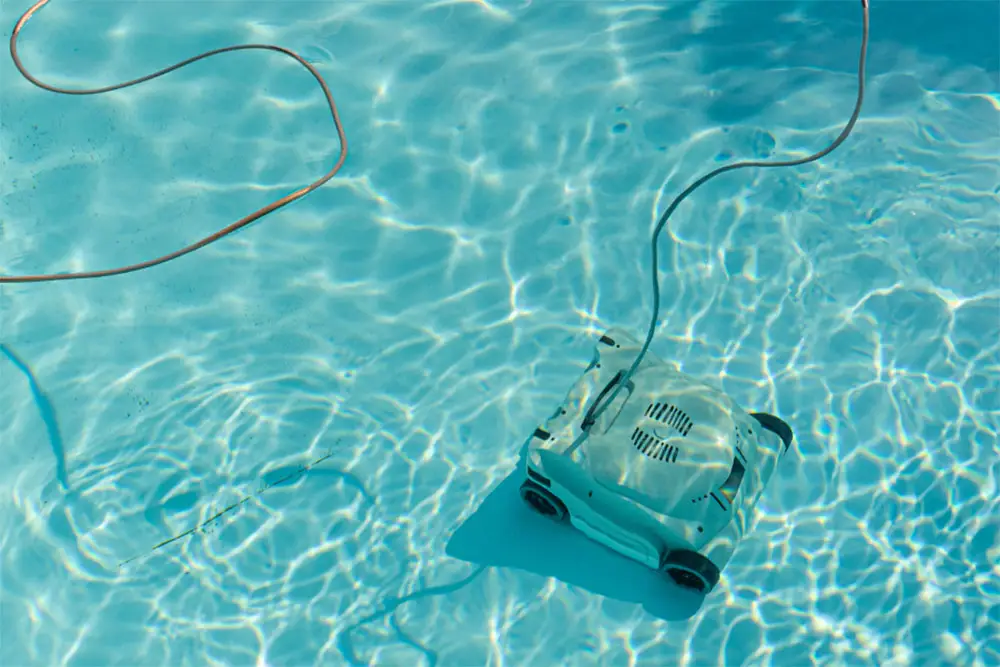 A Quick Guide To Pool Maintenance: 
Cleaning your above ground pool isn't a one time job, it is something you have to keep doing regularly so that it is properly maintained, and is therefore safe to swim in. 
There are things you will have to do daily, things you will have to do weekly, and some that you can do monthly. 
And to help you out, here is a quick guide to what you should be doing in regards to pool maintenance and cleanliness: 
Daily Above Ground Pool Maintenance:
The pump in your pool should be operating every 犀利士 day, for at least 8 hours, but preferably more. This will ensure that the water is circulating and getting filtered, to avoid dirt from accumulating. 
It is also vital that you check the chlorine every day, as this is the primary agent keeping the water safe and clean. It should be tested every morning, before the pool is open for use. 
Here are other daily tasks for your above ground pool: 
Run the pool filter
Test the PH levels
Test the chlorine levels
Empty the skimmer and pump baskets
Inspect the filter pressure
Remove large bits of dirt and debris from the water 
Weekly Above Ground Pool Maintenance:
Weekly maintenance is all about cleaning the surfaces of the pool itself, to ensure they are clean, and about performing more in-depth chemical and filter checks. 
Here are some of the weekly maintenance tasks that you should be performing: 
Skim the surface of the pool
Brush the pool walls thoroughly
Use the pool vacuum cleaner
Clean the pool deck and the surrounding areas (this avoids dirt from being dragged into the pool by proximity!)
Perform chlorine maintenance and check for other chemical needs in the pool water
Clean the pool filter (backwash if needed) 
Monthly Above Ground Pool Maintenance:
Every month, your above ground pool should receive a thorough clean, with all elements that contribute to its maintenance and cleanliness being checked and adjusted as needed. 
Here are some specific monthly tasks that need to be performed: 
Test the calcium hardness levels
Shock the pool (this is a chemical process that ensures the water is completely clean and free of organisms)
Thoroughly inspect the pool for any signs of growing algae, including the corners and behind the ladder
Clean the water line, and perform a deep clean of everything else 
Final Thoughts On How To Properly Clean An Above Ground Swimming Pool
An above ground pool is excellent for enjoying the summer months while keeping cool. However, it comes with a lot of work, and specifically, a lot of maintenance.
Cleaning your above ground pool is necessary if you want to be able to use it, and cleaning it is part of regular maintenance that needs to be done without fail, with daily tasks, weekly tasks, and monthly checks. 
In order to clean the pool, you have to go through four different major steps (with smaller steps within them): filter and skim the pool, brush the pool, vacuum the pool, and maintain the chemical levels of the pool. 
You will, of course, require the appropriate equipment and materials. And just remember, that cleaning the pool is an ongoing task, as it is constantly becoming dirty, but you only need to learn how to clean an above ground pool once, and then you can keep your pool in great shape for years to come!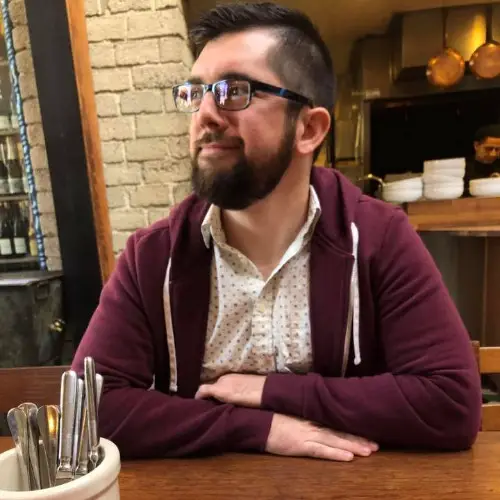 Hello, I am a writer and marketing specialist in Kansas City, MO. My love for swimming pools started as a child when I would visit my aunt & uncle's inground swimming pool on a frequent basis over the summer. Since then I have taught swimming lessons at a Boy Scout Camp, participated in the full setup, installation and maintenance of my father's inground swimming pool, as well as enjoyed constantly researching everything there is to know about swimming pools for 5+ years. I enjoy all water related sports, being part of the online swimming pool community and always learning new things!