Curious on how a pool vacuum works? Let's break it down.
Vacuuming your swimming pool is an excellent way to maintain it and keep it clean and free of dirt and debris.
Sure, it takes some effort, but the rewards outweigh the effort: you'll spend less time battling algae, your pool water will stay balanced, and your chemicals will operate more efficiently. 
The use of a pool vacuum makes the process considerably easier. With these helpful gadgets, you'll have sparkling water and a clean pool floor in no time.
You can get manual pool vacuums as well as robotic ones (like a Roomba, but underwater). See our comprehensive review of the Dolphin Nautilus CC Plus. The latter are pretty expensive, hence why many pool-owners opt for manual pool vacuums.
So, How Exactly Does A Vacuum For A Pool Work?
Above-ground pool cleaners, vacuums, and in-ground cleaners all work in the same way. Both use the suction generated by your inground swimming pool's filter system to draw dirt out of the water.
The brush head is used to scrape and scour dirt, algae, and debris away from underwater surfaces. Once the muck is in the water, the system's suction pushes it into the filter, where it can be fully removed.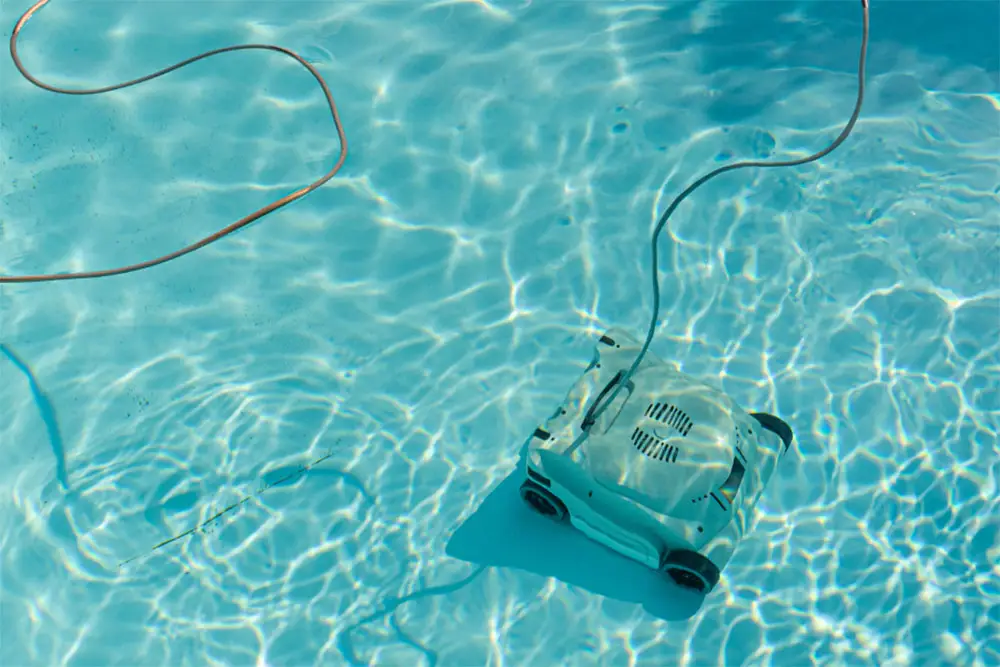 Why Should You Consider Using A Vacuum For Pool Cleaning?
Pools become contaminated as a result of people swimming in them and dirt getting into the pool.
Algae can develop in a pool if the chemicals in the water are not balanced. Green slime forms on the pool's walls and floor. Soon, no one will be able to enjoy the pool because it will be too filthy.
Dirt accumulation in your pool can cause a number of issues. Algae is probably the most significant.
A buildup of algae can clog your filters and render the water unhygienic. Less serious issues include more repair payments, less aesthetic appeal, and even a lower value if you plan to sell your house.
Which Is Better – Manual or Automatic?
The only thing better than a clean pool is a pool that has already been cleaned before you even have to think about it.
If this sounds ideal, then consider buying a robotic pool cleaner, as this is what they promise. There are several compelling reasons to purchase a robotic pool cleaner.
For starters, automatic pool vacuums eliminate the majority of your effort. They will scrub for you. While you focus on your tan, robotic automatic vacuums can clean the pool. 
Furthermore, robotic brushing machines are more thorough than you are.
They will never get fatigued, bored, or distracted. Robotic pool cleaners of today are intelligent and programmable. Engineers painstakingly built them to cover every inch of your pool.
Robotic pool vacuums are becoming more common. These small helpers don't have a social life or a job. They will clean your pool on time, every time, once you have set them up.
However, it's important to consider the fact that you get what you pay for when it comes to pool vacuums. If you do decide to get an automatic vacuum, you'll need to expect to pay a lot more than you would if you opt for the manual variety. 
You can get a good quality manual pool vacuum cleaner for less than a hundred dollars, complete with multiple different attachments and helpful hand tools.
But if you want to get your hands on an automatic/robotic pool vacuum cleaner, you should expect to pay a lot more.
Brand new automatic vacuum cleaners for pools start at around $700, and can cost upwards of two thousand dollars, depending on where you shop and what model you choose.
Manual pool cleaners are enough for most people, and can help you clean your pool in just a few minutes, with the right know-how.
But if you don't want to put any effort at all into your pool cleaning experience, we recommend investing in an automatic or robotic pool vacuum cleaner.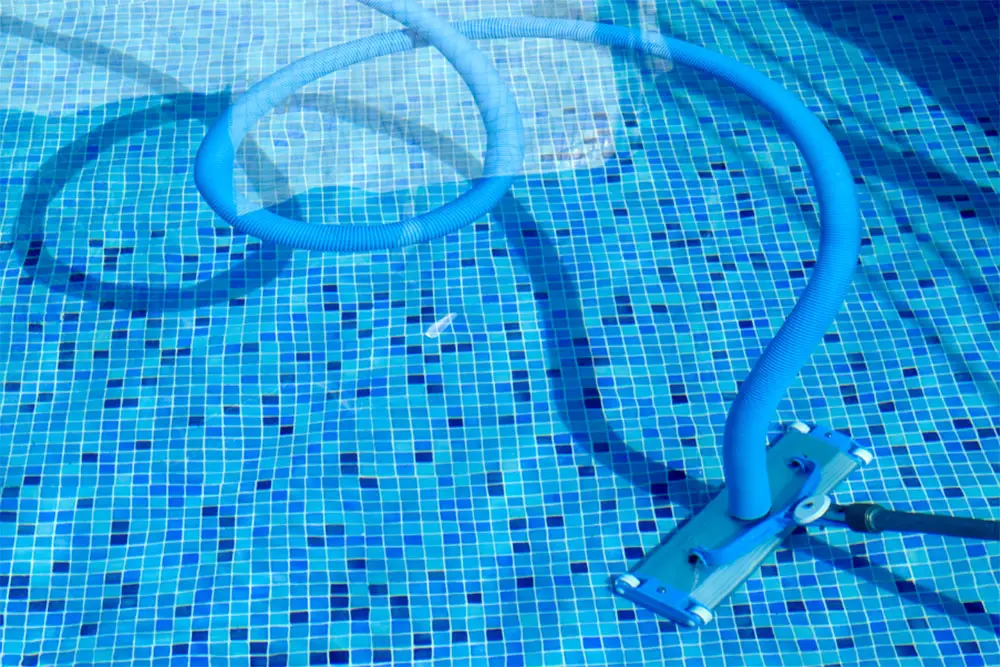 How To Properly Vacuum Your Pool Like A Pro:
Attach your vacuum head to the pole
Begin by securing the vacuum head to the open end of the long telescoping pole. With a long extendable pole, you can move the vacuum head around the pool with little to no limitation.
This enables for good debris collection on the pool's walls and at the bottom. Every regular pool vacuum features a glass portion on the top of the head where the pole connects.
Connect one end of the hose to the vacuum head
Next, connect one end of the hose to the top of the vacuum head. On any modern pool vacuum, it should be quite simple to determine where to connect the hose.
A swivel head should be on the side of the hose that connects to the vacuum head. If the hose is slippery, a hose clamp might help keep it in place.
Lower the vac head, hose, and pole into the pool.
Holding one end of the vacuum hose in your hand, immerse the vacuum head, telescoping pole, and hose in the pool. Ensure that the vacuum head is resting beneath the pool and the other end of the hose is outside the pool surface.
Locate the filter skimmer or water intake nozzle (where the water shoots into the pool) on the pool wall, and then plug the other end of the hose into the water intake to fill it.
Prime your vacuuming system 
After positioning the other end of the hose against a return jet on the pool wall, prime your vacuum. Priming is the process of forcing water through the hose in order to push out all of the air.
Remember that air pockets can reduce your vacuum's suction power, so removing all of the air from the vacuuming system ahead of time will keep it running longer and stronger.
Seal the suction
Before you begin to generate a good seal or suction, triple-check to ensure that the vacuum intake is the only line open to the pump. Otherwise, the pump will likely take in particles and waste, rendering your efforts ineffective.
Connect the vacuum plate to the point of the hose that is placed against the return jet to produce a suction seal. To prevent suction loss, use your hand to cover the hole and then bring it over to the swimming pool skimmer.
In Conclusion
We hope our team-created guide on how swimming pool vacuums work has been helpful and informative! Swimming pool vacuums are a great type of top quality pool cleaner option and are often a necessity for most swimming pool owners and caretakers. Now that you know how they work, put them to good use and keep your pool from becoming dirty, grimy, and unwelcoming.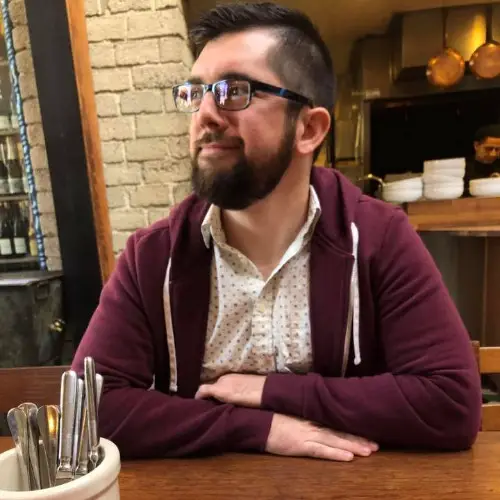 Hello, I am a writer and marketing specialist in Kansas City, MO. My love for swimming pools started as a child when I would visit my aunt & uncle's inground swimming pool on a frequent basis over the summer. Since then I have taught swimming lessons at a Boy Scout Camp, participated in the full setup, installation and maintenance of my father's inground swimming pool, as well as enjoyed constantly researching everything there is to know about swimming pools for 5+ years. I enjoy all water related sports, being part of the online swimming pool community and always learning new things!