Debris such as leaves and bugs can fall into your pool, and the easiest and most effective way to clean that up is with a pool skimmer. There are dozens to choose from, so finding the best pool skimmers can take time. If you need help, take a look at our reviews of seven top-selling products. To create the list, we took into consideration the reach, durability, quality of materials, and more.
Why Do You Need a Pool Skimmer?
Although you have to put in some work if you have a manual pool skimmer, the product does make upkeep simpler. For those still on the fence about buying one, check out three top benefits you can take advantage of from owning the best pool skimmer.
Clear out Debris
The most evident benefit of having a pool skimmer is cleaning out anything that falls into your pool. Skimmers generally have a good enough length that it is easy enough to reach over and simply clear out the water.
Protect Your Filter
Of course, the purpose of a filter is to clear out impurities in the water. However, some things are simply too large. With a pool skimmer, you can free out large leaves, sticks, and anything else nature has to throw at your water before it can clog up and damage the filter.
Keep Chemicals Balanced
Bugs and anything else that finds its way in your water can consume your carefully balanced chemicals, throwing everything off. Using a pool skimmer to keep the water clean saves you on time and money from having to constantly check and maintain the chemicals.
7. Milliard Pool Leaf Skimmer Net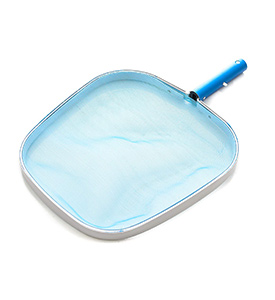 The Milliard Pool Leaf Skimmer Net advertises as being professional-grade. It has a heavy-duty aluminum rim, while the netting is nylon. The skimmer can be used by itself easily enough, but it attaches with no problem to standard extension poles.
For safety, the edges are round and flexible so that the skimmer won't damage pool liners. It's simple enough that it can be the best pool skimmer for first-time pool owners.
Pros
Lightweight design
Mesh is easily replaceable
Glides easily through the water
Cons
Not good for small items
Netting stretched too tight
The metal rim may bend
6. CJ Lifestyle Crystal Pool Rake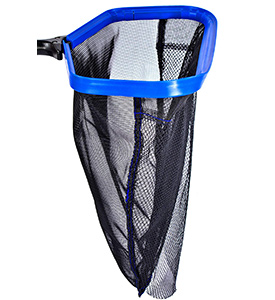 This pool skimmer features a user-friendly design to ease any pressure off of cleaning your swimming pool. It is light enough in weight so that you won't feel fatigued using it. Additionally, the minimal weight grants it greater maneuverability.
To allow the skimmer to move even easier in the water, it features an easy glide rim design. This reduces the chance of resistance from the water. To empty it all, the net also has good flexibility so that it clears out with no problem.
Pros
Lip is angled well
Good capacity
Cleans bottom of the pool well
Cons
Mesh isn't fine enough
Netting material feels thin
The plastic handle may break
5. Stargoods Pool Skimmer
Made from ABS plastic, the Stargoods Pool Skimmer has curved borders so it won't damage your pool liners. The bag is deep, and the mesh is fine enough to scoop small insects as well as it can with large debris like floating garbage and sticks.
It's designed with a universal holder for an easy fit on any pole, and it has a straightforward connect and disconnect mechanism. With its structural model, it works for inground and above-ground pools.
Pros
Holds large quantities
Easy to empty
Heavy-duty mesh
Cons
A bit heavy
Not good scooping the bottom
Plastic seems too light
4. PoolSkim Pool Skimmer and Pool Cleaner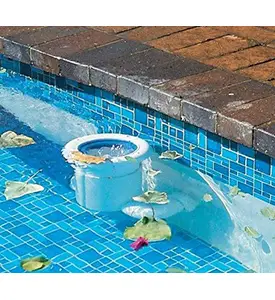 The PoolSkim Pool Skimmer and Pool Cleaner is an award-winning automatic pool skimmer. It is constructed of polyurethane and PVC pipe connectors. To function, it uses the water's own return power to pull in floating debris.
All of the debris that it suctions in from all corners of your pull falls into the sturdy nylon mesh bag. This can help ease the load off of your pool's filtration system.
Pros
Clears floating debris well
Fast suction
Easy to remove the bag
Cons
Not the easiest to install
May reduce pool circulation
May not last longer than one season
3. Triluca Pool Skimmer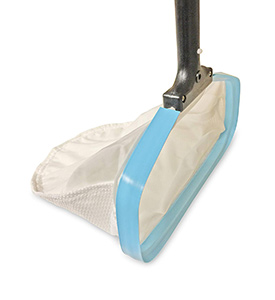 This Triluca Pool Skimmer is the best pool skimmer for those who need to get fine particles such as pollen, pet hair, etc. out of the water. The ultra-fine mesh is easy to empty out as well. This attaches to most standard cleaning poles with no issues.
The 14″ opening of the pool skimmer is made using a triple-stitched nylon net. It's attached to a frame designed to reduce bending so that it maneuvers better in the water.
Pros
Skims fine particles well
Cleans off easily
Easy to use by hand or with pole
Cons
Mesh may corrode
Debris at the bottom may escape
Net can tear after minimal use
2. Hayward SP1091LX Dyna-Skim Above-Ground Pool Skimmer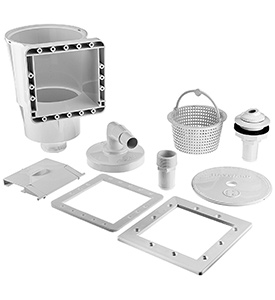 The Hayward Above-Ground Pool Skimmer uses a large debris collection basket to gather a good deal of items before you have to empty it out. You can gain access to the basket from the front or the top. Installation may take some time, but once it's completed, the skimmer goes to work instantly.
For longevity's sake, this pool skimmer is constructed from ABS that is UV resistant as to not wear down no matter how intense the sun.
Pros
Heavy-duty construction
Cleans quickly
Helps improve flow rate
Cons
Poor instructions
Strainer basket hard to lock in place
Doesn't fit standard filter connections
1. ProTuff Pool Net Leaf Skimmer Rake
Many view the ProTuff Pool Net Leaf Skimmer Rake to be the best pool skimmer on the market today. The 18″ aluminum alloy frame doesn't bend or twist, and the winged handle that secures it offers another layer of stability. Its double-stitched nylon bag is abrasion-resistant, and it resists mold and mildew for a longer shelf life.
The plastic rim is designed with safety in mind as it resists scratching the pool surface. If anything happens, this comes with a 100% lifetime guarantee.
Pros
Good sized mesh
Net retains shape well
Sturdy frame
Cons
Struggles picking up small items
May drag in the water
On the heavier side
Conclusion
The best pool skimmer is one you can rely on to keep your swimming pool clean and clear. It shouldn't be too hard on you to use whether it's a manual one or an automatic one. For a better maintenance of your pool check out our pool sand filters suggestions as well. Have any thoughts about the products in our top seven list? Share your experiences with us in the comments.