Having your own swimming pool cleaner can save you the costly expenses of hiring someone to maintain your pool. If you're in the market for one, it's important that you have the best pool cleaner to effectively care for your pool.
Finding the best cleaner for your swimming pool doesn't have to take up your time. Our reviews of the top seven selling products should steer you in the right direction. We looked for pool cleaners that have simple upkeep, can vacuum well, and is easy to adjust for more thorough cleaning.
Looking For The TLDR Version? 
Our overall #1 pick for the best swimming pool cleaner is the Dolphin Nautilus CC Plus Automatic Robotic Cleaner. See it in-action below:
Why Do You Need a Swimming Pool Cleaner?
Though it may seem evident why pool owners should invest in a pool cleaner, not all do so. There are many advantages to having your own cleaner, but as always, be sure to purchase the best pool cleaner so that you get the most out of it.
Convenient
With a pool cleaner, there's no worry about hiring a professional for regular maintenance. They are simple to use, and emptying them out of debris is usually an easy, quick task. You can do it whenever you feel the need.
Time-Saver
In most cases, the best pool cleaner allows you to "set it and forget it", so to speak. They typically don't take much time to set up as most come ready to use out of the box.
Effective Cleaning
Pool cleaners are effective at doing their intended job. To keep your water free of debris and algae, then you may want to consider purchasing one of these cleaners that do well at filtering, vacuuming, and sweeping your pool.
Check out our reviews of the top 7 pool cleaners and cleaning robots below!
7. XtremepowerUS Automatic Suction Vacuum Climb Wall Pool Cleaner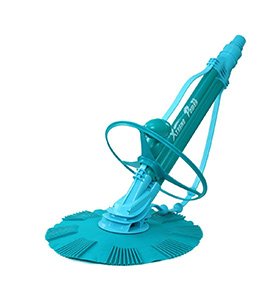 This pool cleaner from XtremepowerUS features an adjustable design so that it can easier climb your pool walls and be used in various directions. The hose length is adjustable as well for easier positioning. It has a silicone, ripple appearance that can better handle stains. This also allows it to work on pools of various finishes such as fiberglass, concrete, tile, and even vinyl.
Pros
Good longevity
Reaches corners well
Easy to assemble
Cons
Weights don't always stay in position
Might clog
Stiff hose
6. Aquabot Pool Rover Hybrid Robotic Pool Cleaner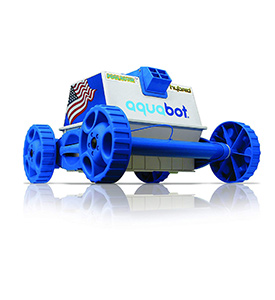 Many see the Aquabot Pool Rover Hybrid as the best pool cleaner that is relatively simple to use. All that's needed to do is press a button and drop it into the pool. It automatically goes to work, and it's functional in most inground pools and all above-ground pools. This is built with non-marring wheels that have a 2″ clearance to better go over debris of various sizes. It also has self-contained filtration.
Pros
Easy setup
Strong motor
Removes a lot of debris from the floor
Cons
May not clean sides as well
Can get stuck in corners
Cord tangles
5. Pentair GW9500 Kreepy Krauly Great White Inground Pool Cleaner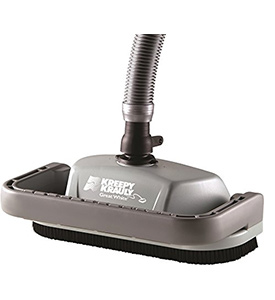 This Kreepy Krauly from Pentair is another automatic cleaner deemed the best pool cleaner for inground pools. With its SmartTrac Programmed Steering, it can better navigate around obstacles. This agile machine can also get to hard-to-reach places. It can fit in incline, dish, and hopper-bottom pools while effectively cleaning over vinyl, fiberglass, and any other special surfaces. This even comes equipped so that you can use this right away.
Pros
Easy installation
Scrubs walls well
Multiple hose sections
Cons
Leaves can stick inside the hose
May not go to the shallow end
Can stick around drains
4. Hayward Poolvergnuegen The Pool Cleaner Automatic Suction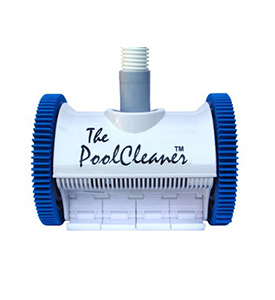 The Pool Cleaner is a powerful machine that you can get in either a 2-wheel design or a 4-wheel design. When it comes to the tires themselves, the treads are patented and intended to help the cleaner with climbing and overcoming obstacles. The roller skirt is adjustable so that it can perform well on uneven surfaces. For the turbine vanes, they're self-adjusting to ensure full cleaning at maximum power.
Pros
Can suck up large debris
Good instructions
Works fast
Cons
Might turn on its side
Hard time climbing walls
Requires a lot of suction
3. VINGLI Automatic Inground Pool Cleaner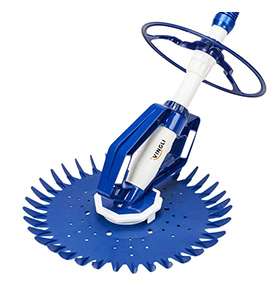 VINGLI has an automatic pool cleaner that has premium rubber disks for wider cleaning. It can handle the walls and stairs as well as the floor. This makes maintaining your pool easier all at a low price, making it the best pool cleaner that is budget-friendly without sacrificing performance. It can go over various surfaces such as concrete and tile well.
Pros
Cost-efficient
Runs quietly
Easy to setup
Cons
Might get stuck in corners
May not do as well with large debris
The hose can trip it up
2. Polaris Vac-Sweep 280 Pressure Side Pool Cleaner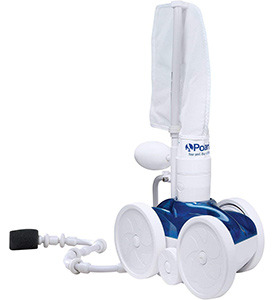 If you're looking for a powerful pool cleaner, the Polaris Vac-Sweep 280 may be the right choice for you. It hooks up to a dedicated pressure line, and from there, can sweep, vacuum, and scrub the bottoms and walls of any inground pool. There's a large opening to allow it to suck in larger debris like acorns. The filter bag has a large capacity as well so that it can handle harder cleaning jobs. Also, for a specialized product for filtering, you can check out our pool filters for inground pools recommendations.
Pros
Can easily run all day
Handles walls well
Quick setup
Cons
Might suck up its own tail
Feeder hose can tangle
Potential to jam
1. Dolphin Nautilus CC Plus Robotic Pool Cleaner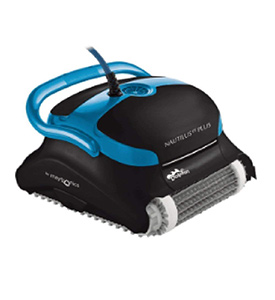 With the Dolphin Nautilus CC Plus, maintaining the cleaner is done with ease thanks to the top load filter. It can scrub, vacuum, and filter your pool in under three hours. For more details, see our comprehensive review of the Dolphin Nautilus CC Plus. For easier swimming pool cleaning, there are dual scrubbing brushes. It features a patented swivel cable to cover the pool better. Furthermore, there's smart navigation that scans your pool floor for throughout cleaning.
Pros
Easy to clean filter
No cord tangling
Filters fine particles
Cons
Fragile filters
Seems to work too fast
Can get stuck on steps
Our Conclusion on Our Swimming Pool Cleaning Equipment Reviews
Having the best pool cleaner can ensure that your pool remains free of dirt and debris that can damage the condition of your water. Just like some salt water pool chlorinators, and other swimming pool maintenance products and equipment, many of them can be set to work on cleaning without you monitoring it, saving you a ton of time over the years!
If you have any thoughts about the swimming pool cleaner products we chose to review, please let us know in the comments.