If you swim regularly or spend time at the pool, you probably already know that pool water contains chlorine. We know chlorine kills bacteria and helps keep the pool sanitized, but does pool water damage your hair?
Before we get into that, lets recognize that chlorine also cleanses the skin and removes dirt from the hair. But while chlorine is useful for keeping a pool clean, it's not exactly the kindest chemical on your hair, which makes it extra important to test your pool chlorine levels on the regular.
The chemicals in pool water can be harmful to your hair in several ways, and if you're not careful your hair is at risk of bleaching, breaking, and frizziness.
But don't worry – you don't have to sacrifice the health of your hair just to go swimming. 
If you're worried about pool water damaging your hair, then we've got you covered. In this guide, we'll take a look at what exactly causes pool water to harm your hair.
Not only that, but we'll also go over some ways you can protect your hair so you can stop worrying about putting your hair in danger. 
Why Does Pool Water Damage Your Hair?
Pool water can cause all sorts of problems with your hair. There are two main culprits here: the chemicals in the pool, and the temperature of the water.
These two factors can be harmful in their own right, but the combination of them in pool water will take its toll on your hair. This is even worse if you swim regularly, but why do these things damage your hair?
Chlorine is a pretty harsh chemical – it needs to be, considering its purpose is to kill the bacteria in your pool water.
While it's great at disinfecting a pool, chlorine also damages your hair by stripping away the protective oils that coat each strand. This leaves the hair brittle and prone to breakage. Normal swimming pool chemicals are also known to be bad for the environment as well.
Chlorine also bleaches the color from hair, and can completely strip hair dye if you aren't careful.
Even if you don't use chlorine in your pool, you are still at risk of damaging your hair. The salt in saltwater pools can also strip the oils from your hair, and when your hair dries it will be left dehydrated and more likely to break. 
Temperature can also have an impact. Cold water saturates hair, trapping moisture and keeping your hair hydrated.
While this may seem like a good thing, it also traps the chemicals in the water where they can continue to damage your hair. Warm or hot water isn't any better, and can be worse for your hair than cold water. 
It opens up the pores of your hair and leaves it vulnerable, and higher temperatures can cause your hair to break or become frizzy.
The best temperature to prevent damage is lukewarm water, although this won't protect your hair from the chemicals in pool water.
How To Protect Your Hair From Pool Water
With all the risks to your hair's health when you're swimming, you might be wondering why you should even bother.
That's why we've gathered some simple and effective ways to protect your hair from damage, so you can have some peace of mind while you're swimming. 
1. Rinse Out Pool Water As Soon As Possible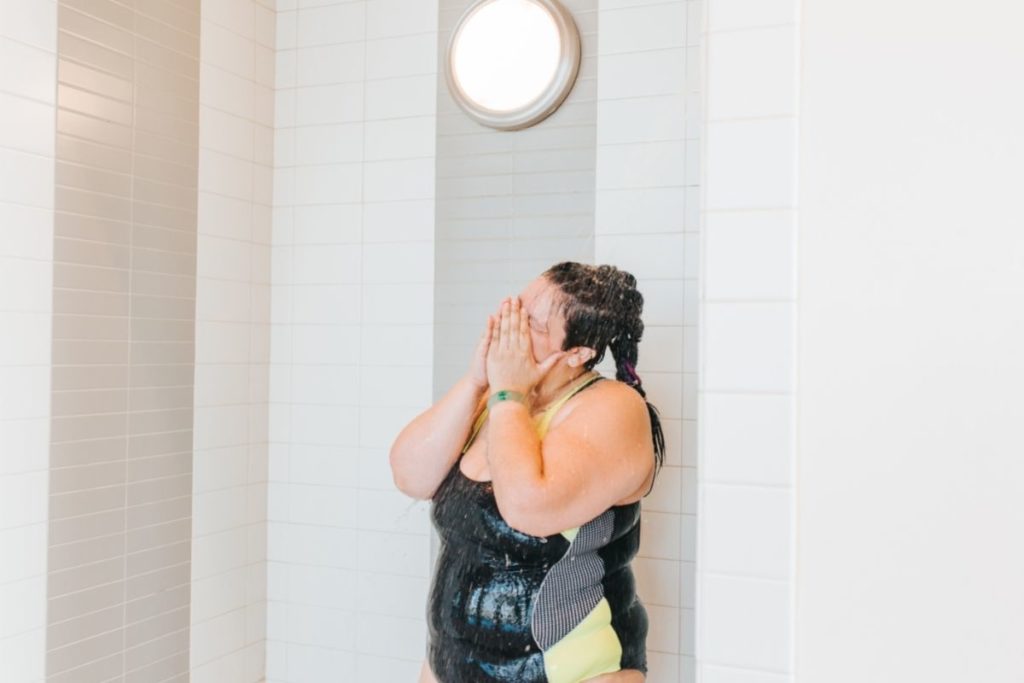 The longer the pool water is in your hair, the more damage it can do. To avoid this, make sure you wash and rinse your hair as soon as you get out of the pool to make sure that any chemicals are washed away. 
Use lukewarm water to clean your hair, as if the water is too hot or cold it can make the effects of the pool water worse. After rinsing the pool water from your hair, use a conditioner to rehydrate the strands and prevent frizz. 
2. Wear A Swim Cap
Another way to prevent your hair from being damaged in the pool is to keep the water from reaching it at all. using a swimming cap will protect your hair from the pool water by stopping it from getting to it in the first place. 
This is a great option for longer swims where other forms of protection won't last. By using a swim cap, you can rest assured knowing that your hair will remain safe and dry while you swim.
That's not to say a swimming cap is a perfect choice, and using one too often can also damage your hair and scalp.
They limit the air that can reach your scalp, and if you've ever worn a swimming cap before then you'll know they are great at pulling and plucking strands of hair. 
To help reduce any discomfort or damage caused by the swimming cap during longer swims, rinse your hair with clean water and apply some conditioner to your hair before putting the swimming cap on; this will keep your hair and scalp hydrated while also making it soft and slippery enough to not get tugged by the cap itself.
3. Use Products To Protect Your Hair
There are several products that you can use which will add a layer of protection to your hair while you swim.
These include specialized pre-swim conditioners (which are great when combined with a swim cap), and various natural oils that nourish your hair and prevent the chemicals in the water from damaging it.
These don't have to be expensive branded products, however, and you can still get some great protection for your hair for cheap.
Olive oil is a great choice, as it is filled with vitamins and antioxidants that help keep your hair well-nourished and well-protected.
Coconut oil is another great oil to use – not only is it full of fatty acids that help your hair stay moisturized, but it is also much cheaper than olive oil while being kinder to your scalp. 
Our Final Thoughts on Swimming Pool Water Damaging Your Hair
Just because swimming pool water can damage your hair doesn't mean you have to give up swimming!
There are plenty of ways for you to protect your hair while you're in the pool, whether they are preventative measures like a swimming cap, or simple things like rinsing your hair when you get out of the water.
So next time you're going swimming, you know how to keep your hair protected in the pool. As long as you are careful and make the right preparations, you can enjoy your swim without the fear of frizziness and split ends!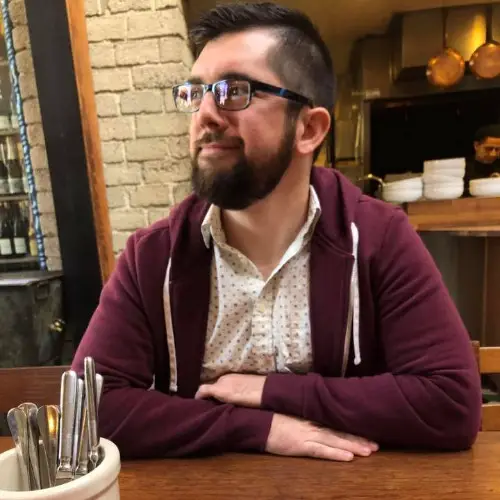 Hello, I am a writer and marketing specialist in Kansas City, MO. My love for swimming pools started as a child when I would visit my aunt & uncle's inground swimming pool on a frequent basis over the summer. Since then I have taught swimming lessons at a Boy Scout Camp, participated in the full setup, installation and maintenance of my father's inground swimming pool, as well as enjoyed constantly researching everything there is to know about swimming pools for 5+ years. I enjoy all water related sports, being part of the online swimming pool community and always learning new things!