Before we get into wether swimming pools are bad for the environment or not, let's acknowledge that swimming pools are great places to relax after a long day at work or school. They also provide a safe place for children to play and enjoy water activities.
Swimming pools are also a source of entertainment for adults and can be a fun way to work out or exercise.
But what effect does owning a swimming pool have on the environment?
The Environmental Protection Agency (EPA) has set standards that all new homes must meet in order to reduce their impact on the environment.
The EPA's new energy star program is designed to help consumers identify which products best fit their needs and their budgets.
One way you can conform to EPA's new standards is by making the switch from a traditional pool to a natural pool.
Traditional swimming pools are not only bad for the environment, but they can also cost quite a lot to install and maintain.
In this article, we will be exploring why traditional pools are bad for the environment and comparing them to natural pools (like the one below).
Why Most Pools Are Not Eco-Friendly
Pools are sort of natural power suckers. An average-size pool holds between 10,00 and 20,000 gallons of water.
You'll probably only fill your pool a few times throughout its lifespan, maybe even only once if you never drain it. 
However, you'll always be adding water to it because of evaporation and heavy usage.
Therefore just owning a swimming pool will increase your water usage by a lot, without even looking at the energy it will take to constantly filter the pool.
A pool should be cleaned regularly to avoid losing too much water.
Chemicals used to clean above ground pools and inground swimming pools can harm any life forms it comes into contact with.
These chemicals will be bad for the surrounding environment but are necessary to keep most pools clean, such as chlorine.
The production of these chemicals also has a great effect on the environment. Pool chemicals must also be stored safely as well.
Pool owners should also be aware of how much energy they're using. They should try to conserve as much energy as possible.
Quality swimming pool pumps use a lot of electricity. Most people don't realize how much power they use.
A typical pool pump uses about 3,000 kilowatt-hours (kWh) per year. That's enough to run an average household for two weeks!
Water Waste
Swimming pools should be covered when they aren't being used. This reduces water loss by evaporation. There are even options for solar pool covers for inground pools that help to heat the pool as well as cover it.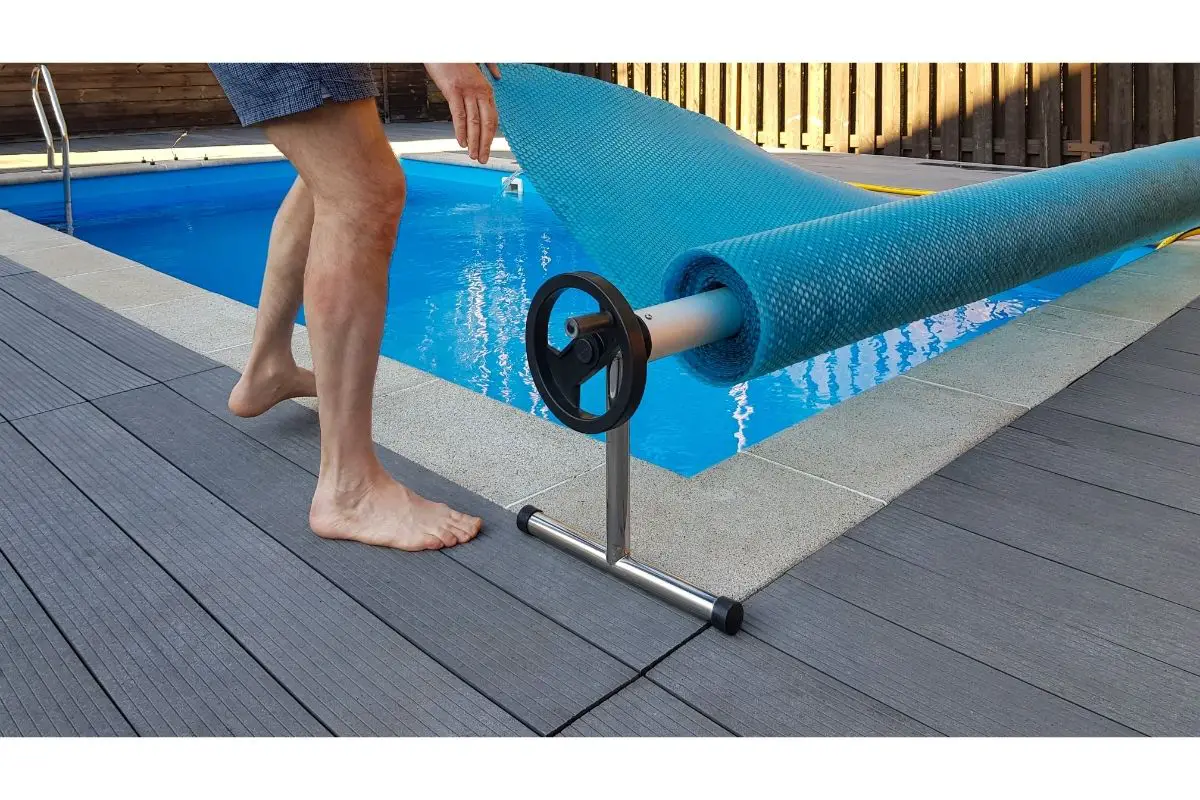 Solar and Winter Pool covers reduce evaporation by keeping out sunlight.
Swimming pools release chlorinated and brominated chemicals into the atmosphere.
This causes the production of greenhouse gasses, which contributes to global warming.
Leaks occur in about 20% of swimming pools, and these leaks cause damage to the environment.
Potent Chemicals
Chemicals used in swimming pools are harmful to the environment and living things.
If you are disposing of water from the swimming pool, the water should be drained properly and disposed of correctly.
Doing this will prevent added harm to the environment.
There are more than 10.4 million residential pools in the US. Most of them are traditional, chemically treated ones.
The Environmental Differences Of Traditional Swimming Pools And Natural Pools
Traditional pools are very popular but they cause many problems. They require a lot of energy to pump and filter water.
They use a lot of chemicals to make the water as clean as possible to swim in. And they take up a lot of space.
All of these factors put together mean that traditional pools affect the environment negatively. 
Natural pools are much better because they do not need any heating or cooling systems, pumps, or filtration systems meaning that they are more eco-friendly because they use less water and electricity.
They are also cheaper to install. Natural pools are made out of rocks and plants.
They are also beautiful to look at because they add a little bit of nature to your garden.
Swimming pools should be cleaned regularly by professional cleaners. Pool owners should make sure there are no dangerous chemicals in the water.
Chlorine is a powerful irritant to the eyes and lungs so make sure that you have not got any excess chlorine in your water.
Swimmers should avoid breathing chlorine fumes or inhaling them into their lungs. Natural swimming pools are often a great alternative to consider for a swimming pool option that is better for the environment.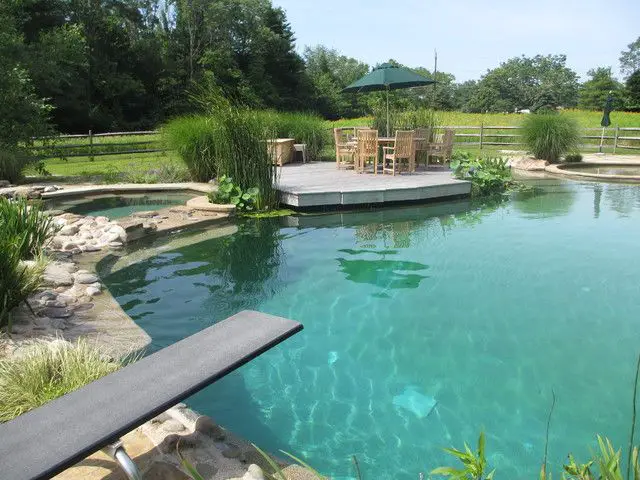 How Do You Make An Eco-Friendly Pool?
Natural pools are a chemical-free, low-tech, and affordable way to create a safe, eco-friendly swimming pool.
Materials such as gravel and clay can be used instead of concrete and fiberglass, and aquatic plants can be used instead of chlorine and expensive mechanical filtration systems. 
Natural pools require very little maintenance. You won't need to worry about chemicals or pH levels.
A natural pool also requires less water than a regular pool, so you may be able to save money by using less water.
Fewer Chemicals
Natural pools do not contain any harmful chemicals. Instead, they provide a safe place for wildlife like birds, frogs, and more.
This makes them better than traditional pools because they help protect the environment.
Chlorine is one of the most common chemicals found in swimming pools.
However, it has been linked to health issues like asthma and skin rashes. Natural pools use plants and algae to purify the water.
These organisms consume bacteria and other contaminants.
Fewer chemicals mean less money spent on those chemicals. You can save money by investing in your natural pool/ water feature.
Natural pools/water features are safer for the environment than traditional pools/water features.
Less Electricity
Natural pools use less electricity than chemical-treated pools. Less electricity means less pollution.
A natural pool doesn't need to be pumped. It's gravity-fed. Gravity helps to circulate water through the system.
Therefore you don't have to use electricity to pump water into your pool.
Our Final Thoughts On If Swimming Pools Bad For The Environment
We hope you enjoyed our analysis of if swimming pools are bad for the environment, as well as some of the eco-friendly pool solutions we covered. We believe that if you want to have a healthy, eco-friendly pool then you should consider making the switch to a natural pool.
There are many benefits to having a natural pool. The biggest benefit is that it will reduce your carbon footprint.
If you're worried about the cost of installing a natural pool, you should know that it's actually quite cheap compared to traditional pools!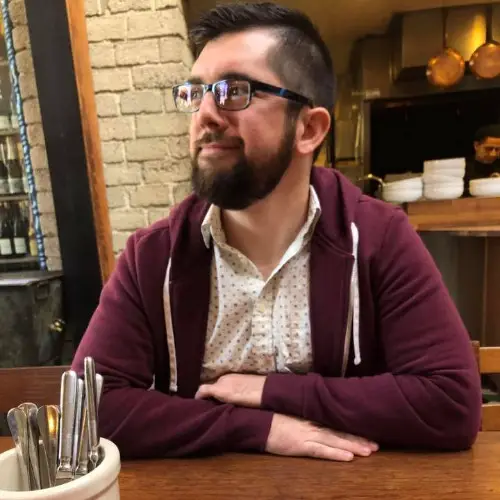 Hello, I am a writer and marketing specialist in Kansas City, MO. My love for swimming pools started as a child when I would visit my aunt & uncle's inground swimming pool on a frequent basis over the summer. Since then I have taught swimming lessons at a Boy Scout Camp, participated in the full setup, installation and maintenance of my father's inground swimming pool, as well as enjoyed constantly researching everything there is to know about swimming pools for 5+ years. I enjoy all water related sports, being part of the online swimming pool community and always learning new things!