All swimming pools require regular maintenance. One of the more renowned above-ground designs is an Intex pool, so when it comes to pool cleaning, what is the best vacuum for intex pools?
Intex swimming pools come in various sizes and require the same care as any swimming pool, especially if you have one of the larger models like the Intex Ultra Frame XTR, that means finding the right vacuum for your pool cleaning needs may be a tricky choice.
Sure, Intex swimming pools can be great value yet without regular cleaning you and your guests may not enjoy them. Dirt, sand, and large debris can easily get into your Intex pool and it can be an effort to remove all of it.
Especially if you decide on an impromptu pool party and only have so much time to get it in pristine condition.
The best vacuums for an Intex pool take the effort out of cleaning. They can be handheld and cordless if you want the hands-on experience. You can even find robotic vacuums to do the cleaning on specific days so all you need to do is take it out of the pool once it has finished.
Intex does not just make pools, they also make pool cleaners. Automatic ones too with the Intex Automatic Pool Cleaner For Above Ground Pools.
Keep your Intex pool clear of debris with venturi suction, just as long as you can use your filter pump with the 24-foot hose.
It will require 1,600 to 4,000GPH yet once it is on, the automatic vacuuming can be left alone which we liked in our testing.
There is some peace of mind to be using a pool cleaner that is specially designed by Intex for Intex pools. Though those four wheels are not powered, you can expect it to get deep into those corners then reverse out.
Pros:
Automatic Vacuuming – Connect it to your filter pump (as long as it is 1,600 to 4,000 GPH) and watch it do the job
Specially Designed – This pool cleaner is designed by Intex so you should be confident you can spend more time enjoying your pool than cleaning it
Deep Corner Coverage – Allow the pool cleaner to get into those deep corners to clean as it can reverse itself out
Cons:
Easy Obstruction – The four wheels are not powered so they will get stuck with various obstacles
Also available directly from Intex
Intex Automatic Pool Cleaner for Above Ground Pools
Cleans your pool without effort!
Requires a filter pump with a flow rate between 1,600 - 4,000 GPH (6,056 - 15,140 L/hr)
Automatically reverses direction to vacuum the entire pool floor For use with 7.32 m (24 ft) and smaller diameter pools
Includes 24 ft. 7 in hose that attaches easily to existing pool inlet
A lot of pool vacuum cleaners look kinda boring and are largely devoid of any character at all. The Hayward 900 'Wanda' Pool Cleaner stands out with a huge toothy grin.
Enjoy looking at it but also enjoy it vacuuming up the bottom of your Intex pool. SmartDrive Technology actively ensures that the pool cleaner does not miss a single spot and cleaning is done quickly.
The Deluxe Bumper Ring also ensures less friction against the side of your pool which we enjoyed in our experience of this product.
The Bumper Ring also aids the pool cleaner away from obstacles for reliable performance from the super filtering system. With such a fun design, even kids might like to see it work its magic.
Pros:
SmartDrive Technology – Quick and complete coverage of the bottom of your Intex pool
Deluxe Bumper Ring – Less friction and helps to guide the pool cleaner away from obstacles
Easy Installation – The pool cleaner can be installed in under ten minutes without tools
Cons:
Few Settings – There is less versatility but a reliable performance
Also available directly from Hayward
Hayward 900 Wanda the Whale Suction Above-Ground Pool Cleaner (Automatic Pool Vacuum)
USE IN ABOVE-GROUND POOLS: The Wanda the Whale Suction Pool Cleaner from Hayward is designed to automatically clean the bottom of all sizes and shapes of above-ground and on-ground pools
GENTLE YET EFFECTIVE: A unique turbine system helps Hayward suction cleaners move gently across the bottom of your pool, providing exceptionally quiet operation. They even improve circulation by pulling water up from the bottom of the pool as they move
SIMPLY SUPERIOR RESULTS: Equipped with patented SmartDrive technology, it covers the bottom of your pool quickly and completely, making sure no debris is left behind. Their deluxe bumper ring reduces friction, guiding them away from walls, steps and ladders to continue the cleaning cycle
QUICK & EASY INSTALLATION: 32 ft. hose connects directly to your skimmer, installing in less than 10 minutes without tools. And with no additional equipment required, you can enjoy sparkling clean water without a booster pump
TRUSTED BRAND: With over 80-years of experience, Hayward is an industry leader manufacturing advanced pool equipment
For sheer convenience, go for a cordless design. One of the best around is the Water Tech Pool Blaster Max.
Without any cords, lithium-ion batteries provide an hour-long runtime which should be enough time for your entire Intex pool. There's also less effort too with an easy push-button to turn it off and on.
Though a lot of pool cleaners are essential for dirt and sand, the Water Tech Pool Blaster Max has a Reusable X-Treme Multilayer Filter for both fine and large debris.
No more picking out loose tree debris yourself, just let the pool cleaner deal with it. With increased power and the most efficient debris removal, this does a quick and comprehensive cleaning job.
Pros:
Cordless Cleaning – No cords and you can rely on the lithium-ion battery for an hour-long runtime
Easy Push Button – Turn it off and on when you need it
Quick Performance – Clean your pool quickly with increased power and effective debris collection
Reusable X-Treme Multilayer Filter – Debris such as twigs and acorns are easily picked up
Cons:
Regular Recharging – Due to the batteries, you will have to recharge this pool cleaner quite regularly
Also available directly from Water Tech
Sale
POOL BLASTER Max Cordless Pool Vacuum for Deep Cleaning & Strong Suction, Handheld Rechargeable Swimming Pool Cleaner for Inground and Above Ground Pools, Hoseless Pool Vac by Water Tech
INCREASED POWER: The Max offers increased vacuum suction with the Water Tech P30 Motor design engineered for quick & efficient debris pick-up.
WHOLE POOL CLEANER: Clean entire pool or Spot-Clean in seconds. Includes a removeable 10.5" vacuum head for general cleaning or simple remove to expose nose cone head for hard to get areas. Ideal for In-Ground pools and Above Ground Pools like Intex
CAPTURE MORE DIRT: The Max features a large debris capture chamber and strong suction for a variety of cleaning; acorns, twigs, leaves dirt and sand.
CORDLESS CLEANING: Perfect for quick and easy cleaning in the Swimming pool and Hot Tub or Spa. No hoses or cords needed.
MORE RUN TIME: The lithium ion battery powered Max is designed to run up to 1 hour. Push-Button operation. Attaches to any standard telescopic pool pole. (telescopic pool pole not included)
For an Intex pool that you want to get great regular use from, choose a pool cleaner that works when you want it to.
Though it does come with a sizeable price tag, the DOLPHIN Nautilus CC Automatic Robotic Pool Cleaner works for you, at your convenience. You can even select from three scheduling settings, either daily, every other day, or even every third day.
This is a powerful pool vacuum cleaner that can be finished inside a couple of hours, no matter how big the pool which we liked in our testing.
Trust in the energy efficiency too as this one will not rely on your pool pump or filter yet still deliver on 5c per hour. Excellent if you do not want a high energy bill but a regularly clean Intex pool. Check out our full review of the Dolphin Nautilus CC Plue here!
Pros:
Energy Efficient – Does not rely on your pool filter or pump to clean your Intex pool effectively at 5c per hour
Superior Scrubbing – Great cleaning and filtering from a smart design
Scheduling Settings – Decide when you want your Intex pool cleaned with three settings; daily, every other day, or every third day
Cons:
Huge Price Tag – If you want to get good value then you should be getting regular use out of your Intex pool and this pool cleaner
Also available directly from Maytronics
Dolphin Nautilus CC Automatic Robotic Pool Cleaner - Ideal for Above and In-Ground Swimming Pools up to 33 Feet - with Large Capacity Top Load Filter Basket…
Sit back and relax while the Dolphin Nautilus CC robotic vacuum cleans the pool for you. Ideal for small swimming pools, above or in-ground up to 33 feet. This easy to use, compact cleaner will have your pool ready for splashing fun in just 2 hours
Efficiency is key when it comes to pool cleaning. Unlike suction and pressure cleaners, Dolphins are 8 times more energy efficient and do not rely on your pool pump or filter to get the job done. Ditch the pumps and hose and save energy with every pool cleaning
Dolphin does all the hard work for you. Agile and efficient, the Nautilus CC was designed to clean your pool, effortlessly. With superior scrubbing and filtering capabilities, you can relax knowing your pool's floor and walls are left exceptionally clean
Clean your pool with the touch of a button. Schedule the Nautilus CC to automatically clean your swimming pool each week using 3 settings- every day, every other day, or every 3rd day
With more than 35 years of cleaning the world's residential swimming pools, Dolphins provide pool owners with a hassle-free cleaning solution of unmatched performance and longevity. Get back to what really matters; spending time with family and friends
Some pool cleaners hit the market offering a brand-new design to work wonders on your Intex pool.
The Pentair E-Z Vac Suction-Side Pool Cleaner builds on a previous, tried and tested design so has years of experience behind it. It is also one of the best side suction pool cleaners we reviewed.
That effective hydraulic design includes only one moving part which is the flapper so you will not have to worry too much about servicing.
The random pattern coverage from the flapper also ensures that more of the pool is covered.
A free skimming valve also regulates the water pressure for a reassuringly competent cleaning speed. Though there may be some noise, you can rely on the suction power.
Pros:
Hydraulic Design – Ideal for large Intex pools cleaning effectively with 2000GPH
Skimming Valve – Regulates water pressure so the pool cleaner does not lose power
Random Pattern Coverage – Should cover the entire pool efficiently
Cons:
High Noise Level – You can expect to hear some noise while the pool cleaner is working
Also available directly from Pentair
Pentair K50600 Kreepy Krauly E-Z Vac Suction-Side Above Ground Pool Cleaner Blue/White
Superior hydraulic design for optimum vacuuming power
Only one operational moving part (the flapper) for long, dependable service; no wheels or gears to replace or service
Free skimming valve automatically regulates water flow to assure proper cleaning speed and simultaneous skimming of surface debris while vacuuming
True random pattern coverage makes sure every inch of pool floors are thoroughly vacuumed
Intex Pool Vacuums Buyers' Guide
Even with a pool cover, you are going to have to clean your Intex pool.
Dirt, sand, and large debris all need to be collected so that you can enjoy your pool when the weather is just right. That means finding a pool cleaner that works for you.
There are several options available, from those that excel in suction power to one that will be more energy efficient.
Time could be the key consideration as you may decide on a pool party at short notice and need the pool to be ready in a few hours. With the right pool cleaner, you can ensure that the pool party goes as scheduled.
Flow Rate
The flow rate in pool cleaners is measured in GPH (Gallons Per Hour) and the higher the figure, the more powerful the flow rate.
Do remember that vacuum cleaners with higher GPH figures may also cause more strain on your pool pump and/or filtration system.
Most vacuums will specify the requirements which are worth checking. You can usually find a range from at least 1500 to as much as 4000 GPH.
Power
The power of a pool vacuum cleaner is determined by the size of its motor. More compact designs will be less powerful and vice versa. This figure is measured in horsepower and ranges from 0.5 to 2.0HP.
Power is vital for a vacuum cleaner and can determine how comprehensive the vacuum cleaner will work. That can mean finding the right power in a vacuum to match the size of your Intex pool. The more power, the more efficient the clean and the faster it will take.
The suction mechanism of more powerful pool vacuum cleaners tends to be upstream. However, more extensive use will consume more energy. The more powerful vacuum cleaners can also be louder which can become burdensome.
Easy Maneuverability
If you are looking for a powerful pool vacuum cleaner, get one that is easily maneuverable too. It can have so much power yet if it cannot get into the deepest corners of your pool, that power is largely inefficient.
If it can get into and clean the tightest of crevices with a low level of noise then that is an ideal combination.
Type Of Vacuum
If suction is a key consideration then you may have to choose between pressure-side or side-suction vacuums. With a pressure-side vacuum, you can expect high power which should be ideal for larger Intex pools.
These are more energy-efficient than suction-side vacuums too so they should clean quicker. This is largely due to a separate filter bag meaning the design proves gentler on your pool's filter system.
Coverage
The coverage of your pool vacuum cleaner can often be forgotten but is really important. Especially if you decide on a robotic vacuum cleaner as you need to appreciate whether it can cover the entire pool.
If you want to rely on the automated processes of your robotic vacuum cleaner then knowing the coverage may mean whether you can leave it alone.
With a robotic vacuum cleaner, you also have to ensure that the navigation system is top-quality. If it is then those corners and crevices should be cleaned without you intervening.
Filtration System
There are two filtration systems available in pool vacuum cleaners; bagged and bagless. For bagless options, opt for a suction side cleaner which will rely on your pool's pumps filter system.
As the pool vacuum cleaner collects dirt and debris, this all goes into your pool pump's filter system for you to then empty. This method can mean more work, for you and your pool's filter system.
Bagged filtration systems can be found in pressure side vacuums and robotic pool vacuums which will collect dirt and debris as they go.
That mechanism also means that your pool pump filter system will be doing less work. However, you will have to keep an eye on the bag and empty it once it is full.
Corded Or Cordless
As with the vacuums you use in your home, you have the option to go corded or cordless. Cordless pool vacuums offer a limited runtime and you can expect an hour with rechargeable lithium-ion batteries.
That may not be long enough for a large vacuum.
The cordless options are great for portability and will be more hands-on than a robotic vacuum cleaner yet with less tangling if confronted with an obstruction.
Debris Type
The filter can help you decide which vacuum cleaner to go for. Many suction side cleaners are designed to deal with regular dirt and sand that you can expect to get into your Intex pool.
These have just enough power for the smaller particles which should prove better for energy efficiency too.
If you do not want the job of picking up twigs, insects, or acorns yourself then pick a filter for large debris. These pool vacuum cleaners tend to be more powerful too so you can expect to find a reliable pressure side cleaner to do the job.
For a consistent pool vacuum cleaner for both large and small debris, get yourself a robotic pool vacuum. These are super intuitive so you can leave them alone and come back to a clean pool. No matter what sort of debris was in there, even algae.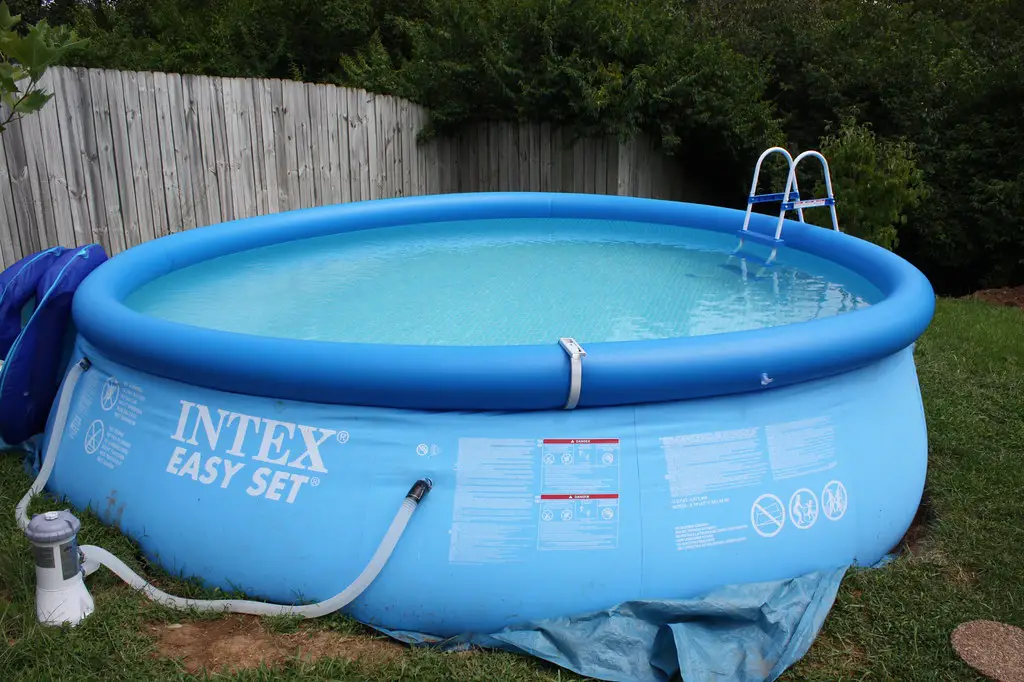 Frequently Asked Questions (FAQs)
Check out some of our answers to the most frequently asked questions related to Intex swimming pools and the best vacuums for them.
What Is An Intex Swimming Pool?
For an above-ground pool, few brands are as renowned as Intex. Their line of swimming pools includes children's pools, Easy Set pools which are effortless to assemble, and frame pools. Another noteworthy brand is Summer Waves, check out our comparison of Intex vs Summer Waves pools!
Those frame pools are fit for any backyard and come in several models. The Metal Frame pools come with that timeless, classic design.
Prism Frame pools are more stylish with a soft gray-colored exterior and blue tile print interior. Then there are Ultra Frame Pools which are significantly larger and can be round or rectangular.
For a solid construction in a swimming pool, you can trust Intex to have the right pool for your backyard.
Their range of designs also covers various budgets and comes with several accessories such as pool covers, filter pumps, and ladders. They even throw in an instructional DVD to ensure you can assemble the pool easily.
How Do You Vacuum An Intex Pool?
Think of your swimming pool vacuum as a regular vacuum you would use in your home.
You may use a corded or cordless one then push it along yourself, though you could find a robotic vacuum cleaner you can leave alone. There are bagged and bagless models too.
The principles remain the same in that the vacuum cleaners suck up dirt and debris to produce an effective clean through a filter system. Debris and dust are swept in while clean water is pumped back into the Intex pool.
Conclusion on Our Intex Pool Vacuum Reviews
We hope you genuinely enjoyed and benefited from our buying guide and reviews on the best vacuums for Intex pools! All of the 5 Intex pool vacuums we reviewed are solid options to consider for properly cleaning your above ground Intex swimming pool.
We recommend you choose the option that has the best feature/quality that is important to you and your favorite swimming pool cleaner needs.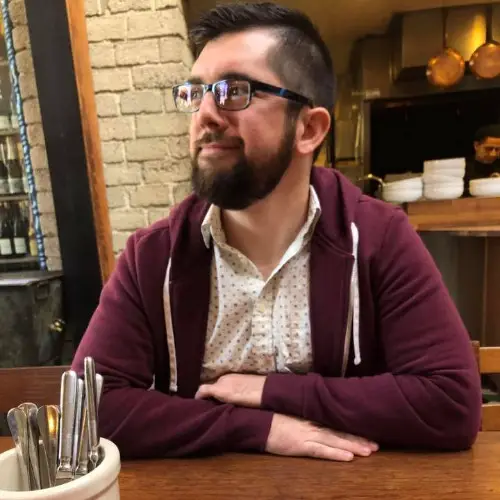 Hello, I am a writer and marketing specialist in Kansas City, MO. My love for swimming pools started as a child when I would visit my aunt & uncle's inground swimming pool on a frequent basis over the summer. Since then I have taught swimming lessons at a Boy Scout Camp, participated in the full setup, installation and maintenance of my father's inground swimming pool, as well as enjoyed constantly researching everything there is to know about swimming pools for 5+ years. I enjoy all water related sports, being part of the online swimming pool community and always learning new things!