When summer is fast approaching and you need a good swimming pool before the weather starts to get really hot, it can be tricky narrowing down your options, especially when it comes to Summer Waves vs. Intex pools.
With so many brands of pools out there with lots of options like inflatable pools or a more permanent swimming pool, it can take a lot of time and research to find the right one for you – a lot of time you may not have. 
But we are here to make things easier for you. Today, we have pulled together a handy guide comparing two of the most popular brands of swimming pools – Summer Waves pools & Intex pools.
Summer Waves and Intex both make a range of different kinds of quality above ground pools that are ideal for every kind of person and backyard, but which one is the highest quality and suits your needs best?
Well we have tried and tested a bunch of pools from both manufacturers to see if they hold up. Take a deep dive below and see which brand of swimming pool has our golden recommendation! 
What We Are Looking For In A Good Pool
Deciding on bringing a swimming pool to your backyard can be exciting, but you also need to do a lot of research so you don't end up with the wrong kind of pool. Here are some qualities and features that you may want to consider when choosing the right pool for you.
Space
This is something to consider when you are looking for a certain type of pool. 
If you have rather limited backyard space, then you may want to consider an inflatable pool that you can remove easily when you want to use your backyard for other activities. 
However, if you have enough space, then you can also consider one of the larger pools if you think you will get the use out of the full length of the pool. 
Overall, this is something unique and down to you rather than the manufacturers themselves. This is why both Intex and Summer Waves feature a bunch of different sized pools so there is always an option for you no matter the size of your backyard.
Remember to look at the dimensions of the pool and take some measuring tape out to your backyard to see how the pool would fit before purchasing. 
This will save you some awkward trouble later down the road. 
Durability
Sometimes the weather can be unpredictable and even in the middle of summer, you can be hit with some bad weather. If you have left your pool up, then you will want a durable swimming pool that is less likely to break or be damaged due to harsh weather conditions.
When looking for the ideal swimming pool, we will be considering its materials and how strong they are so you will know if the pool you are considering is made from sturdy materials.
This way, you will be able to get yourself a pool that is more likely to survive some strong winds and rain if you live in an area that is likely to have some tricky weather during the summer season.
Ease Of Use
Both Intex and Summer Waves manufacture pools that you will be expected to assemble or inflate yourself – but no one wants to mess around with poles and sheets of plastic for hours on end. 
That's why we will be looking for pools that are easy to assemble so you can have your new pool up and running in no time. Such pools may have features or easy instructions that make the assembly process a lot simpler and easier, others may not. That is why we will do the work for you and find out how others found the assembly process so you know what to expect when putting your new pool together. 
Cleanliness And Hygiene
And finally we have cleanliness and hygiene. 
Pools can get dirty and messy, especially if they have been left outside for a long time. Not only will you likely find more and more debris in your pool, but the water will also deteriorate until it reaches an unsafe level. You don't want to swim around in dirty water but constantly refilling your pool can be a pain too – so what do you do?
Some pools may come with filters, covers, or pumps that can all help keep your pool cleaner for longer. Accessories like these can help keep critters and debris out of your pool during the night, and maintain your pool's cleanliness. So, it may be worth your time looking into getting a pool that already comes with such features so you don't have to go searching for one even after you have bought your pool. 
So, any features that help keep your pool clean is an added bonus in our eyes! 
With all that said and done, let's dive into the product comparisons so you can choose which manufacturer is right for you.
Summer Waves Vs Intex: Inflatable Pools
The most affordable option for a swimming pool, both Summer Waves and Intex manufacture their own inflatable pools. Summer Waves has its Quick Set inflatable pool and Intex has its Easy Set inflatable pool.
Both have a lot of similarities – both are available 10 feet wide by 30 inches deep, come in a traditional blue color, and are above ground. Despite looking very much the same on the surface, these pools have a lot of individual pluses and minuses that work in the other's favor. 
Let's start with the Summer Waves Quick Set inflatable pool. 
This pool is easy to set up and is fully inflated after around 15 minutes, but be warned – do not try to set this pool up on cement or rough surfaces. The PVC material of this inflatable pool is easily damaged, especially at the bottom, as it is not very insulated.
This means that when you step into the pool, you are definitely going to feel the texture of the ground beneath. Any sharp rocks will cut the material of the pool, so it is best setting this pool up on some grass instead. 
However, the Summer Waves Quick Set inflatable pool also comes with a filter cartridge that features a built-in chlorinator, meaning that it will keep your pool's water clean and safe for use.
As for a cover, you will have to purchase your own. Now for Intex's Easy Set inflatable pool. Unlike with Summer Waves' Quick Set inflatable pool, there is no filter pump included with this purchase although there is one available separately.
However, there are still plenty of benefits to this pool that still makes it tough competition.
For example, it comes with a DVD and instruction manual that makes inflating and setting up your pool easy and helps you tackle any issues in a pinch. It is also available in different sizes so if you have more or less room in your backyard, you can still enjoy the pleasures of an inflatable pool.
It is also sturdier than the Summer Waves' inflatable pool as it can hold up without tears or punctures very well.
So which inflatable pool do we recommend?
Well, we have to go with the Summer Waves Quick Set inflatable pool. This is because the only downside we could find to this pool only really happens if you choose to set the pool on a concrete driveway.
Set your Summer Waves inflatable pool up on grass or smooth stone, then you are golden. Its included filter is what nipped it to the finish line over the Intex inflatable pool as it is super important to keep your pool clean. 
Round one goes to Summer Waves! 
Summer Waves Vs Intex: Above Ground Pools
Both companies also make solid above ground pools with frames, like the renowned Intex Ultra XTR Pool Frame Set. Just like with their inflatable pools, both the Summer Waves and Intex's above ground pools look very similar and have a lot in common.
Both use metal frames to give strong support and durability even in rougher weather conditions, but what makes them separate from one anotThe Summer Waves 15 Feet Metal Frame Pool Set is both durable and easy to set up thanks to the clearly marked frame pieces and the clear instruction manual, plus it comes with an attached filter pump to help keep your pool clean.
However, a lot of customers have reported that their filter pumps do not last long and break not long after being set up. Although we didn't find this issue with our Summer Waves pool, it is something to keep in mind. 
On the other hand, we have the 10 feet wide Intex Metal Frame Swimming Pool. Like with their inflatable pools, Intex's above ground pools also have an additional size available for those seeking a larger 12 feet wide pool, but both are still smaller than the Summer Waves alternative pool.
However, Intex have included their DVD instructions to streamline the assembly process and are made using extra durable materials like powder coating to prevent rust and laminated sidewalls that are tougher to damage.
However, there is still no pump included in the purchase – total bummer. 
So, our top choice goes to Intex this time. Their metal frame swimming pool has more variety in size, is made from stronger materials, and is still easy to install.
Although the Summer Waves metal frame pool has a filter pump, it is a lottery with if it works or not – so you are probably better off getting an Intex pool and buying its sturdy pump separately.
This will probably save you some dollars instead of having to fork out for a new Summer Waves filter pump.
Round two goes to Intex! 
Summer Waves Vs Intex: Pro Pools
And finally, we have Summer Waves and Intex's ultimate pool collections. These are their most luxurious and largest above ground pools – the best of the best! Both come with their own hefty price tags but for those looking for a real treat for the summer will not be let down with either of these pools. 
The Summer Waves Elite Swimming Pool comes with all the needed equipment and accessories. This swimming pool comes with a pool cover, a pool ladder, a ground cloth to protect the pool's underneath layer, plus a maintenance kit that includes a net and filter pump.
This keeps your pool and its water clean from debris and bacteria, and makes it safe to swim in all summer long. It is stylish and large, with thick polyester mesh to withstand heavy use and brave bad weather conditions. 
The Intex Ultra Frame Set Pool also comes in a dark and stylish gray color that makes it fit right into your garden space. Unlike previous Intex pools, this elite swimming pool comes with a sand filter pump to help keep your water clear and clean.
This makes maintaining your above ground pool easy, plus it comes with a pool over and slip-resistant ladder to make climbing in and out of your pool safe too! Available in many sizes, this pool is also durable thanks to its highly advanced locking system in the metal frame which helps the pool maintain its shape in high winds and during heavy use.
Although it did take a long time to assemble, that is expected with a pool so huge. 
So which one comes out on top?
We are going with the Summer Waves Elite Swimming Pool. Both pools were fantastic, but it really came down to the accessories. While both manufacturers are generous when it comes to added features and bonuses, the Summer Waves pool just had more.
Both were durable and well made, but the Summer Waves Elite Swimming Pool just nipped it to the finish line ahead of Intex.
Final round goes to Summer Waves! 
Our Verdict on Intex Vs. Summer Waves Swimming Pools
It's a two out of three win for Summer Waves! Their pools overall have the best quality and features, especially when it comes to keeping your pool safe and clean.
Their pumps are a really handy feature to have as it helps prevent anyone who swims in the pool from catching illness or disease from dirty water – which is why we are so insistent on having a pool filter and cover to keep the water clean. 
This is what makes Summer Waves ahead of its competitors, including Intex – it has a special care for its customers that pushes them to include a filter within their pools purchases. 
Because of this, Summer Waves pools are generally more beneficial to own and so, we would recommend you purchase a Summer Waves swimming pool! 
Frequently Asked Questions
Here are some of the top questions related to Intex pools and Summer Waves above ground pools. Enjoy!
Can I Use An Intex Filter Pump On A Summer Waves Pool?
Yes – the pumps can be used on either brand of pool, and vice versa as long as the pool has 1 – 1/4 inch fittings attached. This way, you can connect the hoses and valves up easily no matter the brand of the above ground pool pump or swimming pool. 
Where Can I Buy An Intex Or Summer Waves Pool?
Both manufacturers have their own websites that you can buy from directly, or you can use a third party site like Amazon. You can also shop at stores like Lowes or Walmart for Summer Waves and Intex pools. 
We hope you enjoyed our comparison guide on Summer Waves Vs Intex Pools. Happy swimming!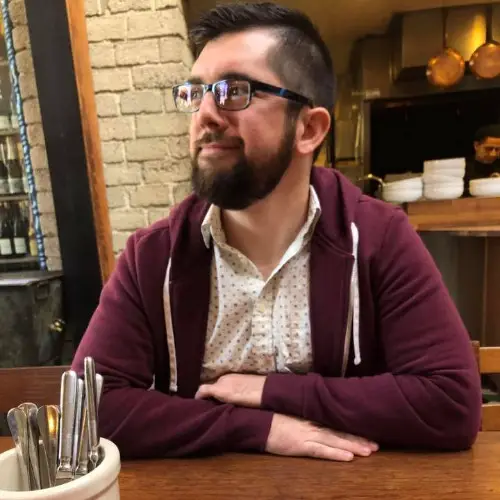 Hello, I am a writer and marketing specialist in Kansas City, MO. My love for swimming pools started as a child when I would visit my aunt & uncle's inground swimming pool on a frequent basis over the summer. Since then I have taught swimming lessons at a Boy Scout Camp, participated in the full setup, installation and maintenance of my father's inground swimming pool, as well as enjoyed constantly researching everything there is to know about swimming pools for 5+ years. I enjoy all water related sports, being part of the online swimming pool community and always learning new things!