Intex pools are some of the best-selling and popular swimming pool manufacturers across the globe.
We decided to do a Intex Ultra XTR Frame Pool Set review as it could be the ideal pool for your family, and Intex specialize in over-ground pools, which certainly have advantages over an underground pool.
There has been a lot of conversation around the Ultra Frame Pool Set, and it is described as the premier over-ground pool combining a great design with some much-needed style.
Clever design encourages durability and cleanliness in their product which, if effective, can certainly justify the product's price point within the higher end of the over ground pool market. If you are open to other options at different price points, we recommend you look at Summer Waves vs. Intex Pools to decide which one is right for you!
An over-ground pool can be super practical: no landscaping or digging for a long period, no tricky plumbing systems, as well as being able to move it and collapse it as you wish, making it semi-permanent enabling you to pull it out in the summer and take it back down again in the winter. Especially those with children, people love the variability of an over-ground pool.
If you want a guarantee that this pool is worth considering for your house and family, Intex provides a generous 2-year warranty on this pool, much more than in comparison to their other sets and series, demonstrating how well-designed and strong their product is. 
What Is The Intex Ultra XTR Pool Frame?
The Intex Ultra XTR Frame Pool is an above ground pool that is semi-permanent and one of the top-rated backyard swimming pool options.
Semi-permanent means that you should be able to take it up, or put it down, within a 60-minute period, according to Intex's instructions at least, the truth of that statement will be tested later. 
What this semi-permanence means is that you can enjoy the pool in the summer when it is hot, and you can take it down in the winter when it's just going to freeze.
Forget annoying landscaping plans, being woken up at 6am every morning as someone digs a huge hole in your garden. 
With this Intex pool, the assembly is up to you, and you can take the pool down as you wish.
The pool itself is 18 ft by 52 inches, although you can buy the same pool in slightly smaller sizes as you wish. Obviously, don't expect to be able to do Olympic level laps of the pool, this certainly isn't the purchase if you want that sort of pool. 
Yet, the size of this Intex Ultra XTR Frame Pool is certainly enough for a family to enjoy a summer day playing in the pool without getting in each other's faces too much.
This is the main target audience of the pool, a young family who want some space to have fun, or even a couple who want to saunter in the sun and cool off in a pool with some space. 
Sale
INTEX 26329EH 18ft x 52in Ultra XTR Pool Set with Sand Filter Pump
26329EH 18´ x 52" Ultra XTR Frame Pool
Comes equipped exclusively with Intex Krystal Clear sand filter pumps with Hydro Aeration Technology - providing the best filtration performance and unmatched water clarity
Maintenance is incredibly easy since sand only needs routine backwashing and replacement every 5 years
Uniquely designed frame combines high quality galvanized steel with precision engineered locking system, enhancing the overall quality, durability and stability of the pools
Encapsulating inner and outer powder coating ensures the ultimate resistance to rust
What Else Comes With The Intex Ultra XTR Frame Pool Set?
This is where the Intex Ultra XTR Frame Pool Set really sets itself apart from its competitors as well as the generic paddling pool, beyond just size.
Intex provides a lot of useful, and often necessary, features and items that really show how the set has come into its own. 
Many of the additional items are designed to be as quality and last as long as the pool itself. Let's explore these items together.
Removable Ladder 
A removable above ground swimming pool ladder is a really helpful feature, especially for families with small children or even to aid the elderly.
The height of the walls (52 inches) of the pool can often be a little too high for a non-able person to get over, while your kids will happily vault over the pool's walls, the ladder is helpful for those who want to enter the water with the grace of a swan.
The ladder is really anti-slip which is always good to know and is  supported by a coated corrosion resistant steel frame to make sure it stays around as long as your pool will.
Krystal Clear Sand Filter Pump
Like any pool, you want to keep the Intex Ultra XTR Frame Pool clean, which they enable easily with this useful sand filter pump.
The 12-inch diameter corrosion resistant tank is made to last and withstand most gunk that enters your pool. 
The water flow rate at the pump (pump capacity) should be around 2100 gallons per hour, and the water flow rate (system flow rate) at the pool is around 1600 gallons per hour. 
A great feature of this pump is that the timer can be pre-set to go off with the regularity you need it to.
If you have kids who are going to drag dirt and all sorts in there, you can make this as regular as you need it to be to keep them safe while they splash away.
Debris Cover
It's always great to have a good debris cover that will protect your pool from the summer winds as well as any foreign objects that may try to enter your pool while you aren't in it.
This is also the main protection you may receive when you put the pool away for the winter without disassembling it. 
The cover is made from a durable material to stop rips, but is also able to be tied down, which helps stop it blowing away due to high winds.
Ground Cloth 
This is another thoughtful addition that really reflects the luxury branding of the product. The ground cloth is super helpful to keep your feet clean and also try to curtail any water run off into the ground, especially if you are on earth. 
The ground cover enables you to get in and out the pool easily without getting muddy feet or dripping water all over a wooden patio, which could eventually rot it.
Is The Intex XTR Frame Pool Well Designed?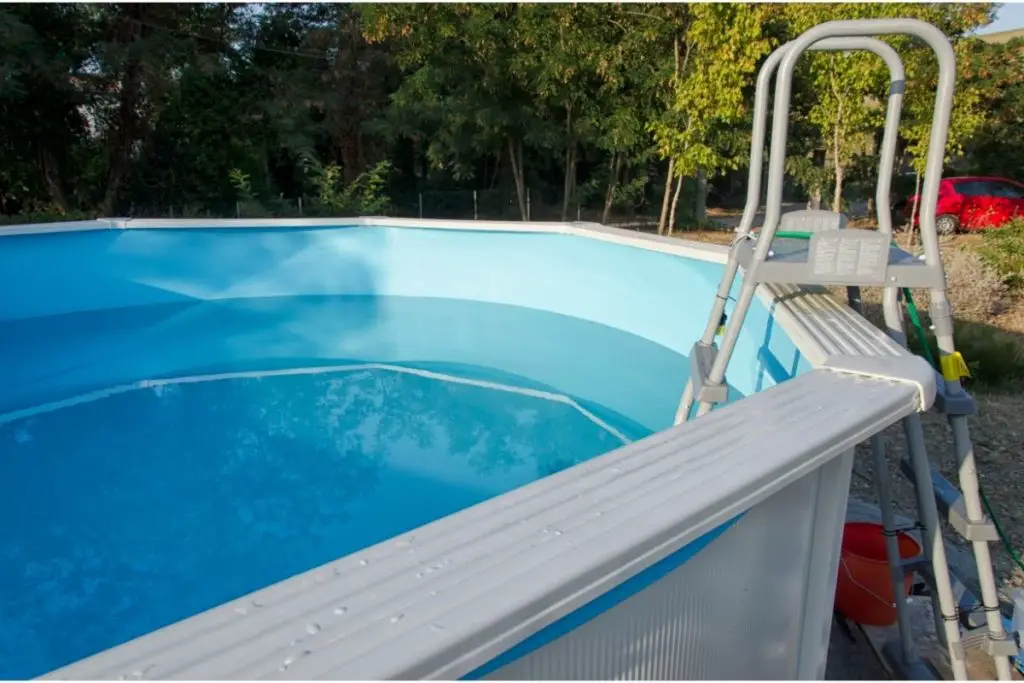 The first thing you will be looking at, for a pool at this end of the market, is mainly for durability. The last thing you want to do is to pay out your ears for a product whose price doesn't reflect its build quality.
Yet, don't fear, with the Intex XTR Frame Pool durability is their main focus and there are a few features to thank for that. 
The actual frame of the pool, which is where it gets the majority of its structure and sturdiness, is built with galvanized steel.
The inner and outer coating of the frame is rust resistant, allowing your pool to stand the test of time and not immediately rust as most frames do, due to coming into contact with water so often. 
The frame is also built with an innovative design that, saving you the details, endows the frame with its sturdy and solid design.
The T- joint connectors of the frame, while perhaps adding a few minutes onto the assembly time, is what provides such a stable feeling to the whole pool.
Moreover, the leg end caps are durable and provide a grip and stability at the base of the pool, meaning it isn't going to slide anywhere no matter how hard your kids splash around.
One great addition is the durable liner to the above ground pool. This outlines the luxury materials used to make the pool, the liner itself is puncture resistant with 3 ply material.
This stops any pesky rips in the lining of the pool, causing water to leave the pool. This is often one of the leading causes of the damage in your standard paddling pool.
Another useful feature that helps the water in your pool stay clean and well filtered, is the dual suction outlet fittings.
This is a little pipe that extrudes externally from the pool and back into it, enabling much greater water circulation and subsequently even more filtering. This keeps the water from going stagnant or gross in tandem with the pool's filtration system. 
As mentioned, the pool itself has a pretty impressive warranty of 2 years. So you can guarantee that your pool should last at least 2 years, and if not you have all the reason to ask for another one from Intex, which they will happily oblige.
This is much longer than most over ground pools and paddling pools, the worst of which lasts only one season.
How Easy Is It To Set Up The Intex Ultra XTR Pool Frame?
According to the guides and booklets included in the set, Intex claims the pool can be put up or down in around 60 minutes.
Most customer reports suggest that this seems to be the case. It seems that assembly is super important to durability and longevity, so make sure to pay attention. 
Many reports suggest that two people could be required, and will also make things easier and quicker.
This could be a great summer teamwork activity for you and your kids. Even if it is a little stressful, now you have a pool to wash away all your stress.
Intex further claims that their inclusion of an easy lock system on joints helps assembly remain quick, as the joints easily snap together.
This also enables it to be quite easy to put down if you were to do so in the winter. Moreover, no actual tools are needed for assembly, just your trust hands and some help from friends or family!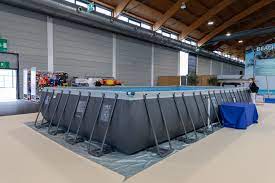 Our Review Verdict
We love the Intex Ultra XTR Frame Pool Set. Intex does a really great job at combining both ingenuity and clever design choices to really make this over-ground pool worth its price point. 
This is the kind of over-ground pool that should last for a good long time, the design of the frame itself is really great and enables quick setup as well as an impressive amount of stability as well as durability from the elements. 
The ideal customer for the pool is for a small or young family, or even a couple who enjoy sauntering in the pool.
The size is just right for safe paddling and general cooling off from the American sun. 
For those who want a larger, perhaps more rectangular pool, that is good for aquatic sports and can even be used to swim laps, should consider Intex's Ultra XTR Rectangular Pool Set.
This product is very similar to the Intex Ultra XTR Pool Frame, but is aimed at larger families and those who want to engage in aquatic sports like volleyball. 
This larger frame can cost more, but is definitely worth it if you want to swim or play some sort rather than paddling and bathing.
In terms of pricing, the Intex Ultra XTR Frame Pool Set is definitely on the higher end of the pool market.
Considering all of the best above swimming ground pool options though, you seem to really be getting your money's worth.
Intex doesn't bother with silly gimmicks, rather, they include well-built and thought out features and add-ons that are really well manufactured for longevity and are also practical and useful. 
One thing that Intex really focuses on is safety and hygiene, which will put many parents at ease, and they certainly come through with this through some really great features that encourage healthy water circulation and filtration.
Due to the great build quality and reports of longevity that are supported by the 2-year warranty, you can guarantee that your money is reciprocated in great design from Intex.
Even for those who want something a little larger, Intex still gives the customer what they want with other options that are just as well-built and designed. 
Overall, for those who don't want to spill their pockets to build an underground pool that takes lots of construction and landscaping, and many sleepless mornings, the Intex Ultra XTR Frame Pool Set definitely enables all the aquatic fun you could wish for, for a much more affordable price. 
We hope you enjoyed our Intex Ultra XTR Pool Frame Set Review!
The Intex is well-built and should provide your family years and years of aquatic fun – your kids will be beaming every time summer comes around, and you get the Intex Pool out. It could be the summer memory that stays with them forever.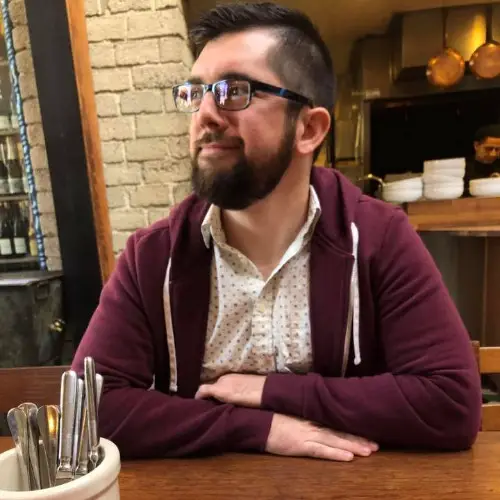 Hello, I am a writer and marketing specialist in Kansas City, MO. My love for swimming pools started as a child when I would visit my aunt & uncle's inground swimming pool on a frequent basis over the summer. Since then I have taught swimming lessons at a Boy Scout Camp, participated in the full setup, installation and maintenance of my father's inground swimming pool, as well as enjoyed constantly researching everything there is to know about swimming pools for 5+ years. I enjoy all water related sports, being part of the online swimming pool community and always learning new things!