Having a kiddie pool or toddler pool in your backyard provides tons of fun to your baby and even for you. They're a much safer and more economical option than a built-in swimming pool or a full-sized above ground pool.
Also, they don't take as much space when they're not in need, as they're mostly inflatables who you can easily deflate. If you're looking for the best swimming pools for toddlers, you're in for a treat! 
In A Hurry? Here's Our Top Picks!
In the following article, we'll walk you through some of the best swimming kiddie and family-friendly swimming pools that your toddler can enjoy. So without further ado, let's dive in!
Top 10 Swimming Pools for Toddlers Available on the Market- Buyer's Guide
It won't take you long in the market until you realize that there are tons of swimming pool options out there. However, not all of them are of great quality.
To save you the hassle of finding out about that on your own, we've compiled a list of the best kiddie swimming pool options that you'll find out there. 
Let's review and give a brief overview of these swimming pools made for toddlers, so you can pick the ideal fit for your little baby!
1. Intex Mushroom Baby Pool
Kicking off the list with one of the most popular brands in the pool industry. Intex provides various high-quality pools and pool accessories at excellent prices and for all ages.
The Mushroom Baby Pool is 40 x 35 inches in dimensions, which is enough to accommodate up to 2 toddlers comfortably at the same time. 
One of the best things about this pool is that it made sure to keep your baby protected while looking fun and joyous. It has a mushroom-shaped built-in sunshade, which is essential for toddler's sensitive skin at this age.
The inflatable pool is made of durable vinyl, which ensures a relatively high resistance to wear and tear. However, it also comes with a repair kit, which helps you to extend the lifespan of the kiddie pool if it ever needs patching.
Things We Liked
Affordable price
Mushroom-shaped built-in sunshade
Soft inflatable floor for extra comfort while in the pool
Things That Could Improve
The mushroom sunshade doesn't stay upright for a long time
2. XFlated Kiddie Pool
If you're looking for a ringed pool with lots of vibrant colors that your kids will love, consider this kiddie pool from Xflated.
The pool is a 3 rings inflatable one with 45 inches width and 10.5 inches wall height. This means that it can accommodate up to 3 toddlers at a time. 
Each one of these rings is inflated independently, which helps in keeping the pool inflated for longer even with your baby playing and swimming around.
It comes in three unique designs that your kids will just love. This includes a red-green watermelon design, a pink yellow ice cream design, and a mustard yellow burger design.
The pool comes with a handy repair kit that's easy to use and apply. With this kit, you'll be able to use the pool after 20 minutes of patching.
Things We Liked
Eye-catching and vibrant colors
A versatile option that can be used for more than water
Comes with an easy patching kit 
Things That Could Improve
The materials are a bit flimsy
3. Intex Sunset Glow Baby Pool 
If you're on a budget, you don't have to compromise on quality to get your toddlers a fun kiddie pool.
The Sunset Glow baby pool comes with a super-soft inflatable floor, so your baby stays comfortable while sitting in the pool.
Moreover, it's 34 inches in width, which means that it's large enough to accommodate your toddler comfortably. 
The walls are about 10 inches high, which allows it to fill up to 18 to 22 gallons of water for extra splashing and summer fun.
The inflatable pool is easy to inflate and comes with beautiful design, although the colors could have been a bit more vibrant. However, it's still an excellent budget-friendly pool for toddlers aged 1 to 3 years old!
Things We Liked
An excellent choice for parents on a budget
Large filling capacity for water, balls, and sand
Doubles as an excellent baby bath
Things That Could Improve
The colors needed to be a bit more vibrant
4. JOYIN Whale Baby Shade Beach Tent Kiddie Pool Play Tent 
If you're looking for a highly versatile swimmer pool for your children that gives quite a bang for your buck, you should put this Whale Kiddie Pool from Joyin on your radar.
The smart design of the swimming is in the shape of a blue whale where your baby has a comfortable and spacey pool to swim in. 
The width of the pool is about 55 inches while the wall height is about 11 inches. The entire walls and bottom are padded and inflated. This allows you to fill it up to 14 gallons of water.
The mouth part acts as a sunshade to protect your baby from the sun and gives a cozy feel to the swimming pool. 
This means that you can also use it as a lounge on beaches as well as indoors as a water-free play tent!
Things We Liked
Excellent value for its price
Large sunshade with generous coverage
Doubles as a baby lounge on beaches and play tent indoors
Things That Could Improve
Takes a long time to inflate
5. Intex Candy Zone Inflatable Play Center
If you can afford the space and you're looking for a full-on play center rather than a simple swimming pool for a toddler, keep this on your mind.
The Candy Zone is a 116 x 75 inches swimming pool that accommodates toddlers from 2 years and up. 
It has a candy factory theme with chocolate and candy cane slides as well as inflatable and colorful lollipops all around. It also comes with 6 colorful balls for you to play with your children.
As for safety, the slide ends with an inflatable mat to keep your toddler secure while landing, so you don't have to worry about that.
Things We Liked
Complete fun zone with slides
Comes with 6 colorful balls
Has a garden hose-attached water sprinkler
Things That Could Improve
Require a huge backyard to inflate
6. Intex Royal Castle Baby Pool
The Royal Castle from Intex is another popular kiddie inflatable pool that's great for toddlers and has been a favorite among many parents.
It's 48 x 48 inches, which is enough to accommodate toddlers aged from 1 to 3 years old. The castle-shaped bungalow protects your baby's skin from the sun while giving enough windows for parental supervision.
It's a perfect "first pool experience" option, as it has a 5-inch wall height, allowing your child to sit comfortably and safely while enjoying hours of fun. This allows the pool to hold up to 18 gallons of water. 
Things We Liked
Large sunshade
Colorful castle design
Accommodates 2 toddlers comfortably 
Things That Could Improve
The pool isn't padded on the bottom
7. Step2 Play & Shade Toddlers Swimming Pool 
If you prefer a plastic pool for your toddlers, this one is a cool option to go for. These ones are more durable than inflatable ones, making them a great pick if you want a swimming pool for your dog as well!
The Step2 Play & shade comes with 2 molded-in seats to allow your toddler to rest comfortably in the pool.
The pool comes with a compact umbrella that you can use to provide your kids with enough sunshades while playing.
Moreover, it comes with a variety of pool accessories that your little one can use to play in the water.
Things We Liked
Comes with an umbrella
Molded-in seats for comfort?tag=allaboutpoolsamzn-20
Multiple accessories for playtime
Things That Could Improve
The pool is quite expensive for its size
8. Summer Waves Quick Set Inflatable Above Ground Pool
If you don't mind getting into the water with your toddler, you'll need a swimming pool that can also support you.
The Summer Waves inflatable pool is large enough to fit the entire family for tons of hours of fun. The pool is 30 ft x 10 inches and is easy to inflate and use.
It's made of a super durable PVC triple-layer, which gives it durability. Also, you can utilize it as a private pool anytime you want.
Moreover, this Summer Waves pool also comes with an RX330 pool filter pump with GFCI, which helps in maintaining the sanitary quality of the water.
Things We Liked
Fits the Entire Family
Ultra-durable option
Comes with a pool filter pump
Things That Could Improve
Only used when a supervising adult  joining in
9. Intex Crystal Blue Inflatable Pool
If you want a reliable and durable inflatable pool for your toddler of 2 years or older, you should consider this pool.
The Crystal Blue is 45 inches wide and 10 inches high, which can be filled up to 6.5 inches to fit a toddler with a generous wall safety.
Additionally, it's also a highly versatile option that gives you enough space and depth for your baby toddler to enjoy playing with pit balls and sand as well as water. However, you'll need to include them separately in your purchase.
This pool is also surprisingly budget-friendly, as it comes at a fraction of what other pools can cost. Yet, it's a future proof option that your toddlers can continue to use even when they grow up 
Things We Liked
Ideal for buyers on a budget
Fits toddlers and teenagers as well
Features an option with a pump
Things That Could Improve
The pool is a bit bland for a toddler's taste
10. Sable Inflatable Kiddie Pool for Family
Saving one of the best to the last. This inflatable pool is an excellent choice for the entire family to join in and bond on summer days.
The pool is 92 inches in length and 56 inches in width, which gives enough space for multiple toddlers and adults to use the pool at the same time. 
The pool is free of all kinds of harmful and toxic materials such as phthalates and heavy metals like lead, which makes it a toddler-friendly option.
It has three individual air chambers to keep the pool inflated for a long time for extended fun times.
Things We Liked
Doubles as an indoor balls pit
Fits 2 adults and up to 3 toddlers
Safe and non-toxic materials
Things That Could Improve
Lacks durability to withstand tears
What to Look for While Shopping for a Toddler Swimming Pool
Finding a good swimming pool for your toddler is crucial for your children's safety and happiness. 
That's why there are some aspects that you need to keep in mind while shopping for one. Here's what you should know about them.
Size
Choosing the ideal size for your toddler's pool depends on the number of toddlers (or even adults joining in).
Ideally, a 40-inch width is enough for one toddler, where a 50 to 55 can comfortably accommodate two.
Durability
Inflatable pools are always prone to cuts and tears. Make sure that you check the durability of the pool and that it comes with a repair patch.
Another alternative here is to go for a plastic pool, such as Step2 Play & Shade Toddlers Swimming Pool. However, they're usually more expensive and space-inefficient.  
Design
Always keep the taste of your toddler on your mind while picking their pool. Most kids love vibrant colors with fun and cartoonish drawings.
A plain pool might also work, but it won't be as appealing to your kid, so you have to keep that in mind.
Sunshade
Toddlers' skin is much more sensitive than ours. That's why keeping them under the sun for a long time can be quite harmful to them.
A smart way to ensure safety from the sun rays is to go for a kiddie pool with a built-in sunshade. If you prefer other models, make sure you provide external shade to protect your kids from prickly heat.
Our Conclusion on The Best Toddler Pools and Kiddie Swimming Pools
With all that said, you now have an idea about some of the best swimming pools for toddlers on the market today that you can get for your summer splash!
When you're looking for a quality kiddie swimming pool, you should look for a cute design with plenty of sunshades and versatility.
That's why our #1 recommendation is the Intex Mushroom Baby Pool as the ideal kiddie pool option for your toddler. It's affordable, lovely and provides tons of fun under the shade.
However, if you're looking to splurge some cash for a full fun center that your toddler will adore, you should consider Intex Candy Zone Inflatable Play Center.
In all cases, make sure that you never leave your toddler unattended in water or swimming pools of any kind, and maintain continuous supervision of your loved ones to avoid any unwanted accidents. With that said, the best toddler swimming pools and kiddie pools bring joy and fun to your little one, and are especially enjoyable during the summer months!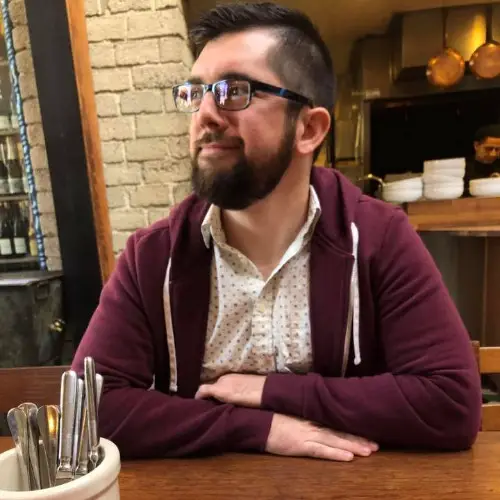 Hello, I am a writer and marketing specialist in Kansas City, MO. My love for swimming pools started as a child when I would visit my aunt & uncle's inground swimming pool on a frequent basis over the summer. Since then I have taught swimming lessons at a Boy Scout Camp, participated in the full setup, installation and maintenance of my father's inground swimming pool, as well as enjoyed constantly researching everything there is to know about swimming pools for 5+ years. I enjoy all water related sports, being part of the online swimming pool community and always learning new things!