As you probably know, there is a lot that goes into properly maintaining your swimming pool. One of these things is a good quality swimming pool pump.
In this post, we review the 7 best pool pumps that we were able to purchase and test on the market today. Let's dive in!
We know how difficult it can be to find the right one due to the seemingly endless amount of them available. So, to ensure that you have the best pool pump for your pool, we came up with seven top-selling units rated high for features such as ease of use and installation, efficiency, and operational noise.
Before we get into reviewing the best pool pumps on the market, however, we will touch on why a pool pump will be beneficial.
TLDR? Let's skip to the good stuff. Our #1 pick for the best pool pump goes to the Hayward SP2307X10 MaxFlo XL 1 HP Pool Pump.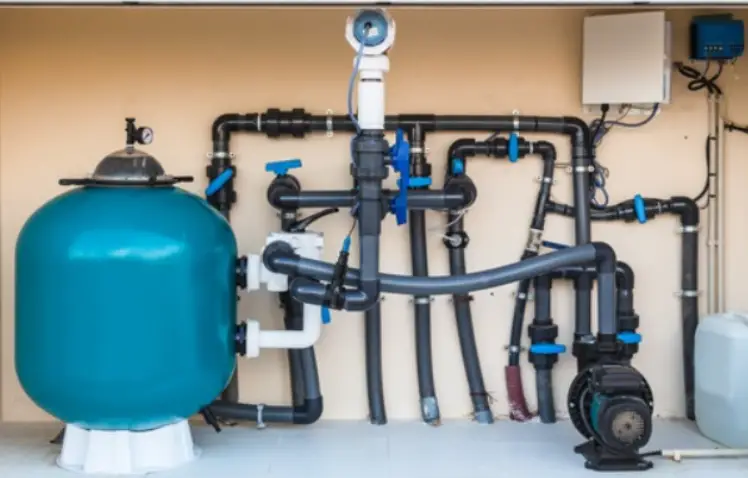 Why Do You Need a Swimming Pool Pump?
Like with other pool accessories, a pool pump is a vital maintenance tool that ensures the functionality and life of your swimming pool. Below are only a few examples of why you need a pool pump.
Circulating Water
A pool pump circulates the water. By doing this, it ensures that the water does not sit still for long, and the chemicals also have a chance to move better throughout the water. At the end of all of this, the water is effectively sanitized as the pump has carried it through the necessary systems (filter, heater, and chlorinator) before re-entering it into the pool.
Keeping a Clean Pool
Quality pool pumps not only move the water around, but they also filter out debris and other gunk that falls into your pool. All of the debris usually falls into a strainer basket. The best pool pump has an easy-to-clean basket as well to further make maintaining your pool an easy task. Beyond removing debris, this process helps the chemicals in your pool perform at a higher efficiency. You can also check out some of the top pool sand filters available on the market today.
Less Maintenance
Without a swimming pool pump, the water can build-up debris, and the chemicals can remain stagnant. Fixing these situations can become time-consuming. With a proper pool pump, you do not have to worry about cleaning your pool so often nor constantly redistributing chemicals.
7. Harris H1572747 ProForce 1 HP Inground Swimming Pool Pump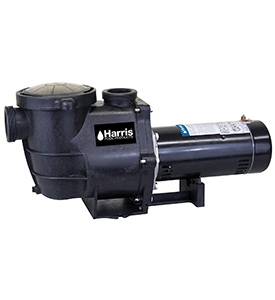 The Harris ProForce 1 HP Inground Pool Pump offers a quiet, proficient solution to keeping your pool clean. It features corrosion-proof construction, and the stainless steel motor shaft has a thermoplastic body in an attempt to grant the unit a longer life. Some of the pieces (e.g. O-ring) may not be made as high in quality though.
The unit has a see-through twist and lock lid so that you can readily view the strainer without opening it. As for the basket, it's easy to clean.
Pros
Low noise
Initially primes fast
Easy to install
Cons
Can run hot
Self-prime system doesn't always work
Questionable durability
6. Intex 28633EG Cartridge Filter Pump for Above Ground Pools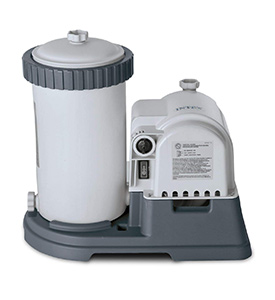 This above ground pool pump from Intex is easy to use as the most maintenance is swapping out or rinsing the cartridge every few weeks. It's double-insulated, and installing it is simple enough; all that's needed is to attach the holes and plug it in after assembly. There are some reports that it can perform better with upgrades though, and that can further the needed assembly.
The Intex pool pump features an auto-timer that is preset in 2-12 hour cycles.
Pros
Good increase in water flow
Works in a short amount of time
Powerful operation
Cons
Doesn't include all necessary parts
Tubes can come off
Low-quality filter
5. Hayward SP2600X5 Super Pump 0.50 HP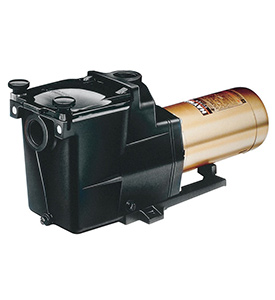 This Super Pump from Hayward is seen by many as the best pool pump due in large part to how the quality features. The heavy-duty motor has air-flow ventilation that allows this pump to run quietly (and cooler) without giving up its power. Its self-priming system can suction up to 10ft above water level.
Removing the strainer cover is simple with the swing-away hand knobs. Also, you can simply look down and view the strainer as it has a see-through cover.
Pros
Straightforward installation
Instant smooth operation
Easy-to-open strainer
Cons
Could be more reliable long-term
Dark basket cover
Some quality control issues
4. Pentair 342001 SuperFlo VS Variable Speed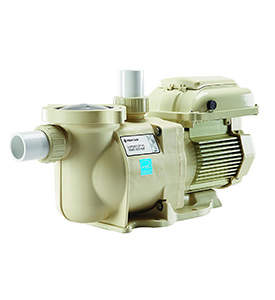 This pool pump from Pentair is most ideal for standard pools that require up to 1.5 HP pump. The company ensured that the interface is as user-friendly as possible. It's easy to program and operate with a digital keypad, and it features a real-time clock that has 24-hour memory retention. You don't need to rewire anything; this can automatically detect and adapt to your power.
It features three programmable speeds and the ability to override. The pump is energy-efficient as well due to variable speed technology costing less to operate in the long run.
Pros
Good variable speeds
Easy hook-up
Extremely quiet
Cons
Poor warranty
Issues with priming
Line circuit can trip
3. Harris H1572729 ProForce 1 HP Above Ground Pool Pump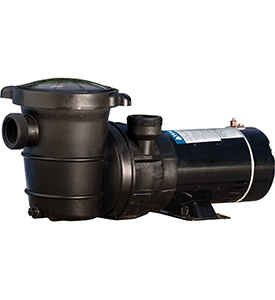 Another pump considered by many to be the best pool pump is this unit for above ground pools from Harris. The advanced engineering in it allows it to run quietly and effectively, although it can benefit from having a greater pressure system.
Unlike some other units, there's no "on/off" switch, rather, you must use the plug every time. However, it does have a convenient drain plug. It also has a quality strainer with a see-through lid, and the filter basket is easy enough to clean.
Pros
Decent circulation
Hooks up quick and easy
Good low noise level
Cons
Could be more powerful
Potential to overheat
The motor may not last long
2. Pentair 340038 SuperFlo High-Performance Single Speed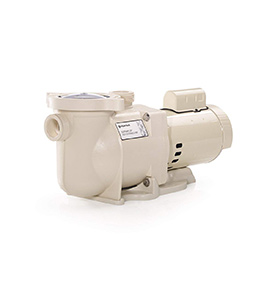 The Pentair Single Speed Pool Pump delivers high-performance using a 1 HP pump at a more affordable cost compared to other units. It features a thick-walled body and a heavy-duty motor. The self-priming allows for an instant start-up. This has a small footprint as to not get in the way, and the size also allows for simple placement in a compact equipment pad.
It comes with a 1-year warranty. However, this can be void if self-installed, so take caution if you want to keep the warranty in the event something happens.
Pros
Easy to prime
Quiet pump and motor
Easy to control
Cons
Possibility of leaking
Quality control problems
Difficulty removing strainer cover
1. Hayward SP2307X10 MaxFlo XL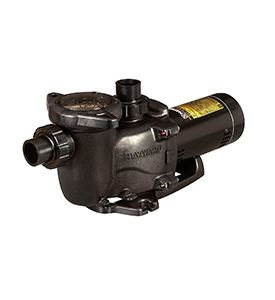 The best pool pump in our list is the Hayward MaxFlo XL. It uses efficient single-speed operation with a heavy-duty motor. This pump has advanced hydraulics that increases its ability to perform. Its self-priming can suction up to 8ft above water level.
Servicing this pump is easy to do as it only has four simple bolts to remove. Though it's intended for easy retrofit, it may not be as seamless for everyone's pool as it claims.
Pros
Easy wiring
Quality skimmers
Quick prime
Cons
Can be too heavy for some
Issues with pump vibrating
Union threads may not match as intended
Frequently Asked Questions (FAQs)
Have Questions? You're not alone! Check out our team's answers to some of the most common FAQs around swimming pool pumps below, and if you have any additional questions, feel free to reach out to us!
How Do Swimming Pool Pump Systems Work?
The heart of the swimming pool system is the pool water pump. In a normal pool pump system, an electric motor will spin an impeller inside the pump's housing. The impeller drives the water from the various drains through the filter and back out to the water inlets.
Swimming pool pumps have both an inlet and outlet for water circulation. The pump motor shaft powers the impeller, which spins the volute. This creates a high velocity of the water. As the pool water is propelled toward the outer edge of the impeller, a vacuum is created.
Before swimming pool water flows into the pump, it normally passes through a metal strainer basket that catches leaves and other large debris that might clog up the pump. Then the water flows into the pool filter.
How Long Do Pool Pumps Usually Last?
With regular swimming pool use, most pool pumps last 8 to 12 years before needing a full replacement. That said, there are a few factors that affect how long a pump lasts, such as size, usage, and pool maintenance.
When your pool was new it came with a pump and motor coupled at the factory and installed as one unit. Your pool's pump is the wet end of the operation, it houses the pump basket. Pumps should last through the initially installed motor and perhaps as many as two or three replacement motors. Modern pumps are made of hard plastic and will warp over long periods of time.
If you have an older cast iron pump or a bronze pump on your swimming pool, it's definitely time to budget for a new pool pump and motor. Also, if you feel that you are not getting your full useful life out of a replacement motor it could mean that it is actually your pump that needs to be replaced.
How Do You Prime A Swimming Pool Pump?
Follow the Steps Below to Properly Prime Your Swimming Pool Pump-
Disconnect the Power
Take the Lid Off the Pool Pump
Set the Multiport Valve to 'Recirculate'
Open the Pump's Air Valve
Clean Up the Pump's Basket If Needed
Fill Up the Pool Pump With Clean Water
Switch the Power Back On
Check The Water Flow To Your Pool Pump
If you want to read a deatiled and comprehensive guide, check out our full post on How To Prime a Pool Pump!
How Long Should You Run A Pool Pump?
Generally speaking, every swimming pool should "turn over" its water at least once a day, so to help with this, pool pumps should run for approximately 8-10 hours a day. While our team believes it's always best to run the pool pump during the hottest times of the day, you don't necessarily have to run your swimming pool pump consecutively. You can choose to run it for two separate 4-5 hour sessions, one in the morning and one in the evening, as an example. Also, there are programmable pool timers that can help make this process easier for you if you don't have one already.
What Size Swimming Pool Pump Do I Need?
When trying to determine what size of swimming pool pump you need for your new pool, what you're looking for is a pool pump that will be able to fully pump all of the water from your pool through the filter in no longer than 8-10 hours. This generally ends up being a 40-50 GPM (gallons per minute) pool pump for smaller to medium pools around 24,000 gallons or less and an 80-100 GPM pool pump for larger pools over 30,000 gallons.
How Do You Bleed Air From Your Pool Pump?
To bleed the air from your swimming pool pump & filter system, first look for a small valve at the top of the filter housing that you should be able to open to let out the pool pump air.
With the pump running, preferably on the "filter" setting, slowly open the valve, this should lead to a normal "hissing" sound, similar to when you let air our of pretty much anything. Keep the valve open until water starts to come out, once this happens you will know the air is out of your pool pump & filter system. Gently close the valve and you're done!
Check out more info on how to use your pool pump in the video below!

Our Conclusion On The Best Pool Pumps
We hope you enjoyed our guide! There's little denying the importance of swimming pool pumps. What you should ensure is that you have the best pool pump that will effectively do the job to keep your pool clean and sanitized.
Our top seven swimming pool pump system options should give you an idea of what to look for. Also, if you have an above ground swimming pool, our team recommends you check out our detailed reviews of the best above ground pool pumps. Let us know in a comment below if you've tried any of the best pool pumps above out and what your experience was!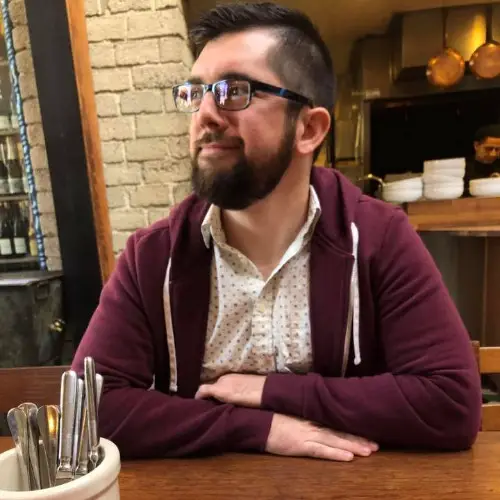 Hello, I am a writer and marketing specialist in Kansas City, MO. My love for swimming pools started as a child when I would visit my aunt & uncle's inground swimming pool on a frequent basis over the summer. Since then I have taught swimming lessons at a Boy Scout Camp, participated in the full setup, installation and maintenance of my father's inground swimming pool, as well as enjoyed constantly researching everything there is to know about swimming pools for 5+ years. I enjoy all water related sports, being part of the online swimming pool community and always learning new things!