Everyone knows that people feel more attractive with a tan. A golden glow can make you look slimmer, taller, and more confident. But reaching a deep tan can seem impossible sometimes, and sunbathing can often seem like a chore, instead of the relaxing activity it's meant to be…
Thus began our search for the best pool floats and rafts for tanning.
People can spend ages trying to work on their tan. There's arguably nothing more annoying than spending an hour in the backyard, barely any darker than when you first stepped outside. You may want to spend more time in the sun to reach a deeper shade, but this can be dangerous as you could burn, damaging your skin and health as a result.
How do we fix this? Well, water reflects sunlight, so you can tan darker and faster lounging in a pool with a pool raft than when lying in the sun.
Thankfully, there are many pool floats for sale that are suitable for your tanning needs. As there are so many options, it can be difficult to find the right one for you. 
Looking For The Short Version?
We've taken the job off your hands! Here's our picks and reviews of the best pool floats for tanning that are available to buy to Amazon.
We've also made a buyer's guide with useful tips on what to consider when looking for pool floats for tanning below.
Top Pick
Aqua Premium Convertible Pool Lounge
Hoovy Inflatable Tanning Pool Lounge Float
Top Pick
Aqua Premium Convertible Pool Lounge
Hoovy Inflatable Tanning Pool Lounge Float
Our Top 5 Best Pool Floats & Rafts For Tanning
After testing a couple dozen of the top-rated swimming pool floats and rafts available, our team has narrowed down our study to the top 5 rafts that are ideal for tanning at the pool, starting with the review our favorite below!
1. Aqua Premium Convertible Pool Lounge
This Convertible Pool Lounge from Aqua is an ideal pool float for a household.
It has four relaxation options, ranging from a 60° recliner to a level drifter, suitable for your afternoon tanning or your partner relaxing with a book. 
If you are larger or taller and are worried about whether a float can support your weight, the Pool Lounge is an ideal choice for you.
Its material is 20% thicker than other pool floats, so it can hold up to 250lbs. It is also covered in a cool weave poly knit fabric, so you can relax comfortably on a supportive, but soft material.
Pros
Convertible – different reclining angles, from recliner to flat tanner
Footrest – detachable footrest that extends the length of the Lounger
Soft Fabric – keeps users comfortable while they relax
Cup Holder – comes with a cup holder located on the side
Cons
Difficult to travel with – Large size and hard to fold when deflated, is also heavy to travel.
2. Swimline Double Mattress
If you relax by stretching out fully and taking up a lot of space, then Swimline's Double Mattress is perfect for you.
With the width of a double mattress, this float has enough space for you to roll over and tan both your front and back evenly. It is even easier to tan, as there's no risk of falling in the water when turning over. 
The width means that you can use this float with another person, so it's ideal for a couple's date or a small family get-together.
The Double Mattress also has many pockets, so it's great if you'd like to lie back, read, and have a drink at the same time.
Your items are in arm's reach and will stay dry. It's also made out of vinyl, which makes it a good choice for children to play with, as it holds up well to rips and tears.
Pros
Space – Lots of space for one person to enjoy or two people to share
Pockets – Many pockets for different items, like drinks or suntan lotion
Strong Material – Made out of a durable vinyl fabric
Cons
No tether – No place to tie a rope to prevent drifting away
3. Rey Inflatable Tanning Pool Lounge Float
If you'd like both a paddling pool for your kids and a lounger for yourself, but don't have the space to fit both in your yard, Rey's Inflatable Tanning Pool Lounge Float is a great option to consider!
The float can convert from a lounger into a small pool, which can be brought out on short days when your pool isn't in use.
The Lounge Float is made out of vinyl, which holds up well to damage, but it also comes with a patch repair kit, so you can keep using it year after year. 
At 76.5 inches long and 29.5 inches wide, the Rey Lounge Float is ideal for tanning. You can move from flat on your back around to your front easily, tanning all parts of your body without falling off the float, or getting too wet.
Pros
Versatile – can be used as both a lounger and a small pool
Durable – made with strong, UV resistant vinyl that holds up well to damage
Accessories – comes with a patch kit to fix rips or tears
Built In Pillow- Comfort While Tanning In or Outside of The Pool
Cons
Can Get Holes Easier Than Other Floats
4. Intex Canopy Island
If you're looking for a float that keeps you cool while in the sun, the Canopy Island from Intex is a good option. It comes with a detachable canopy that provides shade when needed.
This is a great feature to use when you want to get away from the heat, without leaving the comfort of your float. Simply flip the canopy up and enjoy the shade. 
It's wide enough for multiple people to use and can hold up to 440lbs, so it's an ideal float for parties and outdoor trips. Its circular shape means you can move around freely, which is ideal for working on your tan.
You don't need to worry about safety, as the float has two air chambers, so it won't sink if one cell is damaged. It also comes with two cup holders, so you and a friend can both keep a drink nearby when lounging together.
Pros
Detachable Canopy – provides shade and shelter to keep cool from the sun
Width – lots of space for one or more people to use without getting wet
Two Air Chambers – extra safety so if float won't sink if the chamber is damaged
Cup holders – Two holders to hold different items
Cons
Heavy – can be folded into a suitcase but weight makes it difficult to transport
5. Teehay Inflatable Water Hammock
No products found.
If you want to work on your tan while being in the water, Teehay's Inflatable Water Hammock is a good choice for you. This hammock can also be used as a chair, drifter, or exercise saddle.
This is great to bring at family get-togethers, as you can share it with many different age groups. The no-frills hammock is easy to transport, as it weighs just under a pound.
Depending on whether you want to fit it in a tote bag or fit it in a suitcase, it can be rolled up or folded flat for easy travel.
The hammock keeps you close to the water, so you can get out for a swim at any time. You can trust that you'll be kept afloat, as the inflatable pillows keep you upright, supporting your head at the same time.
Pros
Multi-purpose – can be used as a hammock, chair drifter, or exercise saddle
Soft material – PVC and nylon ensure the hammock is soft while being durable
Easy to Transport – lightweight at just 0.95 lbs, can be folded flat or rolled up
Cons
No Extra Features – no cup holders to hold phone or lotion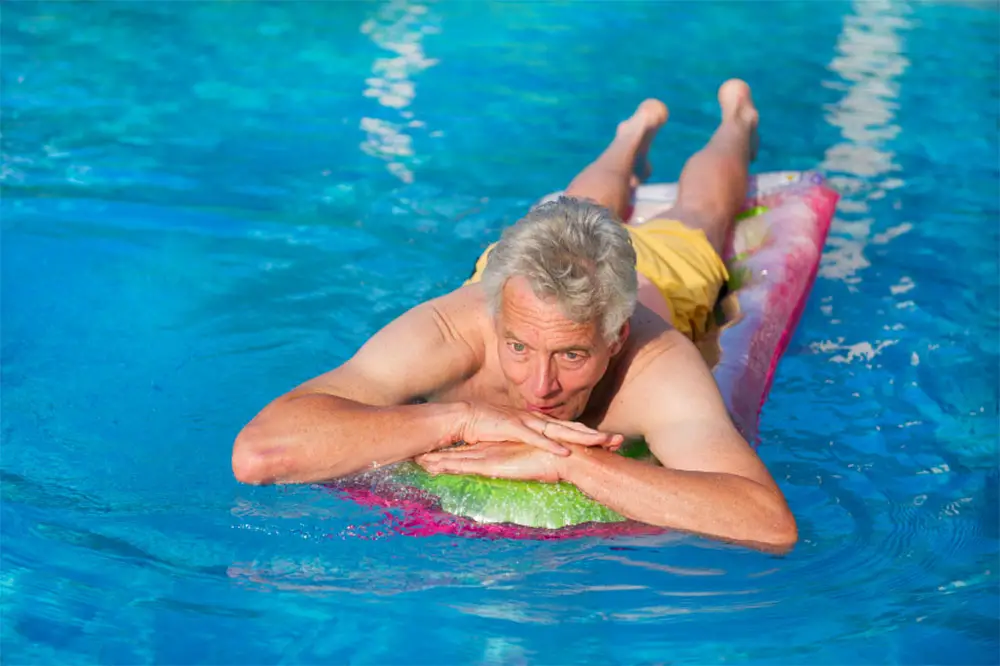 Our Buying Guide: What To Consider
Buying a pool float seems straightforward enough, but if you want to buy a good pool float for tanning, there are some points that you'll need to think about beforehand.
It's easy to get overwhelmed looking at all of the options, so to make this choice easier, here are some facts to think about. Keeping these in mind will help guide you in purchasing the right pool float for your lifestyle.
Does It Have Multiple Air Chambers?
The most important thing to consider is if your float has enough air chambers. You will need to separately inflate each air chamber in each part of the pool float.
This may be exhausting, but these are needed for safety. If one air chamber rips, you will still have an undamaged air cell that can get you back to land.
Without multiple air chambers, a tear in the material could make the float sink. These are even more important if you plan on children using the float.
If tears occur through playing, you can rest knowing that your loved ones are safe. Some have three or more chambers, but at a minimum, look out for at least two, so the float won't sink if one deflates.
What Kind Of Space/Surface Area Is There?
You will need to think about the space available on your pool float. Pool loungers are good for relaxing, but they don't allow you to turn onto your front, which means you won't be able to tan your back.
You can tan better on flatter, level floats, as you can turn around easily.
If it isn't wide enough, you may end up falling into the water, which makes it difficult to fully relax. For most people, floats that measure 30 inches by 50 inches will give you enough space to be comfortable.
If you have a larger pool or are thinking of hosting pool parties, you may want a float that can fit two or more people.
Other options can measure over 100 inches, which are great to use at parties with friends and family.
These options also put taller and larger people at ease, as they can take part in the fun.
What Material Is It Made Out Of?
You'll need to think about what materials your float is made out of. Consider who will be using your float.
If you have children who will be playing with it, you'll want your float to be stronger than if you were just using it for yourself.
Compared to cheaper fabrics, premium vinyl holds up well, preventing rips, tears, and punctures, so your kids can jump and play freely.
It's also worth thinking about where you will be keeping your float. If you will be hosting all-day cookouts and would like to leave your float in your pool for a while, you may want to avoid fabric mesh.
It can keep you cool under the sun, but mold builds up on mesh when left in water for a long time. 
Nylon is a better choice, as its synthetic fibers don't support mold growth.
You can leave the float in the water while you attend to other tasks in the yard. Nylon is also safer on the skin, making it another good choice for children with sensitive skin.
Are There Any Extra Features?
Finally, the last thing you may want to think about is whether you want a float with extra features. If you're going to be chilling for a long time, you'll want a swimming pool float for tanning that comes with cup holders and armrests.
These will make sure that your experience is as comfortable as possible. You can lie back and work on your tan with a cocktail in arms reach. 
You'll want to look for a float with cup holders at arm level, so you won't have to stretch too far for a drink.
If you have a larger pool or plan on using your float in natural waters, then keep an eye out for floats with tethering ports.
These make sure that your float stays in one place. You can tie your float to an anchor so it doesn't drift away, or move towards the other side of the pool.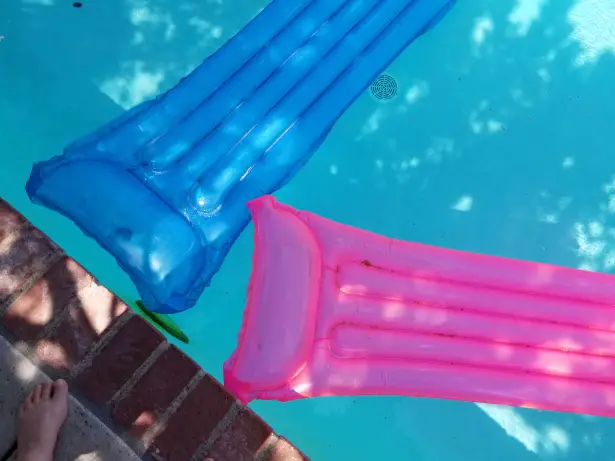 Frequently Asked Questions (FAQs)
Our team worked together to answer some of the most common FAQs we encounter related to swimming pool floats, rafts, and tanning below. Enjoy!
Do You Tan Faster In The Pool?
You can tan faster around water or in the pool, as water reflects sunlight and bounces its rays back onto you.
If you want to develop a deep tan, taking a dip in the pool or lying on a pool float can be very effective at developing a darker tan.
However, it is possible to be sunburned, as your skin will be exposed to UV rays from sunlight, while also being hit by UV rays reflecting off of the water. 
Is It Bad To Leave Pool Floats In The Pool?
Sunshine and heat can damage your pool float. If your float is left in direct sunlight, the air in it can expand and make your float pop.
You also shouldn't leave your pool float in the water overnight, as exposure to inground or above ground pool chemicals can cause the vinyl or plastic to break down. Try to take your float out of the pool when you get out.
How Should I Store My Pool Float or Raft?
Storing a float in a clean and cool place will keep your float alive for longer.
This doesn't have to be in a shed or garage, as long as the area is shady and tidy. Always clean your pool float before storing them away.
Chlorine from the pool can break down the float's plastic while it is stored away. Before taking the air out of it, use a hose to rinse it down. You can store the float away once it is fully dry. Checkout one of our team's favorite videos on how to properly take care of swimming pool floats and rafts below.
Enjoy Your New Pool Float For Tanning!
We hope you enjoyed this guide on how to choose the best pool float for tanning while getting to enjoy being in your swimming pool! Remember to always be safe when tanning or sunbathing in your pool as well.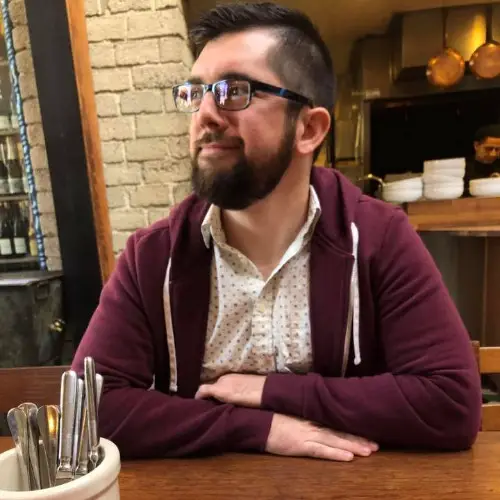 Hello, I am a writer and marketing specialist in Kansas City, MO. My love for swimming pools started as a child when I would visit my aunt & uncle's inground swimming pool on a frequent basis over the summer. Since then I have taught swimming lessons at a Boy Scout Camp, participated in the full setup, installation and maintenance of my father's inground swimming pool, as well as enjoyed constantly researching everything there is to know about swimming pools for 5+ years. I enjoy all water related sports, being part of the online swimming pool community and always learning new things!