It's pretty universal that we'd all love a hot tub inside our homes, right? Sometimes the contrast of the night air does feel nice, but when outdoors isn't an option, you may be considering putting a hot tub in your basement. 
The biggest question is of course- is this possible and/or safe? Also can you put a portable hot tub in your basement?
Read on to find out more about whether this is a possibility, and what things you should consider before making costly mistakes!
What Is The Best Place To Install A Portable Hot Tub?
If you're looking for the best place to install a portable hot tub, there are several options available to you. Some of these options include:
Basements – If you have a basement, it can make sense to put your hot tub down here. This will allow you to enjoy the benefits of a heated water environment without having to go outside, and yes you can put a portable hot tub down in your basement.
Attached Bathrooms – Another great location for installing a hot tub would be in an attached bathroom. These bathrooms often come with their heating systems, which means they'll provide a nice warm temperature for you while you soak away.
Garages – While not as common as basements or attached bathrooms, garages also make excellent locations for hot tubs. They usually offer plenty of space to set up your spa, and most have some sort of heater already installed.
Outdoors – If you don't want to heat your entire house just so you can take advantage of a hot tub, then going outdoors might be the way to go.
There are many different types of outdoor spas available, but one thing that makes them stand out from other hot tubs is that they're typically much larger than indoor models.
How Much Does It Cost To Have A Hot Tub Installed?
The cost of installation varies depending on where you decide to put your hot tub. For example, if you choose to install it in your garage, you'll likely pay less than if you were to install it in your basement.
The price of normal hot tub installation depends largely on how big the hot tub is, how long it takes to install, and how much work needs to be done.
As such, you can expect to spend anywhere between $1,000 and $2,500 for a good-quality hot tub installation. This cost is of course for the non-portable, built-in options of hot tubs, and can significantly less for portable and inflatable hot tub options.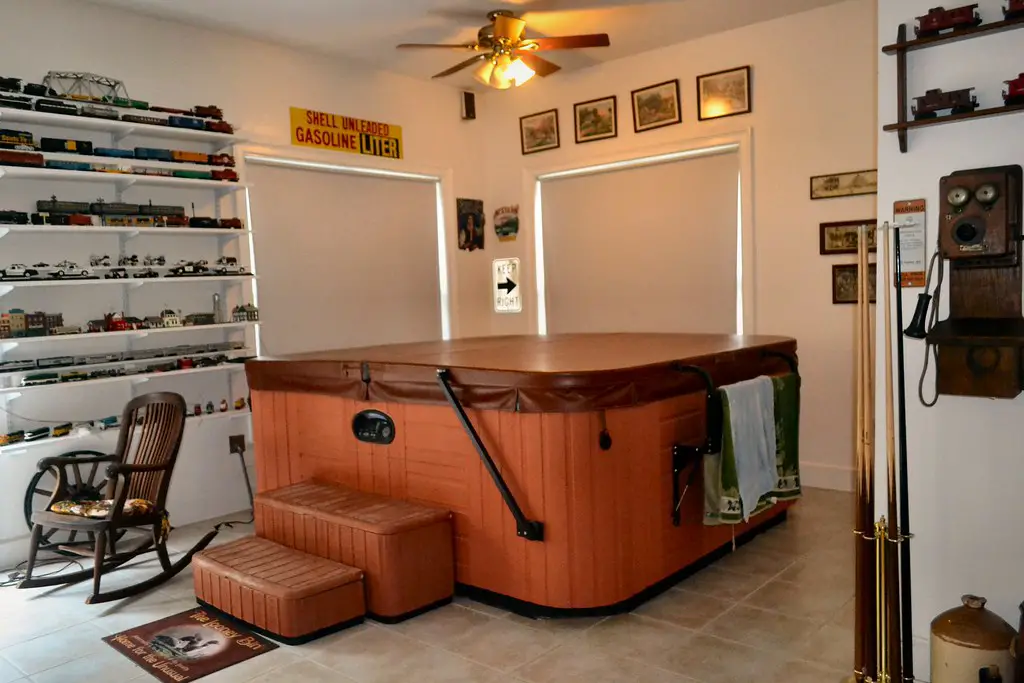 Is It Possible To Add A Portable Hot Tub or Spa Into My Home?
Yes, it is possible to add a portable hot tub or spa to your home. However, it won't be easy, but you also wont have to worry about winterizing your hot tub or Jacuzzi spa each year.
For starters, you need to know exactly where you plan to install the spa because you'll need to make sure that it doesn't interfere with anything else.
You'll also need to ensure that the area you've chosen has enough room to accommodate the spa.
After all, you won't want to end up with a cramped spa that doesn't fit properly. You'll also need to take extra care when choosing your materials. For instance, you'll want to use only high-quality parts, since you'll be using them over time. Also make sure you know the ins and outs of proper hot tub maintenance.
Another important factor to keep in mind is the safety of your family and friends. You'll want to make sure that no one gets hurt during the installation process.
Are There Any Other Things I Should Know About Portable Spas?
There are a few other things you should know about portable spas before deciding to purchase one.
First off, you'll need to remember that these spas are designed to be used outdoors. As such, they require a lot more maintenance than traditional hot tubs. They also tend to get dirty faster, so you'll need to clean them regularly.
If you live in a cold climate, you may find that the water inside your spa will freeze after a certain amount of time. This could cause damage to your spa, so you'll need either to move it indoors or invest in a heated spa cover.
If you do decide to buy a portable spa, you'll probably want to consider purchasing an electric pump instead of a gas pump. The reason for this is that electric pumps are quieter, which means that you won't disturb anyone while you're relaxing in the spa.
Finally, you'll want to think about whether or not you want to have a built-in heater. While some people enjoy having their heater, others prefer to leave the heating up to the spa itself.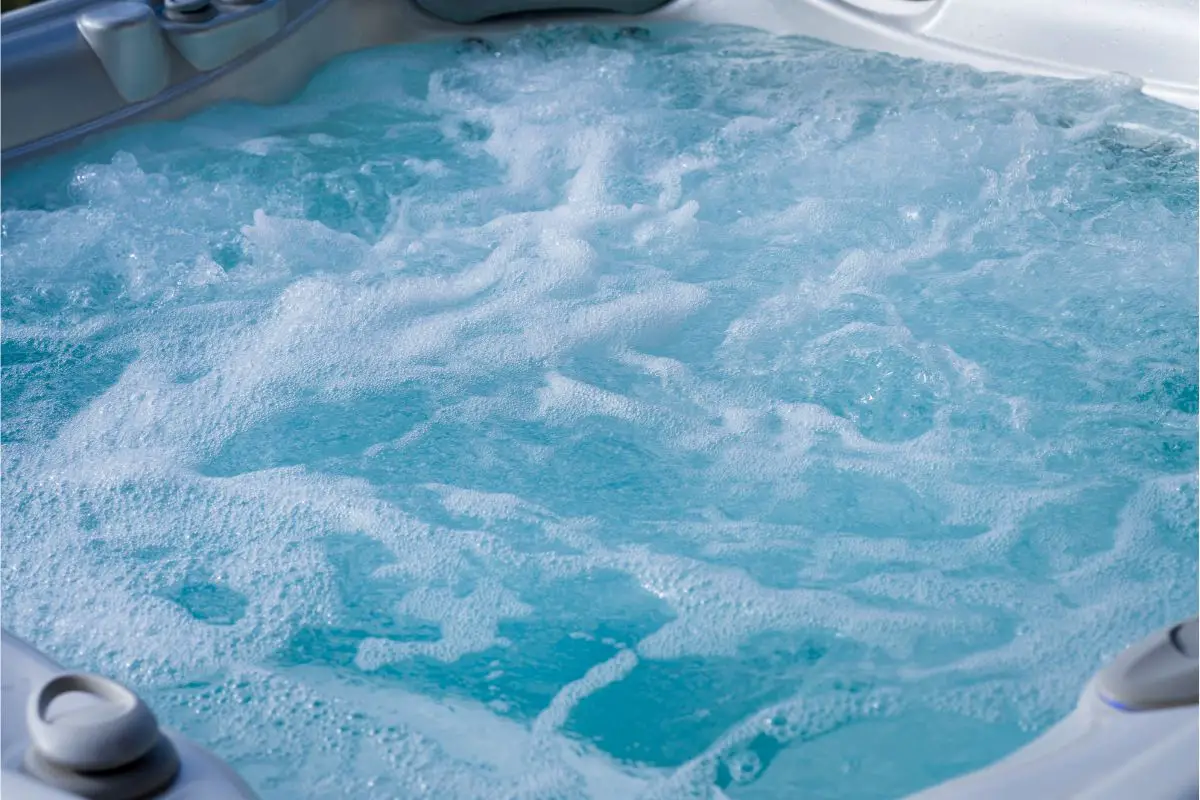 Things To Look Out For If You Put A Hot Tub In The Basement
When you're looking to install a portable spa, you might want to consider buying a model that has a built-in heater, since this allows you to use the spa without needing to add any additional equipment.
You'll also want to take note of how much storage space you have available. Some models come with a large storage area, but others only offer a small compartment.
Also, when choosing between a gas and an electric pump, you should opt for the latter. Electric pumps are generally quieter, which means not only can you fully unwind and relax in your spa, but you won't be the cause of any neighborly tension.
Have Good Ventilation: When you're thinking about installing a hot tub, you'll likely be concerned about what kind of ventilation system you'll need.
Your hot tub is going to be releasing steam whilst it is being heated and whilst it's running. You'll need to have fans to keep the air circulating and a place to release the hot air outside through an exhaust fan or open window. This will help to prevent mold and mildew in your home.
Always close the lid of your hot tub, as this will help to stop your room from being too humid. 
Make Sure Your Walls Are Moisture Safe: If you plan on placing your hot tub inside your home, you'll want to ensure that your walls are moisture safe. This is because water can cause damage to drywall and plasterboard. It can also lead to rot and mold growth. 
The Floor Must Support Its Weight: A hot tub filled with water, let alone people can be incredibly heavy.
Therefore, if you're planning on installing one inside your home, you should think carefully about where you intend to place it. Make sure that the flooring around the hot tub is strong enough to support its weight.
Have Access To A Drain: Hot Tubs spill. They leak, they overflow, and they get dirty. That's why you should always have access to a drain in case something goes wrong, and a quality hot tub vacuum is great for cleaning.
Are Indoor Portable Hot Tubs Better Than Outdoor Tubs?
While there's nothing wrong with installing a portable spa outdoors, there are plenty of reasons why you'd rather install it indoors.
One of the main benefits of doing so is that you can avoid dealing with any weather issues.
You can avoid spending money on outdoor furniture, landscaping, and other related expenses.
Another benefit of installing a portable spa indoors is that you can choose to install it in a bathroom, bedroom, basement, or wherever really.
Our Final Thoughts On Having A Portable Hot Tub In Your Basement
If you're not sure whether or not you can fit a hot tub into your basement, you may want to check in with a professional and seek a plumber or engineer's advice, as you could cause lasting damage to your home if you don't look into these things first! With all that said, yes you can put a portable or inflatable hot tub in your basement if you do it right.
Once you get the go ahead and have the right setup, you can officially get to work on making your dream of an in-house hot tub a reality — hooray!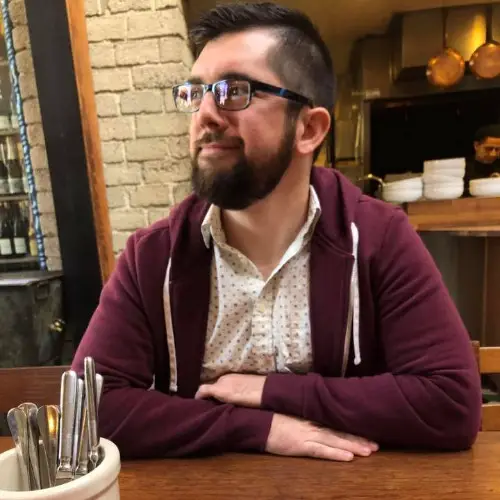 Hello, I am a writer and marketing specialist in Kansas City, MO. My love for swimming pools started as a child when I would visit my aunt & uncle's inground swimming pool on a frequent basis over the summer. Since then I have taught swimming lessons at a Boy Scout Camp, participated in the full setup, installation and maintenance of my father's inground swimming pool, as well as enjoyed constantly researching everything there is to know about swimming pools for 5+ years. I enjoy all water related sports, being part of the online swimming pool community and always learning new things!