It's a rare person who doesn't appreciate a soak in a hot tub after the end of a hard day. Having a hot tub inside your home is a great way to keep you and your loved ones relaxed and adds a fun year-round option when hanging out with friends or family, especially if you invest in some of the best hot tub accessories for enhancing your experience!
Unfortunately, hot tubs take up a lot of room, so the only space available that can fit one in would be the garage.
But is this even possible? Can you safely install a hot tub in your garage? 
The short answer is yes, you can put a hot tub inside your garage, but you will need to consider a few things before installing one.
You can store your hot tub in any room that is large, ventilated, linked to plumbing, and has a sturdy base. For most people, this would be a garage! 
We'll cover more about installing a hot tub in a garage in this article, including how to install one and why a garage is a great place for an indoor hot tub.
Why Is A Garage A Good Space For A Hot Tub?
A garage is one of the best, and in most cases, the only suitable room in your house that is suitable for a garage. This is the case for the following reasons: 
It's Large 
The average size of a garage is around 12 feet by 22 feet, which is plenty big enough to hold a hot tub, Jacuzzi spa, or even a quality portable hot tub.
Most garages are at least 12 feet long, meaning they have plenty of room for a hot tub. Some garages are even more spacious, often being 14 x 22, 16 x 24 or 14 x 24.
If you don't have a garage, then a spare bedroom or living room could work just fine. 
It's Ventilated 
Hot tubs heat water which leads to condensation.
If there isn't sufficient ventilation, these vapors can accumulate and cause mold growth.
Garages typically house vehicles, which is why it's important to ensure the room is ventilated properly.
Fresh air will prevent fumes and chemicals from accumulating inside the room, but it will prolong the life of your hot tub too. 
It Has Plumbing 
All garages will have a decent drainage arrangement.
Garages that are up to code will have a sloped floor that allows liquids to flow towards the doorway or a drain.
Some garages are also built with access to the plumbing system, as this lets owners wash their cars inside their garage.
This means that if you want to add a hot tub to your garage, all you need to do is connect the plumbing lines from the existing water supply line to the hot tub. There is no need to run new pipes through the walls. 
It's Sturdy And Solid 
Because garages are often made out of concrete, they are very durable and stable structures.
Concrete garage floors that follow ICC regulations will have a compressive strength of at least 2500psi.
Most garage floors are even stronger than this, reaching roughly 4000psi.
This makes them perfect places to build a hot tub, as this compressive strength is much more than what a hot tub needs. 
It's A Safe Place 
One of the biggest benefits of having a garage is that it provides a safe place to store your hot tub. This also applies to those looking to get a sauna as well as a hot tub or spa. Check out our comparison of hot tubs vs. saunas!
When you're not using it, you can lock it away safely, ensuring that it won't get damaged. 
It's Close To Other Rooms 
Another benefit of putting your hot tub in a garage is that it's close to other rooms in your home.
This means that you can easily use your hot tub when you're relaxing in another part of the house. Having a traditional or portable hot tub in your basement may also be a good option depending on your space.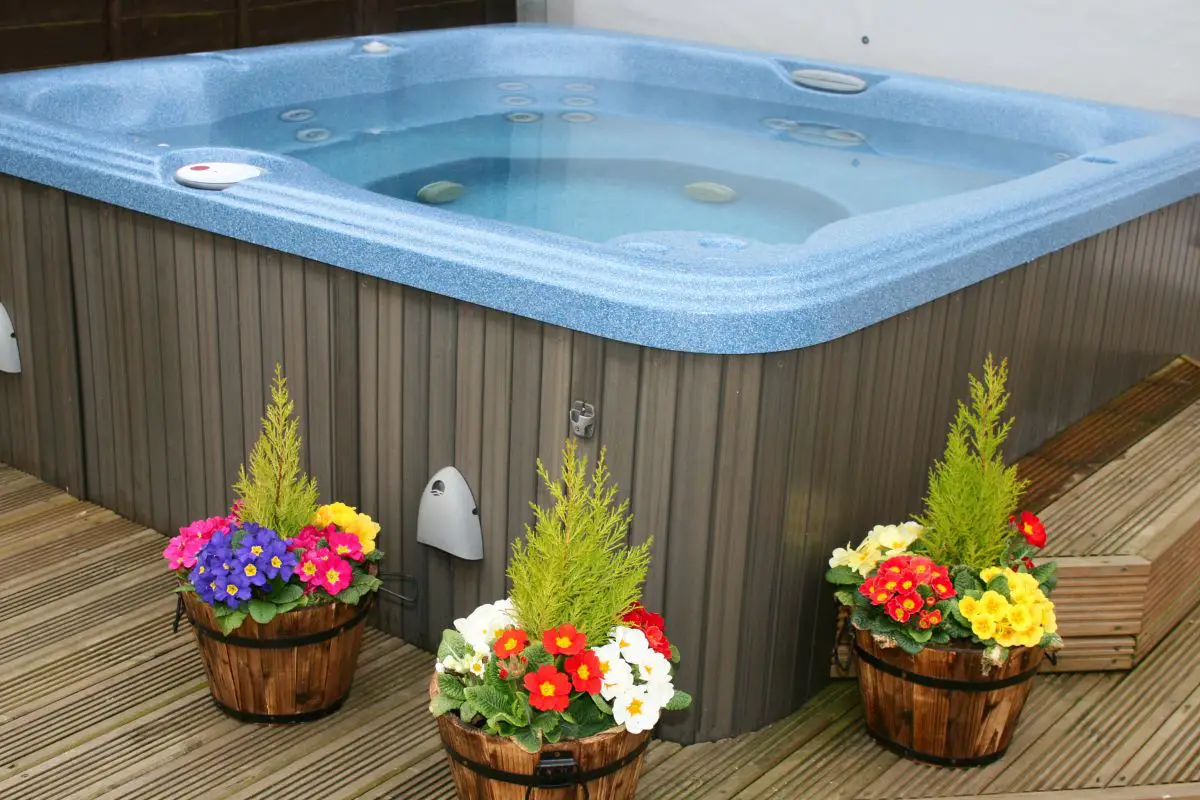 How To Put A Hot Tub In Your Garage: Guide
If you want to install a hot tub in your garage, then there are some things you should know before getting started. These include:
Measuring The Room
Before you start digging into the project, it's essential to measure the space where you plan on placing the hot tub.
Make sure you take measurements from the center of the area, as well as from each corner.
Remember to account for any extra space needed for other features, such as chairs, steps, and towel rails. 
Contact A Local Moving Service
Moving services can help you move heavy objects like hot tubs without breaking a sweat.
They'll make sure everything gets moved safely and securely, so you can relax knowing your hot tub is going to arrive right where you left it.
Hot tubs can weigh over 800 pounds, so it's always best to hire a company to stay on the safe side. 
Take note that if you do hire a moving company, a representative will visit your home to ensure your garage is suitable to house the hot tub. 
Recruit An Electrician To Help
Once your hot tub has been positioned correctly in the garage, you'll need to connect it to power.
There may be instances where the wiring in your garage may not be suitable for your hot tub.
In this case, it's always best to contact a professional electrician.
They will examine your garage and connect the hot tub themselves to make sure your power supply delivers enough voltage to power the hot tub.
You may notice that they install permanent wires and a circuit breaker along with the hot tub.
These features ensure that the hot tub is safe to use, so you won't need to worry later. 
Check Your Garage Ventilation
Make sure you check the ventilation of your garage before installing a hot tub. Poor ventilation can lead to dampness and mold occurring.
If possible, try to locate an opening or window near the hot tub, which allows fresh air to circulate.
You can also use a hygrometer to test humidity levels before positioning the hot tub. 
Check Drains And Plumbing
Lastly, you need to check the drains and plumbing.
This will involve ensuring that you have an adequate water supply to the hot tub, and that water escapes from the hot tub quickly.
You may also want to install a tap and a hose in your garage to make filling the tub easier. 
Our Team's Conclusion On Having A Hot Tub In Your Garage
Yes, you can install a hot tub in your garage! Be sure to check that your garage is well ventilated, has enough room, and has good plumbing and drainage. Make sure to get a quality hot tub vacuum as well to keep your new hot tub or Jacuzzi spa clean and welcoming for many years to come!
The points listed above will help you avoid issues with your hot tub later down the line, and have a smooth initial setup as well. Enjoy and happy hot tubbing!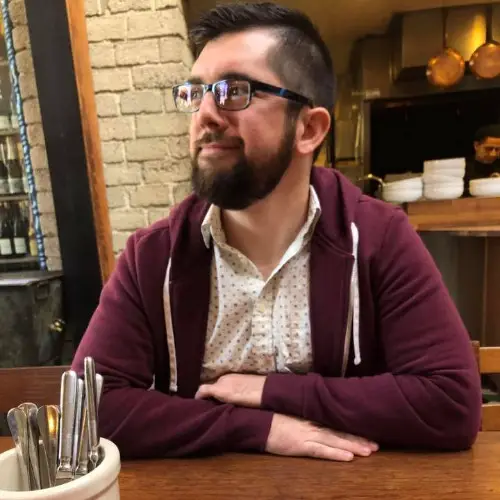 Hello, I am a writer and marketing specialist in Kansas City, MO. My love for swimming pools started as a child when I would visit my aunt & uncle's inground swimming pool on a frequent basis over the summer. Since then I have taught swimming lessons at a Boy Scout Camp, participated in the full setup, installation and maintenance of my father's inground swimming pool, as well as enjoyed constantly researching everything there is to know about swimming pools for 5+ years. I enjoy all water related sports, being part of the online swimming pool community and always learning new things!